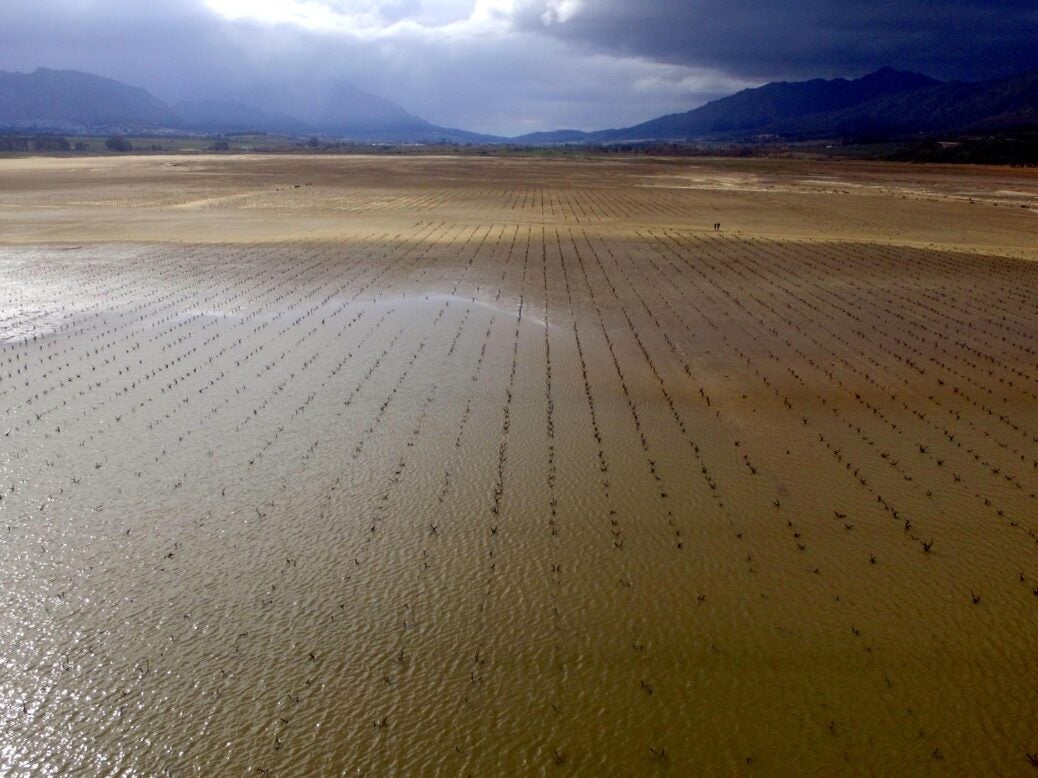 Three years of drought have had a devastating impact on the Cape's winelands, culminating in a difficult 2018 vintage and prompting serious questions about sustainability, though not about the quality of the top wines
Amid growing anxiety about the continuing drought in the Western Cape, there was a poignant and somewhat ironical moment last year for wine-farmers and wine lovers. The level of the huge Theewaterskloof dam, the largest source of water for the city of Cape Town and for some agriculture, has been falling, falling. (In mid-January, the Western Cape's major dams were 26.6 percent full, compared with a low 41.6 percent in 2017.) Regularly spaced sticks started emerging at one shallow point then, slowly, the bare bones of a vineyard, drowned and leafless for four decades, were revealed, like sad and monitory ghosts. The dam had been extended in the late 1970s, and these vines were on one of the newly inundated farms.
Viticulturist Jaco Engelbrecht went to see them—to pay his respects, as it were. He wrote about it on his blog: "It was an eerie feeling walking through these old forgotten vines. It was a feeling of neglect. It was a sad feeling. Maybe I'm just too much into viticulture, I don't know, but I felt sorry for these vineyards. They drowned so that we could have water to live. They were sacrificed, and now—just for a short time—the sun shines upon them once more."
Photo credit: Jaco Engelbrech.
Three years of drought and summer heat have affected South Africa's winelands to different extents, with some areas suffering little; those parts that are cooler, or have had better rainfall, or with sufficient water for irrigation, have even had highly successful vintages, and in fact 2016 was generally a very good vintage, even in the dryland-farmed areas like the Swartland. But it's dryland vineyards that suffered in 2017 and are, to a greater or lesser degree, being devastated this year. Viticulturist Rosa Kruger says that the drought has had a cumulative effect on dryland vines: "Last year, there were still some reserves in them; this year they're just exhausted." She says that things look "worse than I expected."
Francois Viljoen, consultation service manager for the wine industry organisation Vinpro was referring to most areas when he stated in mid-January that "available water is simply not enough to meet the needs of the vineyards at this stage. Vineyards are now beginning to show symptoms of water shortage and declining berry growth. Smaller berries mean a lighter harvest with lower juice levels which contribute to lower volumes."
The 2018 wine-grape harvest got under way in late January in the warmer areas, with the earlier-ripening varieties. At the end of the month, after some days of the great heat that is more common in February, Lukas van Loggerenberg, one of the young generation of exciting Cape winemakers, picked his third harvest of 60-year-old Paarl bushvines, for his Kamaraderie Chenin Blanc. The yield has always been low, but Lukas had put great effort and expense into improving the vineyard (which he doesn't own); this year, however, the already modest 2.6 tons per hectare yield was halved. Bunches were small and loosely packed, the berries thick-skinned and with more pip than flesh. Lukas will probably get some 800 bottles, down from 2,000; the quality is not yet clear.
It's a story being repeated with tragic frequency, particularly up the Cape's West Coast, in the Swartland and Olifants River regions. "North of Malmesbury it's just devastating," says Eben Sadie, who draws some of his internationally acclaimed wines from vineyards there. Yields of Semillon for his Kokerboom are down by some 80 percent, though it looks likely that the Chenin Blanc vines in the Skurfberg area (where Chris Alheit, Anthonij Rupert Wines, and Ginny Poval of Botanica Wines also draw grapes for some great wines) will fare somewhat better. With luck, their yield will be 40 percent down on a normal harvest. "For the first time in my life I'm starting to think that irrigation is a great idea," says Sadie ruefully. He's not ruling out good wine, however, despite drastic volume reductions. For one thing, there are site-specific differences that are relevant; and "hard decisions—like rigorous selection—could yet allow for great wine."
It's certainly not only the most ambitious wine producers who are suffering greatly this year. Far from it. Much of South Africa's wine production is for bulk, harvested in river valleys, with warmth and copious irrigation (and a lot of help from the agrochemical industry) giving high yields. But dams at record lows after a few winters of low rainfall mean that allocations of water to farmers have been cut this summer, sometimes drastically. In the Olifants River region, farmers received only 17 percent of their normal water inflow. Most of them had to decide which of their water-addicted vineyards would receive the little irrigation on offer and which would be effectively abandoned for the year. There are reports of parts of many vineyards actually dying.
Most regions have been hit to some degree by the drought, with South Coast areas like Elgin and Hemel-en-Aarde among those least affected—2018 could well prove to be an excellent year for them. In fact, most areas experienced very good spring and early summer conditions; it was rather cooler than usual, with more rain showers than expected; had those conditions lasted into December and the early months of 2018, the story would have been different.
Of the major winegrowing areas (major in terms of quantity at least), only the Orange River vineyards of the Northern Cape are likely not to report a drop in the harvest. For the country as a whole, production will undoubtedly be down, the yield the lowest since 2005. The Breede River Valley has had a little more water available than the Olifants River Valley, but their allocations have been cut, too, and, says Robertson farmer Ernst Bruwer, it's all very dry; bunches are loose, many grapes are sunburned. Significantly, he first suggested to me that the crop could be down about 20 percent, then a day later, as the harvest proceeded, he said that things were proving worse than expected, and "it looks like 2018 harvest can be at least 25 percent to 30 percent less." Ripening is uneven and natural acid levels are low. He adds grimly that, if Robertson is surviving this year, the Brandvlei Dam is approaching empty, and another winter of poor rainfall could spell disaster for next year.
In Stellenbosch, the Cape's largest and most important quality wine region, where most vineyards are irrigable, vineyards are looking green and healthy—partly thanks to nitrogen-giving thunderstorms earlier in the season. But water allocations (mostly from the Theewaterskloof Dam) have been cut to about 40 percent—and in January there were still many crucial weeks till the later-ripening varieties are picked, with little prospect of rain.
Carl van der Merwe of DeMorgenzon spoke of having adjusted to conditions well in advance—for example, by pruning a little more heavily than usual, to reduce the load on the vines, and reducing their water supply from the start of the season. It will probably be best, he says, to pick a little earlier than usual, both to ensure freshness and for fear of accumulating stress. He's expecting a smaller crop than usual (Chardonnay, for example, looks to be down by between 15 percent and 30 percent) and good quality wines. But, like Ernst Bruwer in Robertson, he's already apprehensive about what will happen next year if good rains don't come to fill the dams—catchment dams on the farms as well as the major reservoirs. There's even the danger of the boreholes that many rely on drying up. Rather sadly, Carl reports that a decision has been taken to impose severe water restrictions on the beautiful gardens at DeMorgenzon.
Yet there is inevitably variation. At the end of January, I visited Reyneke in Stellenbosch, where Johan Reyneke farms organically—biodynamically, in fact. He has been careful with his reduced water allocation, but hasn't needed to use it all. There was a remarkable difference, even to my largely ignorant eye, in the stress levels of the vineyards whose humus content he has been building up for 15 years and those on the farm he has only recently acquired and started working. Jaco Engelbrecht has written—almost angrily—of the different levels of stress he has observed in dryland vineyards, partly dependent on the quality of viticultural care (including mulching and correct planting methods) given the vines.
All wine-lovers can easily understand the effect of drought stress on vines, but at least one significant aspect of drought is not always appreciated. During harvest, a winery's use of water—for cooling as well as for maintaining cleanliness—is astounding. A small winery like Eben Sadie's in Swartland needs around 5,000 liters per day, even with a very careful approach; a medium-sized one like Meerlust in Stellenbosch about 15,000. The respective municipalities are capping supply at much lower amounts. Eben has been drilling boreholes on his farm; at the fifth attempt (all expensive), he struck what he hopes will be a sufficient supply of water to see him through the harvest.
Meerlust in Stellenbosch has a large and adequate dam of its own, and so is viticulturally better off than most. But its water is not of the required quality for use in the cellar, says winemaker Chris Williams. "Non-conforming water could be filled with a huge variety of problematic bacteria, viruses, and pathogens, as well as chemicals that are dangerous to winemaking such as halogens (chlorine, bromide etc), nitrates, and other organic compounds on which wine spoilage organisms such as yeast, bacteria, and molds could feed." Developing a system to make the dam water usable has been costly. "But at least," Chris says, "we will be able to process the 2018 harvest." For some it will be more problematic.
Drought is having a major impact on the Western Cape economy and on many livelihoods, with wine-growing just one major agricultural component. The effect on a wine industry already scarcely profitable for many farmers could be substantial, as it undoubtedly will be on the permanent and, particularly, the seasonal workforce.
Meanwhile, as the 2018 grape harvest progresses, the citizens of Cape Town also remain alarmingly uncertain whether their water supplies will be cut off entirely, and are fearing that it's a question of when. They, as much as grape-farmers, are fervently hoping that those revenant Theewaterskloof vines will soon once again be resting deep beneath the water.