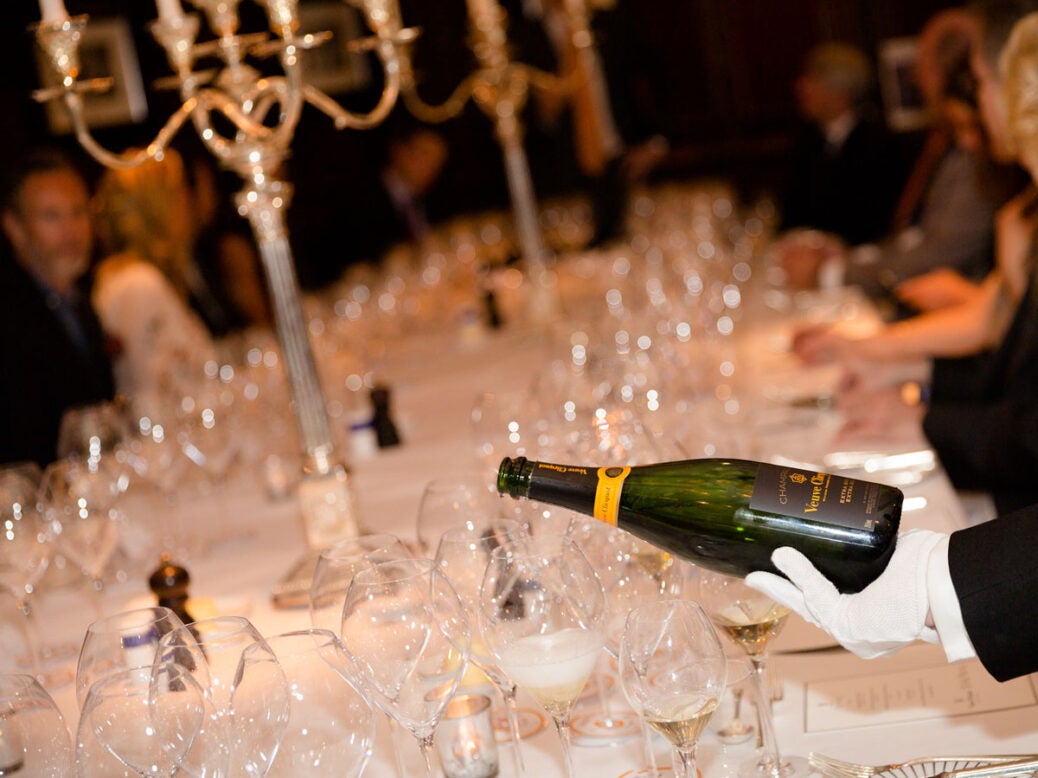 Extra Brut Extra Old, a completely new cuvée created by Veuve Clicquot's chef de caves Dominique Demarville and given its global launch in London on April 10, is a modern, intricate expression of the great house's 200-year-old core heritage, stretching back to when the great lady herself began to plant her finest vineyards in 1818 and released her first Vintage Champagne in 1822. The wines have always been innovative, and EBEO is fully worthy of that tradition: a multi-vintage of real complexity, composed exclusively from the house's famed collection of reserve wines, in particular 1988, 1996, 2006, 2008, 2009, and 2010. The assemblage is also representative of the whole of Champagne: among others, billowing youthful Montagne Meunier, classy silken Äy Pinot Noir, and poised powerful 1996 Côte des Bar Pinot, then the crescendo of Cramant Chardonnay 1988. What's more, the blend is double-aged, with a minimum of three years on lees in vats then three years in bottle before release after 12 months resting. This unhurried process shapes a Champagne of great energy, purity, and suppleness that needed only a minimal dosage of 3g/l. This, allied to a lower than normal pressure of 4.5 atmospheres, makes EBEO the quintessential gastronomic Champagne, vying with great white Burgundy.
The wine was first tasted in a suitably grand culinary context at a special five-course World of Fine Wine dinner at The Goring Hotel in London on April 11. After EBEO, it was also a huge treat to taste vintage VC treasures stowed away by Jacques Péters, Dominque's predecessor – especially his masterpiece, the Cave Privée 1989 from magnum, a miracle of freshness, and the eternally youthful Cave Privée Rosé 1979, also from magnum. Best of all among the mature Vintage trio was the 1982 Vintage, rated by the team as the best year they've ever made: too right; golden, mature yet exquisitely floral, and a very rare treat.

Veuve Clicquot Exclusive New Launch – Extra Brut Extra Old; Veuve Clicquot La Grande Dame 2006 (in bottle); Veuve Clicquot Cave Privée 1989 (in magnum); Veuve Clicquot Cave Privée 1979 rosé (in magnum); Veuve Clicquot Cave Privée 1982 (in bottle)
EBEO tasting note
A radiant color, translucent pale gold, with gentle bubbles; poised, intense aromas, spiced lemon then orchard stone-fruits, peach, even greengage; a very classy mouthfeel, at once subtly creamy yet mineral, admirably balanced without aggression. Great with risotto aux cèpes. 95

Neil Beckett, WFW Editor
EBEO will be rolled out in key markets worldwide over the rest of this year and into 2018. The recommended UK retail price is £69.

Frederic Lahner with La Grande Dame 2006