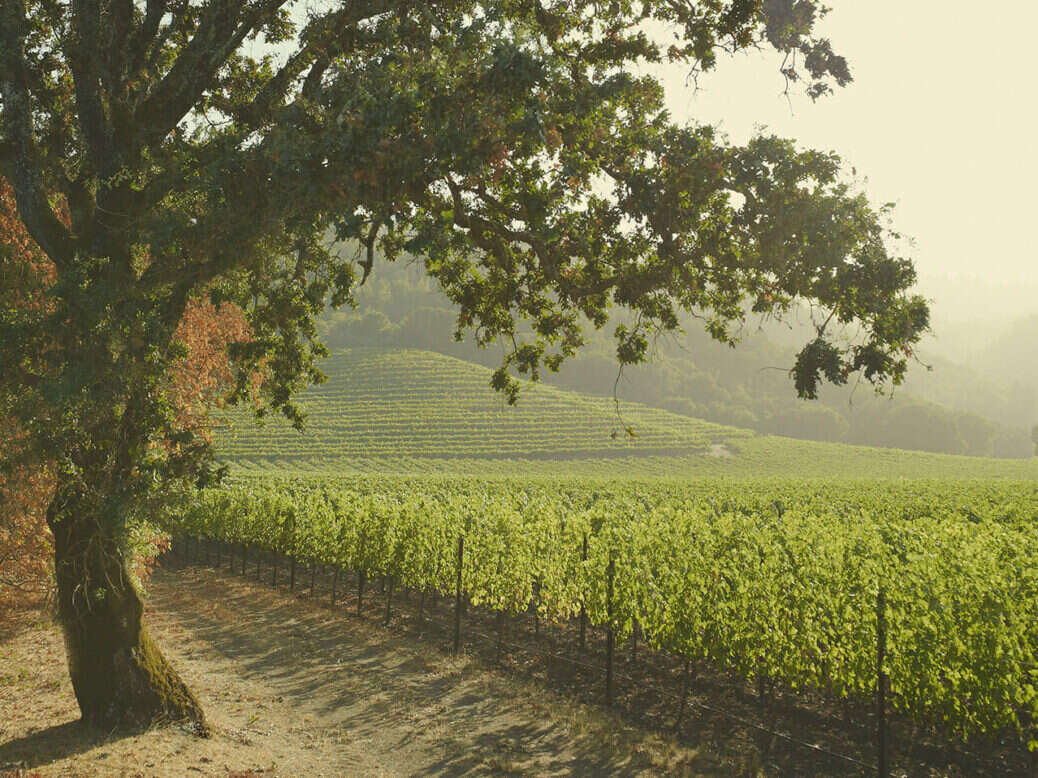 After years providing fruit for some of the Napa Valley's best producers from their Vine Hill Ranch vineyard, Bruce Phillips and family decided to make their own wine, with a first vintage in 2008. Margaret Rand caught up with Phillips for a mini-vertical of VHR, including the latest release.
In magazine publishing, publishers often want to be editors, or at least writers. If you're the editor, dealing with this can be ticklish. In winegrowing, growers quite often want to be winemakers, bottling their own wine. Which has repercussions, of course, for those who expect to buy the grapes. Again, it can be ticklish.
Bruce Phillips's family bought 600 acres (240ha) of Napa Valley land, on the western slopes of the Mayacamas, in 1956, when the region had yet to recover from Prohibition. The main crop in the valley was prunes, followed by walnuts, followed by cattle. Grapes came fourth.
Vine Hill Ranch: A star vineyard is born
They planted 70 acres (28ha) of grapes, on land that rises from the benchlands up the slopes. Current incumbent Bruce Phillips, grandson of Bruce Kelham who bought the land in 1956, and who has been at Vine Hill Ranch since 1978, describes the choice of what to plant as "trial and error. We've tried every Bordeaux variety except Malbec." Phillips's father was insistent on the need to grow half red and half white, to allow for changing fashions, though "fashion" is perhaps the wrong word for his era, when wine came in gallon jugs and was often labeled "Chablis" or "Burgundy." Chardonnay and Merlot seemed the best bets then, though there were some unsuccessful experiments with Pinot Noir.
Between 1957 and 1974 the grapes were largely sold to Beaulieu, and were a component in George de Latour Private Reserve. Later they started selling to Robert Mondavi as well, for its Reserve blend; to Cakebread Cellars, to Duckhorn, to Lail, to Etude, to Araujo, and to Harlan. Today they sell to 13 buyers, including Harlan, their neighbor on one side, for Bond Vecina, and to Tor, Memento Mori, and Arrow & Branch, all for these producers' Vine Hill Ranch Vineyard bottlings.
In the mid-1980s, phylloxera hit. "Growers don't have cash," says Phillips; "their equity is in land." Interest rates were around 20 percent, and "the value of an acre of Napa Valley was less than one 20th of what it is today. The vast majority of the planted acreage was family-owned, and families couldn't necessarily deal with the financial constraints." Nevertheless, Bruce Phillips and his wife Heather decided to continue with wine grapes. They took advice from Tony Soter, Phil Freese, UC Davis, and California State University, Fresno, who dug a lot of holes for two years and identified 12 areas in the 70 acres, each between a quarter acre and one acre (0.1–0.4ha) in size, that should be treated slightly differently in terms of clones, rootstocks, row directions, planting densities, canopy management, and so on. The idea was to ditch all the other varieties and focus on Cabernet—as happened, of course, across the valley at this time. "Everything was intended to lift the reputation of this site," says Phillips. The vineyard as a whole is divided into seven blocks, but these sub-blocks—which have now increased to 18—are managed differently from their surroundings.
Making their own
In 2000 they started thinking about making their own wine. In 2004 they, with vineyard manager Michael Wolf, carved out particular parcels, one to two acres (0.4–0.8ha) each, from each of the 12 (now 18) sub-plots; these parcels were unlike any others, because of the underlying rock, or the slope, or the aspect, or something. Then in 2008 they hired a winemaker, Françoise Peschon, who is still there. They have no outside consultants. The first vintage of VHR was 2008.
Were these plots they carved out taken from plots that would previously have been sold to their various producer partners? Yes, says Phillips. And? "They accepted it." Many, he says, "expressed some concern with regard to whether our offering might compete or undermine their efforts within the vineyard," but one said "Hurrah! About time," and everybody, he says, supported his plans.
The different blocks bring different aspects to the wine. They were planted between 1996 and 2012 and they vary between 5.72 and 17.7 acres (2.3–7.2ha) in size, so you wouldn't expect them to be homogenous, but generally speaking the lower, benchland blocks, with rich, loamy soil, Blocks 2, 3, and 4, give bright fruit and supple tannins. Those higher up the slope, Blocks 1 and 6, with gravelly soil, give powerful, dark wines. Block 7 gives that fashionable but misunderstood quality, minerality. Block 5 was replanted in 2020.
Classic Old World techniques
Winemaking is usually with wild yeasts unless something goes wrong. Otherwise, Phillips describes the winemaking as "classic old-world techniques." The oak is predominantly French, but what Phillips really enjoys focusing on is the vineyard, and specifically the three-generation story of the vineyard; questions about winemaking tend to get deflected. He won't reveal which plots go into which Vine Hill Ranch bottlings from other producers, though does say that since they only buy certain plots and VHR comes from all over, "the result may be a heightened complexity and nuance to the resultant wines from VHR resultant from the varied sourcing."
A tasting of three vintages—2012, 2016, and 2018, the current vintage—revealed a strong evolution of style, although Phillips says the winemaking hasn't changed much. Alcohol was much the same in all, at 14.6–14.8%, but was far better tucked into the 2018 than the 2012; tannins have got silkier and freshness more pronounced. The later vintages are more complex, too. "A lot of the difference is Françoise gaining knowledge of the vineyard," says Phillips. Picking is earlier now, too. The latest starts to picking of Blocks 4 and 6, which are in all vintages, were in 2010, 2011, and 2012: roughly mid-October. After that picking mostly started in September, sometimes mid-September. In theory, Phillips would like alcohol levels to come down, but in practice he says that's not so easy, for numerous reasons, including the greater efficiency of the post-phylloxera clones. Phillips thinks that 14% ABV might be possible, but to do even that consistently would need "lower densities and bigger vines."
Vine Hill Ranch: A tasting of VHR
VHR 2018
Soft, supple, and very silky. Tobacco notes, some cocoa, spice and lavender, very restrained and subtle, very good freshness. Doesn't feel like 14.8% ABV; all very poised. | 91
VHR 2016
Nose fresher, firm, and firmer tannins on the palate, too; grippier. Dark fruit, notes of prunes and blackcurrants, freshness and some acidity. Big but balanced, imposing. Contains Blocks 1, 3, 4, and 6. | 92
VHR 2012
Rather burned nose; pruney. The alcohol is 14.6%, and it's a bit hot. Opulent, but those tannins are pronounced. Food soaks up the heat and the tannins and reveals the underlying suppleness. Contains Blocks 3, 4, 6, and 7. | 88