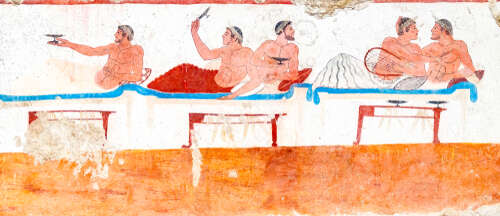 Stuart Walton casts an historical eye over wine's use as an aphrodisiac, from the Greek symposium to the findings of modern neuroscience.
Music may be the food of love, as Duke Orsino proposes at the outset of Twelfth Night, but the wine of love is wine. In ancient times, its role in erotic conduct was not straightforwardly that of the aphrodisiac it would become in later eras. At the Greek symposium, the wine was carefully watered in accordance with the host's instructions, and while the more memorable occasions arose from transgressing those limits, the episodes of seduction that took place among the cushioned pairs around the room were premised on how much self-control the drinker could display under its influence. It was restraint that was sexy, a lesson comprehensively mislaid to subsequent history.
In the Biblical story (Genesis 19: 31-36), Lot's two daughters conceive by their father on consecutive nights, not by the obscenity of incestuous courtship, but through knocking him senseless with wine, so that he remembers neither the arrival nor the departure of either woman, but only sees their miraculous blooming into pregnancy. Noah's drunkenness after the Flood (Gen. 9: 20-27) leads to some inappropriate naked cavorting, a 600-year-old man's hazy recollection of a debauch, to the calamitous embarrassment of his sons.
Disinhibiting effect
By Roman times, though, wine was explicitly connected with sexual passion, its disinhibiting effect rousing youths whose blood was already hot to acts of raging concupiscence, and—according to both Plutarch and Seneca—besotting Mark Antony on his first date-night with Cleopatra. It came with concomitant dangers, however. The penalties for women's drinking were notoriously severe, and even for men, wine might promote lust but it thinned the seminal fluid, resulting in a reduced chance of healthy conception.
As its place in the humoral medical system of the medieval period was further elaborated, ways of treating wine were developed to make it more conducive to successful sex. "Drinking honey water promotes erections, but even more effective in this regard than all medicines and foods is wine," advises the twelfth-century Jewish physician Maimonides. Adding fennel seeds during fermentation produces an elixir that not only enlarges the sexual appetite, according to Arnaldus de Villa Nova, but also results in good healthy semen.
As with many another erotic strategy, the knack lay in judging the right dose to a nicety. If a little wine fanned the flames of ardor, too much left the user stupefied, too drunk to know what they were doing, or, crucially, what was being done to them. Food and wine were the prerequisites for a sensuously charged atmosphere, but there was a tippling point that, once reached, capsized the whole enterprise. Shakespeare's Porter in Macbeth famously echoes what had already been said by Rabelais the physician about alcohol in the bedroom: "Lechery, sir, it provokes and unprovokes; it provokes the desire, but it takes away the performance" (II:iii).
Stimulating the hypothalamus
Modern neuroscience has tended to reinforce the ancient idea that wine has a stimulating effect on libidinous desire. Alcohol stimulates the hypothalamus, the part of the brain that—among other functions—regulates the sexual instinct. Indeed, the mere scent of it has been shown to produce sexual response. A small quantity of drink intensifies and prolongs erectile response in men, but, much as the Romans suspected, has a more acute inflammatory effect on women's sexual arousal, because there is typically less dense muscle tissue for it to disperse into. Red wine is a significantly more efficient erotic stimulant than white.
Whatever the science may be induced to suggest, what matters as much as neurochemistry itself is the expectation raised by perception of the other's motives when it comes to wine and romance. Every Valentine's Day, countless thousands put their trust in the appearance and effect of carbon dioxide in wine to pique desire or to ratify it, regardless of personal taste. "I don't like champagne," confesses Greta Garbo's nightclub singer, Zara, in As You Desire Me (1932). "It just looks gay." A would-be suitor of MFK Fisher succeeds in jinxing a possible seduction by serving her not some racily scented fine Burgundy, but a silly little noggin of syrupy liqueur: "I never saw him again, feeling that his perceptions were too dull for me to exhaust myself, if after even the short time needed to win my acceptance of his dinner invitation he had not guessed my tastes that far."
Merely seeing wine and catching its aromas, or noting the earnest intent announced by an opulent label, are the prelude to the affirmation of desire. And then there are many more ways of consuming it than drinking it in the conventional manner. So learned the young man on a first date, whose companion's inaugural fireside kiss released an unsuspected mouthful of Alsace Pinot Gris into his own. Not a drop was spilled.