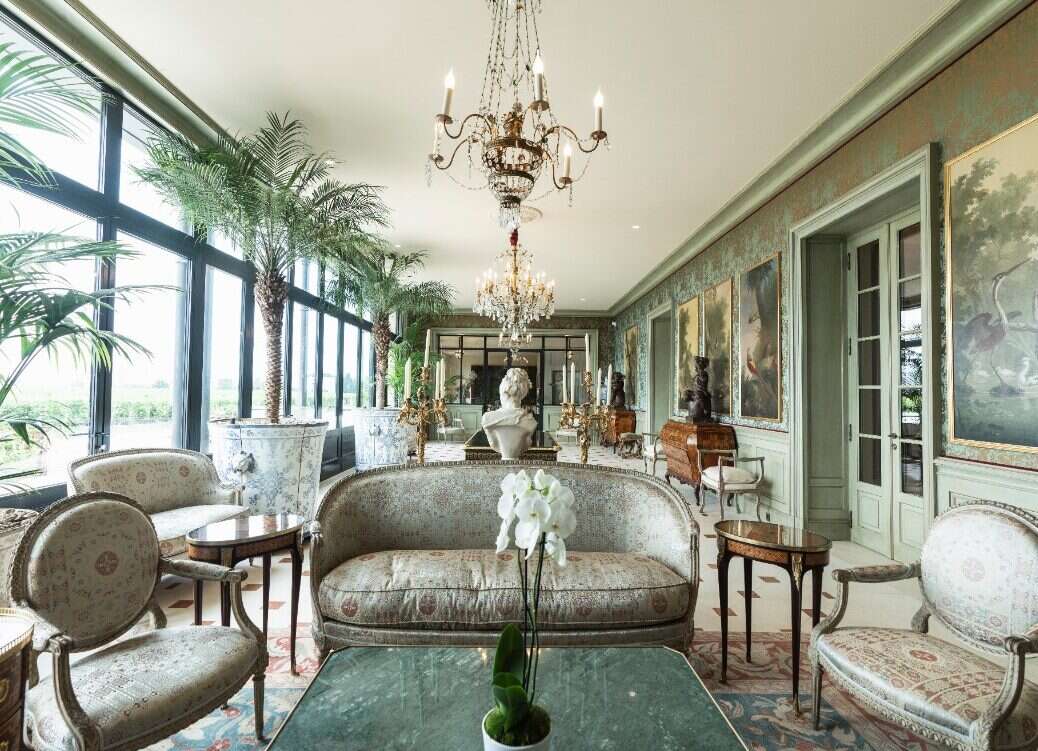 Domaine Clarence Dillon, owner of Châteaux Haut-Brion and La Mission Haut Brion, has opened a new Bordeaux visitor center and shop: Le Pavillon Catelan and La Cave du Château, Bordeaux.
After a four-year renovation project overseen by Prince Robert Luxembourg, Domaine Clarence Dillon has finally announced the opening of an important new attraction in the Bordeaux region, the Pavillon Catelan.
Conceived as a visitor center, the 19th-century Pavillon, which is located between Châteaux Haut-Brion and La Mission Haut Brion, is "designed for welcoming visitors in a setting that celebrates the French art of living," a statement from Domaine Clarence Dillon said.
Arranged over two floors, the Pavillon Catelan features a range of activities and spaces. On the ground floor, the Salle des Vignes, with its views across the vineyards of Château Haut-Brion, will be available for private events, while two further reception rooms, the Salon des Dames and the Salon des Gentilhommes, have been created on the first floor. A "large professional kitchen" has been installed for catering to each of the different venues.
La Cave du Château at Domaine Clarence Dillon
The Pavillon will also play host to La Cave du Château, Bordeaux, the latest shop from the company of the same name, which is a subsidiary of Domaine Clarence Dillon.
La Cave du Château, Bordeaux, is set in a large vaulted cellar originally built by the Marquis of Catelan on the ground floor of the Pavillon Catelan, and has its own terrace, which will be used for tastings and private and professional receptions.
The shop is primarily focused on visitors to Domaine Clarence Dillon, but is open to the general public. It will stock the latest vintages of the group's various wines, as well as rare verticals and other "gems that come directly from the châteaux."
La Cave du Château, Bordeaux, is the third shop for the company, which first opened its doors on the Champs Elysées in Paris, selling a range of fine wines and spirits "from France's terroirs."
Stanilsas Evain, who, as the Paris store's wine specialist-sommelier, helped establish La Cave du Château, Paris, as one of the French capital's leading wine stores, will now be based in La Cave du Château Bordeaux, which will be open every week from Tuesday to Saturday.
As well as the Clarence Dillon wines, the shop will offer "glassware, books, and a variety of wine accessories," the company said, as well as "private tastings of the wines of the group, with various suggested or bespoke themes."
The shop will also offer a click and collect service for the full, 3,000 reference-long La Cave du Château list, which is available at www.lacaveduchateau.com.