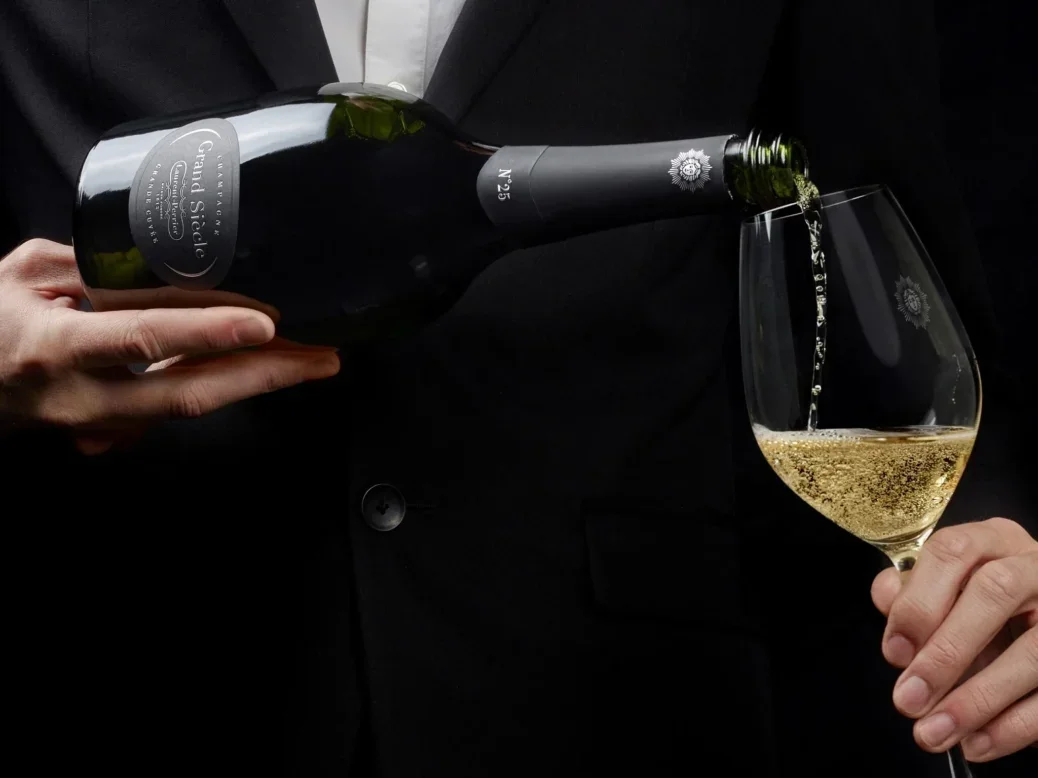 The demand for prestige cuvée is growing faster than ever, says Toby Louch.
Are we witnessing a second iteration of the roaring 20s? It would seem so if champagne sales are anything to go by. Much like that decade of opulence and excess a century ago, fizz is more popular than ever. Prestige cuvée in particular is one of the hottest topics in the world of fine wine. These exceptional offerings from the world's greatest Champagne houses represent the best of the best when it comes to sparkling wine.
Champagne has always been closely linked to celebration. Currently, it's the Champagne houses themselves that have cause for the popping of corks.
According to figures from the Comité Interprofessionnel du Vin de Champagne, 326 million bottles were shipped globally in 2022, the second highest amount for any year on record. Exports from France now account for the majority of that trade, having grown from 45% 10 years ago to over 57% today.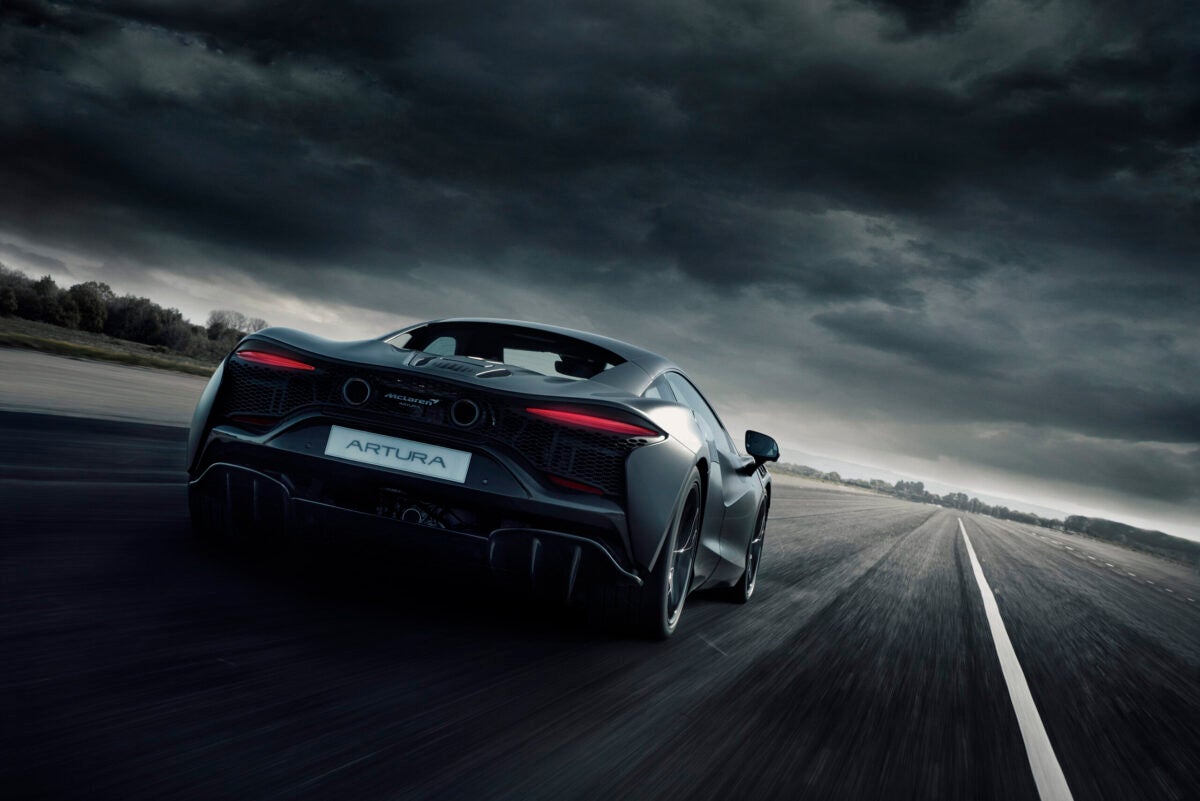 Experience a private Champagne Laurent-Perrier event
To share your interest in the exclusive opportunity to experience a private Champagne Laurent-Perrier eventCLICK HERE
A growing appetite overseas is being reflected in rising demand for ever higher quality at the top end of the market. In 2021, prestige cuvée accounted for 15.6% of the value in the US market, illustrating the high demand for limited, exceptional champagnes.
Furthermore, according to the Zion Market Research Study, in 2021 the global champagne market size was worth around $6bn and is predicted to reach around $8.2bn by 2030 with a compound annual growth rate (CAGR) of 3.5%. Singling out prestige cuvées, the finest champagnes on offer are expected to grow at the highest CAGR, further cementing the popularity of exceptional champagnes.
When it comes to prestige cuvée, limited releases and exclusivity is the name of the game and is partly why buyers keep coming back for more.
However, that's where the similarities end. Before you go out and purchase an exquisite bottle of prestige cuvée, it's important to understand a little about what makes them so special, and why you need bottles in your cellar.
The art of prestige cuvée
Through years of tradition, innovation, and learning, each Champagne house has mastered its own method and style of prestige cuvée.
So, what exactly quantifies an offering as a prestige cuvée, and why are they so sought after? When trying to define exactly what makes a prestige cuvée the answer is far from simple. Generally speaking, a prestige cuvée is the highest quality, most limited, and naturally, most expensive champagne a particular house produces.
However, aside from these generally broad and non-specific accepted similarities, prestige cuvées from different houses can vary wildly in age, method, style, taste and price.
Another general consistency is that prestige cuvées tend to be aged on lees for longer than standard non-vintage brut champagne. Lees refers to the dead yeast cells found inside a bottle of champagne which impart certain flavors and characteristics. The longer these yeast cells remain inside the bottle, the more pronounced, pleasant toasty, or bread-like aromas will be in the champagne. As a side note, it's the fermentation of these yeast cells that add CO2 and as such the bubbles into a bottle of champagne.
If champagne has been aged on lees for a longer period of time, it is more likely to be a prestige cuvée. However, this rule is far from steadfast, there are several prestige cuvées where the aging process is not particularly long at all.
While the prestige offering of each Champagne house can vary wildly in method and outcome, they are almost always regarded as an excellent collectible that can mature in both flavor and value over time.
[See also: Lucie Pereyre: The Face of Grand Siècle]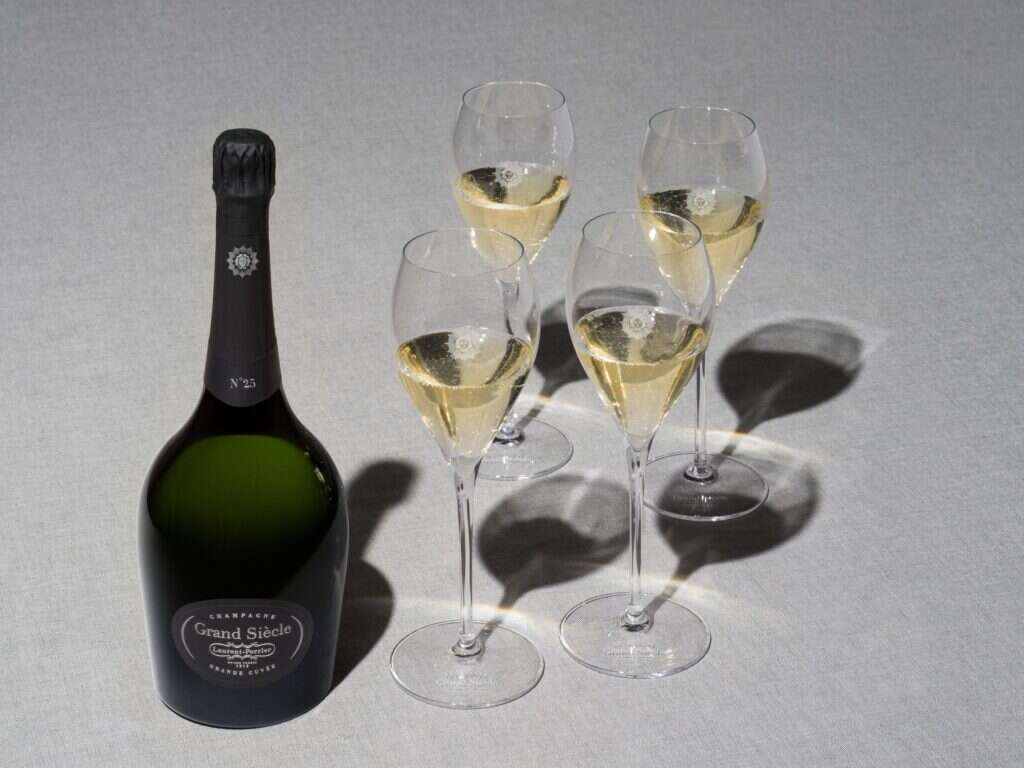 Laurent-Perrier's Grand Siècle
Each Champagne house has its own style, method, and nomenclature for its prized prestige cuvée. At the esteemed house Champagne Laurent-Perrier, the prestige cuvée is named Grand Siècle, in honor of the era of Louis XIV, who was known as "The Sun King". Paying homage to the art of assemblage ('blending' in English) Laurent-Perrier conceived its own approach to creating the perfect bottle.
When one of the great innovators of Champagne, Bernard de Nonancourt, took the helm as CEO of Laurent-Perrier in 1948, he did so with a vision. Bernard believed that the idea of an oenological perfect year — one that would produce a perfect vintage — was a fallacy.
While many great winemakers hoped for the optimum conditions, Bernard took his fate into his own hands and set out to recreate the perfect year through blending.
[See also: Laurent-Perrier Creates the Perfect Year with Grand Siècle]
The art of assemblage is elevated at Laurent-Perrier by selecting only three Laurent-Perrier declared vintage years that complement each other. With this vision, Bernard would recreate the perfect year, one he believed nature would never provide. This is the key idea that would provide the foundation for Grand Siècle.
The first iteration of Grand Siècle was released in 1959, over a decade after Bernard became head of Laurent-Perrier. Utilizing 100% Grand Cru grapes harvested in 1952, 1953, and 1955. The exacting quality requirements for Grand Siècle to achieve the perfect balance has allowed for only 25 iterations in either bottle or magnum in the 64 years since its launch. Due to aging in bottle and the development of wines, the current magnum will always be an earlier iteration than the current bottle.
The latest release by Laurent-Perrier was of Iteration N°23 in magnum, aged on lees for 14 years and a blend of 2006, 2004 and 2002 vintages. The most recent 750ml bottle is Iteration N°25, aged on lees for 12 years and a blend of 2008, 2007 and 2006 vintages. These two exceptional offerings represent some of the finest champagne produced and would be an exemplary addition to any oenophile's collection.
[See also: Humble Beginnings to Global Success: The Story of Laurent-Perrier]
For more information, visit laurent-perrier.com