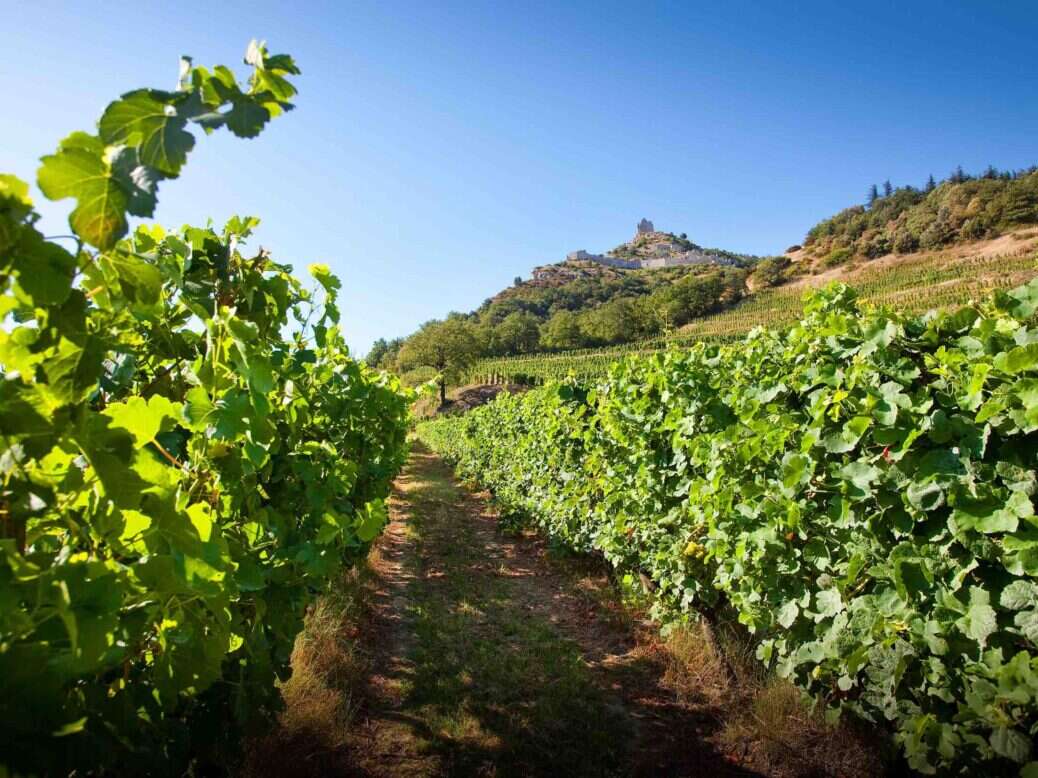 The tiny Northern Rhône appellation of Saint-Péray is a source of sometimes-outstanding, low-acid dry whites that at their best offer superb value for money. Andrew Jefford reports on a WFW panel tasting shared with Stephen Brook and Simon Field MW, and reveals the top five wines. For full coverage, including scores and in-depth notes on all 27 wines tasted by the panel, subscribe to The World of Fine Wine.
What's the best way to understand Saint-Péray? Cornas's white twin? Valence's back-yard wine? The Northern Rhône's soft white underbelly? A sparkling-wine zone that has turned to still wines as the climate warms? Or as a historical vineyard whose small size and peri-urban position would have meant eclipse—were it not for the stubborn residue of quality in its wines?
A white echo of Cornas
There is truth to all of these. Little Saint-Péray (thriving today, but that still means only 242 acres [98ha] of vines: Crozes-Hermitage is 18 times bigger) is a kind of white echo of Cornas. As you stand on the rumpled granite slopes of Cornas looking south, you will gaze out over the dramatic, partly hidden amphitheater of Saint-Péray, wedged between the steep Ardèche hills to the west and the sharp ridge-line of Crussol, topped by its ruined château, overlooking the river to the east. The two appellations have different topography and aspects, and Saint-Péray is shadier—which is why Cornas is for reds and Saint-Péray for whites. The soils, though, are in part the same: granite sands. Only in part: Saint-Péray is a typical Northern Rhône geological muddle. Crussol and its slopes are limestone, and you'll also find loess, chunky clays, and classic cobblestone terraces in the appellation, too.
Cornas has one variety to play with (Syrah) whereas in Saint-Péray you get two: Marsanne and Roussanne. There is more of the former planted than the latter, and on paper it looks a better fit (later ripening)—but the two varieties blend well. Sometimes mealy, stodgy Marsanne benefits from the lifted fragrance and glycerous charm of Roussanne; sometimes superficial Roussanne is lent depth by the gravity and marrow of Marsanne. The appellation rules allow both, though, to be used in isolation if wished. Sensibly so.
Outstanding potential
Those Valence back-yards do, it's true, creep on from year to year, so the vineyards of Saint-Péray need determined defense. Happily, the kind of quality we found in this tasting—and the fact that the best wines of the appellation (from Robert and Gripa) retail at close to €30 a bottle today—suggest that the defense is increasingly sturdy. My use of the phrase "soft white underbelly" and the descriptors found in our notes will, I hope, give those who have never tasted these wines a useful steer. Saint-Péray doesn't have the austerity and cut of the whites lodged in side valleys in Saint-Joseph, but at the same time it has a little more aromatic nuance and finesse than white Crozes-Hermitage, which is often broader in the beam and sometimes a little flatter (though in big Crozes, everything depends on the precise vineyard site). The best Saint-Péray has outstanding potential, and can rival whites produced in the more easterly loess-soiled sectors of Hermitage itself—in my view, though appellation-system martinets may tut at the suggestion. The fact that some outstanding wines (such as those of Yves Cuilleron) retail for around €15 a bottle underscores the appealing white-wine value you can find here.
Less sparkle, more luster
The generally low acidities of Saint-Péray mean that the appellation's former sparkling-wine identity (still permitted today, though we didn't include sparkling wines in our tasting) seems puzzling. Remember, though, that the neighboring wines of the Diois, out to the southeast of Valence, usually sparkle, too; sparkling wine in Saint-Péray was an early-19th-century marketing innovation by local merchant Louis-Alexandre Faure, which worked brilliantly well. Our 19th-century forbears didn't consider base wines spined by colossal acidities as the only sort suitable for making sparkling wine; had they done so, Cava, Blanquette de Limoux, and Moscato d'Asti would never have come into being. As Stephen Brook points out, Saint-Péray wines have elements other than acidity acting as factors of balance (something that is typical of Rhône whites as a whole). The switch toward still wine seems to be more a question of contemporary taste than as a consequence of climate change. It's worth noting that Saint-Péray, too, is taking part in the slow transition of the Northern Rhône from a region where blending characterized the most significant iterations, to one where Burgundy-style parcellaires increasingly occupy our drinking attention. A number of leading finishers in our tasting were single-parcel wines.
Simon Field MW alludes to the fact that this little region was championed historically (Napoleon knew it since he had been stationed at Valence as a cadet, while Wagner's Saint-Péray letter from Bayreuth is dated December 2, 1877—it would have been 100 bottles of the sparkling version he was after); indeed John Livingstone-Learmonth (in The Wines of the Northern Rhône) says that Saint-Péray's still wines were mentioned by both Pliny (Natural History Book XIV) and Plutarch (Table Talk, book V). This is not surprising, given the axial significance of the Rhône and the tendancy of Romans to see well-exposed hillsides as an invitation to plant vines. Two thousand years later, though, we are still drinking and savoring these wines, so their quality has endured.
Longevity, subtlety, specificity
With seven of the 27 wines averaging a score of 90 or above from our tasters (one of these was tasted by just one taster), our verdict was not a ringing endorsement, though all of the tasters showed at least some enthusiasm for favored wines, with scores up to 92 from Stephen Brook, to 93 for Simon Field, MW and to 94 for me. I was the most enthusiastic taster, with no fewer than 15 scores of 90 points or over. The fact that the winning wine was pure Roussanne was interesting, though not on its own enough to draw conclusions from. We were grateful to growers for showing us some older wines—and there is certainly merit in keeping Saint-Péray. Your efforts won't be unrewarded, since this is a wine that ages rapidly but in general attractively. It's possible, indeed, that the best contemporary Saint-Péray will age with more success than wines made even ten years ago, as there is now greater subtlety and refinement of vinification, notably with the use of oak, and a clearer understanding of the need to harvest the grapes before they have lost poise and freshness. The continuing search for the greatest parcellaires of Saint-Péray, too, should provide intrigue for the years ahead, though some simple way of distinguishing between genuine parcellaires and fantasy names for blends would be useful.
The Top 5: The best of Saint-Péray
Stéphane Robert Domaine du Tunnel Saint-Péray Roussanne 2019 (14% ABV)
SB: The nose isn't very expressive, but there are lurking aromas of pear and apricot. The attack is fresh and lively, and while there's little depth of flavor or complexity, it shows an uncomplicated fruitiness and a light mineral tang. It's balanced and has sufficient acidity to carry it through to a reasonably persistent finish. | 89
SF: Bright nacreous lemon color; viscosity to the fore, with an immediately seductive nose of Mirabelle plum, quince, and poached pear; the Roussanne component makes its presence felt in this early stage of development. The palate is forward, oaky and modern, butterscotch and tarte tatin; yoghurt and cinnamon. A shamelessly seductive example; Eckberg in the fountain, alluring and rich. Hard to say in the longer term; it may fall somnambulant and re-emerge with a kerosene austerity; why not enjoy it now, ask questions later?! | 93
AJ: Bright mid-lemon-gold. Lots of sweet nougatine draw here: almonds, honey, egg white. Very attractive and classical; and with a little apricot fruit peeping out from behind. Unlit tobacco leaf, too. An enticing aroma. Soft, mellow, full, secondary, with ample mouth aromatics which fill out and deepen the allusions noted on the nose: more nougatine and almond, more subtle apricot, more cured plant leaves. There is bright and sustained acidity in amply ripe and resonant style; the wine is textured and long. Hard to better this as an appellation benchmark, and a completely delicious and unique wine to sip, with a tenderness you don't often find in other Northern Rhône whites. | 94
Yves Cuilleron Saint-Péray Lieu-Dit Biousse 2019 (14.5% ABV)
SB: Ripe apples on the nose, which is reticent and inexpressive. It's quite juicy and upfront on the palate, and there's ample fruit, but it's not nuanced or complex. A bite of acidity on the mid-palate keeps it moving, but it's not particularly vigorous or long. Lightly mineral on the finish, which is welcome. | 87
SF: Buckwheat color, softer at the rim; vales of tears asunder. An attractive nose of oatmeal, sour honey, verbena, and even thyme, the spicy element adding interest to the more normal rhyming descriptors of apples and pears, lemon and lime. The palate is equally interesting, the notes of glue/adhesive embedded within a shoal of laurel and even eucalypt, the citric interface once again discreet in the background. Built to build, built to last. | 91
AJ: Bright pale gold. Sweet, warm, silky; smooth and softly stated. Almond and honey with a little straw and lavender behind. A disarmingly lovely scent, which just seems to grow in allure with time in the glass. Vivid and mouthfilling, if a little sharper in contour than the aromas suggested it might be. But this is carping: it is bright, vivacious, and concentrated, and full of expansive Marsanne fruits, textured and long, with the aromatics lasting well into the finish, which is soft and glycerous. There is a lovely pulse of warm, sustained, ripe, and fruit-saturated acidity. | 93
Bernard Gripa Saint-Péray Les Pins 2019 (14% ABV)
SB: The nose is quite complex, with juicy apple compote fruit and a light herbal tone. Sleek and concentrated, this has an elegance unusual for St-Péray, as well as an abundance of ripe but not overblown fruit. The acidity, while not monumental, discloses the light minerality on the finish. More than most, this has personality and zip. Quite long. | 91
SF: Elegant faded silver, Mr Turner's dawn; then aromatics that are equally elegant; petrichor rather than stone fruit; blossom and pure citrus; spring rather than autumn. Nuance rather than power. Fairly simple, but with a positive vista of linear purity rather than want of cerebral complexity. A nicely tapered finish, too, and then it is gone, Ariel in the rushes. | 91
AJ: Bright silver gold; a little lighter hued than some of its peers. A thick snow of yeast lees here, carpeting honeyed apricot. All very attractive and enticing. Complex, too; there are notes of thyme and warm dust behind. Vivid, full, deep, concentrated, and lively, with perfect poise between the apricot fruits in their fresh iteration and their rich iteration. Mouthfilling, expansive, and pure; and very true to the place, too. St-Péray sings out. The fruit takes center stage, and the lees that were so apparent at first sniff are just an element in the picture on the palate. Assured and good. | 92
M Chapoutier Saint-Péray Les Tanneurs 2019 (13.5% ABV)
SB: There are subdued apple and apricot aromas but it's not especially fragrant. But the attack is vivid, with a good hint of sucrosity, but the high ripeness is balanced by the underlying acidity. This shows vigor and charm. and a slightly bitter mineral bite on the finish. Well balanced and quite long. | 91
SF: Soft limonite color, viscous; nose of nectarine, pear and mace; the spice is soft but persistent; the palate betrays oak intervention, still rather intrusive and foursquare, closing down the detail and forestalling a capacity to please; this could go either way, but a slight spritz and a rather lackluster finish do not bode especially well. | 86
AJ: Pale gold in color. This smells rich: luscious yellow summer fruits, broad in the beam, idling downstream. One of those Northern Rhône whites that almost contrives to suggest it will be a dessert wine. A nice spoonful of cream, too. Mellow, full, uninhibited—but very good. It's concentrated, and there is plenty of edge to the acidity, which is fresh and quick (and, if you like, stony). At the same time, it has ample fruit wealth, filling the mouth—but not vulgarly so; the peach and mango are vinous, clean, freshly expansive. Ample but not excessive glycerol and warmth. Spot on. | 92
Yves Cuilleron Saint-Péray Lieu-Dit Biousse 2015 (14% ABV)
SB: The color is deep, suggesting some evolution, but while the nose is heady with tropical fruits and stone-fruits aromas, it's not overblown or blowsy. The palate is a tad neutral but it doesn't lack fruit, it just lacks nuance. There's a nuttiness that may derive from the granitic soils or perhaps from some oak, but whatever the source, it gives some added complexity. Quite long and textured finish. | 90
SF: Spanish gold, evolved nose, macadamia, mace, leaves, peat, and sous-bois; all faithfully reflected on the palate, a lean slightly ascetic profile leading to reappraisal of the vintage, or maybe just a recognition of the fact that such wines maybe do not always evolve with quite such conspicuous success as their siblings across the river. Fascinating all the same… | 88
AJ: Mid- to deep gold now as we step back in time. These wines take color quickly. Full and evolved, but graceful and attractive, too. Honeycomb and toast: delicious! And a kind of dusting of vanilla, too. I can't wait to sip. It's amazing how quickly these wines evolve…This is exactly as the aromas outlined it would be on the palate: mellow, full, fully open, rich, lush, dripping with honeycomb on toast. Some tannins for balance as well as ultra-ripe acidity. Evidently a warm year and this has really motored on in the interim; a gorgeous mouthful just now, and no point in keeping further. Grand for all that. | 92