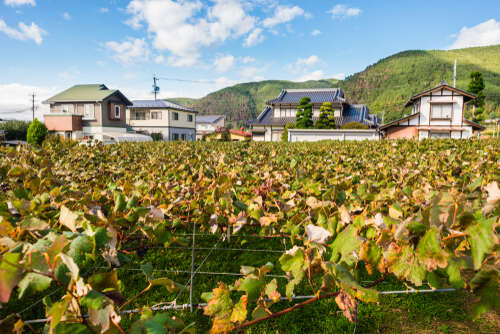 Japanese wine and sake is increasingly focused on Geographical Indications, with the Nagano region in the Japanese Alps the latest to get the status for both beverages. In the first of two reports on the country, Jim Clarke explores Japan's developing wine culture—and the differences between its producing regions.
As Tokyo busies itself with hosting the Olympic Games, winemakers and sake brewers alike in Nagano—itself a host of the Winter Olympics 25 years ago—are celebrating a different sort of recognition. At the end of June, the prefecture received Geographical Indication status for both its wines and sakes. That double status is not unique in Japan; Yamanashi, Nagano's smaller neighbor to the southeast, and Yamagata, further north, enjoy that same distinction, though in both of those cases wine and sake were so recognized at different times. However, the announcement underlines the accelerating passion for declaring Geographical Indications for both beverages across Japan.
Which is more surprising, that Japan's wine industry is developed enough to make meaningful geographical distinctions among winegrowing areas, or that sake, where the brewers' intention and craft can easily outweigh the raw ingredients, exhibits enough regional character to merit these sorts of designations? If we take wine, it's easy to overlook how much the industry has developed if one hasn't spent time in the country; Japanese wine is exported only infrequently, though efforts to change that are on the rise.
Japanese wine culture
But Japanese wine culture is well-developed. The country is the sixth largest importer of wine in the world, and has developed a sommelier culture and even embraced trends such as natural wine. An appreciation for Japanese wine is one of those trends, and while in 2017 domestic wine made up only 4.8 percent of the country's wine consumption, the category is growing. So it makes sense that Japanese wine drinkers, so accustomed to the official regional identifications ubiquitous most everywhere else in the world, would look for it in their domestic wines as well, and that the industry would respond.
Yamanashi's GI was actually the first for wine production, but was preceded by shochu which some southern prefectures established GIs for as early as 1995. The Yamanashi prefecture is the center of Japan's wine industry, with more than 80 wineries, mostly clustered in the Koshu Valley area north of Mount Fuji. There the vines are somewhat protected from the intense humidity and summer storms so typical to much of Japan thanks to the surrounding mountains. Winegrowing there dates to the late 1800s, part of the Meiji Restoration's push to Westernize. The GI permits 42 different grape varieties for winemaking, and the range is bewildering. Pride of place goes to two hybrids, Koshu, a white (actually pinkish, like Pinot Gris), and to a lesser extent the red Muscat Bailey A.
Elevated ideas
Neighboring Nagano is perhaps more known for familiar international varieties, though a similar range of grapes is permitted and grown. Elevations are higher; this is the Japanese Alps, after all, and vineyard sites can be found five hundred meters or more above sea level—not Mendoza elevations, but high enough to enjoy some protection against humidity and rain, moderate temperatures, and cooler nights. Many larger producers in Yamanashi have been sourcing grapes from Nagano for some time. Toshio Ueno, Vice President of the Sake School of America but also a Yamanashi native and wine professional, says Chateau Mercian, the country's largest wine producer, has built a new winery in Nagano to take advantage of the new GI; previously the grapes were trucked to Yamanashi for processing. Other producers are following suit.
Hokkaido is Japan's third largest wine producer, and has been a GI since 2018. As in Yamanashi, winegrowing there dates to the 1870s, when it was introduced as part of the effort to develop the then remote island. The Yoichi area west of Sapporo is now home to some of the most interesting and ambitious wine producers in Japan. The higher latitudes spare Hokkaido's vineyards from humidity, but winters can be brutal. While the elevations are not particularly notable, the vibe is more overtly alpine than in Nagano in terms of grape varieties especially. German varieties and the various Pinots are popular, including less familiar names such as Kerner and many cold-hardy hybrids.
Going by prefecture
Given the prominence and size of the Hokkaido, Yamanashi, and Nagano wine industries, which together make more than 70 percent of the country's wine, their GI status makes some sense; it is harder to know what to make of the recognition granted to Osaka and Yamagata this year. Both are heavily associated with the Delaware grape, and while this might raise eyebrows for Western wine drinkers, there seems to be less bias against non-vinifera varieties in Japan. Ueno seemed skeptical of the need for either Osaka or Yamagata's GI status, and feels that the GIs represent more a desire to market the areas' wines than actual acknowledgement of an existing reputation or character.
It seems the prefecture has been accepted as the unit for stamping out wine GIs for now, which is both politically expedient and trades in names with at least some hope of familiarity, especially for foreign wine drinkers. It paints terroir with a broad brush, however, and one can readily see a need to distinguish regions in more detail, separating for example, Hokkaido's Yoichi district, the area northeast of Sapporo, and eventually perhaps Tokachi, into more discrete units. That said, at a broad level Hokkaido's wines are quite distinct from those of Yamanashi and Nagano, and the differences from those latter two are also becoming clearer—a process the creation of the Nagano GI will hasten.