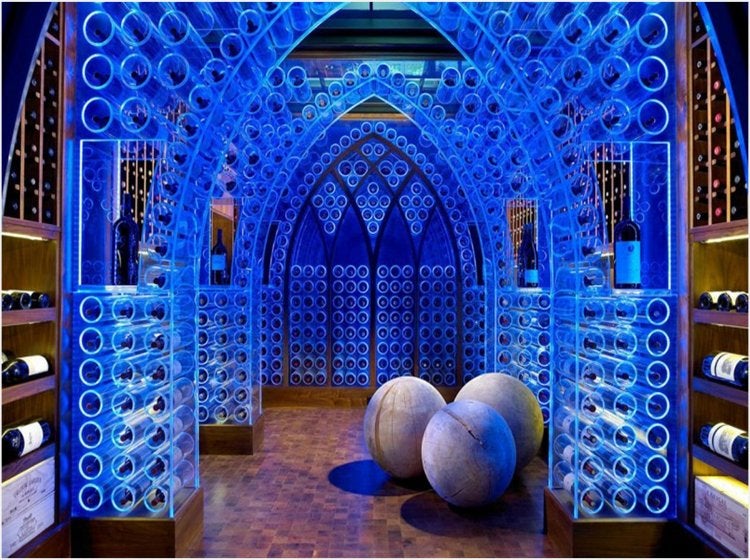 The modern concept of wine storage is changing dramatically, with collectors and commercial sellers keen to show off their precious wares in ever more daring and inventive ways.
With innovations such as precision humidity, insulation, and temperature controls, modern technology has allowed collectors to come up from the basement and store their valuable hauls above ground.
From LED lighting, to combined "wine rooms" and dazzling futuristic displays, the design-conscious collector is now free to let their imagination run riot.
Join us as we take a look at some of the most inspiring residential and commercial wine cellars, from the lavish to the practical and the downright perplexing…
The 'Fine Wine Shrine': Franklin, Tennessee
Fashioned in the shape of a diminutive cathedral, this hyper-modern cellar in a Tennessee mansion is a reminder of wine's age-old religious connotations.
The ultra flamboyant design, by the Nashville based company Beckwith Interiors, mixes LED lighting and a tubular motif to attention-grabbing effect.
Visible through the transparent flooring of one of the property's living spaces, its parent mansion is currently on the market. So, if you have $5 million to spare, this shrine to fine wine could be yours.
Old School Ostentation: The Bosphorus, Turkey
Copyright: Focus Wine Cellars
Built in a luxurious property overlooking the Istanbul Strait, this storage space by Focus Wine Cellars took seven months to build, from conception through to finished design.
The u-shaped cellar with a domed tasting area is accessed through a tunnel from the mansion's living room, with 2000 bottles of rare and fine wines on display.
In a growing trend, temperature and lighting conditions as well as music are controlled through a tablet computer or even remotely by the owner.
An apt quote from Ernest Hemingway adorns the marbled entrance floor: "Wine offers a greater range for enjoyment and appreciation than, possibly, any other sensory thing". Well, quite.
Neon Nights: near Istanbul, Turkey
Copyright: Focus Wine Cellars
Another of FWC's bespoke projects in Turkey's traditional wine region, this futuristic cellar features bottles displayed on curved cut glass shelves with concealed LED lighting.
Built for one of the country's most prominent businessmen, the unique space is located in the property's 'entertainment room', visible only as a puzzling cylinder with slits of neon light that change colour 'to suit the owner's moods'.
A vapor barrier and thermal insulation combine with purpose-built air conditioning to ensure optimum storage conditions for its precious and valuable cargo.
Plush Practicality: Spiral Cellars, UK
With space at a premium in the world's most cosmopolitan cities, UK based Spiral Cellars have come up with a rather ingenious storage model that refuses to compromise on aesthetics.
Favoured by high profile clients including London chef Mark Hix, their spiral shaped cellars may be visible through the floor of a chosen room, and provide space for up to 1,870 bottles.
Stored wines are within easy reach, and the cellar doubles up as a space saving larder for pantry goods. A stylish and wholly modern choice. Bravo, chaps.
Hospitality Haven: Huvafen Fushi Resort, the Maldives
Private Indian Ocean island resort Huvafen Fushi is home to one of the most glamorous wine storage spaces you could ever come across.
Dubbed "Vinum," this expansive cellar is located eight feet underground, featuring 6,000 bottles of classics and modern labels from Europe, Australia and North and South America.
Once a week, guests can enjoy a five course meal in the cellar complemented by seven different wines, with background information available from a dedicated sommelier. Bottles, priced between $45 and $2000 US dollars, are showcased in golden hued floor-to-ceiling racks. The glitziest wine cave our eyes have fallen upon yet.
Sky High Service: Radisson Blu Hotel Stansted, UK
More "wine-scraper" than wine cellar, the Radisson Blu Stansted's unique storage concept is certainly a sight to behold, completely subverting the idea of traditional underground spaces.
The hotel pitches its 'Wine Tower' as both its and the airport's main focal point, and this vino-centric novelty hosts thousands of bottles in an illuminated sea blue tower.
Bottles are fetched for customers by the restaurant's "acrobatic angels" – so, depending on what mood you're in, you may either wish to go for or to avoid those in its uppermost reaches. This kind of storage might not be to your taste, but at the very least you have to admire the sheer audacity and visual impact of the design.