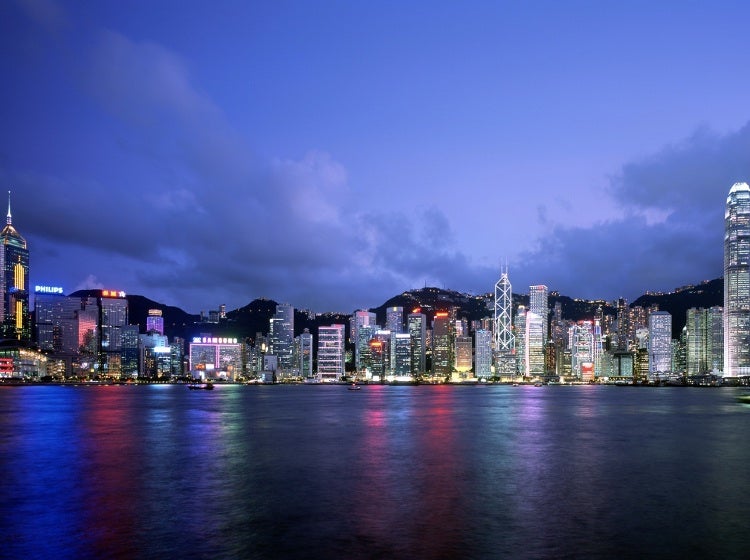 An electrifying, engrossing hype surrounds the Hong Kong wine market, which seems to stem from the widespread notion that it has bloomed overnight. The arrival of the auction houses last year certainly put Hong Kong under the spotlight, but the truth is that the seeds were planted over a decade ago. Farr Vintners realized Hong Kong's potential in 1997 when they set up a local office, and Berry Bros & Rudd's sales have increased approximately five hundredfold over the ten years that they have been present in the Special Administrative Region (SAR ), with growth accelerating at a steady rate over the period.
Hong Kong has had wine hub aspirations since June 2000, when the government held a seminar entitled "Developing HK into a Regional Distribution Center for Wine." Donald Tsang, then Financial Secretary, announced that the SAR was "well placed to serve as the world's wine industry partner in Asia." Since then the government has worked hard to realize this goal, and in the words of John Kapon, who heads the auction house Acker Merrall & Condit, it is now "the most supportive government in the world as far as wine goes, and probably the most intelligent as well."
Of all the facilitative measures introduced by the government, the one which is widely regarded as the most successful was the reduction of duty on wine and spirits from 80 percent to 40 percent in April 2007 and then to nil in February 2008. This bold move was in fact designed primarily as a way to free up customs and excise which, according to Jo Purcell, managing director of Farr in Hong Kong, constituted a "ridiculous system" that was time-consuming and made the government very little money anyway. The lobbyists, then, were seeking a remedy to the inefficient and costly bureaucracy of the previous import procedures, rather than a direct economic aid, and were not expecting a drop to zero percent tax.
Unsurprisingly, when the cut came, the results were very positive, with no more duty artificially suppressing so much of the underlying demand. Tom Stopford-Sackville, managing director of Goedhuis & Co, refers to this event as "the lighting of the touch paper," which hurried along the gradual growth that was already in evidence. Wine imports to Hong Kong during 2008 were up 80 percent year on year, and by 42 percent in the first eight months of 2009 compared to the same period in 2008. A further indication of the duty cut's considerable impact is the surge in storage facilities necessitated in the region; wine in storage at Crown Wine Cellars, for example, has increased fourfold in the wake of increased demand.
Members of the Hong Kong Wine and Spirits Industry Coalition (HKWSIC) agreed that merchants would bring prices down by around 25 percent, and most did indeed pass the benefits on to the consumer, though the effects were not seen instantly, offset by a strong euro and dutypaid stock already held. As most visitors to Hong Kong will have noticed, few hotels or restaurants have passed on the duty cut, citing anything from high rents to the price of pork in their defense! At a government meeting with lobbyists to discuss the aftermath of the tax cut, one restaurateur argued that he couldn't possibly have pork on his menu at a higher price than beef or chicken, and as such was obliged to subsidize pork by maintaining wine prices at former levels. It may sound ludicrous, but the rising price of pork has been a genuine problem for Hong Kong restaurants. Luckily this has not affected the price of buying wine retail, where decent prices can be found and the market is thriving-the culmination of a decade spent building the foundations.
All quiet on the western front
Why is the Hong Kong wine market burgeoning when others are still in the throes of a worldwide recession? One reason for the sensation caused against this glum economic background is precisely the extent to which competing fine-wine centers are struggling, as the Hong Kong hype is fuelled by the lack of anything to get excited about in these slower markets. London, in particular, is "deeply uncompetitive," in the words of Berry Bros & Rudd's MD, Nick Pegna, who expects the weak pound to continue since "nobody wants to invest in the UK."
Although the weak sterling benefited UK merchants initially, this will not be the case once their existing stocks run out and need to be replenished at an unfavorable exchange rate-for example, when 2009 Bordeaux is offered for sale next spring. The introduction of the new 50 percent tax bracket at around the same time won't help matters either, in all likelihood spurring the exodus of high net worth individuals-and potential big-time wine collectors- to tax havens such as Switzerland.
The US wine auction market has shown signs of recovery in the third quarter of 2009, with the Wine Spectator Auction Index up 12 percent. Prices in general are rallying, but they have yet to return to the pre-recession highs of the same period last year across the board. On the other hand, Hong Kong, not unfamiliar with the odd typhoon, has weathered the storm without much ado, having already put its sandbags in place. Purcell witnessed the 1997 Asian crash firsthand when Farr had just set up in Hong Kong, and believes the continent learned a huge amount through the loss of homes and the accumulation of negative equity. "Our fundamentals are good and no-one borrows too much money anymore, unlike in Europe or the States," Purcell says. So when the recession hit the West, pushing prices down by around 20 percent and weakening the pound by two thirds against the Hong Kong dollar, "people went crazy for wine."
Farr's proportion of sales generated in Asia has been 50 percent so far this year, up from 32 percent in 2008, and with this trend set to continue, new merchants are popping up all over Hong Kong, whether indigenous or Western. In mid-2008 Stephen Bachmann set up a branch of his San Francisco-based operation, Vinfolio, in Hong Kong, and already 25 percent of sales are generated by Asian buyers. Bachmann expects this figure to rise to at least 50 percent within two years. "We're only at the beginning of what's happening in Asia," he says. "There is still less competition than in established markets so it's easier to build business, and with my US regulatory hat on, it's like a dream here." The Hong Kong government's facilitative policies have clearly come up trumps for this contented merchant.
All heed the hammer
Merchants are not the only ones seeing a seismic shift in buyer geography. With Hong Kong having overtaken London to claim the number two spot in the global wine auction market, all eyes are on the hammer. Since Bonhams' debut two months after duty was slashed, all the big players have followed suit, and between them they have already hosted more than 20 auctions in the city. Second in the race, with an auction in May 2008, was Acker Merrall & Condit, which by the end of that year derived 25 percent of their business from Hong Kong. By the end of 2009 this will have reached over 40 percent, and in 2010 "definitely more than half." Sotheby's Serena Sutcliffe MW announced in October that Hong Kong had already become its "most important wine center."
What is more, Asia is not only fuelling business in Hong Kong, but also sales around the world, with collectors buying at auction in the UK and the US, whether in person, by phone, or via the live Internet bidding facility that most major auction houses now have. Asian buyers accounted for 61 percent of Christie's sales across the globe in 2009, up from only 7 percent in 2005. The chart [below] shows the growing influence of Asian buyers at Sotheby's London auctions, while 99 percent of buyers at Sotheby's October Hong Kong auction were Asian.
The high-profile nature of auctions, and especially the Hong Kong variety, means that the influx of wine auctions has caused quite a stir. In reality, wine auctions may represent no more than one tenth of the annual global wine market, according to most recent estimates. Nonetheless, they have that attention-grabbing factor that has made the market appear to launch itself from nowhere, despite its gradual evolution over the past decade. This influence is unsurprising once you have witnessed the lengths to which some auction houses have gone in an effort to harness Hong Kong's potential. Each has brought its own individual style to Hong Kong, from the sober (quite literally) traditional British institutions to the nouveau American powerhouses.
Sotheby's UK Sales by Buyer Region (source: Sotheby's)
Bonhams has gone local with a Chinese Manager and the first "homegrown" auctions, sourcing consignments from Hong Kong and Mainland collectors. As a result its auctions have been as small as 90 lots, compared to other houses whose lots regularly exceed one thousand. But although it is not the biggest, it has a "small group of dedicated buyers who are faithful," according to Crown Wine Cellars' Gregory De'Eb, who stores Bonhams' wines. Kapon believes this to be a standard pattern, with circles of buyers usually sticking to a preferred auction house, though in my experience there are a core group of local collectors who attend a range of auctions.
All that glitters… is gold
Some auction houses are attracting customers by way of extravagance, and they're putting on a damn fine show. Acker Merrall & Condit and Zachys are the real trailblazers of the glitzy auction-dinners, and have both sought to win over Hong Kongers with their wining and dining (and invitation to BYO). Zachys held the first such event in October 2002 at Daniel in New York, recently awarded three Michelin stars. The concept has now taken off in Hong Kong, where Zachys hosts its auctions in the Mandarin Oriental, whose waiters wear cream Shanghai Tang-style jackets and serve 1990 Pol Roger with gold leaf-topped foie gras. "We do try to make it fun; we try to make auctions a lot more relaxed than the auctions of the '80s and '90s, without naming names," explains chairman and "Godfather" Don Zacharia in his husky New Yoik tones.
The crowd at Zachys' October 30th evening session was made up of well-heeled locals with a peppering of Western faces, and money was in the air. One regular, with his sleeked-back hair and modish tortoiseshell Ray Bans, had popped into Louis Vuitton on the way and seated his purchase on the chair beside him. He clearly took the auction very seriously, whistling coolly, but with some urgency, to remove a waiter from his line of sight as he monitored the results on a screen. His underlings had an outsized calculator on the table and had made meticulous use of stationery to tab key lots (a not uncommon scene). Rather disappointingly he didn't buy anything, but luckily there were more than enough people who did, with five or six paddles frequently rising almost simultaneously in competitive Mexican Waves. A brief pause in the otherwise breakneck bidding was made to allow a phone bidder calling from a plane to make the winning bid of HK$ 1.7 million (US$218,581/£132,067) for a case of Mouton '45.
Acker Merrall & Condit's auction a week later was held in an equally large banquet hall in the Island Shangri-La hotel (where one bidder was heard to comment that the ceilings were pleasingly higher than those in the Mandarin). The red and gold theme continued with red bouquets decorating each table and golden bubbles of Krug a-plenty.
This time it was a three-course lunch that was served by the attentive white-gloved waiters, with Bordeaux and Burgundy handpicked for the guests on each table. The real treat, though, came at around four in the afternoon, when a Hong Kong high tea-special of fried noodles and scones was laid on: a wonderful symbol of the harmonious incongruities of this postcolonial city. And John "Rock 'n' roller" Kapon wandered around serving 2003 Château Montrose to thirsty bidders during his break. It may all seem a bit overdone, but the evidence points to the shrewdness of this approach. Acker has had the most success this year in Hong Kong, having sold around $21 million of wine at auction in the city, with Zachys close behind with about $19 million.
Sotheby's is in third place with over $14 million, despite its less elaborate approach. While Bonhams has adopted the US-pioneered dinner route, Christie's and Sotheby's have retained an old-school feel with auctions held in the traditional "classroom" set-up. Perhaps they have had less need to promote themselves, given their competitive advantage of being able to rely, as David Wainwright, Zachys' Senior International Adviser, puts it "on established networks of offices in Asia with whopping client bases" (networks well known to him from his former days at Christie's). The two auction houses, founded 20 years apart in the mid-18th century, have long histories of auctioning anything from postage stamps to sporting guns. This enables them to cross-market between departments, for example in the form of exclusive wine tastings for enthusiasts of Old Masters, or joint watches and wine evenings.
The established houses are not the only ones trying to get in on the action, as new players try their hand at the auction game, with varying degrees of success. Cellar Link, an Australian wine logistics and online retail company, decided to "make history" on November 5th, marking its launch in Hong Kong with an auction of the first dual vertical of Penfolds Grange to come to the city. The event, held at The Langham hotel, across the water from the Mandarin Oriental, was not quite the success they had hoped. In a roped-off section of the lobby, moonlighting auctioneer Nick Bulleid MW faced a small crowd in consternation as his pleas went unanswered and both lots in turn had to be passed. The apparent lack of interest in these impressive lots was a shock to Cellar Link, but perhaps the enophiles of Hong Kong were not yet ready to hop on the Star Ferry to spend HK$ 1.4 million (around US$180,000) on Australian wine. It was always going to be a gamble, and without the experience and networks of the old-timers, a gamble that should serve as a stark warning to auction neophytes attracted by the great potential of this market. Thankfully the mood was lighter upstairs in the two Michelinstarred T'ang Court, where Cellar Link's guests (considerably more in number for dinner than during the auction itself) enjoyed a blind tasting led by Bulleid, this time in his element.
One can only hope that Spectrum Wine Auctions, another new player on the auction scene, will have more success. The live auction will be simulcast to Crown Wine Cellars in Hong Kong on November 22nd, just after this article goes to print. The 636 lots of the usual suspects from Bordeaux, Burgundy, and Napa Valley, some of which hail from the cellar of Chesapeake Energy billionaire, Aubrey McClendon, will perhaps attract more attention from Hong Kong auctiongoers. Rounding up a selection of registered bidders will be essential if Spectrum is to fulfill its promise: "We're in the market to stay."
Whence the demand?
Local Hong Kongers don't drink wine; they drink Coca Cola, or water, or tea. Or so I am told by Joey, owner of a high-end beauty salon in the Central District. Yes, she occasionally drinks wine when she goes to Western restaurants, but at home, at dinner parties, or in Chinese restaurants she sticks to soft drinks, as do all her friends. So who is fuelling Hong Kong's ascension in the global wine trade? Someone must be drinking the stuff, and it's not the dwindling expat population, who made up nearly all of Berry Bros's client base ten years ago. Now 80 percent of the merchant's business by value is from Hong Kong Chinese customers-"as it should be!" says Pegna-but only 60 percent by volume, implying that the locals are the big spenders, which perhaps helps solve the riddle.
Is Joey an anomaly? No, but the normalization of winedrinking in Hong Kong is afoot, and in a few years' time she and her friends may well be drinking wine with roast goose or dumplings, as some already do. For now, Hong Kong remains very much a "fine-wine" market, with the average bottle price in Hong Kong a hefty $17, and you would be hard pushed to find anything near this price in a restaurant. Purcell assures me that wine is drunk not only in Western restaurants and by the super rich: many local punters can be seen enjoying wine in neon-lit Cantonese eateries, where some of her clients even keep their own glassware. These establishments have not yet cottoned on to the high corkage charged in their higher-end counterparts, so they represent a great opportunity to enjoy a bottle of Cos d'Estournel or Angélus at more modest prices. While these are hardly the wines of the masses, only beer and spirits would have featured on the same tables a decade ago. The evolution of a wine-drinking culture is underway.
More affordable, everyday wines are of course available in the city's supermarkets and in its proliferating wine bars, According to Stopford-Sackville "interest in wine goes a lot further through the class system than it did a decade ago." All the same, of Hong Kong's total population of seven million, it's a mere fraction who have helped propel the city to its vinous heights. De'Eb estimates that there are between 20,000 and 30,000 active collectors in Hong Kong (and regretfully concedes that they do not all store their wines in his cellars).
A thirsty dragon, then?
"It must be China fuelling demand," you cry. We have all heard the phrase "Asian wine hub" being bandied around in relation to Hong Kong, which is undoubtedly conveniently positioned in the continent. Particularly when it comes to Mainland China, Hong Kong is a veritable portal, geographically, linguistically and culturally. Yvonne Choi, Permanent Secretary for Commerce and Economic Development, made these advantages quite clear at a recent conference organized for members of the wine trade from around the world at the Hong Kong Wine & Spirits Fair, as well as emphasizing Hong Kong's experience doing business with China. In fact, she sees the city as "a platform for showcasing the finer things in life to Asian consumers."
While the government has indeed, in Choi's words, "fostered a conducive environment for wine-related businesses," Jeannie Cho-Li MW told me that it is still too soon to refer to Hong Kong as a wine hub for Asia, though it is certainly a fine-wine hub for Greater China. In a presentation at the HKWSF, Cho-Li showed the number of re-exports from Hong Kong to be limited predominantly to China and Macau (48 percent and 42 percent of total reexports respectively), leaving only 10 percent for the likes of Singapore, Vietnam, and South Korea, though exports to these countries are increasing rapidly.
Romeo Sia, an active buyer at recent Hong Kong auctions, hails from the "virgin market" that is Manila, where he is expanding into wine after 14 years of building up his wholefoods chain, Healthy Options. He joked that his new venture, Wine Story, is a front for his own consumption, allowing him to indulge in his passion-investing and drinking-without any intervention from his wife. When it came to the bidding, though, he seemed perfectly serious about the business, intently buying up large-format bottles to display behind glass casing in his high-end store that targets only the top two percent of the market.
The influence of Mainland China on Hong Kong's wine market is a contested one, with demand surely being suppressed to some extent by the draconian and uneconomic import laws, including the confiscation of three bottles per case for laboratory testing, on top of the high but comparatively bearable duties of 41 percent.
"Mainland customers are certainly not driving it where I'm concerned," says Stopford-Sackville, though he, like everyone else, concedes that the wine must be getting there somehow. The UK merchants in Hong Kong do have a few Mainland clients, but not many, and despite Zachys providing interpretation into Mandarin, there was no evidence of anyone who would have benefited from this at its auction. Of course Mainland buyers might have been on the Internet or have sent an agent, which Zacharia believes is the likely explanation. That the Chinese are big buyers does not seem to be in question, but how the wine is actually getting to China is a mystery that most prefer to sidestep.
Not all Chinese collectors store their wine in Hong Kong and take their two-bottle quota home with them after every business trip, but there is no room to explore the alternatives here. Suffice it to say that a "one-man business with a truck" approached Vinfolio's stall at the wine fair planning to drive the wine back over the border for resale. One thing nobody denies is that once the wine gets to China it is consumed: "buy, buy, buy and then drink, drink, drink," is Kapon's observation of Mainland China's habits, while Bachmann refers to China as "like a big suction" for Lafite.
The feat that is Lafite
In the highly stratified market of Hong Kong, the level of knowledge and sophistication at the top is immense, reflecting the maturity of the market for fine wine-in contrast with that for inexpensive, bulk wines, which is still relatively undeveloped. These aficionados are undoubtedly in the minority, as is the case to some extent even in more mature, Western markets. In Hong Kong, unlike in Europe, wine education, while advanced, is limited to certain circles-to those who seek it-rather than being absorbed as part of the culture. Nonetheless, many such circles exist, with wine appreciation groups springing up across the city (see the interview with Paul Lai on p.201), and Zacharia says of the local buyers, "From what I can see they're sophisticated in their buying habits and they drink what they buy."
So what kind of wine does Joey drink on the odd occasion she forgoes a Coke? "Anything"-she doesn't know the difference. When probed, she states a preference for red over white. In that she is not alone-red wine seems to be the preferred option in Hong Kong, just as it is across most of Asia, and more specifically across China, where it is generally tannic Bordeaux that attracts the most attention and the most buyers. There are various reasons why this might be the case, despite the generally held view that white wine makes a better match for much Asian cuisine. Only one such reason is the widely reported ease with which the Chinese can pronounce the word Lafite.
Rather more important may be the fact that Asia is a continent of tea-drinkers, and as such Asians are no strangers to tannin. When I put this theory to Cho-Li, author of Asian Palate, she agreed it was unsurprising that when Asians are introduced to wine, invariably via tannic Bordeaux, they are not averse to the mouth-drying sensation they are so accustomed to in other beverages.
Pegna suggested another possible cause to be the exploitation of the new market in the '80s, when gallons of Liebfraumilch were imported into Hong Kong and the population unsurprisingly developed a distaste for white wine. Furthermore, red, a symbol of good luck, is China's most significant color, and the perceived benefits of red wine have helped it to achieve a similar status to tea as a natural health drink.
As for Lafite's distinct fame, probably the most plausible explanation is one put forward by Gabriel Suk, manager of Hart Davis Hart in Asia-Pacific-namely the early and aggressive marketing campaign that this producer launched in China. Lafite's popularity has since spiraled, and accounts for 24 percent of Liv-ex's turnover in 2009 "on the back of Chinese demand." With a couple of the most important Chinese wine collectors increasing interest and demand in their own circles by serving the wine, its brand has gained more and more status: a vicious circle or a self-fulfilling social phenomenon? Skeptics might rant condescendingly about brand-frenzied, unsophisticated consumers, or, conversely, the negative implications of vendors underestimating the refinement of the market and failing to offer a broad range of wines. But this obsession with Lafite and other first growths from top vintages also has more positive connotations, not least in terms of what it says about Asian culture. Cho-Li suggests that if we examine the context in which these wines are presented- for example, at corporate functions or as gifts, it is quite understandable that people should want to bestow the best possible wines, as "a sign of respect and courtesy." This is not showing off, but rather an important element of close-knit Asian societies, where gift-giving should make the recipient feel special. If the wine's brand is not recognized and its worth cannot be appreciated, then the effect is not achieved; so Lafite is, as Pegna puts it, the "lowest common denominator."
Classism
Prices for "100 of the most sought-after fine wines" have grown faster than those of the top 500 (see Fig.4, below). In other words, the aristocrats of wine are currently experiencing increasingly higher demand than their upper middle-class counterparts. The great Bordeaux châteaux account for around 90 percent of Liv-ex's turnover. Asia's demand for the highest quality red Bordeaux is undoubtedly buoying the prices of the top producers, and more than compensating for the effects of the recession in the West, where "the very expensive wines have stopped selling, particularly in restaurants," according to Zacharia. Unlike the art market, when the value of unusual artists such as the absurdist Maurizio Cattelan creeps up against a background of sliding prices in a recession, the wine market is more congenial to the classics than the eccentrics or the newcomers. The Italian artist's works frequently beat top estimates in October and November, with one, Untitled, comprising taxidermied mice in a deckchair, fetching over $500,000 on October 16th.
The Widening Gap between the Liv-ex 100 and 500 Fine Wine Indices
The over-performing lots at wine auctions, however, have been the usual suspects. Acker Merrall & Condit's Hong Kong auction of November 7th saw a case of 1982 Pétrus sell for a world record price of HK$726,000 (US$93,677/£56,400), more than double the pre-sale high estimate. The second highest lot was a case of the touchstone 1982 Château Lafite Rothschild at HK$435,600 (US$56,206/£33,840). Asia's growing influence seems, then, to have widened the chasm between wine's highest echelon and the rest of the fine-wine market. The region has, in the past, yielded higher prices than the West for top-growth Bordeaux, but still shows less interest in other regions and for white wines and Champagne. Prices are evening out, however, with auction houses aiming to stick to a global pricing policy when calculating their estimates. "Rare Champagne and Burgundy tend to do better in the US as it's a more mature market, but Zachys doesn't price Lafite higher in Hong Kong, because it's a global market, and if people realize [that prices are higher] then they won't buy here," Zacharia says.
There are hints of broadening horizons. Not least is the threat to Lafite's reign as China's most wanted, with The Wine Investment Fund citing prices rising by approximately 10 percent in October for Château Mouton Rothschild's best 1990s vintages. The top two lots in Zachys' Hong Kong auction on October 30th and 31st were both Mouton. Mouton's price increased more than 5 percent during October, ahead of Lafite, whose extraordinary growth-with most vintages up 40 percent in the year to date-is perhaps starting to slow (see Fig.5, below). More significant, perhaps, is the increasing presence of non-Bordeaux and non-red wines in the auction catalogs and on the shelves around Hong Kong. The available selection of wine from the local merchants is improving slowly; while the wine departments of the high-end supermarkets still appear somewhat restricted to top wines at prohibitive prices, some more specialist merchants are branching out. Berry Bros imports a significant proportion of its UK offering, while Goedhuis's list is refreshingly varied. Stopford-Sackville spoke to me of "a rich vein of interested wine collectors who are not just drinking Bordeaux." There is also a pleasantly surprising choice in Watson's Wine Cellars of numerous European and New World wines, including lesser-known wines and regions such as Le Soula Blanc from the up-and-coming Vin de Pays des Côtes Catalanes. An extensive collection of red Bordeaux can still, of course, be found at every turn, and prices continue to tend toward the fine-wine end of the market.
Auction houses are also being bolder in their range, with Kapon assuring me that he is anxious to expand the variety of wines that Acker Merrall & Condit brings to auction in the city-though he admits that people will "certainly fight a little harder for the DRCs (Domaine de la Romanée-Conti) and the Pétrus." Similarly, Zachys adviser Wainwright accepts that "it is still a risk to bring obscure stuff over, as it might not sell in this less mature market." Liv-ex data shows Bordeaux representing a hefty 65 percent of Hong Kong auction sales by value. But the US is not far behind at 59 percent and, tellingly, the UK market still spends 82 percent of money at auction on Bordeaux, following its 900-yearold tradition of importing claret. As the Asian market acquires new tastes, it may well drive a resurgence of the "second-tier" wines, whose prices have not yet risen in line with the aristos of the Liv-ex 100.
Where East beats West?
Wine is to Hong Kong what lobster is to spaghetti, but will it be the next Bolognese? Wine may well become more commonplace across all levels of society if the performance of other luxury goods is anything to go by. Every other woman in the city center proudly clutches a Louis Vuitton handbag or its equivalent, even if she has had to save for months to afford it. LVMH, the epitome of luxury goods, derives exactly one third of its profits from Asia, which, excluding sharp declines in Japan, is the only growth region for the group. The luxury goods market is no longer the exclusive stamping ground of the wealthy elite, and Luca Solca of Bernstein Research reports that 60 percent of the luxury market is based on demand from "aspirational" customers. If vinous trends follow the continent's sartorial habits, then the status-symbol value of wine could bring it into the realms of the "must-have," no longer desired only by the super rich (though you can't, of course, wear a bottle '82 Lafite on your arm).
But this doesn't matter for now; millionaires and fine wine alone have turned Hong Kong into the third most important wine-buying city in the world, and the trend is set to continue. Auction houses expect total sales of wine at auction in Hong Kong to reach $65 million by the end of 2009 (up from $27 million in 2008), second only to New York, which they predict to be around $100 million, with London trailing at under $40 million. Gil Lempert-Schwarz, consultant to Acker Merrall & Condit, dismisses the UK capital ("forget about London"), while Cho-Li predicts that Hong Kong could take the top spot within five years.
Wine's Performance vs. Stock Markets
There is very little to prevent this occurring, or indeed to prevent Hong Kong's fine-wine market as a whole from continuing to grow, especially in light of the government's ongoing support in logistical terms. Financial secretary, John Tsang, announced in November a professional storage accreditation scheme, "expected to be rolled out by the end of this year and likely to be the first of its kind anywhere."
This is just one example of the proactive way in which the SAR is dealing with challenges to its desired status of wine hub, such as the perceived problems surrounding provenance and storage in the region's hot climes. That storage is running out is another myth, though the lack of suitable underground space is not. In anticipation of demand, Crown Wine Cellars recently launched its fourth facility, just one third full by the end of October, though only the first facility is subterranean, and other, high-quality storage provisions also exist in Hong Kong.
A comparable rebound in the West looks unlikely any time soon. The US Commerce Department's initial estimate of 3.5 percent annualized gross domestic product growth for the third quarter of 2009, while a good sign, is skewed by stimulus measures, and long-term growth rates are expected to remain below 2 percent. US consumer confidence fell sharply in October, hitting an eight-month low. In the UK the recession continues to take its toll, with the specialist drinks retail chain, Threshers' parent company, First Quench, in administration and forced to close 373 of its stores.
It is not all doom and gloom though, showing that stock markets have been picking up since a low earlier this year, in a two steps forward, one step back fashion, with Hong Kong's Hang Seng index recovering at a faster rate than its UK and US counterparts (see Fig.6, above). The IMF, in a report of October 20th, asserts that "the recovery is now underway, fueled by growth in China [and] stimulative fiscal policies." The Liv-ex 100 index has also risen slowly but more consistently during 2009, fuelled by the unprecedented activity in Hong Kong as well as by Asian buyers throughout the world, and has shown fine wines to be a relatively resilient investment during a downturn.
Liv-ex 100 wine prices are still down 12 percent on their highs of June 2008, but some wines are beginning to fetch the same prices, or even more. Overall, the global wine market is looking up: Michael Wigley, CEO of Private Equity fund, Bacchus Partners, predicts that "with massive worldwide liquidity chasing hard assets of all kinds, the highest probability event is for even higher fine-wine prices in the first half of 2010."
The wine world is waiting with baited breath to witness the full extent of China's impact on these prices, and Hong Kong hopes to be the one to quell the dragon's thirst. With China's annual GDP growth set to reach 8.4 percent this year, and The World Bank projecting 8.7 percent next year, there is little doubt that China's consumption of fine wine will continue to grow in line with the wealth of its population-all the more so because they are actually drinking wine, not speculating in it.
Whether Hong Kong will be able to harness the full potential of its promising position depends very much on the SAR 's ability to persuade the superpower of the merits of a more lax approach to imports: of wine, that is, and from Hong Kong! More realistic customs procedures that would reduce-or remove-the incentive to smuggle, would surely benefit the state as well as making China a more economical proposition for the wine trade.
Tsang's ambiguous announcement on November 4th- that "we have just reached agreement with the Mainland Customs to provide customs facilitation measures for wine exported from Hong Kong to the Mainland"-is potentially momentous, and now all that remains to be seen is what, exactly, those measures are. In any event, they seem certain to strengthen Hong Kong's position as the world's most dynamic fine-wine market.