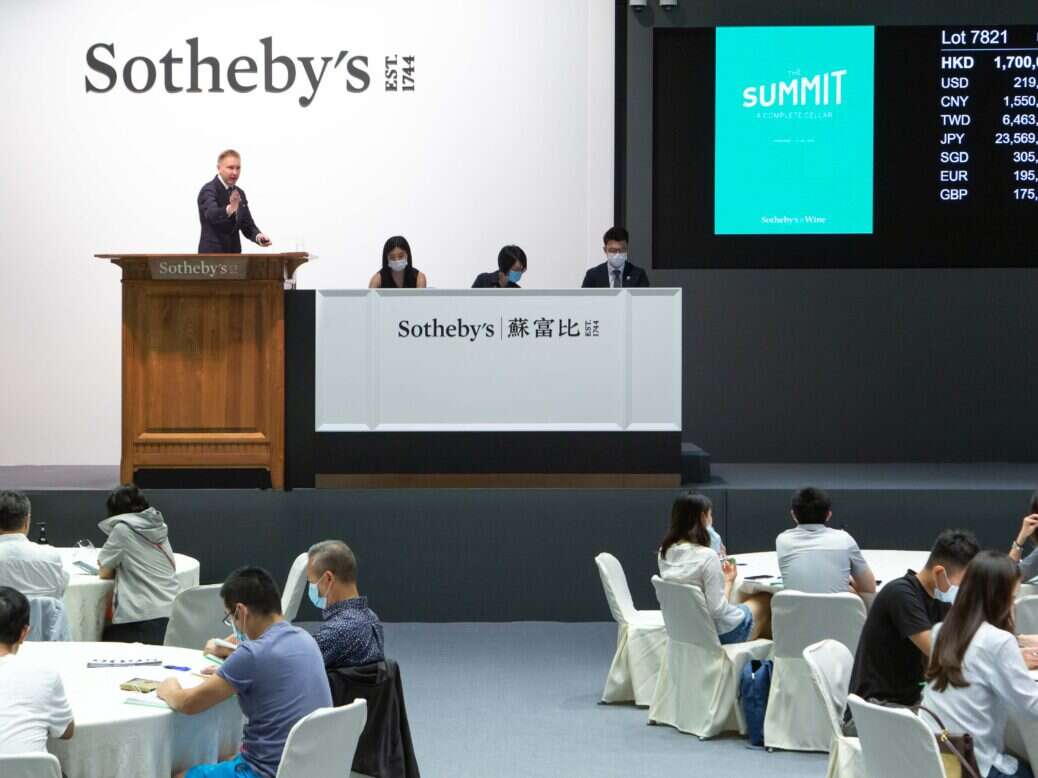 The World of Fine Wine 's auctions and secondary market correspondent takes a look at how the pandemic has continued to have an impact on fine-wine saleroom activity during the third quarter.
The fine-wine market has become comfortable with uncertainty during Covid-19. Since the glory of autumn 2018, which saw the Liv-ex 1,000 index reach record-breaking heights, turmoil of one kind or another has plagued major markets—but the industry and its assets have resisted well.
Exceeding expectations
"Things are less negative than we thought they were going to be," says Tom Stopford Sackville, CEO of fine-wine merchant Goedhuis & Co. Speaking to him just before the beginning of the UK's second Covid-19 lockdown, he nonetheless caveats that as far as London is concerned, while the first stint of staying at home was perhaps a novelty for some customers, who consequently "decided to spoil themselves with fine-wines," the next bout "may have a different effect" on demand levels. British business for Goedhuis through 2020 has nonetheless been good, with the merchant boasting its best-ever August, and a successful October that saw revenues up 15 percent on the "non-Covid-ridden" October of 2019. Brexit seems barely a concern—Stopford Sackville takes the position of "waiting, watching, and seeing," not least because any serious threat from outcomes of a no-deal will now officially be postponed until July 2021 (thanks to a grace period on any additional import documentation). Olivier Staub, Investment Director of Cult Wines is equally relaxed on the subject of the UK's political separation from Europe: "The UK has been importing and trading wine for over 500 years," he observes, "as a trading hub, it is too important to European industry for things to turn nasty."
As for Hong Kong, Stopford Sackville tells me there has been "good action in the market." "Our drinking lists in Hong Kong and Singapore were decimated over the summer." He tells me that Goedhuis recently had to send an emergency shipment to its Asia storage facilities to satisfy continued demand. As another major UK player with roots across Asia, Cult Wines has experienced similar success. Staub attributes this partially to a quick recovery from the Covid-19 pandemic compared with much of Europe, but equally continues "to be amazed by the sheer quality of fine-wines people are drinking" in Hong Kong.
The US wine market—a sticky subject for its importers, and especially European producers for many months—is likely breathing a sigh of relief at Joe Biden's presidential win. Election results notwithstanding, Joe Marchant, Director of Bordeaux Index's American branch, is optimistic: "We have had a good year for business so far in the US. If it weren't for the tariffs, it would have been an exceptional one." The 25 percent import tax has clearly been the biggest blocker of exponential growth for the wider market, and while hitting the "sub-$100" retail sector the hardest, Marchant explains that the "degree of elasticity" in pricing at the high-end has meant no significant change to business for him. Staub's view is a touch more conservative; he believes that the threat of even higher tariffs under Trump took its toll on sales of non-physical stock to US clients: "American buyers were more or less absent from the Bordeaux en primeur campaign." Under a Biden presidency, the tariffs are less likely to be re-imposed next year, and in this case Marchant foresees a genuine boom of demand and ensuing imports to the US for 2021.
Bouncing back
As Covid-19 cases mercifully tapered off over the summer, Liv-ex fine-wine indices recovered from their rough start to the year. The Liv-ex 100 was both the slowest reactor to the first effects of the global pandemic, and the quickest rebounder, regaining all ground lost between September 2019 and the end of Q3 2020 (fig. 1). Suffering slightly more severely, the Liv-ex 50 and 1,000 indices dropped 8 and 7 percent respectively between last autumn and each of their worst months in 2020. Thereafter, the late spring and summer of this year were kinder, with growth that placed both indices just 3 percent down on where they stood 12 months before.
Enophile oasis
The trough may look deep at first glance, but in comparison to other financial assets, fine-wine has stayed stable during Covid-19. Staub offers an explanation: "Wine is obviously not linked to the central bank, or interest rates, and it is certainly not as liquid [excuse the pun] as derivatives or futures." Even at the most-traded end (Bordeaux), fine wine does not suffer such "knee-jerk" reactions at the first signs of economic distress; not least, as I understand it, because it generally remains small-fry relative to other wealth assets within any given portfolio. Pure investment aside, the emotional element of fine wine can act as its protector; a keen collector himself, Staub jokes, "My wine collection would be the last thing I'd sell." Stopford Sackville endorses fine-wine buying even in economic crisis, deeming it "a relative safe haven, compared to say, property" during difficult times.
The initial negative performance of Liv-ex's Bordeaux and Burgundy indices (fig.2) may not be solely a consequence of the pandemic, nor indeed the longer-term macroeconomic factors at play; Staub confirms that "the market for Bordeaux and Burgundy was already subdued last year." Beyond these traditionally traded regions, two of Liv-ex's regional indices have shown impressive growth since September 2019. The Champagne index increased 7 percent in the 12 months to September 2020, and Italy 4 percent. It is probably not a coincidence that both regions—historically strong in the US—are those exempt from US tariffs, though the steady long-term price performance of Champagne, and the increasing quality and demand for Piemontese and Tuscan wines, also contribute to their success. Burgundy remains the worst-performing index of the bunch, seeing an 8 percent decrease over the 12 months since September 2019. It nonetheless follows the pack in showing signs of recovery since April this year, if in muted fashion. As of September 2020, only Liv-ex's Rest of World index is trending downward.
AUCTION UPDATE
Global wine auctions reflect the hardiness of secondary market prices despite macroeconomic battles on all sides, and the understandably weak first half of the year in terms of sales volumes. Following a peak and subsequent sharp decline since the end of 2018, average lot prices began to level out at the start of 2020, and even managed a small upward turn into the year's third quarter (fig. 3).
Collective comeback
Marc Fischer, MD of Steinfels comments on the results of the Zurich house's September auction: "In general, the achieved prices were very strong and higher than we expected." While he attributes this to continued interest from private clients in particular, he also tells me that technology had a part to play in maintaining good price performance, noting, "Bidders can now enter their bids directly on the website and see immediately if they are overbid. We realize that this leads to higher hammer prices as a lot of clients then come back when they realize that they have been outbid, and bid again."
The theme of reaction to the pandemic lies not in technological advances alone. 2020's global auction revenue total to the end of September stands at $230 million. Despite a 24 percent drop in value versus the same 9-month period last year, summer auctions helped immensely in gaining ground after 2020's slow start, alleviating the negative difference since the end of June (also by 24 percent). Indeed, auctions between July and September this year produced record-breaking results—the quarter saw revenues of $106 million, making it the most successful summer season in the history of Liquid Assets in its current form. Add to this the online-only results hosted by the same major auction houses (given that at least some live auction revenue was replaced through digital streams due to Covid-19 restrictions), and performance in 2020 looks relatively positive, all things considered (fig. 4).
Rightful reign
Achieving sales revenues of $78 million to September, Hong Kong regains its position as the world's leading auction city in 2020 (fig. 5). Holding ten auctions between July and September (compared to just four in summer 2019), the driving force of fine wine in Asia produced figures more than 2.5 times higher than the city's weak second quarter, overtaking New York, despite the administrative region's continued tension with mainland China.
Hong Kong's strong performance over the summer reduces American auction dominance, but US cities nonetheless still represent 53 percent of global auction revenues collectively (versus 67 percent after the first half of 2020). Joe Marchant hints that US auction success may be the only silver lining of "Trump tax," explaining, "As importers reacted to the tariffs and the pricing gap closed, auction houses were basically able to offer the sale of consumer collections for 25 percent more."
New York is still America's number one wine city, accounting for 30 percent of the US hoard under the hammer (fig. 6). While America's traditional auction hub maintains its vast lead over other US cities, the picture in Europe is not so clear-cut.
Satellite success
As of June 2020, Geneva was Europe's leading auction city despite having held only one live sale. Auctions during the summer months from London's big three—Sotheby's, Christie's, and Bonhams—helped England's capital regain the European crown by autumn, but Geneva has stayed hot on its toes. Indeed, when it comes to value per lot, the Swiss capital blows other auction cities out of the water, achieving an average price per lot of $7,096 in the first three quarters of 2020, versus Hong Kong's $5,669, New York's $4,662, and London's $3,343.
This result is skewed by the top lot of Baghera's March Auction—a methuselah of Domaine de la Romanée-Conti 1979 La Romanée-Conti, which sold for a whopping $218,251. As of September 2020, the Swiss auction house has seen its live sale revenues increase an astonishing 221 percent year on year, while online sales continue to bear ripe fruit. Deputy Director, Julie Carpentier comments, "Despite a slow-down on activity in Q2, Q3 is marked with a satisfactory upturn, particularly with dynamic September and October online-only sales. Demand for rare wines is still very strong from all over the world, and competition is fierce for all French iconic wines." Two further houses outside the top five "big guns" make gains for the same period—Italian specialist Gelardini & Romani (up 22 percent) and Beverly Hills' Heritage (up 10 percent). Simulcast auction leader, Hart Davis Hart, maintains similar revenue levels to 2019, but achieves the top spot for the largest wine auction held in the US in 2020 with its September sale, which generated more than $11 million. As further proof of the ever-more global nature of wine auctions, the top lot—an assortment of wines from Domaine de la Romanée-Conti worth $71,700—was purchased by a trade buyer from Europe.
Autocrats ascending
Maintaining the top spot through the third quarter of the year, power house Acker Merrall & Condit totalled $66 million in live or live-streamed sales by September 2020, surpassing its nine-month revenues of last year by 17 percent. 2019 global auction leader, Zachys, stays steady in the game, achieving $43 million from physical sales for the first 9 months of 2020. Head of Auction Sales, Charles Antin, puts this down to "a manifold increase in our bidder base," boosted in particular by the house's European debut in London through the auction of wines from restaurant Enoteca Pinchiorri, as well as "robust demand coming out of mainland China." If spreading its wings across the Atlantic in the midst of a pandemic wasn't impressive enough, Zachys achieved an additional $10.7 million in revenues from online-only sales by Q3 in 2020—gains of 75 percent in the digital space on the same 9-month period last year.
As for regional reign, Burgundy still sits firmly atop the auction podium, seemingly unaffected by the deceleration of its price performance in the wholesale and retail sectors. Of the 28 top lots disclosed from live or live-streamed auctions in Q3 2020, 19 hail from Burgundy, and 16 of these were of Domaine de la Romanée-Conti wines. Italy also continues to flex its muscles, with a 9-liter Salmanazar of Ornellaia and an estate visit fetching the highest hammer price of the summer season ($250,476) at the annual Vendemmia d'Artista auction through Sotheby's in London.
Digital drive
With a little more perspective on how this extraordinary year has unfolded, increased online activity was clearly inevitable. International and local houses alike have made massive digital ground. Heritage, whose monthly online auctions were well-established prior to any sign of a worldwide lockdown, has seen revenues from virtual sales grow by 271 percent year on year. Its European benchmark, Baghera, whose "Wine O'clock" virtual auctions are also longstanding, increased digital revenues by 134 percent in the nine months to September 2020 compared with the previous period. Finally, after a relatively slow start to the year, Christie's summer selection of online auctions saw its digital figures rise by 154 percent.
Lionel Cuenca, Managing Director and co-founder of European online auction leader, iDealwine, highlights that the online wine market has been "dynamic, given the difficult context," confirming that the health crisis has "created new purchase habits," with "many buyers leaning into the digital space." Though remarking that changes in consumer behavior may not all last longer than the current situation, he believes that digital advances for the industry have nonetheless stepped up a notch—a summation supported by iDealwine's 100 percent increase in new online customers during the first half of 2020 compared with the same period in 2019. Nonetheless, some major players remain cautious, Stopford Sackville warning, "The wine market is in a fragile state," and that "we may see prices coming down in the new year." Staub counters this with an interesting observation linked to the "irrational exuberance" of wine collecting: "A strength of the wine market is that if and when prices go down, there is arguably even more depth in demand." He cites as an example this year's Bordeaux en primeur campaign, which "put the life back" into the region thanks to prices appropriate to the economic context, reigniting interest for back vintages that now look inexpensive against the wider fine-wine backdrop.
A truly international market, with collectors willing to buy from anywhere, can only harden fine-wine's armor against geopolitical hurdles—a weaker pound sterling traditionally results in heightened buying activity on the UK market from the US and Asia. Further balance, albeit very bittersweet in nature, is evidenced in reaction to the closure of restaurants during the pandemic; as Staub puts it, "The wealth is redistributed—instead of spending on a bottle of wine in a restaurant, wine lovers are drinking even better wines at home." At the risk of overconfidence heading toward the end of 2020, and with the exception of the hard-hit hospitality sector, it seems plausible that fine wine as a whole may yet escape these turbulent times relatively unscathed. For now, at least, a little faith in the unfailing fervor of wine collectors may provide some comfort.
For the full article, please see WFW 70 2020 Q4
—