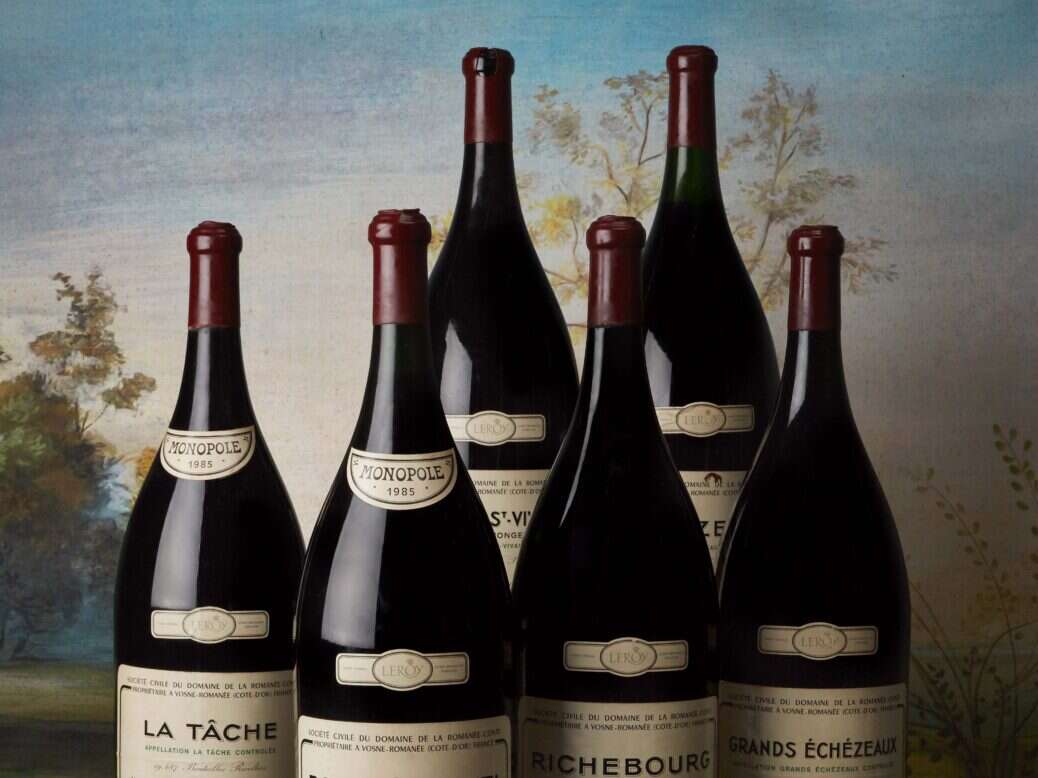 The World of Fine Wine 's auctions and secondary market correspondent finds cause for cautious optimism after the first 12 difficult months of Covid-19
Against a frightening global backdrop, fine-wine market prices managed to climb in 2020. While an uphill struggle logistically, with merchants navigating digital adaptation as well as licking old wounds (Brexit uncertainty, US tariffs, Hong Kong's political instability), heightened interest and activity from collectors propped up the market, finally ending an historic year with positive gains.
Liv-ex indices show that the fine-wine market did stumble at the initial, global impact of Covid-19—the Liv-ex 50, comprising Bordeaux first growths, dropped 3 percent in the first quarter of 2020 (fig.1). "Fear began to set in as sales for Chinese New Year were drastically down on previous years," explains Justin Gibbs, Co-founder and Director of Liv-ex. On-trade activity notwithstanding, this panic was thankfully short-lived, at least for anyone with a decent customer base in Hong Kong. As Asia started to recover from the worst of Covid, the balance tipped the opposite way in Europe and the US. Business halted temporarily on home ground, and the ensuing weakness of the pound did much to boost sales in Hong Kong after its quiet first two months of the year. "We had enormous sales to Asia at the start of lockdown 1 when the GBP briefly dropped to its lowest level in years against the HKD," explains Stephen Browett, Chairman of Farr Vintners. Though Covid cases in America hit their first peak at the same time as Europe, Browett notes that "sales to USA were hit more by tariffs than exchange rates."
It is simple human nature to make comparisons, and following the momentary sterling blip in 2020's first quarter, whispers of price drops emulating the 2008 financial crisis rippled through the industry. The Liv-ex 100 index plummeted by 20 percent over the course of 5 months during 2008, taking a further 15 months to recover its mid-2008 position. Fast forward 12 years, and the same index has proved resilient, recovering from small losses quickly, and even rising almost 6 percent in 2020. Browett points out that, broadly speaking, "the pound hasn't moved a lot over the past 12 months"—a crucial difference between "then and now." Another major variant between the two crises' respective effects on wine has been the ability (or indeed lack thereof) to continue business as usual. Where throughout 2008 normal industry activity soldiered on, if gloomily in the face of the crisis, 2020 has forced much inter-industry activity to cease—Bordeaux en primeur tastings, Prowein, Vinexpo. With the trade therefore glued to their screens, even more attention than usual has turned toward collectors, who have also had more time on their hands to buy and appreciate wine at home.
The comparatively stable pound is explanation enough for fine-wine market prices to have remained steady, but to see genuine increases during a global pandemic is an entirely separate feat. Zachys's President, Jeff Zacharia tells me, "Prices and interest have been strong, and consumer growth has continued to fuel prices." Browett agrees, commenting on the paradoxical benefit of lockdown thus: "Wine drinkers have had few other luxuries available to them during the pandemic on which to spend their money, so demand and sales have been up, and prices have risen." Managing Director of Lay & Wheeler, Katy Keating, notes not only increased sales for both futures and stock for immediate consumption, but engagement from new buyers in 2020. "We've seen a 20 percent uplift in customers joining Cellar Circle, where we help members build a cellar with us, buying mostly wines en primeur," she notes.
Two years ago, the fine-wine market price progression story was all about Burgundy—today the picture is very different. Not only has fine wine's Samson seemingly lost his hair, the strength of wine prices now appears to be in numbers rather than a one-horse race, with all but two of Liv-ex's regional indices gaining ground in 2020 (fig.2).
Perhaps the Delilah in this scenario is US tariffs, betraying not only Burgundy but Bordeaux, too, and allowing Champagne, Italy, and the Rhône (exempt from said taxes, the latter due to its typically higher alcohol content above 14 percent ABV) to reach new price heights—these three indices rose by 6.1, 5.9, and 5.1 percent respectively during 2020.
Gibbs acknowledges that the success of these regions by default may not be the whole picture: "In addition to being on the right side of US tariffs, Champagne and Italy of course also benefited from brilliant vintages to fuel campaigns in 2020." He refers to further releases of Champagne's 2008 vintage, and some 2012s, as well as record-breaking Barolo 2016 and Brunello 2015 campaigns. Even Bordeaux's modest average 3.8 percent rise had its 2019 vintage to thank. Browett notes, "2019 Bordeaux en primeur suggested that the producers may be prepared to give buyers more of a deal, which makes the wines worth buying early on." Keating is even more enthusiastic, stating, "The [Bordeaux] 2019 releases were just what we needed to enthuse our customers about the region we love so dearly. With the perfect storm of a superb vintage, attractive prices, and the attention of our home-bound customers, it was one of the best en primeur campaigns we've seen in a while."
Though Bordeaux and Burgundy may rank behind other regions in price progression terms, their popularity among collectors remains strong. Wine Lister's popularity index, ranking the top 50 wines per region based on their respective search frequencies on Wine Searcher, places the two staple fine-wine regions in first and second place (fig. 3). This remains true in practise, according to Browett's assessment: "Bordeaux is still by far the most demanded fine-wine region in the market, and new buyers always tend to start with Bordeaux. Often people then dabble with other regions but usually come back to it in the end. It's still more than 60 percent of our [Farr Vintners's] turnover."
Demand for Burgundy seems unstoppable, too, despite its flagging prices. Though left-over stocks of the abundant 2018 vintage (relative to Burgundy's average yields) available throughout 2020 may have contributed to balancing the stark under-supply and over-demand ratio, the Burgundy 2019 en primeur campaign may well have begun to right this course. First, its volume was once again low: Jasper Morris MW writes that 2019 yields were down by 35 percent for Côte de Beaune whites, and 27 percent for reds across the Côte d'Or by comparison with the previous year.
Speaking to Goedhuis's Business Development Director, Georgina Crawley, it appears that in addition to extreme scarcity at the top, running a purely digital campaign may also have worked in Burgundy's favor, as "more customers took the time to read and engage with content on producers beyond the hallowed names." The Goedhuis team tasted through more than 300 samples (in Covid-secure conditions), shipped to their UK office before the start of the campaign. Crawley notes, "It was more important than ever for us to really understand the vintage as a team, in order to make genuine recommendations on the lesser-known growers.". The success of the campaign, Crawley believes, points to a still-bright future for the region, regardless of what price indices may say. She explains, "The beauty of it [the 2019 campaign] is that quality was there for the taking at every price level, and customers were willing to spread their wings wider, into rising appellations such as Marsannay and Pernand-Vergelesses. It proves buying Burgundy can be inclusive, and a journey of discovery." This movement need not be to the detriment of the elite that command eye-watering prices: Browett muses that "Top Burgundy prices suggest there is actually no ceiling."
Meanwhile, though the Rest of World fine-wine market index underperformed against Liv-ex regional indices in 2020 (rising less than 1 percent), interest in these wines has shown early signs of increase. Although international releases distributed through the Place de Bordeaux are yet to gain the same campaign traction afforded their home-grown comrades during Bordeaux en primeur, cult Californian wines may be on the up. Giles Cooper, Buyer at Bordeaux Index, tells me, "Three of our top customers told me the best wines they'd opened in 2020 were Californian." As lockdown continues to provide opportunity for collectors to drink from their own reserves wines laid down five to ten years ago, he predicts growth in the emerging New World trend, and subsequent further interest in buying more top Napa and Sonoma wines on release.
AUCTION UPDATE
Global auction sales totalled $381 million in 2020, 12 percent down on 2019 (fig. 4). Despite a slight drop overall, the year's second half yielded the best summer and autumn seasons to date, reaching $256 million between July and December (compared to $194 million for the same period in 2019). Redeeming ground lost during the Covid-ridden first 6 months of 2020, demand for wines at auction has remained stalwart, despite the challenging global context.
Single cellars were a prominent feature of auctions in 2020. Sotheby's alone held 11 (live-streamed or online-only) throughout the year, including the Hong Kong auction of wines from the cellar of collector, Joseph Lau in October, which was 100 percent sold.
While pandemic-related restrictions prohibited planned live events throughout 2020, online-only sales experienced an unprecedented boost, with internet auction revenues from top houses increasing more than 70 percent between 2019 and 2020. Two houses nonetheless stand out for their remarkable performance despite the health crisis: Acker Merrall & Condit recorded total revenues of $127 million in 2020, achieving an increase of 47 percent on their 2019 results (fig 5), and crowning them the highest-earning house of the year by a substantial margin (of $43 million), ahead of runner-up, Zachys. Swiss house, Baghera, places second for highest year-on-year growth, earning revenues of $12 million (compared to $9.8 million in 2019, a 24 percent increase), 19 percent of which is thanks to online-only sales.
Despite reduced revenues compared with 2019 results, Zachys and Sotheby's are the two houses in 2020 that can be praised for truly international reach, holding auctions in all three major markets, as well as online. Jeff Zacharia qualifies Zachys's prior market lead, reminding me that "volume was high" in 2019. The importance of launching in a new market, and indeed with such an impressive cellar as that of famed Florentine restaurant, Enoteca Pinchiorri, is clearly greater to him: "We expanded our market extensively by launching in London, and doing it with a bang," he tells me. Zachys's London debut rendered a world-record price for a single magnum of Henri Jayer Richebourg 1979 at £47,120 ($60,843).
The Jayer lot joins several further successes for Burgundy in 2020, counterbalancing the region's price deceleration on the secondary market. Proving its continued domination of auction rooms—physical and digital—Burgundy accounted for 65 percent by volume of all top lots disclosed in 2020 (8 percent more than its regional auction share in 2019), and 78 percent by value (a growth of 12 percent on 2019). Indeed, the year's highest hammer price was achieved in Geneva by Baghera, with a 6-liter Methuselah of DRC La Romanée-Conti 1985, sold for $996,026 (the second-highest wine hammer price of the past five years).
Though Bordeaux's auction performance reflects its diminishing activity in the secondary fine-wine market (according to Liv-ex indices), Zacharia points out a significant distinction between Burgundy and Bordeaux sales at auction: "The key to Bordeaux in the fine-wine auction market is to have mature stock in pristine condition," he explains, going on to note the crucial saleability difference "between very young Bordeaux, and mature vintages or at the very least Bordeaux within its drinking window." One might speculate that, with vintages such as 1989, 1990, and 1996 of top Bordeaux coming into their apogee, opportunities may once again grow for the region in sale rooms throughout 2021 and beyond.
At the very least, year one of the global pandemic seems in wine terms to have been a catalyst for pleasure-drinking and discovery. Perhaps in that sense we are at a watershed in the appreciation of fine-wine, or even at the beginning of another "roaring '20s"? I look forward to finding out.
Lots to look for:
Skinner, Boston (online), March 2–11: A rare collection of Château d'Yquem dating back to 1891
Zachys, New York, March 11–12: Fine & Rare Wines in Celebration of La Paulée