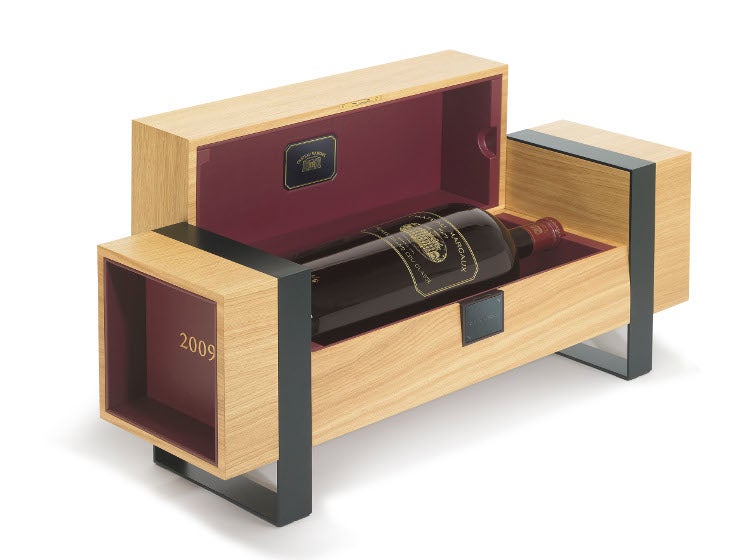 Which highly prized bottles from historic productions sold at auctions and private sales to become the world's most expensive red wines?
1. Château Lafite 1787 – Bottle – $160,000
This Grand Cru Classé (Premier Cru) Château has been producing highly prized wines since Jacques de Ségur planted the Lafite vineyards in the late 17th Century. Almost instantly it was embraced by the British as one of the 'New French Clarets', with British prime minister at the time, Robert Walpole purchasing a barrel of Lafite every quarter throughout his term in office. However, it was seemingly not just the British political elite who had a love of this Bordeaux with Thomas Jefferson, the third President of the United States linked to a bottle of 1787 Lafite which sold to Malcolm Forbes in 1985 for a record-breaking US$160,000. Despite controversy over the provenance of the wine and its link to one of the founding fathers this remains the highest priced single bottle of wine ever sold.
2. Penfolds Grange 1951 – Bottle – $43,700
One of the most expensive red wines ever sold, a bottle of the 1951 Australian vintage of Penfolds Grange reached a staggering $43,700 in 2004 at an auction held by Australia's leading wine auctioneers, Langton's. Produced on an experimental basis by the late Max Schubert, who was Chief Winemaker for Penfolds from 1948 to 1975, this first ever vintage was of just 160 cases and not commercially released. This bottle of Grange Hermitage 1951 was brought to auction as part of a vertical collection of Penfolds Grange spanning from 1951 through to 1990. The complete lot selling for an impressive AU$138,000.
3. Screaming Eagle 1992 – Imperial
During the annual Napa Valley Wine Auction in 2000, an Imperial of Screaming Eagle Cabernet 1992 raised a colossal US $500,000 for charity. Screaming Eagle, which is considered by many to be a cult wine producer, make extremely small quantities of their wine in general but the 1992 vintage was produced in particularly low volumes. This scarcity together with outstanding reviews from wine journalists, including Robert Parker, have made this wine one of the most celebrated in the world.
4. Château Mouton-Rothschild 1945 – Jeroboam – $114,614
Sold to an anonymous bidder at a Christie's auction in 1997 for US $114,614, the 1945 vintage is considered, to this day, to be one of the finest vintages of the 20th century. It was in 1945, and to celebrate the Allied victory and the end of the Second World War, that Baron Philippe de Rothschild started the tradition of commissioning an artist to design each vintage's label. This first embellished label, designed by a then unknown artist, Philippe Jullian, is based on the V for victory which was made famous by Churchill as he rallied the troops throughout the course of the conflict. A legendary wine from a legendary vintage.
5. Domaine de la Romanee-Conti Romanee-Conti 1990 – Case of 8 Bottles – $224,900
Domaine de la Romanée-Conti enjoys a reputation as the world's finest Pinot Noir, with a price commensurate with such an accolade. Production is always limited, not just because of the strict yields imposed by the appellation, but due to the desire to capture intense fruit flavours in every berry. This complex and elegant wine is produced on a tiny parcel of just 1.8 hectares where the vines are on average over 50 years old. With 8 bottles selling at Sotheby's in 1996 for US $224,900 we can see that the reputation and quality of the wine are only matched by the sums people are prepared to pay for this rare jewel.
6. Château Margaux 2009 – Balthazar – USD
Yet to sell, but on offer for US $195,000 at Le Clos' flagship wine merchants in Dubai International Airport, are three 12-litre bottles of 2009 Château Margaux. Considered one of the finest vintages ever produced by the estate, and undoubtedly one of the best since the Mentzelopoulos family took over the property in 1977, this is the first time that Château Margaux has been bottled as Balthazars. Presented in an impressive oak case, each bottle, which has also been embellished with gold engraving, comes with a first class ticket to France to visit the Château, where the lucky buyer will enjoy a private tour of the cellars and vineyard before a private dinner hosted by Paul Pontallier, Château Margaux's chief winemaker.
If you enjoyed reading about the most expensive red wines, click here to read about the most expensive whisky ever sold at auction at our sister site, Elite Traveler.