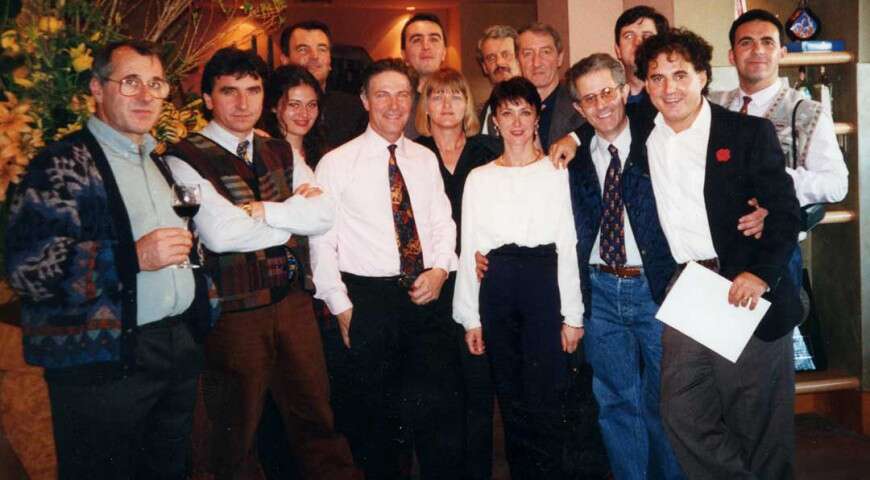 Walter Speller pays tribute to Luciano Sandrone, a key figure in the recent history of Barolo whose unrelenting commitment to making elegant Nebbiolo bridged the divide between modernists and traditionalists.
A picture from a pre-digital age, probably taken in New York in the early 1990s. On the right, a self-confident Italian wine importer, Marc de Grazia, one arm slung around the shoulders of a broad-grinning Elio Altare, who stands next to Chiara Boschis. De Grazia was about to take the USA by storm with the more modern-style, slick, oaked wines of these Barolo producers he banded together as the "Barolo Boys." On the left of the picture stands a timid, out-of-place looking Luciano Sandrone.
Never one to be accused of making traditional Barolos, Sandrone wasn't a modernist either. Rather than breaking with the old-style Barolo in order to produce a modern one, he was the actual link between the two.
Sandrone's story is a humble one, despite the imposing grandeur of the winery he built in 1999 opposite Barolo's famous Cannubi hill. While still employed at the Marchesi di Barolo, in the 1970s, Sandrone tentatively started out by renting a couple of vineyards. In 1977 he acquired a plot in Cannubi, and the following year, in his garage, he made his first wine. It instantly sold out at Vinitaly, Italy's largest wine fair, in 1981. But this run-away success notwithstanding, Sandrone continued to work for others until 1990.
Sandrone's sole focus was to make elegant, fine, and long-lived Barolos. Technology—and some of the most advanced—entered the Sandrone cellars, but only as a tool in his quest for finesse. Much more important was the raw material, which had to be pristine. Vintage after vintage, his younger brother Luca, a brilliant agronomist, helped Sandrone to achieve the knife-edge balance between acidity, tannins, and ripeness in the grapes.
His detailed knowledge of Barolo's history and terroir helped Sandrone make further exceptional acquisitions in Vignane in Barolo, Villero in Castiglione Falletto, and Baudana in Serralunga d'Alba. Although each could demand a premium price if labeled as such, Sandrone blended them to produce Le Vigne, a wine that in certain vintages can challenge the greatness of Cannubi.
Proof of his total devotion to Nebbiolo is Valmaggiore, a steep plot in the much less revered Roero, some 12 miles (20km) north of Barolo. This wine reaches such qualitative heights that it can easily be mistaken for a Barolo. To emphasize Valmaggiore's exceptional quality, Sandrone proudly put the name of the vineyard on the label—the only wine to receive this honor, since recently, in a surprise move against market trends, his Cannubi was rechristened Aleste, the name based on the initials of Sandrone's grandchildren. Vite Talin, a Barolo produced after 25 painstaking years of researching and propagating old Nebbiolo vines, and named after the owner of the original plot, finally saw the light in 2013.
Sibi et Paucis ("for them and the few", or "for the privileged few") is a stunning collection of back vintages that Luciano Sandrone leaves behind and of which tiny quantities are rereleased after many years of aging—a decade for the Barolos and at least six years for Valmaggiore. This invaluable collection is the compass to help guide the next generation, led by his daughter Barbara—but it is more than that. It is also a remarkable legacy spanning more than 40 vintages, revealing a deep knowledge and love of these exceptional terroirs.