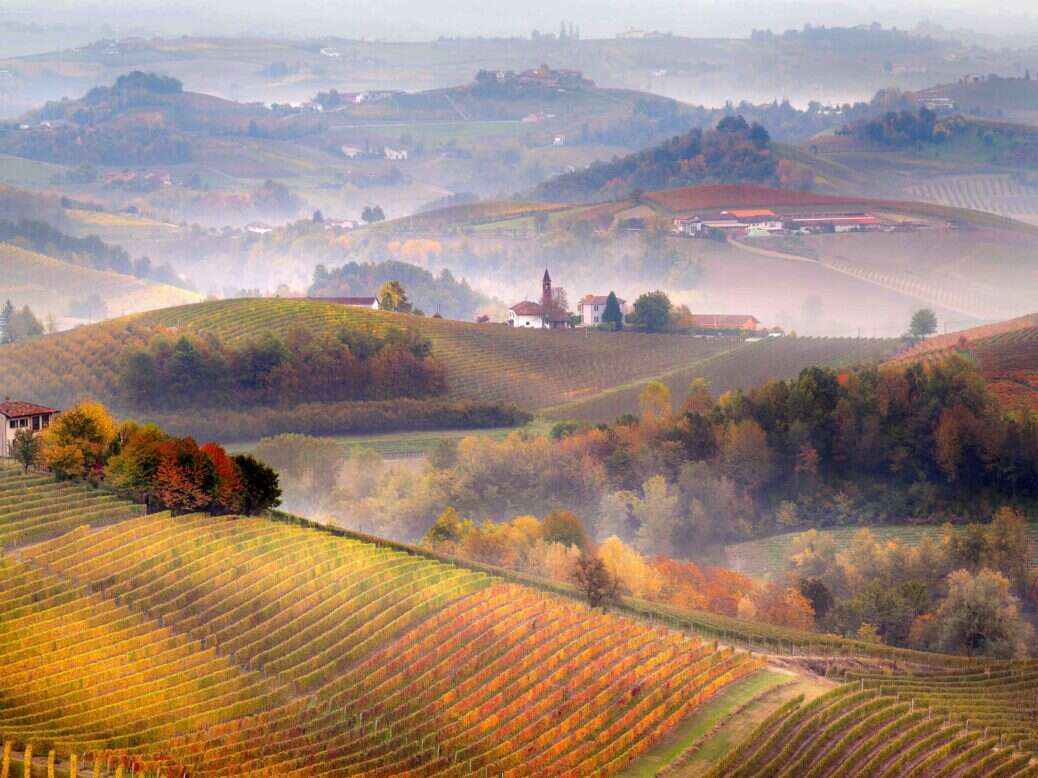 Each quarter, The World of Fine Wine conducts extensive tastings of the finest wines in a given region or stylistic set. In one of three tastings featured in the most recent issue of our print magazine—WFW71—three members of our internationally respected tasting panel, Andrew Jefford, Bruno Besa, and Michael Palij MW, were bowled over by the quality and broad stylistic range of 2016 Barolo—which, on the strength of this tasting, may well be the finest of a quartet of great 21st-century Barolo vintages. Here we publish Andrew Jefford's wide-ranging introduction to the tasting—and the three tasters' notes on the top five highest-scoring wines. For scores and detailed notes on all 47 wines included in the tasting, subscribe to The World of Fine Wine.
This tasting was a treat: No other word will do. None of our three tasters had ever given such high scores in a World of Fine Wine Barolo tasting; everyone had at least two scores of 97 or above, meaning "a great wine of spellbinding beauty and resonance" on the WFW tasting scale. It wasn't until we came to the 41st placed wine that our aggregate score dropped below 90. It surely ranks as one of the most generally successful tastings this journal has ever organized.
What were the weather conditions that produced this felicity? It's surely significant, in these times of rapid climate change, that 2016 was a vintage that in some ways looked backed to 20th-century ideals rather than embraced "the new ripeness" that almost every wine region around the world can now take for granted. The winter months of January and February were "properly" cold, and spring was cool overall, with temperatures just below the previous decade's average. Summer was mixed (June clung on to the freshness of May, while a warm July and a cooler August were both wetter than average). A beautiful September never goes amiss, and the 2016 version combined hot, dry days with cool nights.
Nebbiolo in a long season
Barolo, of course, is made from Nebbiolo alone, and Nebbiolo more than most red varieties around the world loves a long season and the chance to acquire skin and even pip maturity by slow increments. That was exactly what 2016 gave it: October continued September's tempered beneficence, and growers were able to pick their fruit in unhurried conditions in mid- to late-October: thick skins, small berries, loose bunches. The quality of what was in the vats was evident from the off, and a sense of excitement was palpable whenever growers showed 2016 samples. Aside from a little storm-damage and hail inflicted in late July on Santa Maria di La Morra, parts of Cannubi and Rocche dell'Annunziata on July 26 and 27, everyone was thrilled with what Barolo shipper and local resident David Berry Green described as "a classic harvest of relatively disease-free fruit, high in quality and in good quantity, with the vine functioning well throughout the season to give high values in all departments (alcohol, acidity, tannins) and thick skins allowing for long macerations." The recent vintages with which 2016 is compared are 2010, 2006, and 2004, but many consider it the best of the quartet; indeed, Michael Palij MW said he couldn't remember "tasting a more impressive range of young wines from this appellation."
Aesthetic width
What about the manner in which the wines present themselves, and their aesthetic width? The battle between traditionalists and modernists seems less relevant and more historical with every year that passes; as Michael Palij observed, it was "heartening" in this set of wines to see "the use of barrique on the wane as the radical enthusiasm of 20 years ago gives way to a more measured approach". (Where new oak was palpable, it was considered a blemish.) David Berry Green, interestingly, has noted "more flexibility, more sensitivity to different conditions, as well as the humility to change and to challenge oneself" among younger winemakers, with the result that "eleganza e finezza" (and large wooden vessels) are now very much, he says, on the way back.
Comment on this vintage has stressed its classicism, purity, poise, and freshness, yet a careful reading of our notes underlines just how much latitude of both approach and expression the vintage permitted. There were fragrant, fine-drawn, silky wines among our favorites (like Enzo Bogletti's Barolo Arione, from the southernmost cru in Serralunga, grown at 1,500ft [450m] altitude), but there were also acclaimed wines of breadth, power, density, and structure (like Paolo Conterno's Ginestra from Monforte, our first-placed wine). As the only taster of our trio lucky enough to have tasted both this set of wines and the 2016 Bordeaux wines included in our four-year "Déjâ Bu" review, I would stress that Barolo drinkers can enjoy, after just half a decade, much wider expressive latitude than Bordeaux drinkers can, both in this vintage and others. (I would also say that, based on these two tastings conducted in a single week in September 2020, this vintage seems even higher in potential in Barolo than it does in Bordeaux.) A final affirmative point to note is that there was no universally disliked wine in this tasting. In other words, at least one of our tasters scored every wine, even those with lower aggregate scores, in the low- to mid-90s. This, too, underlines the aesthetic width of these wines, and suggests that this is a vintage in which drinkers might like to experiment with modestly priced wines from less-well-known growers as well as the highly priced wines of acclaimed stars.
Blends and crus both shine
What of the relative success of the communes? Comparison between these was more than usually difficult in this tasting owing to the dominance of Serralunga (14 samples, whereas no other commune was represented by more than seven wines). Adding up every point given to a wine then dividing by the number of samples put Verduno in first place, with an aggregate score of 281.5; the fact that there were only two Verduno wines, though, makes this an unreliable victory. Serralunga came second with 278.93; having achieved this with 14 wines was a comprehensive demonstration of the quality of its sites. Monforte followed in third place with 277.14, and pan-DOCG blends, perhaps surprisingly, came fourth (276.2). Castiglione Faletto logged fifth position on 276 (though the score was based on only three samples), La Morra was sixth (273), and Barolo's commune wines seventh (271). The score of 269 for our single sample from Novello meant an unreliable eighth place. It's worth consumers noting that these identities now include two sorts of wine: single-commune blends (like Diego Conterno's Barolo del Comune di Monforte d'Alba, blended in this case from Pajana in Ginestra, as well as Vigna Gris on the boundary with Serralunga) as well as single-vineyard or single cru wines. It would be unwise, for all that, to draw any analogy with Burgundy's pyramid of village, premier cru, and grand cru wines; the two regions are too dissimilar topographically, and a "village" bottling from a single commune in Barolo might still offer cru quality, depending on the producer's ambitions and practises in making such a blend.
The Top 5: The Best of 2016 Barolo
Paolo Conterno Barolo Ginestra
Monforte d'Alba (15.5% ABV)—Average score: 96
Bruno Besa: Garnet to pink. Intense and classic Nebbiolo nose of small red fruits, sweet tobacco, leather, rose water, petrol, and forest undergrowth. Full body, with sweet fruit, big fine tannins, lively acidity, and a long, refined, mineral finish. Another masterpiece from this amazing vintage. | 96
Andrew Jefford: Dark, glowing black-red, and scarlet to the rim. Warm, spicy, peppery, and curranty scents: admirable complexity here. Lots of classic Monforte red fruits, but the refinement of licorice and orris as well as an oak-copse complexity, too. Fresh yet ripe, and very good. An outstanding wine on the palate: deep, ringing, concentrated, packed with lively fruit and with hugely energetic, juicily drawn tannins, and lively, no-less-juicy acidity. The aromatic refinements of the palate need a year or two to show up on the palate, perhaps because the palate is just so energetic at this stage, but they will be along in due course. Very fine. | 96
Michael Palij MW: Majestic nose redolent of both red and black fruit, with concentration and intensity. Black cherry, plum, blackberry, damson, cedar, strawberry, and thyme. The palate is just fabulous, with huge levels of both intensity and grip. This rolls on and on through the back of the palate, delivering a thrill every step of the way. Very bright future ahead of it—give it a decade. | 97
Ascheri Barolo Pisapola
Verduno (14.5% ABV)—Average score: 95
BB: Garnet to tawny. Complex, deep black-fruit nose, almost impenetrable with black fruits, road tar, dried herbs, truffles, forest floor, and hints of leather and tobacco. Full-bodied, compact palate, with mature black fruit, lively acidity, and a long, complex, clean finish. A wine for long-term aging. | 95
AJ: Dark, clear black-red, with a little garnet at the rim. Warm, glowing, and rounded: embers of fruit in the glass. Very autumnal and reposeful. Not highly allusive or hugely detailed, but ample enjoyment in the soft harvest-home fruits of this wine. That's exactly what you will find in the mouth, too: a delicious cascade of pure, singing, beautifully ripened fruits in easy, unfussy style. But how good it is! How pure and how true to the regional ideal. Gorgeous, soft yet ample tannins perfectly bonded to the ringing, church-bell fruits. All the loveliness and deliciousness you might wish for from Verduno is here. | 92
MP: Signature Nebbiolo nose offering red and black fruit including currant, plum, cherry, and herbal tones (oregano, marjoram), with licorice and white pepper completing the picture. The palate is superb, with exceptional length, fine tannins, and mouthwatering acidity propping up the pulpy mass of dense black fruit. The balance here is all one could really wish for and the finish seems to go on forever. | 97
Enzo Boglietti Barolo Arione
Serralunga d'Alba (14.5 ABV)—Average score: 95
BB: Pale garnet to tawny. A touch closed yet refined on the nose; complex, with small red fruits, tobacco leaf, orange peel, prunes, wild strawberries, and cedar wood. Complex, refined, mineral, layered palate, with a great mineral, almost salty, finish. Another classic Nebbiolo for long-term aging. | 96
AJ: Deep, clear scarlet, modulating to garnet at the rim. Fine, dancing, vigorous fruits, with lots of tea leaf and earth for complexity: engaging and vital, as well as complex and multilayered. Rich, mouthfilling, and good: a perfectly judged compromise between the wealth and amplitude of fruit (redcurrant and pomegranate) you could get from fine Serralunga vineyards in this vintage, and the wonderful levels of aromatic complexity and finesse you could then create through sage vinification and aging in the cellar. A masterclass in a glass! Buy with absolute confidence. And it has so long ahead: the core of fruit is grand and enduring. | 96
MP: Tightly wound, complex, yet slow to reveal its fruit comprising a complex and textbook nose of red currant, dried hay, licorice, and South African garrigue. Firm acidity and tannins confirm the Tortonian origins of the fruit—this really needs another decade to show at its best. | 94
Ca'Rome' Barolo Cerretta
Serralunga d'Alba (14% ABV)—Average score: 95
BB: Garnet to tawny. Compact, impenetrable, complex, refined, mineral black and red fruits nose, with black cherries, prunes, plums, blood oranges, road tar, hazelnut, tobacco leaf, and forest undergrowth. Full body, full of energy and youth, layered black and red fruit, mint, and a salty finish. Impeccable winemaking and great aging potential; definitely a wine that should develop gracefully for decades to come. | 97
AJ: Deep, dark black-red, though clear now. Very deeply hued nonetheless, with no garnet at all, and black-scarlet to the rim. Sumptuous and multi-layered aromatically, Richebourg-like in a Barolo register, with bright yet opulent red fruits. Very enticing. Lush, rich, deep, flamboyant, and grand, this is a wine that has tossed all caution to the wind and just run with the magnificent ripeness of the vintage. There are other wines that have more aromatic finesse than this does, but few that are more artlessly generous and—there is really no other way to say it—life-enhancing than this. Some might fault it for being just a little bit too ripe but not me. It just sings with ripe fruit and stomps with ripe fruit and shouts with ripe fruit … and since that fruit has come from this very special place on the surface of the earth, it is full of complexity and nuance and engraved finesse. Gorgeous, and it will go on being gorgeous for many years to come. | 97
MP: Youthful, primary, and obviously reflecting a fully ripe harvest, the aromas are skewed to fully ripe, black-fruit, dried-fruit, and herbal aromatics. This wine cannot deliver the impact and intensity on the finish that we have seen elsewhere in this tasting. Well-made and correct, it is lacking conviction on the finish. | 91
Ciabot Berton Barolo Roggeri
La Morra (14.5% ABV)—Average score: 95
BB: Garnet to tawny. Inviting, complex, elegant, refined black and red fruits nose, with rose water, road tar, blood oranges, oriental spices, and hints of truffles. Balanced, clean, with big yet super-refined tannins, an inviting palate, with clean small red fruits and a long, almost floral finish. Love it. | 94
AJ: Clear, deep red, just beginning to hint at a little garnet toward the rim, but not at the wine's heart. Primary, fresh fruits, though soft and understated, as if the aging process held them in check a little rather than actually took them through any kind of substantive modulation; kirsch and crushed kernels behind. Intriguing and characterful … and successful. It grows more aromatic and allusive, and notably less primary, with time in the glass: 15 minutes later you can see dry leaf and oak copse. In the mouth, this is sustained and long, with relatively fine-grained tannins and well-aged, refined fruits: graceful, deft, fresh, and elegant. Beautifully poised wine, both refined and drinkable. Pure class. | 92
MP: Delicate aromatics typical of this commune, with rose petal, tinned strawberry, red plum, hay, and licorice. Palate is symphonic, with the red-fruit strings leading to black-fruit brass and the herbal timpani all working together. A textbook example of peerless Nebbiolo and utterly delightful in the glass. Irresistible now but will no doubt carry on gaining stature. | 98