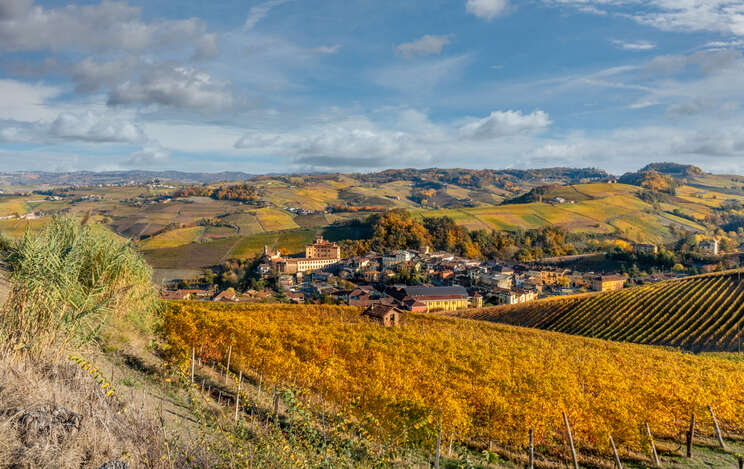 The conditions were certainly challenging for the 2017 Barolo vintage. But as Michael Palij MW discovers, in a tasting shared with Bruno Besa and Andrew Jefford, they did not prevent skilled growers from producing some impressive and surprisingly balanced wines.
This is an extract from an article first published in Issue 75 of The World of Fine. For full tasting notes and scores for all 54 wines tasted by the panel, subscribe to The World of Fine Wine.
A roller-coaster is an apt way of describing Nebbiolo's journey through the 2017 Barolo vintage. The ups and downs, the twists and turns of this unseasonable year have, in a final sidestep reminiscent of 2003, produced wines that—at least in some cases—impress for their robust fruitiness and surprisingly brisk acidity. 2017 was nothing if not a year of extreme climatic conditions, including frost, drought, and scorching heat, which tested producers to their limits. What this tasting has made clear, however, is that 2017 rewarded those whose skill in the vineyard enabled them successfully (and quite literally) to weather its storms.
Communal distinction
The year began with very little precipitation (just 0.8 inches [20mm] in January and rising only slightly to 2 inches [50mm] in February). Winters in Piemonte tend to boast heavy rain (often snow) which tops up ground water reserves. Not so in early 2017, as the drought continued well into the spring and was, unfortunately, twinned with high temperatures (peaking above 68°F [20°C] in early April). This mild streak, however, was not to last, and in the latter half of April the mercury plummeted, with frost wreaking severe damage across many lower-lying vineyards. Average daily temperatures for the month ranged from 26° to 63°F (-3° to 17°C)! Thankfully, the steep slopes that constitute this DOCG's 11 communes spared some Nebbiolo from the worst of April's icy spell. Flowering began at the beginning of May.
The difficulties began in earnest in June; low rainfall continued and temperatures touched 86°F (30°C) in the middle of the month. The soaring early summer heat helping to fend off fungal disease but, by the end of June, the continuing drought had started to impact not only vineyards but also vegetable and arable crops, prompting four regions to request the Italian government declare a state of emergency. Nestled in the north of the country, Piemonte escaped the worst of the water deficiency and cooler nights helped to offset the shortage. As always, older vines with stronger root systems in the dense soils of Serralunga and Monforte fared particularly well while the younger, lighter soils of La Morra proved more challenging for Nebbiolo. Commune variation is particularly evident in the wines of 2017.
Dry July
July continued to be characterized by a lack of rainfall, with the only real downpour between the 25th and 27th resulting in a total of about 0.8 inches. Conditions for a regular veraison were, however, maintained, starting from the beginning of the month. August saw escalating temperatures (again) and, even after a major storm struck on the 13th, maximum averages remained around 86°F. Fortunately, nocturnal minimums were between 59° and 63°F (15° and 17°C), which allowed Nebbiolo's aromatics to develop and slowed the run on acidity. It was this diurnal/nocturnal temperature gradient (the famous escursione termica) that was the saving grace of 2017. In truth, some of the wines have a whiff of "Barolo Bake," but this is balanced by others with a wide range of aromatics, weight, and color.
September's showers brought a welcome end to the extended drought, reviving both the vines and growers' hopes of a healthy harvest, which kicked off two weeks earlier than in an average year. A combination of autumn rainfall and moderate temperatures prevented the grapes from ripening too fast in the final stages, allowing a gradual and balanced stabilization of both pigment and aroma. One benefit of the earlier lack of rainfall was a reduction in the presence of disease, meaning less intervention from growers and, ultimately, a healthier harvest.
There was practically no rainfall during October, extending the harvest window even further, ensuring that natural acidity levels were more robust than many feared and that fruit concentration occasioned by the parched summer eschewed jammy, stewed notes. In general, 2017 is a "restaurant" vintage—but we need those every now and then.
To be like water
The moderating influences in 2017, however, must be set against a summer that was characterized by both drought and exceptionally high temperatures. Many of the wines in this tasting displayed tannins that were unripe, confirming that Nebbiolo performs best in vintages where a long, cool growing season with significant day / night temperature differences encourage the slow but steady evolution of complex aromatics and fully mature phenolics. In 2017, with sugar levels soaring and acidity levels heading south, it is little wonder that some producers harvested before full phenolic maturity was achieved. Those that did, however, risked losing much of Nebbiolo's magical aromatics.
The key to success in 2017 was to "be like water" and roll with Mother Nature's punches by ensuring that everything possible was done to ameliorate the hot, dry summer by delaying picking, so that the aromatics and tannins were fully resolved. Similarly, work in the cellar needed to do everything possible to avoid aggressive tannins and baked fruit. Those who followed 2016's grape-growing and winemaking formula inevitably exacerbated the worst aspects of 2017.
Crucial canopy management
So, is 2017 a great vintage? Well, it's unquestionably an early one—one of the earliest on record—but, given that the budburst was so early, the overall hang time for Nebbiolo was not significantly shorter than in a cooler vintage. The key to success in 2017 was therefore canopy management. Those producers who kept the fruit shaded did much to protect the crop from the sun. Years ago, canopy management in Piemonte focused on ensuring sufficient leaf area to photosynthesize grape sugars. These days, the foliage plays a pivotal role in protecting the fruit in hot vintages.
The best 2017s are delicious, with ripe fruit showcasing more sensitive winemaking, which decreased time on the skins, temperature, the rigor of the extractive phase, and perhaps time in oak. The communes of Serralunga d'Alba and Monforte d'Alba performed best, crafting wines (it's always difficult to generalize) with the aromatic complexity, restraint, and integrated tannins that hint at a much cooler growing season.
In general, our scores for the 2017s are lower than they were for the 2016s, but nevertheless, the best wines still combine a showy opulence of fruit and fully ripe, integrated tannins, making them unquestionably worthy of a place in the cellar.
The top 5: The best of 2017 Barolo
Casa E di Mirafiore Barolo Lazzarito Serralunga d'Alba (14% ABV)| 95
Bruno Besa: Garnet to tawny. Refined, complex, earthy, mineral, with red fruits, dried roses, tar, chalk, almonds, and hazelnuts on the nose. Full-bodied, rich, sweet black fruit, mineral and layered, with a long, herbal, chalk and blood-orange finish. | 95
Andrew Jefford: Clear, deep blood-red. Warm, expressive, open, welcoming and resourceful, though not hugely intricate. Open, autumnal, respiring, and happy. On the palate, very fine. The palate fills in (in terms of aromatic intricacy) everything that the nose isn't quite delivering at present, at any rate: that wealth, that richness, that intrigue. This is an almost perfectly balanced wine that will deliver huge drinking pleasure. Magnificently poised fruit of compelling aromatic, textural and flavor interest. The score is slightly anticipatory, but I think this wine will get there. | 94
Michael Palij MW: Discreet but seductive nose, with notes of white pepper, dark chocolate, rose petal, strawberry, raspberry, and plum. The palate shows wonderful restraint and balance, with fine tannins and carefully judged acidity allied to ripe fruit and resolved tannins. They have got this just right, with the fruit and structural elements all working in harmony. A delicious example of what can be done in this vintage. | 97
Luigi Baudana Barolo Cerretta Serralunga d'Alba (15% ABV)| 94
BB: Garnet to ruby pink. Open, nuts and red fruits nose, with minerals, fresh herbs, and wild strawberries, complex and refined. Youthful, clean, balanced, and pristine palate, with cranberries, red-apple skin, raspberries, and a long, chalk, and sweet cherries finish. Another classic Serralunga Nebbiolo for medium to long-term aging. | 96
AJ: Deep, clear black-red. This wine summarizes some of the magnificent resource of which Serralunga is capable: sweet yet dense and profound at the same time; a beguiling nose, which is not at all obvious; the complexity is there from the off … citrus, pomegranate, root spice … grand. Mouthfilling, ample, deep, resourceful: a huge amount here to relish and to enjoy. Ample breadth, depth, nuance: sumptuous yet vibrant fruits qualified by a wealth of aromatic nuances. Assured, multi-dimensioned Barolo that will disappoint no purchaser. Articulate already, yet will surely give more over the next two decades. | 95
MP: This really does have it all on the nose, with notes of dried fruit, hay, minerals, red currant, plum, cherry, and sweet spice. On the palate, it is similarly structured but the tannins let it down as they agglomerate and steal away the sweet fruit that may have been there on the nose. | 91
Massolino Barolo Margheria Serralunga d'Alba (14.5% ABV)| 94
BB: Garnet, ruby to pink. Clean, youthful, and transparent nose; red cherries, cassis, red currants, fresh herbs, crushed stones, minerals, mint, and raspberries. Medium to full body, balanced, elegant, super-clean, long finish. Another outstanding Barolo from Serralunga. | 94
AJ: Clear, deep black-red. Fresh, sweet, almost succulently so, yet there is an aromatic complexity that detains and diverts—a nuance, a freshness, an intrigue—very fine aromas here. Another totally arresting Serralunga wine. This time it is even more energetic, almost demonic: a great bracegirdle of acidity grabs the palate, the tannins come sweeping in afterwards, and you are left searching among the debris for the aromatic resource and the fruit flesh. But it is there… super stuff, and in fine sites like this, '17 is certainly a great vintage. This, like [Ca'Rome Romano Marengo Barolo Rapet] has an absolutely splendid aromatic resource that lifts it above its peers. | 95
MP: This wine shows a dusty, fruity, yet complex nose of red cherry, plum, damson, and black-fruit character, with lingering tannins and decidedly frank acidity allied to the fruit. On the palate, it is long and savory, with fine tannins and lemony acidity. | 94
GD Vajra Barolo Coste de Rose Barolo (14% ABV)| 94
BB: Garnet to ruby pink. A touch closed on the nose, yet brilliantly clean and inviting, with red fruits, fresh herbs, sea salt, a refined earthiness and intense floral (rose and violet) undertones. Medium to full body, sweet, layered red fruit, compact tannins, youthful and very long. A great Barolo for medium- to long-term aging. | 96
AJ: Clear, deep translucent red. Fresh, fragrant, and graceful, with lovely, poised, glowing warmth to the plum and strawberry fruits. Lots of aromatic finesse here, in a commune that can sometimes lack that. Elegant, fresh, poised, refined; there is generous fruit here, but it has gone through the alembic of Barolo aging with great success, and now we have a gorgeously drinkable, scrutable wine on the palate. It's deep and lingering, too, though. Round, resonant, refined—three qualities you'd like to find in your Barolo, and they are all here. | 92
MP: Pronounced, evolved, aromatic nose, with plum, cherry, and candied red fruit. The integrity and freshness of the fruit appears to have been preserved despite the vintage, and the wine shows pleasing, aromatic red fruit balancing the tannins and acidity. This could be Cannubi, with the emphasis on freshness and delicacy at the expense of weight and power. It's a delicious and drinkable example. | 94
Elio Altare Barolo Arborina La Morra (15% ABV)| 93
BB: Garnet to ruby pink. Clean nose, both mineral and ripe, with red apples and fruit salad, fresh herbs, violets, and roses. Medium-bodied, with sweet, layered red fruit and a long, herb and blood-orange finish. | 93
AJ: Dark black-red, just off opaque: one of the deepest colors in the tasting thus far. Rich plummy fruits, with a little raisiny sweetness. Inching out toward the exotic but attractive for all that. Very lush, decked and full. Powerful fruit concentration and length here; ample ripeness. Quite a showy and flamboyant wine and thus perhaps not a classicist's choice, but a wine of unusual presence and density. Sweet-finishing, though not in any way cloying. | 90
MP: This wine is dominated by jammy red-fruit aromas, with red currant, plum, cherry, strawberry, and raspberry. The palate is savory, with integrated oak providing spicy complexity and rounding out the fruit. The finish develops with notes of dried herbs, pepper, and dog rose. Perfect balance and length, without being too showy—just what Barolo should be in a vintage such as 2017. | 96