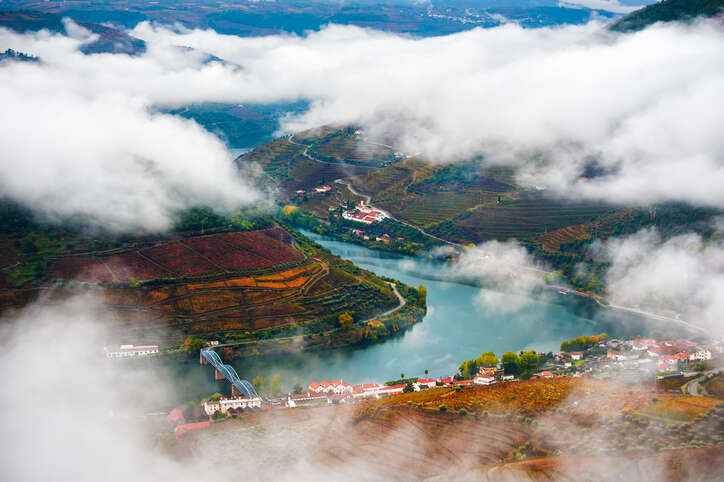 The late 2010s saw an unprecedented run of fine harvests in the Douro, each producing exceptional Vintage Port. But which of the four vintages from 2016 to 2019 is the greatest, asks Richard Mayson, who was joined by Simon Field MW and Andrew Jefford for a comprehensive tasting, first published in issue 74 of The World of Fine Wine.

For full tasting notes on all 49 Vintage Ports tasted by the panel, subscribe to The World of Fine Wine
Those of us with a penchant for a fine Vintage Port have never had it so good. The 2019 vintage, declared by a handful of shippers earlier this year, is the unprecedented fourth exceptional harvest in a row. It follows hard on the heels of three successive "classic" declarations in 2016, 2017, and 2018. Accustomed to declaring a Vintage Port roughly two or three years in every ten, Taylor's made a classic (i.e. full) declaration in all three years. This is a first for Taylor's in over three centuries of existence. The recent embarras de richesses has led to a certain amount of soul searching among all the Port shippers.
Immensely inspiring
Although these wines are not destined to be broached for at least a decade or more, we felt it was our due to compare the wines at this stage, a tasting that Andrew Jefford described as "one of the most challenging and exhausting I have done in three decades." Tiring it certainly was, but also immensely inspiring to peer 20, 30, even 40 years into the future and speculate how these wines might evolve in bottle. But there can be little doubt that these wines are a much more consistent, quality-driven bunch than would have been found at the same stage 40 years ago (a conclusion meted out by our comprehensive tasting in WFW 70). We limited the tasting to wines deemed to represent "classic declarations" as distinct from the single quinta Vintage Ports (SQVPs) that are now being produced nearly every year. It would have been fascinating to have been able to incorporate these as well, but it is beyond the feat of anyone to taste and make sense of so many young, tannic wines side-by-side. As I said, embarras de richesses.
A richly varied quartet
As it was, we had nearly 50 wines to taste and I fear my palate may have been a little jaded by the time I reached the four 2019s. (Niepoort, which declared 2019 outright—as well as 2017—and Sogevinus did not submit samples). Although all four years produced wines of undoubted high quality, they are different; and it is fair to say that the characteristics of the respective growing seasons tended to show through, reflected by our scoring and comments.
Andrew Jefford summed up the 2017s as "the best set of young Vintage Ports I have ever come across." With the possible exception of 2011 (perhaps the subject for a comparative tasting), I readily agree. All of our six top-scoring wines were from the 2017 vintage, with my top marks (97) going to Graham's and Quinta do Vesúvio 2017. The number "seven" has a habit of being a lucky number for the Port trade. Going back exactly a decade, 2007 was generally declared, as was 1997. The 1987 vintage was good but declared by only a few shippers (a long story), then 1977 was declared by all except Cockburn. 1967 proved to be a good year, declared by some (notably Cockburn) in preference to 1966; then going back another 20 years to 1947, it was an outstanding year, declared hard on the heels of 1945, when there was really no market for vintage Port. Then there was 1927, perhaps the finest Port vintage of the 20th century, producing wines that still taste fresh today.
Vintage Port 2017: First among equals?
So, what makes 2017 stand out? After a relatively wet year in 2016 (more below), the weather conditions in 2017 were the driest since 1945; the so-called "victory vintage," and a year with which the shippers made an initial comparison. Like 1945, it was also an abnormally early harvest, one of the earliest on record in fact, with picking starting as early as August 25. But contrary to received opinion, 2017 was not a particularly hot year overall. The heat came early on in the growing season (in June), and after a major storm on July 5, the weather settled down, which led to even ripening across the region. There is nothing "hot" about the aromas and flavors of the wines from 2017. The impression these wines give at this stage is of ripeness and concentration backed by a wonderful streak of acidity. I don't regularly use the word "freshness" in association with Port, but it crops up here regularly in my notes, such is the mouthwatering balance and vibrancy in many of these wines. Most of the major shippers declared, and the youthful poise in these wines suggests a very long life ahead.
In complete contrast, 2016 began with a warm, wet winter followed a cold, wet spring, which reduced yields. The summer months were hot and dry, with a heat wave in August lasting into early September. The hottest day of the year in Pinhão was September 6, when a temperature of 109ºF (43ºC) was recorded, with just 9% humidity. Sugar readings in August were relatively low, due to photosynthesis having been slowed by the heat, but unusual rain at the end of the month helped put things back on track. It rained again in mid-September, and this proved to be the saving grace. Anyone who picked too early was unlikely to get the balance that came from harvesting evenly ripened grapes, and there are one or two wines from 2016 that taste both green (herbaceous) and raisiny at the same time.
It was a year when it paid to know your vineyards, which grape varieties to pick and when. The days of pick and mix from old interplanted vineyards, when the overripe and underripe were thrown together in the hope of something great, are mostly gone. Many of the best wines from 2016 onward are based on the varietal plantings made in the 1980s and 1990s, entering peak production 40 years later. The vintage hit a few high spots (Smith Woodhouse, Offley, Fonseca, and Quinta do Noval were our notable high-scorers) but as Andrew Jefford concluded, "it is also variable and not everyone has made wine for the long term in 2016."
2018 Vintage Port: A roller coaster year
From the grower's point of view, 2018 was a roller coaster of a year. Ana Rosas of Ramos Pinto said that it was "one of the most challenging years for viticulture, however the wines produced were very pure with exceptional fruit." The year began with an unprecedented period of drought, broken by a wet spring then followed by a summer heat wave with temperatures rising to 113ºF (45ºC) in parts of the Douro Superior. It was the soil moisture from the spring that saved things, and the late-ripening Touriga Franca grape performed spectacularly well, lending the wines freshness and definition. Andrew Jefford noted the overall sweetness of the 2018s, and Simon Field felt they were "hot, powerful, and unresolved," which was a trait that I didn't find. For the Symingtons (owners of Dow's, Graham's, and Warre's), as well as for Fonseca and Croft, 2018 was a SQVP year, but Taylor, Noval, and the Sogrape-owned houses of Sandeman, Ferreira, and Offley made a full declaration. Taylor's Adrian Bridge justified their third consecutive declaration saying that "exceptional conditions" in the Douro Superior, with "outstanding wines" from their flagship estate, Quinta de Vargellas, provided the impetus to declare Taylor alone. Luís Sottomayor, Sogrape's head winemaker, was especially positive about 2018 at the outset, calling it "one of the best, if not the best, vintage years I have witnessed." Sandeman, very much back on form, was our top-scoring 2018, but it was placed mid-way in this comparative tasting, just ahead of Taylor and Ferreira.
2019 Vintage Ports: Another erratic season
The 2019 Vintage Ports, declared outright by a handful of shippers this year, are the result of another erratic, dry growing season. Winter rainfall was around 50 percent of the average, and almost no rain fell during the summer months. There was no extreme heat, however, with June temperatures 7ºF (4ºC) below average in the Douro Superior. Light rain fell at the end of August, on the September equinox and again in mid-October. This served to swell the grapes and contributed to even maturation. Relatively cool weather during vintage helped to preserve freshness and definition and allowed later ripening varieties to reach their full potential. Once again, Touriga Franca (often not picked until well into October) performed particularly well, often outperforming Touriga Nacional. Yields were close to average, in contrast with the smaller, concentrated harvests in 2017 and 2018. The Symingtons picked over six weeks, making this one of the longest harvests in recent years. The resulting wines are, in Charles Symington's words, "lively and exuberant," however both the Symingtons and the Fladgate Partnership opted for single quinta wines in 2019. For Christian Seely at Quinta do Noval (who declared both Noval and Nacional), "the purity, complexity, and character of the 2019s reflect the ideal conditions." We had only four 2019s here, and they were mostly mid-ranking wines, but from the wider range of wines that I tasted earlier in the year, I can report that 2019 is another impressive vintage, with some outstanding single quinta wines. Freshness combined with ripe concentration are their hallmarks.
What does the future hold for Vintage Port?
It still remains to be seen what 2020 and 2021 bring to the table. In 2020, many shippers were unable to tread grapes in the time-honored manner due to Covid 19 and social distancing (robotic lagares were a distinct advantage), and the recently completed 2021 harvest proved to be cool and damp (but likely to be good in parts). Climate change is a significant challenge in the arid Douro Valley, but improvements in viticulture brought about by varietal planting increase the likelihood of more and even better Vintage Port in future. But questions remain: Will the market support more regular vintage declarations? And after four different but exceptional years on the trot from 2016 to 2019, are we likely to see this again in our lifetime?
The Top 5: The Best of Vintage Port 2016—2019
Graham's 2017 (20% ABV) | 95
SF: A very young-seeming example; regal and dark, inscrutable and plush, black cherry, violets, and soy; slightly unformed in that there are hints of wood and an almost resinous texture. The mid-palate is equally youthful, the spirit dominant, and there is a little burn on the finish. Hard to assess where it may choose to go after today, but everything is in place. Let's see… | 92
AJ: Another thunderously deeply colored wine, and a swirl leaves the glass clad in vermilion streaks. This wine almost seems to glower in the glass, aromatically speaking; it is less resolved and less appealing than many of its peers, but there's a ton of aromatic muscle here and with time there will, you feel, be much to enjoy. Meat, stones, bricks of black fruit, yeast, mushrooms, clotted cream … On the palate, it doesn't disappoint; that force and exuberance you sensed in the aromas comes good, and you can see very clearly on the palate what the nose didn't yet have the articulacy to suggest, which is that the fruit core here is very fine, lifted, sustained, and long. Outstanding, rich, dense Vintage Port, with generosity seeping from every pore. | 96
RM: Opulent if still withdrawn on the nose, some glorious cassis-like fruit intensity underlying; rich, ripe, and fleshy initially, ripe tannins rising on the palate, again dark-chocolate intensity, with ripe, plummy fruit offset by a streak of freshness that contributes to a beautifully rich, broad, yet vibrant tight-knit finish. | 97
Krohn 2017 (20% ABV) | 95
SF: Dark, sooty color, a potent aroma of unformed quality, chronicle of a triumph foretold, or at least inferred at this age. Raw and uncooked, resinous and teasing; the palate is a little more forthcoming at this juncture, the sheer weight of ripe, generous fruit threatening to challenge all sense of proportion and perspective with its youthful, optimistic call to arms. | 94
AJ: Dense, saturated black out to purple at the rim. Very refined and finely crafted aromatics here: blackcurrant, bramble, damson, and sloe fruits, with dried orange-peel freshness and a Cologne freshness and style to the wine. Focused and enticing. In the mouth, the wine is ample, sweet, full, complex, and deep, with very fine extracts, tannins, and inner force. I hoped for just a little more fruited precision after the aromatic profile; the sugars rather sweep all in their tide, here. But this is very fine however you look at it and it may be that as the extracts and the puppyfat sugars ease back, the fruits come to reveal themselves more prominently… as the aromas suggest. | 97
RM: Closed, with dark-chocolate intensity underlying on the nose and a great deal more to give; some lovely bittersweet cherry-berry fruit initially with firm tannins rising in the mouth to a long, lithe, linear finish with the freshness of the fruit re-emerging. Lovely poise if not the biggest wine here. | 94
Taylor's Quinta de Vargellas Vinha Velha 2017 (20.5% ABV) | 95
SF: Profound, inscrutable, the nose challenges a counterpoint between a raw resinous youth and the smoky promise of what is to come; the palate talks of chocolate, raisins, raspberry, and dark cherry; sweet talk indeed; a chorus of approval and something to look forward to over the longer term! | 94
AJ: Dense, dark black-red to purple at the rim. Pure, elegant, enticing, and refined black fruits, lustrous and vivid; the aromas almost suggest tannin, too, with their pencilly force. Super aromatics in this very young Vintage Port. Dense, close-knit, refined, sweet, succulent, and long on the palate; yet another outstanding 2017, with a huge amount to give and surrender as it evolves over the longest term. The black fruits are more blackberry than blackcurrant here; the tannins are fat, ripe, generous, and affable. | 94
RM: Big, bold, black-cherry fruit, with underlying intensity, lovely broad fleshy fruit initially, rich and opulent, supported by ripe, broad, muscular tannins leading to a lovely, vibrant, firm finish with definition and poise. | 96
Taylor's 2017 (20% ABV) | 95
SF: Tar, soot, hearthside, sinews, and muscle, youthful, tightly wound. The nose is almost amorphous in its disjoint; once again, the sheer ripeness of fruit on the palate calms the siren voices of spirit and acidity; a plush come-hither personality, a powerful rejoinder to remind us of the joys to come; of the jewels at our feet. | 93
AJ: Blackheart colors, just deigning to purple a little at the meniscus. Aromatically, this is one of the '17s that is brooding rather than articulate at present, but the omens are good: fresh fruit, fine spice, some floral lift, a touch of tar and licorice … search and you will find lots of aromatic reassurance. Tangerine-peel prettiness, too: excellent, even if quiet just now. There is huge depth and wealth on the palate: a great steamroller of power, depth, fruit essence, floral intrigue, and lumbering force, just beginning to sort itself out. Hugely impressive young Vintage Port about which, in due course, essays will be written. Sensational stuff. Trying to taste it adequately right now is like trying to discern a great writer when she or he is 8 or 9 … so much to come, but we can't really know what it is just yet. | 98
RM: Deep, dense morello cherry and plum fruit on the nose; similarly ripe, tight-knit, and dense on the palate, lovely definition in common with so many 2017s, lovely firm tannins and vibrancy mid-palate and onto the finish. Long, lithe, with bittersweet intensity. | 93
Cockburn's 2017 (20% ABV) | 94
SF: Squid-ink color, a nose of gum cistus, blackberry leaf, and parma violets; there is a power to the mid-palate, informed by the spirit, of course, the sheer weight of fruit, too; a luxuriant mouth-coating richesse, poised thereafter, nether acidity nor tannins overwhelming in what is a composed and poised piece of work, waiting to pounce like a very black jaguar. Lovely, resolved sweetness, beguiling ab initio ad infinitum. | 93
AJ: Very exciting saturated black core out to a purple rim, and lots of lazy, languid legs on the side of the glass. Lifted, pure-milled, and fine-grained aromas which gather spice, creamy blackcurrant fruits, vanilla, tobacco, and citrus peels alluringly together: a very exciting prospect. The palate doesn't disappoint; this is hugely concentrated and close-textured, with depth-charge levels of fruit cloaked in fine tannins and lingering, provocative extract. This is wonderfully powerful yet poised Vintage Port. Very pure, too—not a single aromatic false note here. It rolls on and on in the finish. Astonishing depth and concentration here. | 96
RM: Demure and tight-knit on the nose, with underlying depth and density opening up to reveal ripe berry fruit; firm and well-defined, with structural tannins supporting some lovely naturally sweet berry fruit with bitter chocolate intensity and a long, sinewy, tannic finish, where the freshness re-emerges. Not the biggest wine here but wonderful poise. | 94