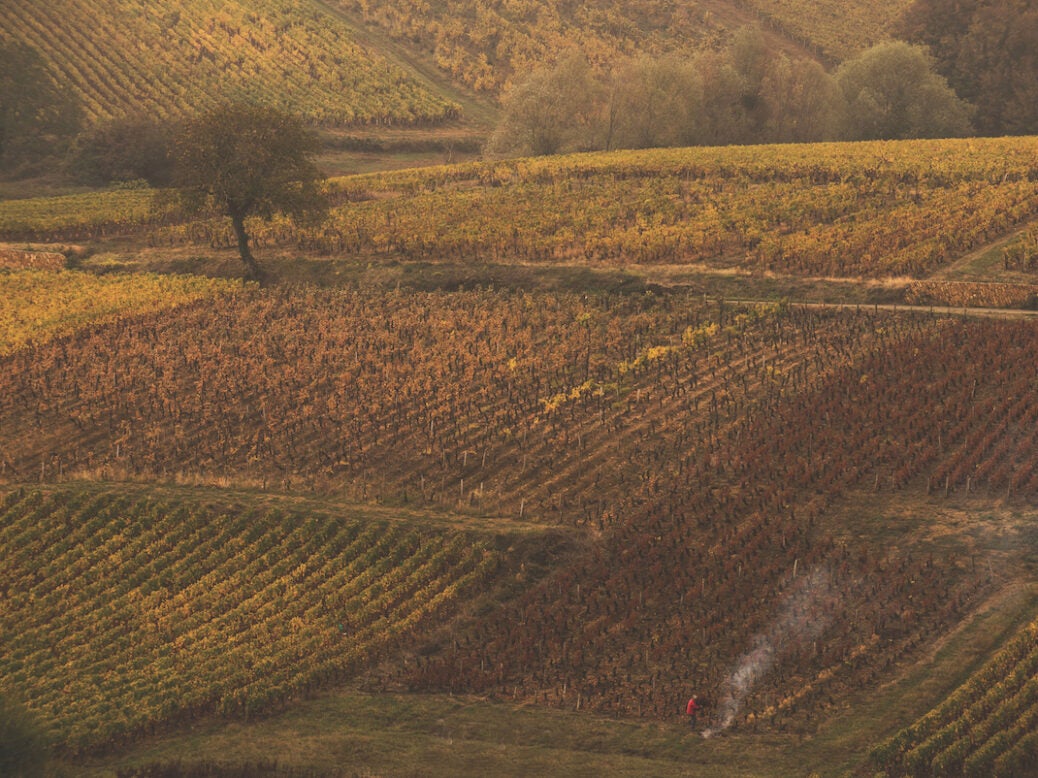 Grace, balance, and academic rigor: An anthropologist's Burgundy
Burgundy is home to Marion Demossier, anthropologist and social researcher. This study took 25 years of ethnographic encounter with wine growers in the Côte d'Or. And so has been created a work that is a compelling narrative of a scholar deeply absorbed in her subject—one written with grace and balance, at once academically rigorous yet effortlessly readable. That the book has taken a very long time to write has allowed the author to accumulate many debts to friends and colleagues. As Dr Demoissier admits, most of her informers are guarded by anonymity and data protection. "However," she adds, "I have chosen to identify some of the main actors, as they are well known, either in the world of wine, or at national or local level. Over the years I have met so many passionate and knowledgeable growers in Burgundy; I've also been extremely lucky to be able to build friendships and find wine growers to engage with my anthropological thinking." Her particular thanks go to the Meunier- Confuron family, Nathalie Tollot, Claire Naudin, and leading Burgundy authority Jasper Morris MW, to name only a few.
Going through these closely argued pages, one becomes convinced that discerning readers will want to know more about the seemingly unlikely link between fine wine and the author's professional authority in the study of humans and human behavior, a discipline that began for her with tribes in Africa 30 years ago. Yet she's emphatic that "wine offers an incredible platform to think critically about capitalist societies, nature and culture, science and empirical knowledge." Throughout this new endeavor, the author, who became in 2015 professor of European studies and head of department at the University of Southampton, has been given unstinting support by Southampton colleagues, above all their intellectual heft.
Shifting perceptions of Burgundy
On July 4, 2015, at a session of the 39th World Heritage committee held in Bonn, the addition of the climats de Bourgogne was unanimously approved, with the recommendation to list it as a cultural landscape rather than as a site. Following the proposal, it was argued that the climats de Bourgogne offered the best possible example of a cultural landscape, not simply from a visual perspective, but also because of the progressive construction of the relationship between the people, the land, and the soil. The author wryly notes, though, that "the subtle distinction between a cultural landscape and a cultural site was largely lost on the local population and most Burgundians understood the process as a UNESCO stamp, irrespective of the category under which it was listed."
The concept of the climats de Bourgogne, she explains, "was invented locally in an attempt to renew the terroir identity while positioning Burgundy in the context of an ever more globalized world of wine, which has increasingly questioned the hierarchy attached to traditional regions of production." In a nutshell, the climats are defined as Burgundy's own version of the terroir, the term taking on a different sense from that usually understood, with a far more complex reality. Burgundy's listing as a Wine Heritage landscape emphasizes its international reputation as a traditional and historical site of wine production, and opens a new chapter in the production and marketing of its quality differentiation and authenticity. Demossier says we should not forget that the heritagization of a site is far from a collective and homogenous process—it can often benefit some and alienate others. Traditional collective values are being eroded by the intense economic transformation of the Côte d'Or and Beaune, its wine capital. One of the Dutch importers interviewed there in 2015 said, "It is impossible to buy anything here. I have to go south for affordable good quality wines." (Some of us may question whether the situation has changed quite as dramatically as that. Burgundy is about much more than the majestic grands crus. The Chalonnais, some 12 miles (20km) from Beaune, is a renewed source of fine Burgundy, red and white, produced in good volume at reasonable prices. Moreover, the cellars of growers across the appellations— from Marsannay, to Mercurey and Montagny—are now replenished with excellent wines from the 2017 and 2018 vintages. The growers are smiling again.)
In the case of the Côte d'Or, which is the author's main focus, broader historical processes have constantly transformed the local and social configuration. One of the changes affecting the community has been the rise of Internet technology and the new opportunities for the producers to tell their stories. It's only recently that digital communications have come to play an important role in showcasing Burgundy through social media, films, images, and interviews. For Demossier, "this digital mise en scéne represents a major shift in the way in which individual stories are told […] its constant process of imbrication, cascading from the local to the national to the transnationals and back again. The status of the grower today has become a feature of our modernity. In contrast, some of the author's long-term informers have become more concerned about my own social status as a professor, and now with Burgundy often in the national news, they have found ways of not responding to my questions. Yet the majority of my long-standing informers have enjoyed the ethnographic experience."
Terroir from local to transnational
The organization of the book follows the analysis of several ethnographic windows, which have been based on a long-term investigation into the world of wine, allowing the development of a broader argument about place, quality, taste, terroir, and the global world of wine. Terroir—a slippery concept— has been a staple of French discourse recently, and its resonance on a global scale is testament to its power and capacity for myth-making. Very little is known about its transnational dimension. Demossier puts this right with a masterly account of her 2013 field work on Pinot Noir in New Zealand, which was funded by the Central Otago Winegrowers Association.
In conclusion, this book has the potential to become a very important point of reference on issues well beyond winemaking and to capture a wide audience of educated readers and wine lovers, not to mention intrigued academics, as the back-cover endorsement by Koleen Guy of the University of Texas testifies.
A good approach might be to read first the all-encompassing 20-page introduction, then dip in and out in more leisurely fashion to learn from what is certainly a remarkable source of knowledge and new perspectives. There are excellent scholarly footnotes and simple elegant charts on the pyramids of Burgundy, as well as one or two black-and-white photographs by the author.
Published by Berghahn Books; 258 pages; $120 / £85