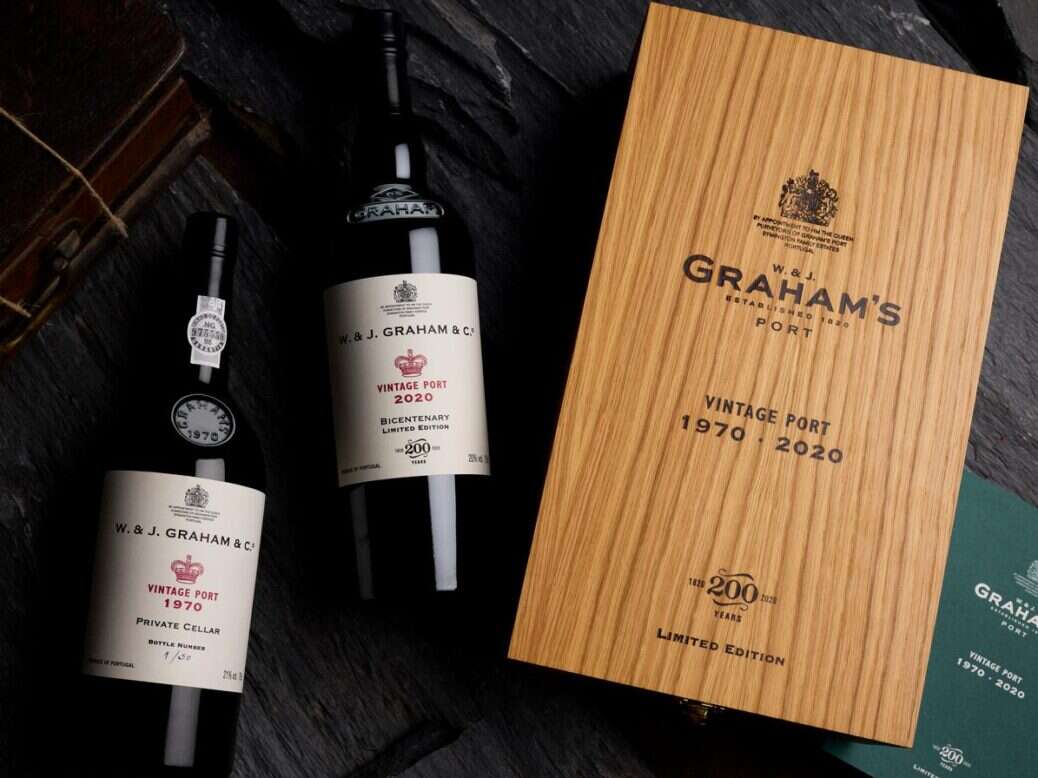 With Symington's announcement that 50 limited-edition cases of their Vintage Port will be accompanied by an NFT, Graham's becomes the latest in a varied group of alcohol producers, including Glenfiddich and Absolut, to pair their product with a unique digital-token.
The first 50 years of the Symington family's acquisition of the famous Graham's Port house were bookended by the production of two significant editions of their Vintage Port. From July 24, 2023, some 44 limited-edition cases of these special 1970 and 2020 editions are available for purchase with an exclusive pairing—the opportunity to own an NFT.
Embedded in each bottle is a near-field communication chip (NFC) that allows for access to the NFT by scanning the chip with your phone. 
According to Harry Symington—who says he is"very excited" about the launch of the digital asset—the two Ports "are not only of exceptional quality" but also "represent the pinnacle of what we make in the Douro." He hopes that the attachment of an NFT to these cases of "special [family] significance" will build a "relationship with those who purchase the rare bottles."  
While not as gastronomically satisfying as the classic Port and stilton partnership, this digital token is bestowed with a range of benefits. The NFT is hosted on the cutting-edge Club dVIN platform and includes an allocation for a case of the next Graham's Vintage Port release, six free guided tours of the Graham's Lodge, and peace of mind for the owner since the token ensures a guarantee of the wine's authenticity. Three of the 44 cases will also include the opportunity for a private visit for four people to Quinta dos Malvedos, the Graham's estate in the Douro Valley. A guided tour of the vineyards followed by an exclusive tasting lunch at the estate house (which is not open to the public) awaits those who wish to spend €3,000 on one of the three special cases.  
As for the six remaining cases out of the 50 total, five of them will be available on the fine-wine NFT platform, WineChain, in the coming months. The pricing details and benefits of the NFT will be available when they are released. As for the final case, it will be sold in the 2023 Golden Vines Online Auction in aid of the Gérard Basset Foundation.  
Where there is the risk that the investment in an NFT may depreciate (Justin Bieber's $1.3 billion 2022 Bored Ape purchase has recently been reported to now only be worth 5 percent of its original value for instance), Symington believes "NFT technology is particularly suited for this wine." Since the 2020 bottles will "probably be cellared for years to come," the "lifetime of the NFT" is extended as its longevity is cemented by the Vintage Port's ability to age over decades.