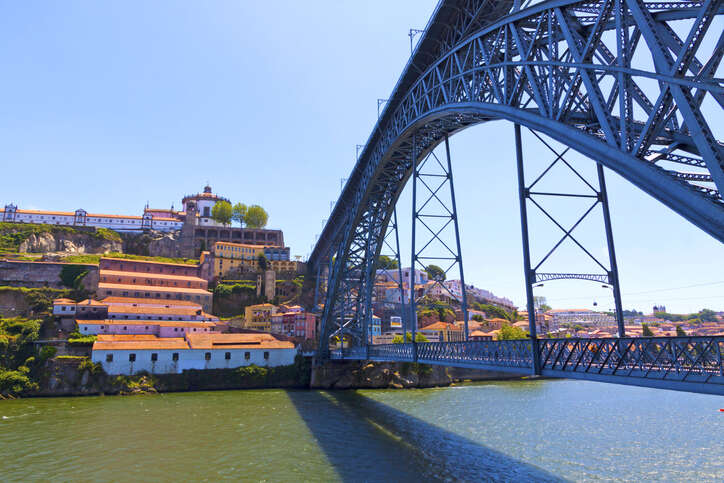 Quinta do Noval, Taylor's, and the Symington Family have all announced releases of 2020 Vintage Port.
The run of great Vintage Port years had to come to an end at some point. But if 2020 proved to be a difficult year in the Douro for a variety of reasons—not to mention being the smallest vintage of the 21st century so far—leading shippers have nonetheless used the traditional St George's date of April 23 to declare small quantities of 2020 Vintage Port.
Graham's Bicentenary Edition Vintage Port
Among the most intriguing of the 2020 Vintage Port announcements so far is a pair from the Symington Family.
Both releases, from Graham's and Warre's, are limited-edition special bottlings that celebrate significant anniversaries.
Graham's 2020 Bicentenary Edition Vintage Port is sourced from high altitude and northwest-facing vines in three of Graham's four estates.
The blend includes co-fermented Touriga Nacional and Touriga Franca, co-fermented Sousão and Touriga Nacional (from the stone terraces of Quinta dos Malvedos), old mixed vines, and Alicante Bouschet.
It is described by the Symingtons as "Opulent, intense, and fresh … with a unique aromatic complexity and beautifully layered fruit."
A total of 3,000 bottles (75cl), dressed with the traditional Graham's Vintage Port label used on such vintages as 1963 and 1970, have been released en primeur in 2022.
Warre's 2020 Vinhas Velhas 350th Anniversary Edition Vintage Port
Warre's 2020 Vinhas Velhas 350th Anniversary Edition Vintage Port is produced from deep-rooted, horse-ploughed, 80-to-100-year-0ld vines, some of the family's oldest, at the Warre's estates of Quinta da Cavadinha and Quinta do Retiro.
The mixed vines have average yields that are up to a third of the usual for Vintage Port: a mere 310g per vine, or three vines per bottle, compared to the usual one vine per bottle.
According to the Symingtons, "The wine is intensely fruit-driven with unparalleled concentration and elegance that belies the conditions of the year."
A total of 2,400 bottles (75cl) are being released En Primeur in 2022.
Dow's 2020 Quinta do Bonfim
Alongside the two limited editions, the Symington will also be releasing small quantities of its Single Quinta Vintage Port, Dow's Quinta do Bonfim.
Located in the Cima Corgo—which the Symingtons believe was the best-performing of the Douro's sub-regions in 2020—Quinta do Bonfim has yielded a wine that is particularly marked by Touriga Franca, which did well in 2020.
The wine has "concentrated black fruit, balanced by a shaft of acidity and Dow's signature long dry finish," the Symingtons said.
"2020 was an especially challenging year in the Douro," said Symington head winemaker, Charles Symington.
"The region saw record heatwaves which substantially reduced yields compared to our initial forecasts—around 40 percent down.
"Grape varieties that usually ripen sequentially needed to be picked at the same time. We adapted to the conditions and picked parcels by their altitude and co-fermented select varieties together, producing incredibly complex and concentrated wines.
"I am very proud of the two limited Graham's and Warre's 2020 Vintage Ports. These wines demonstrate the benefit of our family's multi-generational knowledge of our estates and their microclimates, allowing us to produce such elegant wines in a year like 2020.
"I believe they are a fitting tribute to Graham's 200 years and Warre's 350 years and are destined to take their place among the greatest Vintage Ports from these two historic Port houses."
Taylor's 2020 Quinta de Vargellas
For the Fladgate Partnership, the "extreme conditions" of 2020 will be marked by the release of a Single Quinta Vintage Port from the celebrated Taylor's property, Quinta de Vargellas.
The Port is described by Taylor's as having an "intense, dark inky purple color with a very expressive nose of pure woodland fruit, hints of black cherries, raspberries, and a touch of liquorice.
"The floral notes, very much the hallmark of a Vargellas Vintage Port are prominent, as are the delicate violet fragrances which combine beautifully with the structured, berry fruit flavous.
"The linear tannins provide plenty of grip and attractive austerity to the profile of the wine. A harmonious, balanced and fine Vargellas Vintage Port."
Some 2,500 cases of the Port will be released "at a later date" with Taylor's managing director Adrian Bridge saying the company is "delighted" with the wine, "which shows the elegance and structure that we associate with this excellent property."
Quinta do Noval, Nacional, and Quinta da Romaneira
As has become traditional under the ownership of AXA Millésimes and the leadership of managing director, Christian Seely, Quinta do Noval has made a declaration for both Quinta do Noval Vintage Port and Quinta do Noval Nacional Vintage Port 2020.
"2020 was a hot and dry year, with a prolonged ripening period throughout the summer that led to an early harvest, as the grapes became fully ripe by early September," Seely said.
"The resulting wines are extremely rich and powerful, voluminous, sensual, with great density. Tannic structure is immense, but with remarkable finesse.
"We were aware from the beginning that the Nacional was outstanding, and the wine has developed wonderfully since the harvest.
"The Quinta do Noval Vintage is an unusually powerful and rich style for Quinta do Noval, but nevertheless retains the purity and freshness of Pinhão valley fruit that are typical of Noval wines."
Seely also declared a Vintage Port from his own estate: Quinta da Romaneira 2020 Vintage Port.
"The final blend, at 833 cases, represents a very small proportion of the total production of our 86-ha (213-acre) vineyard, and around 15 percent of our total Port production in 2020," Seely said.
"As always, selections were strict. The varieties are Touriga Nacional (60%); Touriga Francesa (34%), and Sousao (6%).
"Romaneira Vintage Ports are known for their elegance and seductive charm, and this is no exception.
"Nevertheless there is an exceptional intensity and profundity to the 2020 wine that makes it one of the most outstanding Vintage Ports we have ever produced."