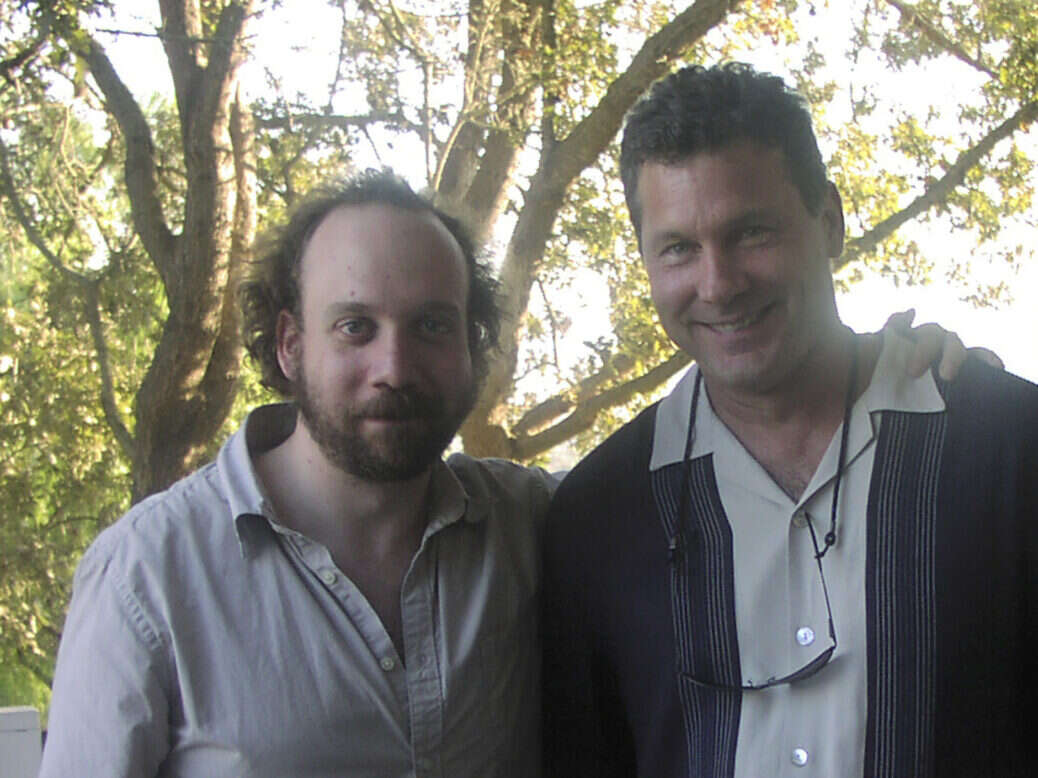 With its relatable characters and universal concerns, the 2004 hit movie made a mainstream impression that no wine-themed work on the big or little screen has since matched
"If anybody orders Merlot I am leaving." That line, and the expletive-laden one that followed, delivered a sucker punch to the fortunes of Merlot, while providing a meteoric boost to Pinot Noir's. It barely needs to be credited for, once uttered by Miles Raymond, the Pinot-obsessed central character of the hit movie Sideways, they entered the wine lexicon; for wine lovers the anybody-orders-Merlot line became as iconic as Robert de Niro's "You talkin' to me?" in Taxi Driver. In brief, the film traces the ups and downs of a week-long adventure as Miles and Jack, argumentative friends and hardly soul mates, go wine tasting in California's Santa Barbara wine region, prior to Jack's forthcoming wedding.
Never has a wine movie gained such traction with the general public, breaking out of its specialist pigeonhole to garner fans across every viewing demographic. Still today, it only takes mention of the word "Sideways" to prompt a knowing response and a reminisce about the listener's favorite moment from the movie. Sideways made wine look easy on screen, yet in truth it's difficult; whether on TV or in cinema it has a chequered history, it's like a loquacious barfly who clams up when a camera is pointed at him. On TV it struggles to rise above worthy-but-clunky for, too often, the presenters are so fascinated by their subject they fail to engage the viewer, forgetting that watching somebody else tasting and enthusing over a wine is not a spectator sport. Few manage to make it compelling.
When writ large on the cinema screen it is unable to fill it unsupported. However much we wine lovers think of the wine world as a universe of vast and fascinating proportion, it is not. This truth was starkly laid bare in the movie Mondovino—the sort of wine film that gets wine a bad name. The anoraks loved it, while the general public felt about an hour should have been left on the cutting room floor. Worse, it confirmed for many skeptics that wine was for nerds, while unwittingly proving that wine is an adjunct to life, an enhancer, a seasoning not an ingredient.
Sideways is laden with ingredients. There's sadness, anger, laughter, pathos, romance (of dubious validity), friendship, lust, and passion, all laced together by drama and comedy. The ballast of the story comes from these before being seasoned by wine, which adds glorious luster. Sometimes Sideways is labeled simply as a comedy—there's laughter aplenty—but what renders it re-watchable are the sterner elements, just as acidity in good wine keeps it upright and interesting, sip after sip. Enduring appeal is Sideways' trump card.
A passion for words and wine
What many viewers and Sideways fans do not realize is that behind the movie lies an eponymous book and its author: Rex Pickett. In it he captures well the desperate yearning of the yet-to-be-successful writer, the fervent longing for recognition that corrodes the soul yet somehow stimulates the imagination. It is semi-autobiographical and Pickett deftly describes the laid bare feeling as he submits his manuscript, again and again, inviting editors to take pot shots at his undefended heart. Emotions and psyche are flogged by this process and when too many shots have hit home he cracks… and attempts to drink from a full spittoon before pouring the remainder over himself. It was an hilarious scene in the film, perhaps the most memorable, and in the book, too, but it didn't disguise the crushing sadness that sits on Miles's shoulders as he flounders in search of success. Where Rex ends and Miles begins is not easy to tell.
Underneath all the nerdy sniff-swirl-sip-spit routine and the ornate turns of phrase, Sideways is an affecting human story, by times funny and sad but believable and relatable to personal experience. In both book and movie Rex/Miles revels in words as much as wine and the Pinot unlocks them in torrents. He delights in forming baroque sentences that cavort on the page—in some cases as high flown as the most purple tasting note ever penned for a Chambertin or a Musigny. All but the most erudite will need a dictionary to decipher the more arcane terms, so much so that Pickett's follow-up book, Vertical, comes with a "Vertical Vocabulary" to circumvent that bother. Think agonal, fulguration, hegira…
In Sideways the book Miles delights in a Kistler Rochioli Pinot Noir 1999: "A powerful nose of black cherries and burnt spices… Exciting. Dancing on my tongue. A little closed." But it is not long before he suggests that he and his fellow diners, "board the bullet train to the Côte d'Or!" and soon he is reveling in the sensual joy of a Comte Armand Pommard, Clos des Epeneaux 1996: "It was as if we had just left the harbor and entered the sea, as if the clouds had parted and the sky had colored lavender and wraithlike little sprites were dancing on the surface of the water… 'Now this is Pinot Noir,' I said." Not to be outdone, the movie Miles weighs in with the sort of lyrical, mystical rhapsodizing that only Pinot aficionados understand: "It's a hard grape to grow… Pinot needs constant care and attention… Only somebody who really takes the time to understand Pinot's potential can then coax it into its fullest expression. Then, I mean, oh, its flavors, they are just the most haunting and brilliant and thrilling and subtle and ancient on the planet."
The film mined the book wonderfully, dancing along while capturing the essence, never lingering to maudlin length nor getting swamped in the more morose passages. There was action too, mostly from Jack, Miles's feckless companion, keen to bed as many ladies as possible before his impending nuptials. Mayhem results and by the end of the week Jack carries more injuries than a combat veteran, highlighted by a difficult-to-disguise broken nose on a scarred face.
Despite all of this the wedding runs smoothly and there the action ends until, years later, we meet our heroes again in Vertical, which sees the pair take off on another ill-considered road trip, taking Miles's wheelchair-bound mother and dope-smoking nurse along with them. The intervening years have occasioned a dramatic reversal in their fortunes. Now Miles, who had to steal from his mother to fund the Sideways' stag week, is able to splash money about and only by doing so can he persuade the near-destitute Jack to join him. He is now a successful author while Jack's acting career has stalled and his marriage has collapsed under the weight of his philandering. A dissolute lifestyle has taken a toll on his once rugged features, his hair is a mess and is matched by a Robinson Crusoe beard, while a paunch strains his waistband.
They are older but barely wiser, Miles is drinking to excess, opening bottle after bottle of famous name wines and sluicing them back with less ceremony than in Sideways, less delighting in their nuances and complexities, the alcohol hit being the paramount pleasure. Jack is still an alley cat and the devilish smile continues to charm the ladies, though his way with them is now boosted by Viagra to avoid difficulties in the bedchamber. When extravagant quantities of this are combined with a matching measure of Pinot Noir catastrophe results and sees him receiving embarrassing medical treatment to alleviate the problem.
For Miles every door is now open and every lady wants to make his acquaintance but he is still a tortured soul, success has not brought equanimity. He is never certain what he wants from romance or life, he picks occasionally at the problem and when it threatens to overwhelm he reaches for a glass of Pinot to soften the cantankerous ruminations that invade his psyche. By the end of Vertical, however, resolution of sorts is reached and the drink forsworn. Hope beckons.
From Chile to the Côte d'Or
Today, it is no exaggeration to talk of "the Sideways phenomenon." Up until the Covid-19 pandemic, wine tourism to the Santa Ynez Valley was booming and will surely pick up again when life returns to normal. The Windmill Inn from the movie is now the Sideways Inn and the Clubhouse Bar is the Sideways Lounge. Last January Alaska Air announced the introduction of three new routes, flying from Seattle, Portland and San Diego, into San Luis Obispo, landing the Pinot-philes almost into the heart of Sideways country rather than Los Angeles, a three-hour drive away. An added attraction was the "Wine Flies Free" offer, allowing passengers to carry home a case of wine without incurring penalty baggage charges.
The flights were the latest evidence that the Sideways juggernaut shows no signs of slowing. There have been four iterations of Sideways the play, soon to be followed by Sideways the musical, to be directed by triple Tony Award winner Kathleen Marshall. All told, including revenue from DVD, TV, and theater, Sideways has grossed an eye-watering $650 million, a figure beside which even the extraordinary sums now being paid for the most sought-after Burgundies pale somewhat. And all from a film that was made for what now sounds like a minuscule $16.5 million.
There is even Sideways the wine—the Rex Pickett Signature Series Sideways Pinot Noir from Chile is already exported to a dozen countries, and there is a rosé and a Sauvignon Blanc in the pipeline. Why Chile? Pickett travelled there in 2012 to research his third book Sideways 3 Chile and was smitten by the place and the people, and is at pains to emphasize: "… my Pinot is for the anti-wine elitists, those who want to drink well at a price they can afford. This is the first time I've seriously put my name on a wine."
Pickett is constantly in demand for interviews and profiles, and his character is well suited to the merry-go-round of near-identical questions and requests. He is a rapid-fire talker, able to spin yarn after yarn, telling tale and anecdote in response to his interlocutors' appeals for elaboration on their favorite episodes from movie and book. He has told some of them ad infinitum yet doesn't seem to mind and never shies away from reminding people that before Sideways rocketed him to fame he was bereft of any hope, completely at his wits' end, the future unremittingly black.
On top of these demands his writing commitments are now legion. He has just completed The Archivist, a novel inspired by the handing over of his papers—including 230 letters of rejection for Sideways—to his alma mater, University of California San Diego, and he is working on his autobiography. Notwithstanding all of this the book he really wants to write is Sideways IV: Burgundy and he is ready to drop everything to realize his long-cherished ambition of taking Miles to Burgundy for a final hurrah. Miles has no place left to go except the home of Pinot Noir and if circumstances permit, that is where he is headed. Pickett, who makes no secret of his lifelong dislike of flying, is prepared to hop on a plane to France and I will be there to set off with him on his final odyssey. It's likely to be a tamer journey than the original rollicking adventure of mayhem and near self-destruction. The Côte d'Or should prompt a more reflective meander, more spiritual than hedonistic, though luckily, spirituality and hedonism have been bedfellows in Burgundy for centuries. Funding still needs to be secured but once that hurdle is cleared the "start" button on Miles's last hurrah will be hit with alacrity.
A final anecdote Pickett delights in telling relates to how the actor Paul Giamatti, who played Miles in Sideways and who is not an obsessive enophile, is forever being recognized and treated to bottles of Merlot, the benefactors no doubt hoping their gift will prompt a volcanic anybody-orders-Merlot eruption. On that subject the last word on the "M" word belongs to Rex Pickett's Twitter profile: "I don't hate Merlot." Many think otherwise.