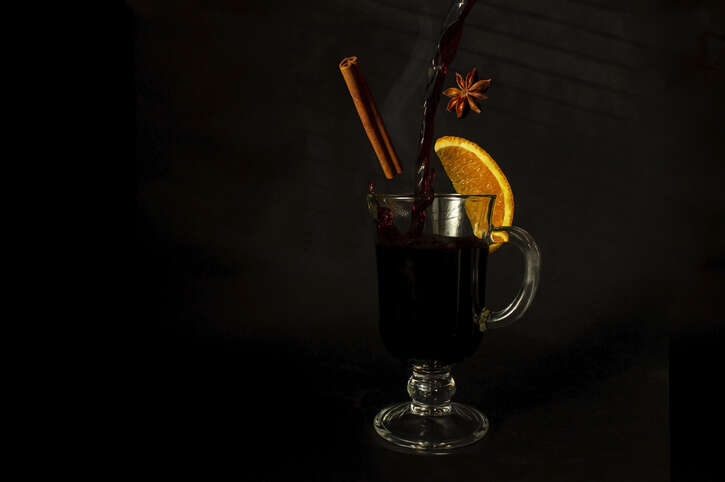 In his latest reflection on the cultural history of wine, Stuart Walton looks at the various ways that wine and other forms of alcohol have been enlivened by spice and heat during the Christmas season.
The Christmas season reliably brings with it a Santa's sack of exhausted cultural clichés. References to wassailing and carolling abound, and we are all pictured as hanging up our stockings, kissing under the mistletoe, pulling sledges through the soft crunching snow, and many another fantasy activity in which only a tiny minority of the living have ever engaged. When it comes to what tautologists like to call the "festive feast," we will all be carving a roast turkey the size of sin, and flaming a cannonball plum pudding in brandy, to merry whoops about the crowded board, while saving room for a slice of Yule log as the gloaming draws on.
The drinks in the Christmas scene
Two principal drinks are prescribed for this Christmas scene. One is eggnog, a sweetened milk punch with spirits added to it that nobody alive has ever made or ever will, although everybody insists they remember a dotty old auntie becoming even dottier on it one long-gone Yuletide. The other is mulled wine. The mulling of wine has a distinguished history. It's there in the late 14th-century English cookbook, The Forme of Cury, as hippocras, an already long-established formula for conjuring away the winter chill. A surprisingly exotic spice blend incorporating Indian long pepper, grains of paradise, galangal, cardamom, and ginger is added to sweetened red wine and infused by simmering.
It is not hard to see the logic. Alcohol and spices served warm should redress the humoral imbalance that threatens during long periods of cheerless bleak weather. By the Victorian era, the recipe had acquired the citrus fruits that arrived on northern shores when there was very little home-grown fruit about. At the conclusion to A Christmas Carol (1843), the newly redeemed Mr Scrooge invites his employee, Bob Cratchit, to discuss a new salary package with him over "a Christmas bowl of smoking bishop," hot wine punch with clove-studded oranges or lemons, spices and sugar, the 19th-century epithet "Bishop" indicating the fortifying presence of Port alongside the red wine.
Glühwein, glögg, and glögi
In the Book of Household Management (1861), Isabella Beeton recklessly brings her sweetened and spiced wine to the boil, a surefire way to wreck cheap claret, before serving it with fingers of dry toast, which sounds more like the sort of potation Scrooge might have taken while he was still a misanthropic misery. Among the claims the Savoy Cocktail Book (1930) makes for Nuremberg Punch, a brew of hot red wine, Batavian arak, orange peel, and loaf sugar, are that it is "excellent when cold, and will improve with age." The German-speaking countries have their Glühwein, the Scandinavians variations on glögg or glögi. In the central European cultures, the various names for hot punch translate as "boiled wine," sure indication that these recipes use the rough weather as an excuse for roughing up innocent wine.
Hardly any alcohol mixes less obligingly with other ingredients than wine, which is imploring the end-user to drink it as it is. The adulteration of Champagne with Angostura bitters, brandy and sugar produces something more palatable than Buck's Fizz, to be sure, but seems to pay just as little heed to the painstaking process by which it arrives at its status as Champagne. Among the cocktails that took their names from First World War munitions, the French 75—a reference to the standard gauge field-gun deployed in the mud and slime of the Marne—called for muddling gin, lemon juice, and sugar in a tall glass, before topping it with Champagne, nothing other than a modified gin fizz with best Bollinger substituting for the soda water. "Hits with remarkable precision," says the Savoy recipe, as well it might for the quantity of Champagne involved.
Repellent luster
In the long history of eccentric wine-mixing, hardly anything stands out with more repellent luster than Queen Victoria's favorite assemblage of claret and single-malt Scotch, a singular way of memorializing the Auld Alliance that literally none of her guests would countenance. It produces an almost emetically unpleasant stew of iodine and graphite, the grape and grain tugging furiously across the palate in opposite directions.
By contrast, Billie Holiday, in the years before her final sorrowful subsidence into alcoholism, favored a concoction she called Top and Bottom. It was a half-and-half mixture of Port and gin, which might almost sound feasible until the juniper-scented spirit hits raw red wine and wood tannin, and a world of bitter remorse opens up. A festive night on that, and you'll really be singing the blues.