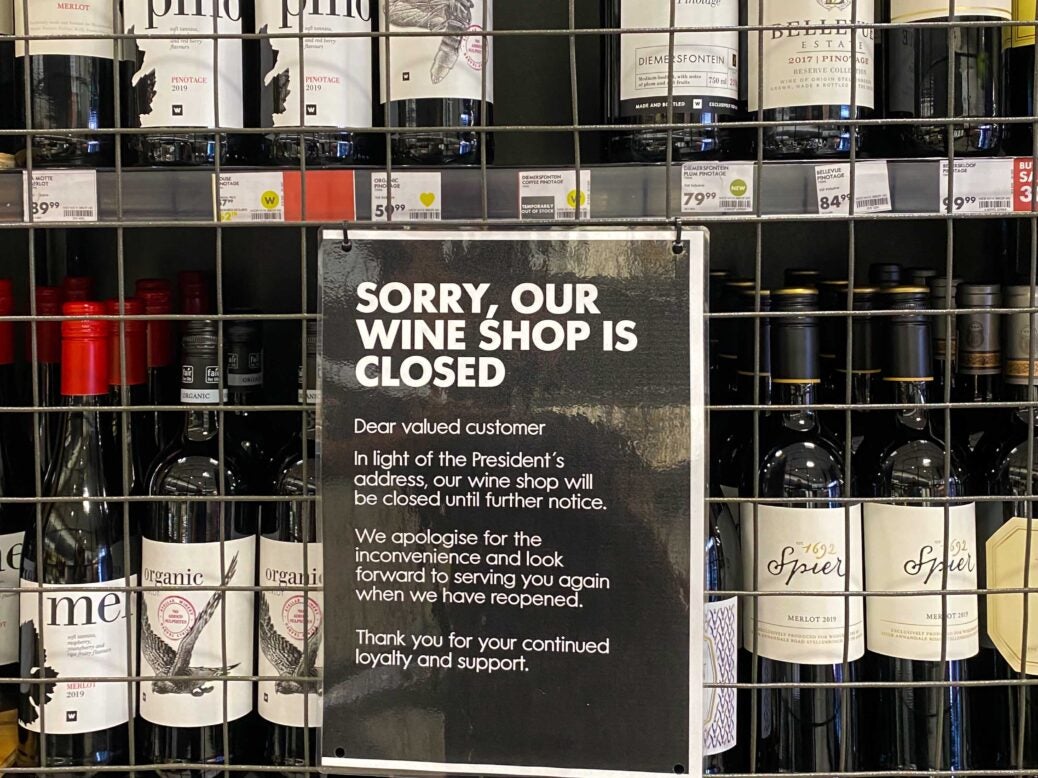 Global wine consumption decreased slightly in 2020—with Covid-19 triggering a downturn similar to that seen in the 2008 Global Financial Crisis.
New data from the International Organisation of Vine and Wine (OIV) shows that after a strong decline in consumption in the first half of 2020, the latter half saw some recovery. Higher value wines, and sparkling wines, took the strongest hit due to the closure of hospitality venues and the cancellation of many events.
Production of wine globally actually saw a small increase in 2020, after two consecutively volatile years in 2017 and 2018.
This is despite a number of regional attempts to curb production by countries anticipating the global drop in demand. For example, while the EU wine Common Market Organisation offered subsidies to regulate volume, the good weather of spring and summer 2020 led to a very strong harvest across Europe and an 8 percent increase in wine production in the EU compared to 2019.
The increase in Europe was offset by a number of dips in other parts of the world—notably a 11 percent decrease in both the USA and Australia, which both experienced raging wildfire activity in 2020. China, too, saw a significant production decrease (-16%) for the fourth year in a row, pointing to instability in the Chinese wine sector.
Wine consumption worldwide saw a 2.8 percent decrease in 2020 as a whole. That is a smaller dip than might have been expected in mid-year at which point consumption was down 6 percent.
The annual consumption drop between 2019 and 2020 is the same as the one seen between 2008 and 2009, which saw recovery within a few years. Pau Roca, Director General of the OIV, says the organization believes parallels can be drawn, but remains tentative in its forecasts.
"The Covid crisis has more or less the same tendency as the 2008/2009 financial crisis," Roca said, via a translator. "Probably the possibilities for recovering are even better than in 2008/2009. But we still don't know some things; in some markets, the crisis maybe has not even begun."
The decrease does mean that 2020 saw the lowest wine consumption since 2002. While that can be partially attributed to Covid-19, the pandemic doesn't tell the full story, according to the OIV. They point out it follows a trend seen over the past few years that is in part due to lowering demand in China.
The 2.8 percent worldwide decrease of wine consumption of 2020 hides huge variation within individual countries, which the OIV attribute to a variety of factors including the stringency of national and regional Covid lockdowns, closures of hotels, restaurants and bars, and each economy's reliance on international tourism.
The biggest percentage growth was seen in Brazil, which the OIV attributes to the growth of e-commerce, and also that Brazil still has a comparatively low starting base. The most significant hit was seen in South Africa, which had a full alcohol ban, including online sales, for the first two months of the pandemic. The ban was brought back in the summer, and then again from December to February 2021.
Pre-Covid, the USA has been the largest wine consumer in the world for the past decade, and last year its consumption saw no change from 2019, putting the volume consumed one third (34.7%) ahead of France and Italy. This lack of impact of Covid-19 is likely due to the US lockdowns being significantly less strict than much of the world, and the strength of e-commerce.
Although Covid-19 undoubtedly played a part, China's significant dip in wine consumption follows a three-year pattern, which the OIV believes may signify the end of China's rapid expansion in the wine market which at the beginning of the century looked like it might have a huge impact on the wine world.
By looking more in depth at trade data, patterns emerge beyond just a simple increase or decrease in consumption.
Mapping the changes in the volume of wine imported in 2020, against changes in the value of that wine, we can see that worldwide value of imports decreased by €29.6 billion, 6.7 percent, while volume of imports decreased by only 1.7 percent.
In a number of countries, including the UK and US, volume didn't decrease or even increased, while import value took a hit. The US saw import value decrease by over 10 percent. This shows the clear effects of Covid-19, as hospitality shuttered and consumers opted for cheaper wine to drink in their homes.
In terms of types of wine, sparkling wine—which makes up around a tenth of global wine trade volume—took the biggest hit. The UK in particular is one of the world's biggest wine importers, and in 2019 sparkling wine made up more than one fifth of the import value. A combination of lockdown and trade delays caused by Brexit meant sparkling wine saw a 17 percent decline in import value and a 5 percent dip in volume.
The French wine business, which has a very high proportion of sparkling wine and Champagne exports, is estimated to have lost more than one billion euros. But, Roca says, the OIV is optimistic that the return of events will see recovery for sparkling wine.
"People will continue to marry, they will continue to have parties, and they will continue to celebrate," he said. "So, I think that we will recover sparkling wine, and we will be celebrating, very soon. And maybe we'll be at a peak of consumption."
Bottled wine, which accounts for more than half of global trade volume, saw the same value dip, with restaurants and bars closed. On the other hand, bag-in-box wine, which is exported in containers of between two and ten liters, saw the biggest global expansion. Bulk wine stayed stable, as consumers opted for cheaper, supermarket wine. Bag-in-box wine is now particularly popular in the United States, which saw a 10 percent increase in import volume, and an 8 percent increase in import value.
The OIV says that this year has shown that the current global wine market, which is highly concentrated, suffers from extreme instability. Geopolitical events such as Brexit, and trade disagreements with the United States under President Trump, can cause huge disruption globally, and the climate crisis is only exacerbating that instability. The wine world, the OIV says, needs to broaden its base if it is to cope with this uncertainty.
"Seventy percent of wine is consumed in ten countries, and eight countries represent 75 percent of the wine produced around the world," says Roca. "There's a big concentration, and this means a lot of risk also. This means that it is important to diversify."