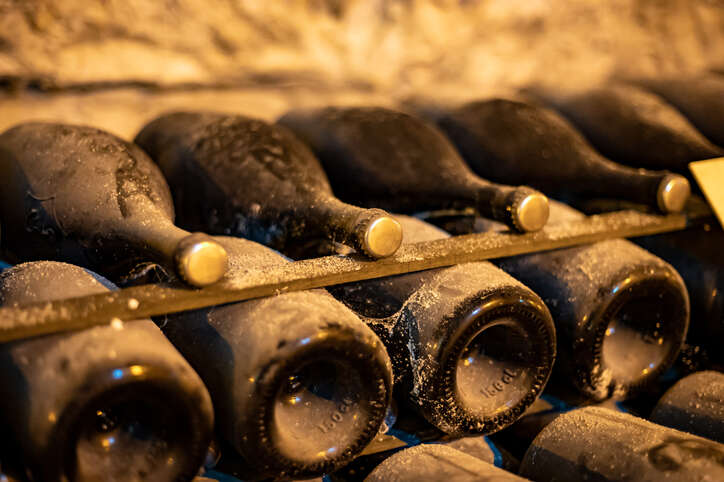 The wines of the 2008 Champagne vintage beat those from 2009 convincingly in a panel tasting hosted by The World of Fine Wine in 2016. But how do the two vintages compare today? Essi Avellan MW introduces a tasting shared with Simon Field MW and Anthony Rose.
For full tasting notes on all 32 Vintage Champagnes tasted by the panel, subscribe to The World of Fine Wine
In our initial assessment of 2008 and 2009 Champagne back in 2016, Tom Stevenson concluded that 2008 was "the king for now." Five years later we gathered to reassess both vintages, with almost all of the longest lees-aged cuvées having now been released. Unfortunately, Tom was unable to join Simon Field MW and me, the previous panel, but experienced Champagne taster Anthony Rose nobly stepped in to complement our trio.
Our verdict in 2016 had been clear, and I went so far as to say that the battle between the vintages was "over before it even began," the softness and generosity of the 2009s leaving them in the shadow of the racy and coolly elegant 2008s. Meanwhile, the market has responded similarly, with unprecedented hype for the most famous available 2008s, such as Comtes de Champagne, Cristal, Cuvée Sir Winston Churchill, and Dom Pérignon taking the Champagne collector world by storm. But it is only this year that we have seen wines of the stature of Bollinger Vieilles Vignes Françaises 2008, Billecart-Salmon Elisabeth Salmon 2008, and Ruinart Dom Ruinart 2009 part the producer's cellars. Thus it was the perfect time to take a new look at these two celebrated vintages.
The coolly classic 2008
The climatic tales of these two September harvests were thoroughly explained by Tom Stevenson in his introduction to the tasting in WFW 54 (2016). But a brief recap of the salient features and vital statistics may still be helpful here.
2008 began with several challenges, its damp spring season bringing widespread mildew as well as coulure and millerandage. Drier conditions in August and finally a fine, warm September with cool nighttime temperatures proved to be the saving grace. The grapes managed to ripen even in the cooling September weather, with the harvest beginning on the 15th. With the pristine health of the grapes, the potential alcohol ended up at 9.8%, with total acidity (expressed as sulfuric) of 8.6g/l and pH as low as 2.98. The abundant vintage (yielding 14,231kg/ha) favored all three varieties, but particularly Pinot Noir and Meunier.
It is in many respects a dream-come-true vintage, combining both quality and quantity. The 2008s are typically coolly fruity, classically styled wines with notable acidity balanced by sound ripeness achieved during the long and even ripening. Many chefs de cave praise it for being "the 1996 done right," thanks to the lessons learned then. Due to the slow-aging, high-acid character of the 2008s, some producers such as Louis Roederer and Dom Pérignon decided to release their 2009 ahead of it.
2009 Champagne: Effortlessly mature
Even if the harvest in 2009 was pushed back until September 8, there was a real summer in Champagne, with grapes effortlessly reaching maturity. The year started with cold winter, but mild spring, temperatures. Early summer was variable but August and September provided ample sunshine and warmth contributing to fine grape health. The harvest of grapes with generally high sugar content yet soft acidity produced a voluminous crop of 12,280kg/ha. Potential alcohol crept up to 10.3% while acidity remained at 7.5g/l at a pH of 3.08.
2009 is a year of generous wines that showed well early, already being rather open and impressive as vins clairs. It is an apt example of a vintage of the current era, when retaining freshness is more of a challenge than attaining ripeness. Good grape health and ripeness contributed to the overall quality and, despite the richness and a certain softness in the wines, heaviness did not end up being a problem.
Our recent tasting
We had 32 wines to taste. Due to delivery issues, four wines—Bollinger La Grande Année 2008, Bollinger Vieilles Vignes Françaises 2008, and Pol Roger Cuvée Sir Winston Churchill 2008 and 2009—did not arrive in time for the tasting. We wanted to include them nevertheless, and the wines were later tasted openly by Simon and Anthony only.
Among our samples, 2008s predominated, with 22 representatives against ten from 2009. This ratio reflects the fact that the 2008 vintage was more widely declared, only a very few producers (Ruinart among them) deciding not to craft a prestige cuvée. Ideally we would have compared the 2008 and 2009 of the same cuvées, but this opportunity occurred with only seven wines. Out of them, Pierre Gimonnet Spécial Club Millésime de Collection 2008 was corked, sadly, so the analysis here is based on only 31 wines.
The wines were all commercial disgorgements, so came with vastly varying post-disgorgement aging times. Most were served from 75cl bottles, but both Lanson 2008 and 2009 were tasted from magnums, as were Pierre Gimonnet Spécial Club Millésime de Collection 2008 and 2009, and Drappier Grande Sendrée 2008.
Results and conclusions
How you might twist or turn the results, 2008 was again the clear winner (if we're looking for a winner). The 2008s averaged 93.6, the 2009s, 92.77. Among the individual tasters, the difference in the average scores for the two vintages was greatest in my case, at 1.17 points, and lowest in Simon's case, at 0.37 points. Even so, all of Simon's four 95+ wines were from 2008. For me, only one 2009, Dom Ruinart, reached as high as that, whereas I gave five 2008s a scrore of 95 or more. For Anthony (who had more high scores overall), there were as many as 14 2008s with 95+ but only five 2009s.
It is unfortunate that our winning Champagne, Pol Roger Cuvée Sir Winston Churchill 2008, was tasted by only two panel members. It should also be noted that it could not be tasted blind, even if both Simon and Anthony were clearly very impressed by how it showed. Behind it, we all agreed on the excellence of a reputable trio: Taittinger Comtes de Champagne 2008, Dom Pérignon 2008, and Piper-Heidsieck Rare 2008. For Piper-Heidsieck's "straight" 2008 Vintage also to be among the top five wines made it a very impressive performance for the house.
Given the greater number of 2008s in the tasting, it is perhaps more useful to compare the performance of the cuvées of which we had both vintages, rather than the scores overall. Of the seven pairs (minus the corked Pierre Gimonnet), 2008 won the battle five times, Clos des Goisses being the only 2009 considered superior in terms of our average scores.
One of Champagne's greatest vintages
These latest results leave little scope for interpretation, 2008 excelling and strengthening its reputation as one of Champagne's greatest vintages. As five years ago, we still aren't saying that 2009 isn't a very good vintage—it is, as its high average score of 92.8 testifies. It is just not as great as 2008, which so impressed us with its finesse, spine, tension, and graceful, slow evolution. The future of the 2009s with their plush richness, is harder to predict, but this tasting gives grounds for hope that it is not only an immediately approachable, perfectly balanced vintage, but a reasonably age-worthy one as well.
The Top 5: The Best of 2008 and 2009 Vintage Champagne
Pol Roger Sir Winston Churchill 2008 (12.5% ABV) | 97
EA: NA.
SF: Shimmering soft gold, recently polished; the nose a hymn to restraint and vaulted ambition; nougat and almonds join forces with lemon pith, rosy apples, and gently buttered toast. On the palate, there are intimations of tropical fruit spicy grip and a plush, honied subplot. Silky soft; pashmina elegant; acidity taut and telling, the black grapes in the ascendant; reserved, with much more in reserve; supremely elegant, composed and affirming. More to come… A worthy ambassador for a great vintage. | 97
AR: Pale gold in color, this is alluring in its complexity of aroma, showing a combination of bright stone fruit and grilled almond autolysis, an invitation readily accepted by the tongue, around which curl not just ripe, candied stone-fruit flavors wrapped in a seductively toasty autolysis, but a finely balanced bright freshness, too, all finely woven into a textured mousse, which, in its sheer length, delivers massively on flavor and pleasure. | 97
Piper-Heidsieck Rare Brut 2008 (12% ABV) | 96
EA: Intense lemon color. Gorgeous, coffee-toned, burned sugar, and cotton-candy nose, with exotic fruit and baking spices. Sumptuous, super-silky palate, with oily smoothness and perfectly integrated crisp acidity. Truly elegant, creamy mousse, and pristinely pure fruit finish. Complete and complex. | 97
SF: Viscose, jewel-like, soft, well-polished gold; or a brass instrument that has been played with great diligence over the years. Tight and still reticent on the nose; peonies, spring flowers, apples and pears, most attractive; a firm, quite compact palate, the savory inclinations assuming control, dried fruit and flowers soon to be subsumed by the intimations of development. | 95
AR: Pale gold in color, subtly complex in aroma, with sweet almond and light toasty notes and a nutty autolytic character, this is a finely wrought vintage blend, showing richness of textured bubbles on the one hand, with excellent intensity of flavor, and real finesse on the other, thanks to an expansive mousse of bubbles that explode in a profusion of full-flavored, mouthwateringly tangy fruitiness and taper stealthily towards a satisfyingly citrusy crispness. | 96
Piper-Heidsieck Brut 2008 (12% ABV) | 96
EA: Rich, evolving nose, with generous toasty exuberance. Pristine fruit underneath. Coffee, lemon tart, and Viennoiserie. Rich and sweet on the plentiful palate of great intensity and length. Charming style and at a lovely drinking age. | 94
SF: An attractive iridescence as one turns the glass towards the light; a persistent mousse, playful yet serious, and aromatics that recall the kitchen garden, the orange grove, and the orchard just before harvest. Complete, compact, complex, and harmonious, to break the alliterative spell; the acidity is complicit in the quest for excellence, but without too much by way of excess or indulgence. | 95
AR: A mid-gold in color with greeny glints, this has an intriguing complexity of aroma, combining all the desired elements of autolytic toastiness, sweetly smoky honeycomb, praliney nuttiness and peach in custard cream fruit; and the same complexity follows through in the mousse, which is toasty and tangy behind a sumptuous fruit quality and buoyancy of texture, all beautifully balanced and ageworthy. | 98
Taittinger Comtes de Champagne Grands Crus Blanc de Blancs| 96Brut 2008 (12.5% ABV)
EA: Intense pale lemon-green color. Gorgeous toast-lined nose, on the reductive side, with gunpowder, lemon confit, pineapple, and white flowers. Great tension on the lightweight, zingy palate, of fine fruit intensity, creamy mousse, and silky texture, on the long, purely fruity palate. Already sublime, but will improve further. | 97
SF: Modest luminosity, self-assured, bubbles composed, effortless; then an immediately seductive nose; gunflint, apricot kernel, quince, and a hint of lanolin; the reduction is assuaged, the quality pours out; mealy, biscuity, figs, almond, macadamia, sour honey; but all discreet, measured; more to give, in other words, despite an incalculable appeal in the shorter term. | 96
AR: A pale lemony gold in color, this has a sweet, grilled almondy aromatic and leesy solids character, very pure Chardonnay in style, and the purity is reprised when you taste, the ripe honeycomb and nutty Chardonnay fruit lifted by a finely textured mousse that's bisected by a nicely balanced, trenchantly fresh, and crisp acidity, tapering to a balanced, dry finish. | 95
Bollinger La Grande Année 2008 (12% ABV) | 95
EA: NA.
SF: Pale gold, a nacreous rim, soft poise of the mousse and an attractive restraint on the nose, pumice stone, flowers, and a hint of dried apricot. The palate is broader than anticipated, expansive, a soft coconut undercurrent betraying oak, measured in its use and controlled on the finish, which marries the poise of suspended citric tension and the quiet decadence of a privileged upbringing. | 93
AR: A rich mid-gold in color, with perhaps some oak, almost certainly some Pinot involved, the aromas are at the same time subtle and present, with quietly dignified notes of butterscotch, toast, and honey, and immediately on taste, an explosion of enveloping honeyed toast and liquid Cox's apple-richness making its presence strongly felt with a spray of fine, full-flavored bubbles dissolving and gliding effortlessly on the tongue, and only gradually subsiding toward a mouthwatering, satisfyingly complete, tangy, dry finish. | 96