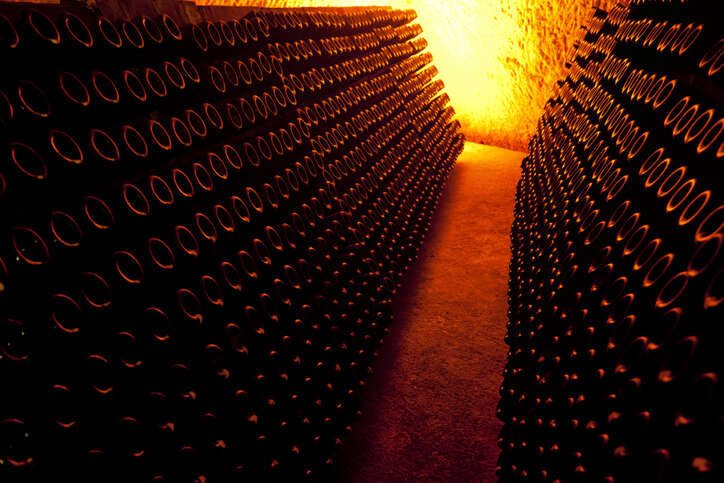 The world of sparkling wine has been transformed in recent years, says the author of an important new book on the subject, Anthony Rose. No longer dominated by Champagne, it has never been more thrillingly diverse.
In 1985, a piece about what wine would be like 25 years on gave me a leg up to the job of wine correspondent of The Independent, which launched in 1986. I failed to see the New World looming, but by the millennium, Australia had pipped France to take number one spot in the UK wine drinker's affections. Worse, my IBM word processor was silent on the subject of sparkling wine: "Our own wines have become 'respectable' [and] Huxelrebe, Reichensteiner, and Seyval Blanc are grape varieties recognised to be as typically English as Zinfandel is Californian and Shiraz Australian." How we laugh now.
1986 was also the year Stuart and Sandy Moss bought Nyetimber, planting in 1988 to become pioneers of English quality sparkling wine. It's easy to bandy the pioneer word about, but harder to grasp quite how inspirational their foresight and risk-taking was. While I was researching Champagne and Sparkling Wines of the World (Infinite Ideas, to be published November 29, 2021), the subsequent owners of Digby Fine English, of Ambriel, of Rathfinny, all confessed that their first ever taste of an English sparkling wine was the light-bulb moment that inspired them to go on to make quality fizz themselves.
Sparkling wine: Lapping at Champagne's cellar door
Similar stories of ambition and confidence underpin the emerging sparkling wine industries now lapping at Champagne's cellar door. There's a certain schadenfreude in the fact that Champagne so diligently protects its good name after having done its utmost to spread the gospel of the bubble to the four corners of the planet. It was the Champenois who were at the heart of the 19th century sparkling wine industries on which the foundations for today's modern industries were built.
In the 19th century, America, Australia, even Moldova, imported Champenois savoir-faire and technology to kick start the bubble. For Germany and Italy, it was the experience of seeing how things were done in Champagne that encouraged them to try their hand at it in their own back yard. Others, notably Austria and Hungary, but Japan too, sent their spies to Champagne to learn the craft and bring it home.
In the modern era, Champenois outposts in California, Australia, New Zealand, South America, Asia, and most recently the UK, demonstrated to local entrepreneurs that their own patch of dirt didn't have to be based on chalk alone for them to succeed in making quality fizz. Some of the credit also lies at the door of Champenois growers such as Anselme Selosse and his disciples, focusing on their own vineyards and reverting to traditional practices in order to give priority to the wine over the bubbles per se.
Out-Champagne the Champenois
In the early days of every emerging sparkling wine region, the respect shown to Champagne, with its history and tradition, not to mention its massive marketing budget, meant that most who went into making fizz did so without feeling that they had to, or even could, out-Champagne the Champenois. Most were content to try their hand at making a product they loved or could sell, or both.
"We don't aim to replicate Champagne," says Fran Austin and Shane Holloway at Delamere in Tasmania. 'What we aim to do is make wine that's of the quality of Champagne, but with the characteristics of Tasmania and Delamere." Harrow & Hope's Henry Laithwaite wasn't seduced by the marketing glitz and never even intended to make sparkling wine, but when his mother's brand, Wyfold, won the Judgment of Parsons Green in 2009, it propelled him into realizing first that he could make terroir-driven fizz and secondly that he could turn bubbles into a viable business.
The Prosecco phenomenon
Nowhere is the hard-nosed business-minded approach to making fizz more evident than in the phenomenon of Prosecco which hasn't got where it is today by pretending it's the equal or thereabouts of Champagne. By cutting its cloth according to its business plan, Prosecco has, within a generation, become the world's biggest sparkling wine marketing success, at twice the volume of Champagne. Prosecco has achieved this largely by differentiating itself from Champagne firstly by using the local Glera (formerly known as Prosecco) grape, secondly by relying on the cost-effective charmat method.
Counterintuitively, Cava has come from the opposite direction. For too long lowering quality expectations by selling on price, a whole new movement has grown in Penedès, firstly through the Clàssic Penedès group and more recently Corpinnat, determined to improve quality and personality using Catalan varieties and not the usual suspects of the three major Champenois varieties on which most of today's emerging sparkling wines industries are based.
Feeling the heat
There is no question that feeling the heat is fueling the search for cooler climate locations around the globe. To date, the UK has been one of the greatest beneficiaries of climate change with warmer temperatures enabling a ripening process that couldn't have been achieved three decades ago. While Franciacorta has long been thought of as Italy's little Champagne, new cooler regions at higher altitudes are challenging its supremacy, notably Trentino and, excitingly, Alta Langa in Piemonte. Other countries at the margins such as Germany, Austria, New Zealand, and Canada are now in a far better position than ever before to flex sparkling wine muscles they never knew they had.
On the flip side, warmer regions such as Penedès, California, and the Cape are prospecting for cooler, higher sites closer to the ocean and with more substantial day-night temperature swings. Even cool Tasmania is moving in that direction. In the face of the new challenges, Champagne itself is not complacent, with noises off talking about a variety of solutions to handling climate change. If the dial continues to shift at its current rate however, we could be in for even more of a dramatic shake-up of the sparkling wine landscape than we've seen already.