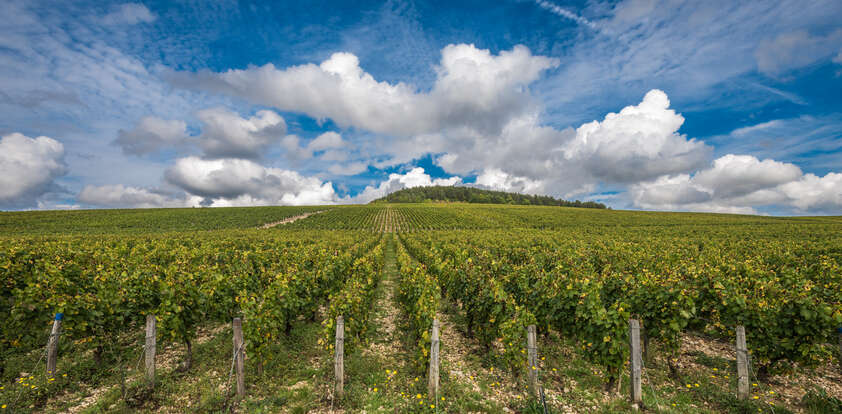 The World of Fine Wine's Burgundy critic, Sarah Marsh MW, continues her comprehensive coverage of the 2020 Burgundy vintage with an overview of Burgundy's sub-regions and villages.
More in this series
2020 Burgundy: Classic wines from an extreme season
2020 Burgundy: Chablis tasting notes
2020 Burgundy: Côte de Nuits tasting notes
2020 Burgundy: Côte de Beaune tasting notes
2020 Burgundy: Côte Chalonnaise, Mâconnais, and Beaujolais tasting notes
After the difficulties of visiting Burgundy to assess the 2019 vintage, it was business as usual for 2020. I tasted in Burgundy throughout a cold, wet, and often foggy November, visiting more than 100 domaines, from Chablis, to the Chalonnais. With a few exceptions (it was impossible for me to taste the full range wines at the larger négociants), I tried every Burgundy 2020 wine in each cellar to compile this overview. In addition, 20 producers from the Artisans Vignerons de Bourgogne du Sud, a group of producers in the Mâconnais, sent samples to Auxey-Duresses, where I tasted through them over a couple of weekends. Some producers I could not visit helpfully sent samples for me to taste through in London in December and January.
Chablis
It still seems strange to envisage Chablis growers harvesting to catch acidity rather than to chase ripeness. The style of the 2020s is ripe, forward, and fruity; they are certainly fresher than the 2019s, but there are plenty of exotic notes and tropical-fruit flavors, too. This is most noticeable in some of the Left Bank premiers crus, although freshness and minerality come through on the finish, depending on climat—maybe not for Beauroy, but definitely for Léchet. They can be quite plump. Vaillons can edge from pure and rounded, to a little heavy, while Montmains, and particularly the cold lieu-dit Fôrets, is strikingly fresh and mineral.
The Right Bank premiers crus have more structure to absorb ripeness. Nevertheless, I found the sunny terroir of Fourchaumes, even blended with its cooler aspect, a bit rich. On the other side of the grand cru climats, Mont de Milieu has candied citrus and fresh ginger, but is bright and fresh, and Montée de Tonnerre is on top form. It's an excellent year for the grand cru climats, with strong terroir identity on display. From floral and airy Blanchot, to dense and compact Valmur and richly structured Les Clos, they show the hot summer in their concentration and texture, but are nicely balanced by vibrant freshness. The impression of acidity is not as spine-chillingly obvious as it can be in the Côte d'Or. Maybe this was because Chablis did have a little more rain, so the vines didn't shut down or the concentration of the acidity was marginally diluted. In any event, it's a very good year for Chablis.
Côte de Nuits
Marsannay and Fixin
I met with a group of vignerons in Marsannay to discuss the vintage, which gave me the opportunity to taste certain lieux-dits side by side. It quickly became apparent that the vintage has emphasized the typicité of those climats with which we are most familiar. Longeroies has an extra level of creamy richness, while Clos du Roy's strong structure is both denser and stricter. La Charme aux Prêtres is uber-juicy as well as extra-salty; there is also a heightened sense of aromatic intensity and energy in 2020. Laurent Fournier of Domaine Jean Fournier makes a comparison with 2010 for density and balance, while Edouard Clair of Domaine Bruno Clair considers 2005 for density and freshness. Look out for ripe, fresh, and energetic whites.
Fixin is more concentrated than in the previous vintage, but also has a cooler feel. Most producers have reined back extraction as there is no lack of tannin. There was plenty of whole-bunch fermentation, so many wines show floral lift and a light twang to the finish. Everything I tasted was well-balanced.
Gevrey-Chambertin
Ripe wines with firm structure and good acidity make this is another reliable vintage in Gevrey. There was a little rain in late August, which may partially account for the abundant juicy acidity, exuberance, and svelte texture in wines from parcels with deeper clay topsoil, from village, to grand cru. Where the clay is less in evidence—for example, in the hillside premiers crus—good levels of tartaric acidity combine with salty minerality on the palate and there is more bite to the tannin, sometimes enhanced with whole-bunch.
As for the grands crus, it's a cracking vintage and razor-sharp for terroir expression. Leaders of the pack exude quality. They have great substance and structure. Clos de Bèze is extravagant and seductive, while Chambertin is quite the opposite, powerfully focused and restrained. The austere frame and stony palate of Ruchottes are draped in filmy silk. Latricières shows the vintage in its aromas, sometimes exotic, but the racy palate trills with tension. It can be truly exquisite this year. In Charmes, Mazoyères is punchy, concentrated, and sturdy, while Charmes may be generously rich or more airily so, but both are fresh. Only Chapelle can taste a bit baked and flat for the moment. The grands crus would benefit from a minimum of ten years in bottle. It's a vintage to keep.
Morey-St-Denis
Here the inherent spiciness is accentuated by the warm vintage, as it was in 2018 and 2019. But Morey's robust tannin, softened in 2019, was more in evidence in the premiers crus below the Route des Grands Crus. The quality of tannin is not as high as in Gevrey or potentially as fine as in Chambolle. I enjoyed, however, the village wines from above the grands crus, which retain some of their racy quality, and the premiers crus on limestone slopes, Mont Luisants and Chaffots, which are stricter and fine-boned (Mark Haisma has a good example of the latter).
So, generally a very good but not a thrilling vintage, although the grands crus showed their mettle. Lovely wine from Clos des Lambrays, while Clos de la Roche, although super-ripe and opulent, has the structure and mineral grip to take it—none more so than at Ponsot.
Chambolle-Musigny
There is much more Chambolle typicité than in 2019 or 2018; fresher and slimmer textured. Chambolle vignerons suggest that the cooler nights helped, and Frédéric Mugnier believes that the vines had more chance to adapt as the drought settled progressively. Mugnier and Roumier have made beautiful, limpid wines. Indeed, the best producers capture the airy finesse and aromatic precision we love. Even Musigny should display fine floral intensity, combining delicacy with strength, and this year it is the quintessence of Chambolle.
It was, however, possible to miss the mark with something too exotic and rich. The delicate balance in Chambolle is easily upset. But Chambolle is fortunate in having a spectrum of terroir at village level, where a blend is best. I found when tasting at some négociants and domaines based outside Chambolle that their Chambolle might be charming, but other wines caught my eye for better balance or precision.
Vougeot and Echézeaux
Clos de Vougeot has really improved over the past 15 years, becoming ever more civilized with softer extraction. The biggest uplift has been in the bruisers, often from lower parcels, but all have benefited from recent ripe vintages in their quality of tannin. We have proper Clos de Vougeot this year, by which I mean a punchy wine with a big frame and firm muscularity, an abundance and depth of smooth tannin—without the benign affability of the sweeter 2019s. I want power, but some sophistication, too—and we have both.
Echézeaux is a deep river of black silk streaming with cool freshness and the bitterness of fine black chocolate. These wines excel; those from En Orveaux (a hot site facing south on white soil but in the combe, so cooled by a breeze) are lightest and extremely aromatic. No wonder more producers now identify En Orveaux on the label—a good thing for the style tips towards an airy Chambolle style.
Vosne-Romanée
Together with Gevrey-Chambertin, Vosne-Romanée is the most consistent village, nailing the core style and quality of the vintage. From fresh, crunchy pomegranate, to ripe cherry with silky tannin, the village wines are firm, fresh, and delicious. The premiers crus have real quality of tannin (I love the deep, creamy lusciousness of Malconsorts), and the grands crus have such intensity and definition of terroir. Richebourg is lofty, with a light-filled gothic architecture, while Romanée-St-Vivant is the distilled essence of Pinot, channeled with supreme fluidity and vibrancy.
Nuits-St-Georges
The central vineyards are smartly suited and booted, and I particularly enjoyed the premiers crus. They have "boot" in the firmness and quality of tannin we expect from this side of NSG, but are elegantly turned out with finer edges, shape, and texture. I favor the wines that were earlier harvested, from the end of August into early September, which means the Bourgogne-level wines may be almost crunchy bean-green, but ignore this and take advantage of the premiers crus. These will be around 13% ABV, with a low pH. They have freshness and precision. Central vineyards truly benefit from producers taking their foot off the accelerator, and with softer extraction the wines are fulfilling their potential, which is even greater than the northside vineyards closer to Vosne-Romanée. Even the bigger wines, Pruliers and Poirets, are more clean-cut. Perrières is pure, taut, and edgy. Vaucrains is positively debonaire. You expect suavity from Les St-Georges, but I sense neighboring vineyards moving into line behind its more urbane profile.
Northside wines are very pleasant; supple Vosne-style, even more so than usual. Boudots, Murgers, and Vignes-Rondes have smooth richness, some with quite high alcohol levels, but sufficient freshness and occasionally, floral lift. Expect a touch more elegance from Chaignots and Damodes.
Côte de Beaune
Aloxe-Corton and Pernand-Vergelesses
On the hill of Corton it is another good year for red and white grands crus. The whites show plentiful savory concentration, from the compact, sapid, stony whites on the east face, exemplified by Chanson's Corton-Vergennes, to the straight wines from the cold northwest En Charlemagne, which range from light and nervy, to more concentrated and racy. Le Charlemagne is truly on form, stylish and compact (great with some En Charlemagne in the blend), and even south-facing Pougets, which gravitates from savory into candied citrus, is fresh and energetic. As for reds, you will notice a step back from the well-balanced opulence of 2019. Many show surprising elegance and restraint, notable examples including Château de Meursault Corton-Vergennes and Chandon de Briailles Clos du Roi.
Overall, I was more impressed with the quality and consistency of Aloxe-Corton and Pernand-Vergelesses in 2019. Aloxe is ripe, but often pretty rustic. It's a mixed bag from Pernand-Vergelesses. There are some good whites, energetic, fresh, and less alcoholic than 2019, but those picked later are rich and exotic. Sous Frétille is very fruity, but I didn't taste one that wowed me. Caradeux produced some heavy whites and the reds could be coarse. At the other extreme, there were some of the most refined Ile des Vergelesses I have ever tasted.
Savigny-lès-Beaune
Savigny reds in 2020 are charming: gorgeous ripe fruit with lightness. There's so much to like in the village wines for early drinking; plenty of concentration from clay and "sandy" soil on the flat, while those in the combe and higher slope lieux-dits including Godeaux and Dessus de Montchenevoy are delightfully crisp and energetic. White village wines are sappy and fresh, exemplified by Seguin-Manuel's Goudelettes. The premiers crus on the north side are as perfumed, but more energetic, than in 2019, and Lavières has turned out some silky delights. Opposite, on the colder slope, watch out for more punch, with fresh acidity emphasizing those tannins—but what a knockout vintage for Savigny.
Beaune
It's a mixed bag for Beaune. Many are a little clunky, but with careful remontage and shorter vatting, some producers—among them, Croix, Lafarge, and Lafon—have found silky tannins and a discreet style. Beware, however, high alcohol levels, at up to 15%. Harvest on the Côte d'Or often starts in Beaune, particularly on the north side. Cents Vignes, Marconnets, and Clos du Roi lie at the bottom of the slope, where the evaporation from the clay was significant in 2020, so the style can be loose, jammy, and dry on the finish; I had one enjoyable wine. Care was also needed on the east-facing white slope of Teurons and Aux Cras (which deserve to be more widely appreciated), where the aromatics slide into the exotic, but the palate should be contained with sapidity stretching the finish. I had rich but delicious, fresh, and cool wine. The approach at Bouchard Père & Fils, where parcels from several premiers crus are blended into its Beaune de Château, produces a satisfying result. On the southern, Pommard side, the potential is high, but the results in 2020 are rather mixed. On the northern side, Bressandes and Fèves performed well, while my favorite Beaune climat, Les Grèves, is sleek, supple, and so energetic; I didn't taste a bad one.
Pommard
Although we have another warm vintage, the style of the 2020s here can be quite a departure from the smooth and seductive 2019s. I think several factors came together. After a run of low-acid years in 2017, 2018, and 2019, the acidity is high in 2020, and accentuated by the cool draught of the combe in Pommard. Actually, there are three combes, which makes it more difficult to achieve sufficient phenolic ripeness without waiting into September and accumulating higher alcohol levels. The high acidity emphasizes the plentiful tannins of Pommard wines, which were concentrated by the small and rather dehydrated crop. This robust character was most pronounced on the brown clay, which retained some moisture in 2019 but baked during the two-month drought in 2020. There are examples of robust, "old style" Pommard—even the typically more urbane Epenots can be a bit rustic, and I tasted only one I really enjoyed. I did, however, have some delightful Pézerolles. I think that the climats with more white clay than brown—Pézerolles and also Charmots on the Beaune side—had a better quality of tannins, certainly where the tendency was to extract lightly. On the Volnay side, Rugiens is typically assertive, particularly Rugiens Bas, but the texture and profile is a good deal more distinguished than Epenots. Rugiens really shows its quality, while adjacent Chanlins on the border with Volnay is very pretty.
I quite enjoyed the tannic bite of some of the "colder" village wines in the valley—Vignots, En Boeuf, and Vaumuriens—generally preferring them to village wines from below the village which were richer.
I feel I am being quite critical, for there are lovely wines in Pommard, but the style and quality is mixed, so overall I feel 2019 and 2018s are a better bet here.
Volnay
In the right hands, it's a wonderful vintage for Volnay. At the biodynamic domaines of Marquis d'Angerville and Lafarge the vines weren't stressed and the expression is quintessential Volnay, delivering freshness, tension, and translucency to the terroir.
At the top end, there is excellent Taillepieds, but be prepared—high acidity can emphasize the infamous austerity of this terroir, while others are bizarrely charming. I want a bit of attitude from Taillepieds. Champans is full and luscious. Expect volume from Santenots, where the bold structure is enfolded in rich fruit. In Clos des Chênes, the ripe fruit envelops a firmly structured core and there is great tension—aristocratic wines from the most consistent premier cru this year.
The characteristic elegance of Volnay is, however, inherently vulnerable to any excesses of climate or extraction. Consider the warm climat of Caillerets, which is particularly fragile; it should float on a ribbon of fruit. In 2020, the best examples, among them Bouchard Père & Fils, hover between rich and ethereal and are delightful, but early picking was essential. Not all producers captured the ideal moment to harvest, and there are Volnays, particularly at village level, that are jammy and finish dry, rather than floral and fresh. Lesser premiers crus, such as Clos des Angles and Mitans, can lack tension, and Brouillards can be disappointing. That apart, the freshness in 2020 supports the elegant style of Volnay, and the wines are, on the whole, purer and more stylish than in 2019, and more certainly more refined than 2018.
Meursault
The lieux-dits at the bottom of the village produced a typically broad style with honeyed generosity. The best domaines picked early and retained acidity for a profile that will be satisfying to many. A blend that incorporates some higher lieux-dits makes for a better balance of richness and freshness (Jean-Philippe Fichet got it spot on). Lieux-dits on thin top soil with a high and/or cold exposition fizzle with nervosity (high-wire examples are Jean-Marc Roulot's Vireuils and Luchets), while Tillets and Clous are a notch up in quality, silky this vintage, but cool and cutting. My favorite climats, Narvaux and Tesson, are tip-top; expect some glossy richness coating the minerality, while their length nudges into premier cru persistence.
Premier Cru Porusots is firmly compact and structured, but less robust than in 2019. Gouttes d'Or is opulent, but this works so well with concentrated acidity. There are exquisitely floral and finely executed Genevrières. The high parcels should quiver with tension and be finely chalky, but it was necessary to catch the moment at harvest. This was also paramount for Bouchères, unless the vigneron was seeking something more florid than floral, but even those picked early have exotic aromatics. The best Charmes and Perrières are serious wines with great potential for aging. The quality was consistent. A great year for Meursault.
Auxey-Duresses and St-Romain
Once again Auxey-Duresses cashed in on the hot vintage, particularly on the Meursault side, where some of the best village parcels are located. These whites are ripe, crisp, and floral, although even here a few growers picked too late. There is much to like in the reds from the southerly flank, which ripened so well in 2019; in 2020 they are spicy and fruity, but not quite so smoothly textured. There are talented producers in this village working on the tannin texture—notably Domaine Henri Latour, Estelle Prunier, and young William Waterkeyn at Domaine Jessiaume.
St-Romain is fresher and much improved on last year for those who harvested with lower alcohol levels. The slight frame cannot carry much weight.
Puligny-Montrachet
Puligny has all the elegance, poise, and minerality of a classic year, with a cool line of acidity and a shimmering translucency to the terroir. I haven't seen this since the 2014 vintage.
Many village-level wines, which are a blend of parcels from around the village (there is only a smidgen above the premiers crus) benefit from the fresher, lighter style in 2020. The same applies to Chassagne, as neither village has the higher lieux-dits found in Meursault with which to balance a blend. Village wines are more floral, lighter and fresher, than in 2019 and 2018: so stylish.
The lighter premiers crus, toward the top of the slope on thinnish soils, are charming, high-wired, and yuzuy, vibrant with acidity; different from the 2019s, where the balance was made with mineral saltiness. There are exotic aromas, mingling with floral notes from the sheltered, warmer climats of Hameau de Blagny, Truffière, and the Blagny side of Champ Gain. But their shape is neat and straight. It's so pleasing to see full and airy delicacy in downslope Champ-Canet. If you are not familiar with the wines of Blagny, straddling the boarder of Meursault and Puligny, it's a good vintage to try both colors. The reds are delicious, cherry-fresh, and crunchy.
The higher-end premiers crus shouldered the rich 2019 vintage, but for my taste they benefit from lower alcohol, a simmer texture, and more freshness; Pucelles, for example, shows its fluidity and grace, while Combettes and Cailleret are cooler and more dignified. Perhaps Referts was better suited to 2019.
The grands crus are in their element. I think the richer 2019s will age well, but for poise and harmony, the 2020s have it. Bâtard-Montrachet is light-footed, particularly on the Chassagne side. Chevalier is less overtly handsome; more restrained, more noble, like its namesake. Montrachet is seriously focused, deeply channeled, and splendidly persistent. The 2020 vintage showcases the best of Puligny.
Chassagne-Montrachet
It is another good vintage for Chassagne, which is often the last of the three big villages to come around, but shows an accessibility that bodes well for earlier drinking of the village wines, although there is no hurry.
The expression of concentrated fruit and acidity in 2020 is distinctly different to the richness and dry extract of 2019. Village wines take their stylistic cues from Champs-Gain, Chenevottes, and Macherelles, coming from the deeper soils at the bottom of the village. They are generous and broader in the beam than Meursaults from lower parcels.
The lighter premiers crus on the north side are fruity and fresh; Chaumées dances with light-footed typicité and Vergers with silky charm. On the south side, the Morgeot grouping promises to age well. I enjoyed the strict core of Tête du Clos, courtesy of a whiter soil, and Fairendes. Cailleret should be the most complete of the premiers crus, and the density, balance, and a certain polish of these wines do not disappoint. Grandes Ruchottes also hits the mark. The higher climats are floral, straight, and singing with energy, exemplified by Fontaine-Gagnard's La Romanée. Marc Morey's En Virondot is another winner. There is plenty of stuffing to allow these whites to develop.
But Chassagne is not only a village of white wine, although in the relentless fashion for white Burgundy, Pinot Noir below the road to Santenay is being replanted with Chardonnay, which is a shame since it will make heavy whites. This year, village-level reds have plentiful tannin, which combines in a hearty fashion with generous fruit; they are more robust than in 2019. Ask your merchant for a village red Chassagne in any recent vintage and you will not be disappointed. Premier cru Morgeot can be rich and juicy, with plentiful, tacky, tannic freshness, or else they can be overconcentrated and Porty.
St-Aubin
I often find myself tasting St-Aubin and Chassagne in the same cellar. Village-level Chassagnes will seem broad and powerful in relation to premiers crus from Saint-Aubin, which are lighter in substance, straight, and racy. It's not surprising, therefore, that Chassagne more readily withstands a hot vintage, while St-Aubin's relatively light whites can topple over. I tasted Sur Gamay and Champlots which were a touch heavy. Conversely, some wines were too light and lacked substance. Quality and style are not consistent. From the best producers there are lively premiers crus, even from the hot terroir of Chatenières (compact with rich, crystallised fruit) and beautiful, streamlined En-Remilly from this steep, rocky slope. Across the road, Le Charmois is very reliable, regardless of vintage. It can't compete with the best premiers crus, but plays to the crowd, smoothly rounded and always fresh. St-Aubin reds are bright and crunchy this year.
Santenay and Maranges
Here the east-facing côte turns a little to the south and often receives a smidgen more rain—which was good news for Santenay and Maranges in 2020. The extra 2.5 inches (60mm) stretched the season and delayed the harvest until the end of August, and Pinot Noir yields were more normal. Even so, the clay soils baked, emphasizing the burlier character of some vineyards, including Maranges Clos Roussots. But there are some pleasing red and whites from whiter soils in both villages. Better known for its reds, Santenay turns out good whites from Comme Dessus and Clos Rousseau. From Gravières, however, I preferred the concentrated reds in 2020.
Côte Chalonnaise
I enjoyed the freshness of Rully, zesty from the colder terroir, with plenty of ripe citrus to balance. Givry reds have high alcohol levels but achieved good phenolic ripeness and with careful extraction have rich, smooth textures and with good levels of acidity. Even with high alcohol levels, the premiers crus are surprisingly energetic.
Mâconnais
There was a little more rain here and harvesting started toward the end of August, ripeness achieved perhaps more normally rather than through dehydration. And maybe this accounts for two thirds of the regional wines I tasted feeling a little soft. It is necessary to refocus from the super-fresh Bourgogne Côte d'Or, to something more easily accessible. Despite the warm vintage, the wines have plenty of Burgundian identity, although I would avoid wines over 12–12.5% ABV, since they don't normally have the stuffing to support it. There are some good Aligotés.
There are intense and zippy Mâcon-Verzés from Nicolas Maillet and Nicolas Delfaud. I also liked the spicy and rich Mâcon-Fuissé, but it's just as much about finding a producer you like. It's a good place to step on board with the Côte d'Or glitterati Leflaive (Verzé) and Lafon.
At village level, the style is firmer, with the substance to carry more weight, and most were sporting a generous 13.5% ABV. With more, these also tip over. Generally, the acidity is fresh and well-balanced, but without the vibrancy found farther north. St-Véran has easy charm and harmony. Viré-Clessé can be citrus and bright (even vibrant from Guillemot-Michel), but equally many are exotic and settle solidly into fleshy, golden peach. Some Pouilly-Vinzelles have a good line in minerality, while Pouilly-Vergisson has freshness. From Pouilly-Loche try the arrestingly sapid Clos des Rocs from Olivier Giroux. It's no surprise that Pouilly-Fuissé emerged from the melée with the showiest and spiciest wines and the firmest structure; delicious examples from Jacques Saumaize and Domaine Saumaize-Michelin. I tasted some of the newly minted premiers crus, for which expectations are higher; only one made it into my selection. Pouilly-Fuissés are full-bodied, especially from the south-facing slope, but calcareous soil provides cool, mineral freshness, as in the wines of Pierre Vessigaad.
Beaujolais
The weather was hot and dry in Beaujolais, but seemingly there was a little more rain here, too. Harvesting of healthy Gamay started from the last week in August, yielding ripe, well-balanced wines with good typicité. I tasted serious wines from Côte de Brouilly, which will develop over a decade, but equally could be opened six months after bottling.