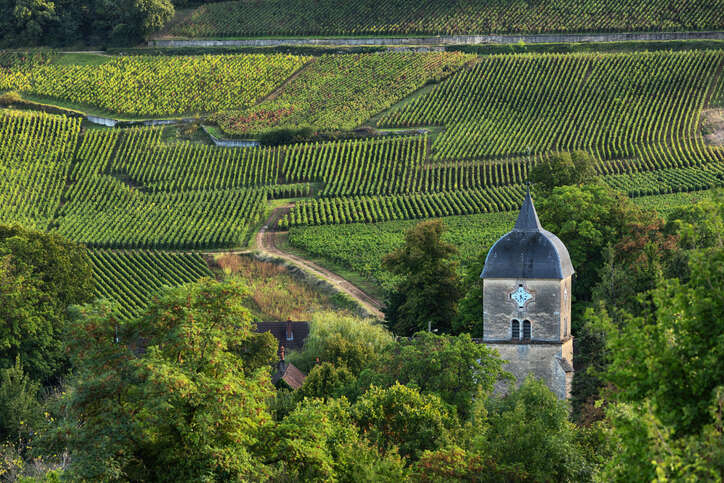 Despite the hot, dry conditions, 2020 Burgundy is characterized by "joyously" fresh, vibrant, classically styled wines, with consistent quality in the whites and many fine reds, says The World of Fine Wine's Burgundy critic, Sarah Marsh MW, who introduces WFW's comprehensive coverage of the vintage based on her extensive tastings in the region in late 2021.
More in this series
2020 Burgundy: A guide to the sub-regions and villages
2020 Burgundy: Chablis tasting notes
2020 Burgundy: Côte de Nuits tasting notes
2020 Burgundy: Côte de Beaune tasting notes
2020 Burgundy: Côte Chalonnaise, Mâconnais, and Beaujolais tasting notes
Classic Burgundy from an extreme season. Who would have thought the hot and dry summer, in which many completed the entire harvest in August, could possibly produce such a fresh and energetic style, although the vintage is more consistent for white than for red. These are joyous wines. Wines you want to dive into and drink. At the top end, serious wines. Keepers. And best of all, in white and many a red, it's Burgundy with a delightful translucency to terroir.
Notes on style
2020 Burgundy Whites: Ripe but brilliantly fresh

The style is ripe but brilliantly fresh. It is elegant, pure, and focused, with a sense of vitality and a touch of silk.
Although ripe, the wines from the Côte d'Or are rarely over-rich. Concentrated but precise. They are medium-bodied. The majority hover around 13% ABV, although the grands crus are normally nearer 14%. The texture is deliciously silky rather than richly viscous, but the slim texture certainly has light gloss. They can be quite sumptuous, but not heavy. They carry themselves with a certain grace. They are fresh; often very fresh, since there is good concentration of acidity as well as of fruit. Sometimes it is slicing acidity, the tart sweetness of tartaric acid rather than the cool creaminess of lactic. Some of the more mineral styles have a sensation of sweet and salt on the finish. Those with drier, sapid, savory notes suggest high levels of dry extract. In 2019, wine from farther up the slopes showed the highest levels of dry extract and salty minerality, which provided balance for the ripe fruit, while in 2020 the dry extract combines with fresh acidity to make the wine truly fizzle.
The fruit is generally citrus, as from lemon pith, grapefruit, or yuzu, through to candied citrus or white peach, with accompanying floral notes. But there are riper expressions. Here and there you will find golden peach, fragrant litchee, ginger, or caramelized orange. These are denser and richer, but rarely show the flashy opulence of a hot season. In the whites from warm terroirs (thin, rocky soils with sunny exposures), the aromatics can be more exotic and here the perfume entwines with a fresh and direct core. You will find progressively richer and more viscous wines from producers who harvested later, and the style farther south is softer. Mâconnais wines are fairly full-bodied, some a little soft, but the village wines are well-balanced and not too heavy.
It's a stylish vintage for whites north of Beaune—not only those from Chablis or the Côte de Nuits, but also those from Savigny, Pernand-Vergelesses, and Corton, which typically are more savory. There are spicy apricot aromatics, but this group benefit from less weight, a slimmer texture, and more acidity, factors that highlight their sappy, stony character and edge, which was somewhat cloaked in the "sweetness" of 2019.
Once again Chardonnay shows its adaptability, shrugging off the hot season to produce classic wines. The style is more consistent than for red, which is partly explained by harvest size. Chardonnay yielded a near-average crop at 40–45hl/ha, while the Pinot Noir harvest was half its normal size, comprising small, thick-skinned, and concentrated berries. This created a broader style spectrum, depending on growing regimes and harvest dates, the consequences of which were then amplified by the approach in the winery.
2020 Burgundy Reds: A more complex picture

Whereas the story for whites is pretty clear-cut, that for reds is more complicated. On one hand, the style is quite comparable with that of the whites. Nobody expected this freshness from such a vintage, the wines being concentrated but lively, fresh, and lucid. This stylistic group is finely balanced and harmonious. The wines are medium-bodied with alcohol levels in the range of 12.5% to 13.3%. They are aromatic; some are floral, others spicy, many with hints of culinary herbs and anise. It's a red-fruit style—from pomegranate and redcurrant, to soft summer fruits, into ripe morello cherry and a touch of forest fruit. The tannins are finely grained and of good quality. Be they rich and smooth, silky and refined, or fresh and crunchy—and goodness me it's a year for crunchy tannin—they are delightful. I would estimate that about 70 percent of the wines I tasted fit this description, so I consider it to be the essential or predominant style of the 2020 reds. This is classic red Burgundy, and it's both a surprise and a reassurance that Pinot Noir from a warm and dry summer can produce such elegant wine.
There are, however, three other styles. The first is slightly underripe. These are leaner, with green, stemmy tannin, exacerbated by tart acidity. The effect is rather puckering, suggesting grapes that were picked too early or struggled to reach full phenolic ripeness during the short season. The second alternative style is riper than the predominant style; fuller-bodied and generous, with darker fruit. These have plentiful, rich tannins, which can be extremely generous and smooth, but there is still plenty of fresh acidity. The alcohol levels can be high, from 14%, to a heady 16%. I encountered more high-alcohol wine in the Côte de Nuits. It can be very good. It's all about the balance. A certain structure is required to carry this style. The best results come from higher up the appellation pecking order and from vineyards that provide a naturally firm structure. At the top end, Clos de la Roche is quite at ease cloaked in this profile; at Domaine Rousseau, it has the breadth and the cold cut from the limestone to support 16% ABV. But when winemakers prefaced a tasting of their 2020s by expressing a preference for their more ethereal 2019s, I came to suspect that there would be trouble ahead… The third alternative style comes from those who sought more extraction. Those who picked early were unlikely to do this, so really it is linked to the ripest wines. In this style, gutsy tannin and rascal acidity can form a devilish alliance. When they are joined by heady alcohol, we can lose Burgundy and travel somewhere else entirely. These wines might yet seem a lot better, however, and more Burgundian, after 15 years in bottle.
That's it for the four main styles, though there are also other variations. A jammier style, even cooked fruit, can be found in wines from some warm terroirs; this style is aromatically exotic but can taste quite flat and dry, even after a very early harvest. And where the concentration of matter is high, there are robust, even rustic, wines, normally from the clay soils that baked (happily, most did not suffer that way).
On a more positive note, there is frequently the impression of whole-bunch fermentation—aromas of flowers and culinary herbs, sometimes accompanied by a crunch to the tannin—in wines that have actually been destemmed. I can only suppose that some of the attractive, peppery spiciness of this vintage is linked to slightly underripe phenolics. I like this in moderation, but where there is also a high proportion of whole-bunch, it can dominate and detract.
The color of much Burgundian Pinot Noir this vintage is almost as dark and deep as that of Syrah elsewhere, but this is where the comparison should start and end.
2020 Burgundy: Terroir and typicité
For the white wines, and the fresher, lighter style of reds, the transparency to the terroir will enthrall lovers of classic Burgundy.
Once again Chardonnay has triumphed. The vintage sits behind the terroir—more so than in the recent hot vintages of 2015, 2018, and 2019. While 2019 white Burgundy did show its terroir to some extent, in 2020 one can appreciate more of the finer detail. The impression of minerality supported the structure in 2019, while in 2020 it works with the acidity to the emphasize the character of the terroirs, and nowhere more so than in Puligny.
The core style of the reds is delightfully transparent, even to the less distinguished terroirs, whereas in richer vintages, including 2019, you only really sense the terroirs with a very strong personality. Time is required for those to slim down and reveal the nuances that are readily apparent in 2020, even at this early stage. We can say that this essential style of red 2020 Burgundy expresses terroir, variety, and vintage in that order. The richer style can be relatively opaque in terroir terms, as in most hot vintages; but with a fair wind, many of these wines should refine to reveal more detail over time.
There is even a tantalizing precision within many climats. The Vosne-Romanée premier cru Beaumonts is a good example. From the upper part on thinner soil (as represented by Perrot-Minot, for example), the style is aromatic and fine-boned, with a talcum-powder texture, while from farther down, the wines are more luscious and satin-textured. The vintage really serves to emphasize the nuances of terroir. The differences are particularly vivid in Bonne Mares, where the brown clay gave a rich and sumptuous style (Bouchard Père & Fils or De Vogüé, for instance), while the predominantly white soils have yielded wines with more austerity and tension (Mugnier or Roumier). Truly, then, a vintage for Burgundy lovers.
2020 Burgundy Quality
Whites
It's classic Burgundy, but not in any pejorative way. These are proper Burgundy whites. It's a top-quality vintage, which will appeal particularly strongly to those who love a precise style. The whites have depth and intensity. They have balance. They express their terroir. What more can you ask for? It is an exceptional vintage not only because its classic style is born of a dry and hot season, but because many of the wines are very good or great. It's my sort of vintage. It's up there with 2014 for quality and certainly as good as 2019. But beauty is in the eye of the beholder. Some will prefer 2019 for its depth and richness, while 2020 is sharper, more focused and energetic. Both are marvelous vintages for white Burgundy.
Reds
As in the nursery rhyme, "When they are good, they are very, very good" … but they are not as consistent as the whites. 2019 is more consistent in both quality and style for reds, though such homogeneity is rare in Burgundy.
Some vineyards that generally produce a more refined style could narrowly fall short of fulfilling their potential, producing charming rather than thrilling wine. We love the elegance from the limestone soils of Chambolle and Volnay, but their sunny exposition makes them fragile. Gevrey-Chambertin, on the other hand, is particularly resilient to more extreme conditions, and almost always more predictable in terms of the wines. Gevrey-Chambertin and Vosne-Romanée seem to me to be the most consistent villages in 2020, while Nuits-Saint-Georges, on the south side, was the most surprising.
If translucency is a measure of quality (and it is surely a desirable attribute for all Burgundy lovers), the essential style of 2020 excels. It is more lucid than 2019, and in expressing more fully the terroir, it also more accurately represents the appellation hierarchy, whereas in 2019 this was flatter.
While on the subject of quality, I should repeat the conventional but crucial disclaimer that any scores will be imperfect. An en-primeur report such as this assesses wines that will continue to evolve, and normally for the better, one hopes. Any note, any score, is a snapshot of a particular sample at a particular time, and can be influenced by numerous variables—atmospheric pressure, temperature, the mood of the taster, the date and source of the sample, the stage of the élevage, and so on and so forth. Moreover, for scores there is a ceiling of 100, so if I prefer one vintage to another, there is no headroom and it's therefore fairer to consider the scores within the context of the vintage.
2020 Burgundy: Some general observations
The quality is good at regional level, if not quite as good as 2019. Wines in the relatively new Bourgogne Côte d'Or appellation are mini versions of the village wines they neighbor, but my vote goes to the Hautes-Côtes for its vibrancy. It's generally fresher, crisper, and more energetic. I particularly liked the Hautes-Côtes de Beaune reds and Hautes-Côte de Nuits whites, although François Millet produced just the most elegant red Hautes-Côtes de Nuits. This vintage provides an ideal opportunity to consider Hautes-Côtes as more than "generic," thanks to the quality of the terroir-specific wines. Check out the single-vineyard wines from Boris Champy in Nantoux and from Michel Gros. And at regional level, the whites aren't all about Chardonnay. Aligoté is also turning heads; some are really spicy, inlacing those from the Mâconnais, while there are zesty yuzu versions from the Hautes-Côtes.
Once again, some smaller villages on the Côte d'Or upped their game. At the top of the Côte, it's a cracking year for Marsannay and Fixin in both red and white. Monthélie and Auxey-Duresses are also good, but a small step down from 2019, with whites better than reds.
2019 offered so much depth and intensity in village-level wines that they would be hard to beat in 2020, but here the premier and grand cru wines really pull away from the rest, and the top wines stand apart. It's an exceptional year for grand cru—not only for quality but for individuality, almost as if one is viewing the finest examples though a polaroid lens. I would advise digging deep to buy them if you can. But on the thorny issue of price, expect this vintage to be more expensive than 2019, as producers seek to spread the effect of the small 2021 vintage across two years.
2020 Burgundy: Vintage comparisons and contrasts
I am not sure there has ever been a vintage with this level of ripeness and acidity so felicitously combined. There's no similarity between 2020 Burgundy and the other "early" vintages 2003, 2007, and 2011.
I like to make a comparison with 2014 for the white wines, which may seem extraordinary, but the two vintages have similar translucency to the terroir. There is freshness, energy, moderate alcohol, and balance; there is even a crystalline quality to the finest whites, which also reminds me of 2014, but 2020 is certainly richer, rounder, and riper, with more textural depth. Maybe 2014 with a touch of 2015? 2020 shares a sweeter style of acidity with the warmer vintages of 2019 and 2018, while the colder vintages 2014 and 2016 have more cold, creamy lactic. In 2020 the balance is made from ripe fruit and plentiful acidity, while in 2019 the wines had lower acidity but, especially from rockier terroir, achieved balance through salty minerality. 2019, with its high level of alcohol and fuller, richer palate, provides a good contrast with 2020, while 2017 is much closer in style: medium-bodied, slim-textured, rather elegant and terroir-driven. So, perhaps 2020 is also like a more concentrated, crisper, and more serious version of 2017 for whites.
The best expression of red 2020 Burgundy is not unlike that of the 2010s—elegant, fresh, and vibrant—but richer and more concentrated. Actually, the 2020s seem to have more of everything—which is hardly surprising, given that it was a half crop. So, maybe 2010 with higher acidity and a touch of the riper 2015, or indeed 2015 with more purity and acidity?
The reds also bear comparison with 2005, and would do so even more closely if 2005 were made today. Both had dry growing seasons, producing wines with high acidity, concentration, and plentiful tannic matter, but in 2005 extraction was higher, whereas today a lighter "infusion" approach is widespread. "We saw the fruit and the tannins and went for maximum extraction in 2005," recalls Christophe Drag at Domaine Jean Chauvenet. "We only really understood about stepping back and doing less extraction with the 2009 vintage, but this is heavy and nothing like 2020." He is right. 2020 is much fresher and more energetic than 2009, and there is greater similarity with 2012 in the Côte de Nuits, for its combination of freshness with ripeness, though 2020 has more intensity. Aromatically, 2020 can have a peppery spiciness reminiscent of the slightly underripe 2008 vintage.
2020 Burgundy: Aging potential and drinking windows
2020 Burgundy is a fresh and digestible vintage for whites. You will really want to drink these fresh, slim, and joyous wines, and indeed you should tuck into them, but the top wines have excellent aging potential, with the prerequisite balance of fruit and acidity.
The village wines from Meursault, Chassagne, and Puligny, together with lighter premiers crus from less exalted villages, will benefit from a couple of years in bottle, drinking from late 2023/24, but with no hurry. I would start opening premiers crus from 2025, with the most structured premiers crus and the grands crus from 2026–28. If you like mature white Burgundy you will happily age top village wines and lighter premiers crus from the Côte d'Or for eight to ten years. (The same applies to Chablis Right Bank premiers crus and grands crus.) The top premiers and grands crus should mature gracefully over ten to 15 years and probably longer.
For the reds, it is pretty similar. Much to enjoy in the youthful wines. With so many tip-top regional and smaller village wines for immediate drinking, you can afford to leave the better reds for a while. I would start opening the village wines from 2024/25 and lighter premiers crus from the Côte de Beaune from 2024/26 depending on structure. At the other extreme, leave the most firmly structured premiers crus from the Côte de Nuits until 2028/30. The top premiers crus should evolve beneficially over at least 10 to15 years, while the best grands crus should go 30 years and more.
I think 2020 reds are more likely to close down than the 2019s, but not immediately—maybe after three years or so in bottle. We have a run of three vintages that merit longer term aging. The 2019 is certainly the most forward. If I had to choose, I would keep 2020 and the best of 2018, which is closing now, over the 2019. While you are waiting, the forthcoming 2017 vintage is very pleasant now. 2015 seems quite closed and 2016 is too young.
2020 Burgundy in the vineyard
To explain the quality and style of 2020, we need to backtrack to see what happened during the growing season, consider the fruit it produced, and how this was managed in the winery.
It is remarkable that the harvest began and ended in August for many producers. At Bouchard Père & Fils, this had not happened since records began in 1731. The growing cycle kicked off a month early. After a mild and humid winter bud break took place in mid-April, and early May saw the first flowering of Chardonnay on the Côte de Beaune. Pinot Noir flowered a little later than Chardonnay, when the weather had deteriorated to become wet and cold. Pinot flowering was not as successful, hence the smaller crop.
The season was racing away and by mid-July veraison began. Harvest in August seemed inevitable. Some vignerons were quick to point out that the natural cycle was complete because it started a month early, but it's not that simple. Harvest in September, when the days are cooler and shorter, is very different from the hot, light-filled days of mid-summer, when just a day or two can make a considerable difference to the levels of sugar and acidity in the grapes.
The summer was dry. Indeed, it was the driest season since 1945, according to the Dijon weather station, with rainfall 50 percent lower than average from April to August. Moreover, it was 1.7ºC (3ºF) warmer than usual, with 280 hours more sunshine. There were, however, key differences with other hot seasons. In 2003 and 2019 the heatwave was severe, at over 40ºC (104ºF). In 2020 the average temperature was under 30ºC (86ºF) throughout July. The heatwave and drought, which occurred in the first fortnight in August, was not as prolonged as in 2018 or in 2019, when precious little rain fell for two months. In 2020 Chablis and the Mâconnais had a little more rain than the Côte d'Or and the Chalonnais, but storms were localized. At the bottom of the Côte d'Or, Santenay and Maranges benefited.
Adapting to climate extremes?
That's not to say there was no stress. Around the vineyards, trees suffered—even oak trees died—but grape vines are tenacious and seem to be adapting to climate extremes. Chardonnay is more resilient than thin-skinned Pinot Noir, but the vignerons are finding ways to help. Perhaps most successful is boosting the vines' resilience through organic and biodynamic viticulture, although some organic producers were caught out with burned grapes, having leaf-plucked on the south side of the row. They were keen to avoid humidity being limited in their armory for fighting disease.
Some producers encourage higher and bushier canopies, although with more leaves to shade the grapes there is also more respiration. While young vines suffered universally, the terroir is crucial to the vines' ability to withstand the drought—not only the altitude, aspect, and exposure of the vineyard, but the depth and composition of the soil. While it seems logical that vines panted in clay, which is a colder and wetter soil in a classic vintage, would benefit in drought conditions, this is not always the case. Over a period of one month, I listened to the experiences of numerous growers. Vines planted in the type of clay found in Gevrey-Chambertin, but also more generally in the Côte de Nuits, fared well, because this clay, which is composed like a millefeuille, absorbs and holds the water between the "leaves" of clay. Other clays, which look sticky and heavy, actually contain small silty particles (a high level of limon), which do not retain water so well. Where growers reported clay baking solid and cracking—on the lower slopes of Chassagne-Montrachet, for example—they had the latter type of clay. And then there is the white clay (marl or marne), which is highly calcareous, and of which there is plenty in the Côte de Beaune, which remained quite humid and in which vines were not stressed.
Surprisingly many vignerons reported little or no stress in vineyards that have just a thin, rocky topsoil above the mother rock—maybe because the vines here tend to have deep roots, so perhaps they had access to water for longer. But once the reserves had gone, one can only guess that these vines suffered less because they are more accustomed to extreme conditions. Conversely, vines in a deep, rich topsoil, where they expect easily accessible water and nutrients, may have a superficial root system and were therefore more vulnerable. Growers do, of course, find ways to manage water stress. Some swear by plowing to encourage the roots to grow deeper. Caroline Lestimé of Domaine Jean-Noël Gagnard noticed this benefit in its Bâtard-Montrachet parcel, plowed with a horse-drawn plow to reduce compaction, and subsequently extended the practice to Chassagne-Montrachet Masures, which showed no stress as a result in 2019 or 2020.
The influence of orientation
And then there is row orientation. Typically, vines are planted east-west. The south-facing side can burn, especially on Pinot vines. Occasionally the orientation is north-south; Clos des Lambrays was planted this way to help prevent erosion. This orientation helps in hot vintages by casting a shadow from 12 noon to 3pm on the neighboring row. Replanting is a drastic measure, but currently the most immediate threat to Burgundy's vineyards is the widespread death of vines on the 161-49 Couderc rootstock, which will need replanting. So, we may see more vineyards replanted north-south.
2020 Burgundy was a very easy season to manage in terms of fungal diseases, with no real pressure from downy mildew or oidium. The difficulty lay in choosing the harvest date. The vignerons weighed up their options—whether to wait for greater phenolic maturity or to pick earlier to avoid higher alcohol levels. Falling acidity levels were not the pressing concern they had been in 2017, 2018, and 2019, but Christophe Roumier was typical in his fear of green, harsh, or over-robust tannins. Nevertheless, he decided that it would be better, on balance, to pick early, and his wines have delightfully light and silky tannins. In Chambolle-Musigny, which is defined by delicacy, this was the right decision. Early pickers in the Côte de Nuits started on August 21. Keen to avoid excessive dehydration and dried-fruit characters, this was timed to keep a fruity freshness in the wines.
Analysis
Most of the wines harvested in August have alcohol levels between 13% and 14%, but there are many variables, depending on situation, vine age and material, viticultural and winemaking techniques. At Domaine Tollot-Beaut, the high-quality, low-yielding Pinot Fin was harvested from August 21 between 14% and 15% ABV. The potential alcohol could increase by as much as one degree per week.
Phenolic maturity was also a concern for Chardonnay. Marc-Antonin Blain was among the many vignerons worried about the green color and thick skin of the berries, "but there was so much sun and light; the skin tasted ripe and we decided to pick." Most whites were harvested from August 21 or 22. Some growers on the Côte de Beaune started with the whites and waited for the reds, while others started with the reds.
Alcohol levels were more Burgundian than for the previous two vintages, generally in the range of 12.8%–13.5% for whites. Those who left the Chardonnay to hang for longer have not only higher alcohol levels but more exotic aromas and tropical-fruit flavors. While most of the producers I visited finished picking in late August or early September, those pursuing riper phenolics and waiting for rain sailed well into the later month.
For Pinot vines, carrying much smaller yields than Chardonnay, the combined effect of sunshine, dehydration, and some wind, was more extreme. It is quite possible to find wines at 15%–16% ABV from Pinot harvested in September. There was a little rain at the end of August, which swelled the dehydrated berries, and some growers claimed that this gave a better balance to the wine, though I can't say I tasted evidence to support this.
Total acidity levels were generally high, and most of the acidity was tartaric. The malic acidity, which in a normal vintage would represent about one third, was degraded by the sunshine to represent only one quarter or less. The high acidity was the greatest surprise of the vintage and, together with high concentration, defines the vintage style.
Acidity despite the sun
How was this acidity possible in such a sunny season? Well, as so often in Burgundy, there are a number of theories. The high temperatures were not as sustained, nor the peaks as high, as in 2003 or 2019, making it easier for vines to retain tartaric acidity. Some vines may simply have "closed down" and stopped ripening for a while, and if they did so when the weather was hot and dry in early August, they would have arrested the natural process of losing tartaric acidity and accumulating sugar though photosynthesis. (The concentration of sugar was due mainly to dehydration.)
Frédéric Mugnier wonders if the vines somehow compensated by producing more tartaric acid as it lost malic acid, helped by the greater differences between day- and night-time temperatures in 2020 than in 2019. Others, including Jérôme Flous, technical director at Domaine Faiveley / Joseph Faiveley, who oversees some 100 wines, is adamant that the high acidity is more a result of lower potassium uptake by the vines—potassium being the enemy of acidity. The alkali metal element is absorbed through the roots in solution, but because of the drought its impact was reduced. In some Burgundy vineyards there are still quite high levels of potassium in the soil, both naturally occurring and from hefty additions of potassium-rich fertilizers back in the 1970s, when they were used to boost both ripeness and yields.
The malolactic fermentation didn't change much in the wine (about 1mg/l for reds), given the low levels of malic acidity to start with. Those levels were still a little higher than in 2019, however, and even a soupçon of lactic acidity in the whites adds to complexity. Some reds have a final pH more typical of whites, at 3.2–3.3. Most were under 3.5, which is significantly lower than the high pHs of the 2018 vintage, which topped out at a heady 4. Low pH is among the attributes that enable wine to age, and the combination low pH, high acidity, and concentration suggest that this vintage has very good potential to evolve gracefully over the long term.
That said, the sensory balance is more important than the analytical figures. The straightest and freshest-tasting red wine at Domaine Chevrot is the Maranges Premier Cru Le Croix Moines, which had the highest alcohol (14%) and the highest pH, but I am sure that this wine will age a treat. As ever, the analysis is a useful indicator, especially for the stability of the wine, but the taste can yield even more important truths.
Vinification and élevage
The ambient temperature at harvest was 33ºC (91.5ºF), so many picked only in the morning and found ways of refreshing the grapes, among them renting giant fridges. It was a good idea to cool down the bunches to between 10º and 12ºC (50–54ºF) overnight for both reds and whites. Just think, the temperature could be 30ºC (86ºF) inside the bunches. There was little sorting to do, however, beyond eliminating any dried or burned Pinot berries.
The Chardonnay fruit was clean, making heavy débourbage unnecessary. This is a good thing if you subscribe (as I do) to the theory that lees are part of the terroir. It is increasingly common to start the fermentation in tank, where it's possible to control the temperature and ensure the fermentation is progressing nicely, before putting the wine into barrel. Producers are also putting more thought into vessels, adapting to the warm vintages and richer wines, using larger format barrels and blending in components aged in stainless steel, concrete, or ceramic, for added freshness. Reductive vessels, together with the low pH levels in the 2020 whites, make lower levels of added SO2 a possibility. This is a hot topic.
Clearly there was no need to build up the white wines with bâtonnage. Nevertheless, some producers used it to soften the impression of strident acidity. The freshly fermented white wines had pronounced acidity, causing some concern. But after a year of maturation on the lees, which feed the wine, most are singing and vibrant rather than overly acidic.
In Pinot Noir, the small berries gave a high skin-to-juice ratio, and most producers adapted their vinification accordingly. There was an abundance of anthocyanin (color pigment), which came and fixed quickly. The time in vat was often shorter than usual—as little as ten days, rarely more than 14, in the Côte de Beaune, and two, sometimes three, weeks in the Côte de Nuits. There was also less extraction, with fewer operations each day. Many stopped doing much or any pigeage, preferring a gentle remontage, maybe just wetting the cap. After the difficulties of the 2018 vintage, when yeasts struggled and some ferments stuck, winemakers are careful to give the yeast enough oxygen early on. And where potential alcohol levels were high, some winemakers added yeast to help the ferments though. I smelled some volatile acidity here and there, but not much. With low pH levels, the risk of VA (and of brett) is diminished. It was important to control the fermentation temperature, to prevent it going too quickly for the grander appellations, where time is needed to build the wine.
Whole-bunch: A question of proportion
There is ample evidence of fermentations involving a proportion of whole bunches, but this fashionable technique has generally been used moderately and well, to create a floral lift. As always, the stems had to be ripe and not to taste stalky; crunchy is fine, green is not. Chanson, which has had 100% whole-bunch fermentation as one of its distinguishing features, has modified its approach. Managing director Vincent Avenel comments, "We love [whole-bunch fermentation] and it's very positive, but it is also a question of proportion." Quite right. Incidentally, those concerned about high acidity levels saw the potassium in stems as a handy way to calm things down.
It's not a vintage to rush. These are not fragile wines. With high acidity and concentration, most wines will benefit from bottling in late-spring 2022.