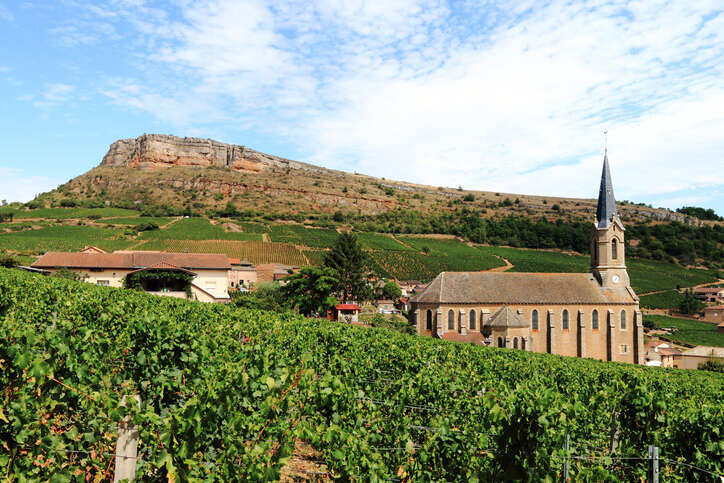 Sarah Marsh MW concludes her coverage of the 2020 Burgundy vintage with detailed tasting notes on the wines of the Côte Chalonnaise, Mâconnais, and Beaujolais.

More in this series
2020 Burgundy: Classic wines from an extreme season
2020 Burgundy: A guide to the sub-regions and villages
2020 Burgundy: Chablis tasting notes
2020 Burgundy: Côte de Nuits tasting notes
2020 Burgundy: Côte de Beaune tasting notes
These tasting notes represent a selection from many hundreds of wines tasted. I look for quality, typicité, and wines that I enjoy, but this is not a definitive wish list. You can be sure there are good wines from the following producers that are not included. My tasting notes are snapshots taken from late October to late November 2021, toward the end of élevage when the wines are still evolving, and this is a vintage that needs time. Most whites will benefit from a little fining to sharpen the profile, and the reds from natural refining in tank after racking. Don't underestimate the significance of the finishing processes to the final polished presentation of the wines.
Côte Chalonnaise
Mercurey
The négociant Albert Bichot bought this estate, with 20 acres (7.8ha) of vines, in 2005 and converted it to organic production. It is named after Albéric Bichot's daughter, who was born in 2003.
Mercurey Blanc Les Champs Michaux
Clay soils, but with large parts of rock. A high and cold exposition. An ample, creamy, and smoothly rounded palate. It has light tropical notes. It's just nicely balanced, with savory freshness, and is very forthcoming. 2023–25. 82
Givry
This domaine is run by fifth-generation Gautier Desvignes. The grapes were previously sold to négociants. The Pinot Noir was replanted ten years ago with low-yielding Pinot Fin clones and, for now, the reds lag a little behind the whites, which are jolly good. But Gautier has a light touch and I can see the reds catching up.
Givry Blanc Premier Cru Les Grands Vignes
This attractive wine includes 10% Pinot Blanc. It's firm and concentrated, with a fresh mineral feel and plenty of tension. Very nicely balanced and good value. 2023–27. 86
François's children Cécile and Pierre are making the wine now, and they have moved from pigeage to more remontage. The whites are well-balanced. The reds have 70% new oak and 14.5%–15% ABV, but handle it well. Wines from the limestone soils of southeast-facing Crausot caught my eye.
White
Givry Clos des Vignes Rondes
Nice and fresh, strongly citrus on the nose and grapefruit on the palate. Rich in texture, but also really quite pithy. It has bite and good energy. 2022–25. 83
Givry Premier Cru Crausot
High-toned aroma, delicate and elderflower. Straight palate. Nicely clipped. Again, good energy. Much more mineral to finish. 2023–26. 86
Red
Givry Premier Cru Cru Crausot
Strict and well-defined. A lively crunch to the tannins and freshness to the finish. It's energetic in style, within the context of abundant vintage richness, and is swift and bright to finish. 2024–30. 86–87
Givry Premier Cru Clos de Cras Long
From a site with white clay and a little limestone, but less than Crausots. A favorite plot of François. Perfumed quality to the palate. Super-rich (15.2% ABV) but with plenty of tension. The texture is smooth and supple, and the tannins are more refined than Vignes Rouge in this cellar. Bright and quite snappy on the finish. 2024–30. 87
Tucked away in Bissey-sous-Cruchaud, sixth-generation Christophe Denizot has extended the family estate from 10 to 37 acres (4 to 15ha) over 11 appellations. They also make a rather nice Crémant.
White
Bouzeron Aligoté
Spicy, exotic aroma. Goodness, this is very rich. An opulent Aligoté. Full and rounded, cut with zesty acidity and it finishes with salinity. 2022–25. 83
Red
Givry Premier Cru A Vigne Rouge
An aromatic red with a floral palate and supple, rather refined tannins. It's rich but swift and fresh. Pure on the finish. 2024–28. 87
Montagny
Stéphane was just 18 when he began to create his 20-acre (8ha) estate back in 1992. He farms organically and hand-harvests, which is unusual in Montagny.
Montagny Premier Cru Découverte
Full and ripe, with a plump, fruity mid-palate underscored by mineral freshness. It is both rich and tangy. 2022–27. 86
Mâconnais
Delphine & Sebastien Boisseau
Light, pretty wines.
Granit 35 Bourgogne Aligoté
An energetic and rather elegant Aligoté, with creamy lemon and fennel notes, well-balanced by freshness and a nutty, lightly bitter bite on the finish. 2022–23. 81–82
Le Mouton Noir
With plentiful and juicy red fruit, this springs energetically and freshly across the palate with appetizing, light, and crunchy tannin. 2022–23. 81
La Soufrandière Mâcon-Chardonnay
Savory, nutty aroma and lightly creamy upfront, this races into a straight, fresh, and swift palate, with a tight backbone and a slightly silex finish. Spot-on. 2022–25. 84
La Soufrandière Pouilly-Vinzelles
Citrus and nutty aroma. Richly fruity, rounded, and ample palate, with appealing hints of caramelized orange and frangipane. It's quite creamy and indulgent. Nicely balanced, with sufficient savory freshness and attractive almond bitterness on the finish. Very appealing. 2022–25. 86–87
La Soufrandière St-Veran Cuveé La Combe Desroches
Grapefruit and white citrus combine with lightly warm brioche notes. A lighter and elegant style of St-Veran. Just lightly curvaceous. It is charming and zips on the finish with zesty and pithy freshness. Light and digeste. 2022–25. 85–86
Bret Brothers Beaujolais Juliénas La Bottière
With a savory, herbal aroma of the garrigue, this slips smoothly onto the palate, supple, generous, and nicely fresh. It's ripe but not at all rich and has an easy charm. Lovely, supple texture with notes of tarragon and mint on the finish. Light and appealing. 2022–25. 83–84
The style here is opulent and showy, fulfilling expectations of rich Mâcon.
Mâcon-Villages Clos Saint-Pancras
Benchmark Mâcon-Villages, this is rich, ripe, compact, and vigorous, with plenty to give but enough in reserve. Takes itself quite seriously. 2022–24. 83–84
Pouilly-Fuissé Pastoral
Quite some oak present, but it works well to flatter the terroir and to contain the richness with tannic structure. An ample and showy wine, full and ripe, but well-balanced, fulfilling expectations of a typical Pouilly-Fuissé. 2022–26. 86
St-Veran Prélude
A richly golden and expressive aroma. The palate is full-bodied and opulent, with spicy notes of cumin and tarragon. Fortunately, there is citrus acidity to offset the rich fruit. Generous quite heady wine. 2023–26. 85–86
Viré-Clessé Vieilles Vignes
Rich and inviting; full-bodied and chunky. There is candied citrus fruit and it's just nicely balanced. I liked the notes of stem ginger and pineapple. Accessible. 2022–24. 82
Pouilly-Loché En Chantone
Nutty aroma. Straight line to the mid-palate, decent depth, with appetizingly bitter notes. Salted almonds. It's quite rich mid-palate. Somewhat plump and soft, but well-enough balanced. I like the rather rich and savory finish. A good wine for restaurants. 2022–25. 85
Pouilly-Loché Clos des Rocs Monopole
Bite and vigor. Zap and focus mid-palate. Clean edges. It sings. Punches on the finish with cold sapidity. Shows some persistence. I like this snappy and sappy wine. 2024–28. 87
Mâcon-Chaintré Les Serreuxdières
A lightly caramel and nutty aroma, with a generous front palate, this tightens up to a become more energetic and sapid. Some firm intension, with freshness to round it off. 2022–25. 83
Mâcon-Fuissé Les Bruyères
Expressive spicy aroma and a palate with cinnamon and star anise. Ripe and rounded, but with a cooler underlying bite to lightly freshen and lengthen. 2022–25. 83
My interest was piqued by these wines. Both are brimming with character, well-balanced, and finish well.
Mâcon-Verzé
A light caraway-seed aroma, probably from the oak. This dives elegantly into the palate, fresh and salty and lively, to a fine, dry, talc finish. It has lightness and verve. I like this a lot. 2022–25. 85–86
Mâcon-Verzé Le Bien Heureux
Supple and golden, rich and inviting, the more sumptuous palate subtly underscored by fresh notes of pepper and mint, just lightly bitter at the end. Hints of almond kernel on the well-sustained finish. Very good indeed. 2022–27. 86
Viré-Clessé Climat Les Gandines
A golden and buxom wine, carrying some weight and quite heady. Creamy and peachy, with a toasty note and honeyed gloss. Exotic spices to finish. 2022–25. 82
Viré-Clessé Terroir de Clessé
Full and soft palate. An ample wine with yellow peach and hints of cedar and cinnamon. 2022–24. 80
Sébastien Ginoux
Pouilly-Fuissé
Tropical, with baked apple aromas to the creamy, rounded, and nutty palate, with notes of Bramley apple and an underscoring of savory minerality. 2022–25. 81
This 17-acre (7ha) domaine in Quintaine in Clessé has four enologists in the family.
Retour à la Terre
Peach, ripe citrus, and honeysuckle aromas, but also upright and restrained. Arresting snap on the palate, where it becomes very zesty, with clean-cut bitterness and savory minerals. A well-sustained and vibrant, chalky finish. What a delectable wine. Certainly among my favorite Mâcon wines this year. 2022–28. 86
Mâcon-Chardonnay Clos de la Crochette
Juicy citrus aroma, lightly rounded with a touch of candied lime and a hint of fresh ginger. Lightly spicy and somewhat creamy. Very nicely balanced and it has firm, mineral bite, tension, and push on the finish. 2022–25. 86–87
Mâcon-Milly-Lamartine
A white-grapefruit character, with biting, fresh, and sapid notes. Straight palate, with vibrant energy, tight edges, and bitterness. Puckering acidity. Really pops. I like it. 2023–26. 85
Pouilly-Fuissé En Chantenay
Quite a lot of oak for the moment, but the wine underneath is punchy and contained. It has bunched energy and there's sapidity and an earthy, colder note to counter the rich and spicy fruit. It's well-balanced. Traditional, full-bodied Pouilly-Fuissé style, but with a more serious mineral line beneath which carries the finish. Flashy. 2024–30. 89
Viré-Clessé
Fresh, citrus aroma. This is concentrated, indeed quite rich, with candied citrus, stem ginger, and a hint of litchee, but there's some vibrancy on the mid-palate. 2024–26. 85
Viré-Clessé
Zesty, citrus, and upright on the nose. Springs in a lively fashion across the palate. It's fresh and slightly pithy. A more vibrant Viré-Clessé, with an attractive bitter note to finish. 2022–25. 85
I enjoyed these wines, which both demand attention and deserve it. Lots of energy.
Bourgogne Aligoté
A very engaging scent, with white peach and white flowers, reflected on the scented palate, which has light and silky citrus notes, highlighted with the lively spritz of freshness, and is lightly tart to finish. Spot-on. 2022–24. 83
Mâcon Villages
Juicy and ripe with pouncing energy. It's ripe but lively and really lip-smacking. Very nicely balanced. Very enjoyable. 2022–25. 84
Mâcon-Igé
Rich and compact and reserved, battened down and concentrated but promisingly sapid on the finish. 2023–26. 84–85
Mâcon-Verzé
Citrus freshness and orange-blossom florals. This inviting aroma leads into a silky, rounded, smooth, but airy palate, which is threaded with fine and bright acidity and glimmering and slippery minerals. So elegant. 2022–25. 85–86
Mâcon-Verzé Le Chemin Blanc
Spicy, purple aroma to a deliciously full, lightly opulent and exotic palate. This has ripeness, intensity with savory acidity, and an appetizingly austere line to finish. Concentrated, but also quite nervy beneath and requires attention. Shows good persistence. Top-notch. 2023–26. 86
Pouilly-Fuissé Les Birbettes
Rather concentrated and juicy, generous and spicy, but also quite compact. It's full-bodied and well-balanced. The ripe, spicy fruit is supported by light citrus freshness and there is a thread of sapidity to finish. 2022–25. 85
Bourgogne Aligoté Clos des Bruyères
Rich, candied-citrus aroma, to a golden-ripe palate with good concentration and a vigorous slice of citrus freshness to finish. 2022–24. 80–81
Pouilly-Fuissé Les Creuzettes
This has a rich, floral perfume, and it is concentrated, generous, and rounded. Equally, it has a fresher aspect and energy. On the finish, it shows more subtle lift and precision. 2023–26. 87–88
St-Veran La Vieille Vigne des Crêches
Rich floral aroma, to a full, concentrated, and compact palate, with a high concentration of ripe stone fruit. It is very fresh, but the balance is enhanced by almond-kernel edge and it finishes on a savory bite and aniseed note. Both punchy and glossy. It shoulders the richness with ease. 2023–26. 86–87
Ripe, concentrated, and quite full-bodied at 13.5% ABV, but these wines also have good energy and nicely balanced acidity. They need time to unfurl.
Mâcon-Vergisson Sur La Roche
Rich and powerful, with firm acidity, good density, and tension. Very good indeed. 2023–25. 85–86
Pouilly-Fuissé Les Tilliers
The oak is quite apparent on the aroma of this punchy, rich wine. Concentrated, with plenty of energy. Compact, with a firm, sapid line beneath. 2024–27. 86
Pouilly-Fuissé Premier Cru Sur La Roche
This is quite a step up on the Tilliers in terms of the concentration, intensity, and finish. It is rich and full-bodied, but the energy is channeled. Good depth mid-palate. The ripe fruit flows with colder mineral tension. It's ripe and cool and enveloping, and shows good persistence on the finish. 2024–28. 89
St-Véran Les Crêches
Quite creamy and succulent. Rounded at the front, medium- to full-bodied, with crisp apricot fruit and bitter apricot skin. Lightly spicy, nicely balanced by sufficient acidity. It has a flowery finish. 2023–26. 85–86
Owning 30 parcels in Fuissé, spread over 17 acres (7ha), gives sixth-generation Nicolas Melin plenty of different terroirs with which to play, but I particularly liked the following wine, from a walled vineyard.
Pouilly-Fuissé Clos Marie
Full, rich, and dense, this punches with energy and fresh acidity and finishes on a sapid note. 2022–28. 85–86
Domaine de Thalie
Mâcon-Bray Les Pierres Levées
Rich, pineapple aroma, with a hint of cooked Bramley. Full, buttery, and rounded. A softer palate, with tropical fruit. 80.
I found the wines distinctive and selected these three for their very different characteristics.
Mâcon-Fuissé Les Tâches
Rather deliciously inviting on the front-palate, with ginger and honeysuckle and candied fruit, it is rounded but has quite a bite of acidity. 2023–26. 84
Pouilly-Fuissé Les Pierres à Canards
Buttery, brioche aroma, to a bright, citrus-rich attack. There is quite some austerity here. Snappy and sappy on the savory-fresh finish. Vibrant. Very good. 2023–26. 86–87
Pouilly-Fuissé Premier Cru Les Vignes Blanches
Upright silex aroma, to a vibrant palate with snap and light sapidity. It's a Pouilly-Fuissé that is lightly rounded but has a clean line. Not too rich. Good persistence and a silky-salty end. I went back to revisit this wine, having kept it for a day, and the slight austerity opened to reveal a charming silkiness with floral notes. A complex and layered Pouilly-Fuissé. 2024–28. 89
Beaujolais

This Frédéric Berne is committed to making Lantignié the 11th cru of Beaujolais, and I think that the following wines, from different soil profiles—one granite, the other Pierre Bleue—eloquently express the potential of this area.
Beaujolais Lantignié Granit Rose
This is super-fruity, dense, and juicy, with no lack of vigor. Quite burly and lightly muscular, with an energetic finish. 2022–25. 85
Beaujolais Lantignié Pierre Bleue
The floral, upright aroma is mirrored on the more refined palate, which has rather more silky tannins and a slippery, graphite texture. 2022–25. 85–86
From the west side of the Brouilly hill, where the old, low-yielding Gamay vines (planted between 1954 and 1958) generally produce less ripe wines with brisker acidity. There is no Côte Jumeaux this vintage as the parcel has been replanted.
Beaujolais Côte de Brouilly
All destemmed. It's juicy and fruity and accessible. Lively energy. Marc-Antonin shows a fine touch with the texture, and there is good tension and a taut twang at the end. 2022–25. 85–86
Beaujolais Côte de Brouilly Cuvée Pierre Bleu
Granite soil at the top of the hill. So succulent and ripe yet restrained. Smooth minerals and purple notes, with violet florals. A notably powerful and compact Beaujolais, this has good tension and complexity, with a firm tannic structure. 2023–26. 87–88
"A vintage with a lot of purity, rich and lively," says Frédéric Lafarge.
Chiroubles
A lively aroma, with red cherry and marzipan. It is so fruity, fresh, and crunchy. 2022–26. 83
Côte de Brouilly
Good depth and richness. More serious than the Chiroubles, but also more sophisticated. 2024–30. 86
Fleurie Bel Air
From old vines, between 55 and 65 years old, in pink granite soil around the domaine on a southeast-facing slope. Elevage in barrels of 300 liters and larger fudres. Juicy red fruit is the first impression. Crunchy, pure, and bright. Cranberry fruit, with nice crispness and vibrancy. A lively Fleurie. 2024–27. 84
Fleurie Clos Vernay
From 50-year-old vines in granite and quartz soil. Much more compact than the Bel Air, and a level up in tension and density. It has a bit of grip. 2024–28. 85
Fleurie La Joie du Palais
This is plowed using a horse, but for a section, steep as a black ski run, there is a cable with an engine at the top. Pink granite soil. Sweet and perfumed, with pink rose petal. Fine, light, and delicate tannin, powdery and fine, with a talcy finish. Such a charming Fleurie. 2024–28. 84–85
St-Amour Le Châtelet
Spicy red-fruit aroma. Instantly accessible, it opens into a full, rich, and broad palate, stuffed with ripe strawberry fruit. It has soft and easy tannins. 2022–24. 80
This large estate of 190 acres (77ha) is managed by Jean-Claude Boisset, with Grégory Patriat making the wine. Plowed by horse and run along biodynamic lines. Classic fermentation followed by six months in large old oak.
Brouilly
A smoky, gamey nose initially, with more floral, fruity top-notes and hints of fresh oregano in the middle. What a good nose—and the palate is also spot-on Brouilly. Juicy on the attack, with supple tannins, good depth, density, and zesty bite. Plenty of energy, too. 2022–25. 85–86
An Albert Bichot estate of 12.8 acres (5.2ha) in Moulin-à-Vent. From a single vineyard of Rochegrès, where the granitic rock is close to the surface.
Domaine Rochegrès Moulin-à-Vent
From a 7.5-acre (3ha) parcel of younger vines on deeper soil. Fresh earth, pencil shavings, and loganberry on the nose. Fruity and juicy, with plenty of freshness. This picks up on the finish, where it catches a bit of herbal tannin, which give it a lift. Simple, clear, expressive, and inviting. Good typicité. 2022–24. 83