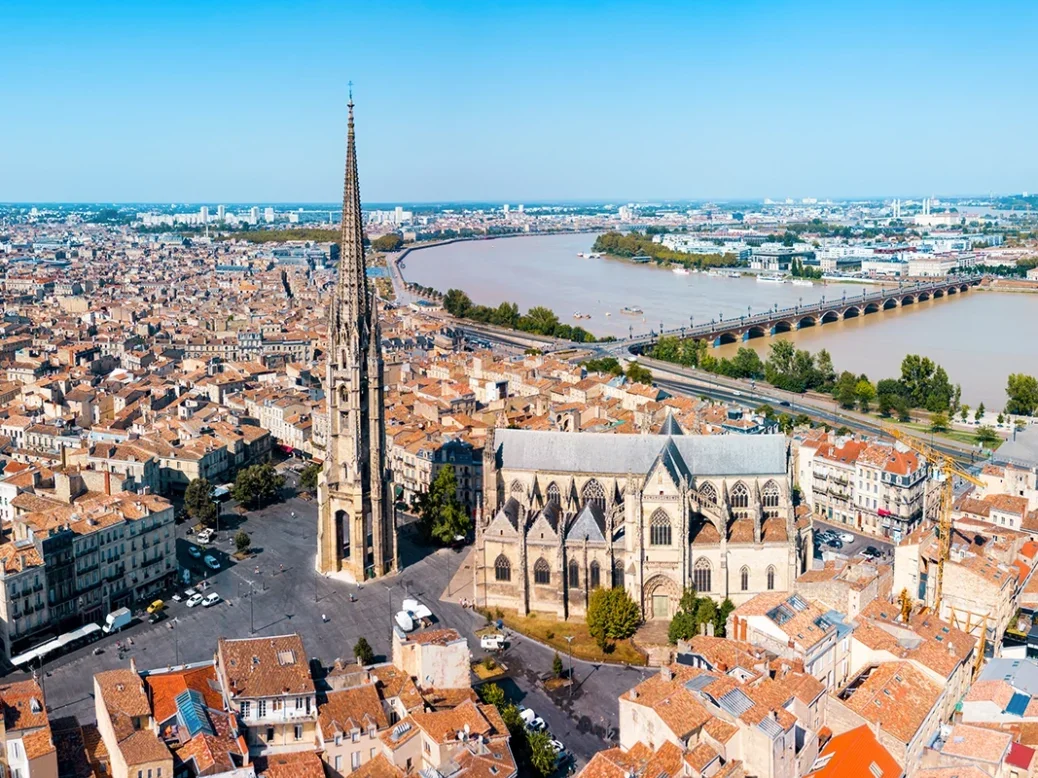 The world's most famous wine region has a lot to offer the vinous tourist, even if some of the best addresses are beyond the reach of the casual visitor, says Chris Losh as he rounds up the best châteaux, vineyards, restaurants, bars, hotels, galleries, and museums to visit in and around Bordeaux.
It's hard to think of any city in the world so indelibly associated with one product as Bordeaux, nor any wine region so well-known. No wonder that for genuine wine lovers a visit can feel like a pilgrimage, driving among the hallowed gravels of the Médoc, intoning the communes like a rosary: Margaux, St Julien, Pauillac…
But if you're assuming that a trip to Bordeaux is going to be a chance to tick off a series of first growths or whizzy Pomerols, you're probably going to be disappointed. The very best châteaux are hard to get into. Even reserving a place months in advance (as they suggest) isn't guaranteed to secure you entry. Let's just say the Bordelais are very good at ignoring emails…
Having said that, there's no shortage of vineyards in Bordeaux (100,000 hectares [247,000 acres] of them) and an awful lot of great places to visit. Of course, much of the content here is about wine. But this is a big, buzzy port city of a quarter of a million people, so it's worth putting time aside for non-vineyard activities as well.
Best vineyards to visit in Bordeaux: Left Bank
First growths are not keen on hordes of tourists tramping through their hallowed halls. Most are prepared (in theory) to allow professionals to visit, provided they arrange a visit well in advance, but it's not common for members of the general public.
Mouton Rothschild, however, is a notable exception in that it accepts visitors and has good programmes set out for them. Tours of the estate need to be booked at least two months in advance (and probably far more than that at peak times).
The château itself is one of the less ostentatious ones on the Médoc—quietly attractive rather than stunning. But apart from the chance to be on the hallowed land of a first growth, it's worth looking at their Museum of Wine in Art as well. Located in a former barrel cellar it has some exceptionally rare drinks-related paraphernalia: cups, glasses, goblets, silver, ivories, tapestries, and ancient porcelain.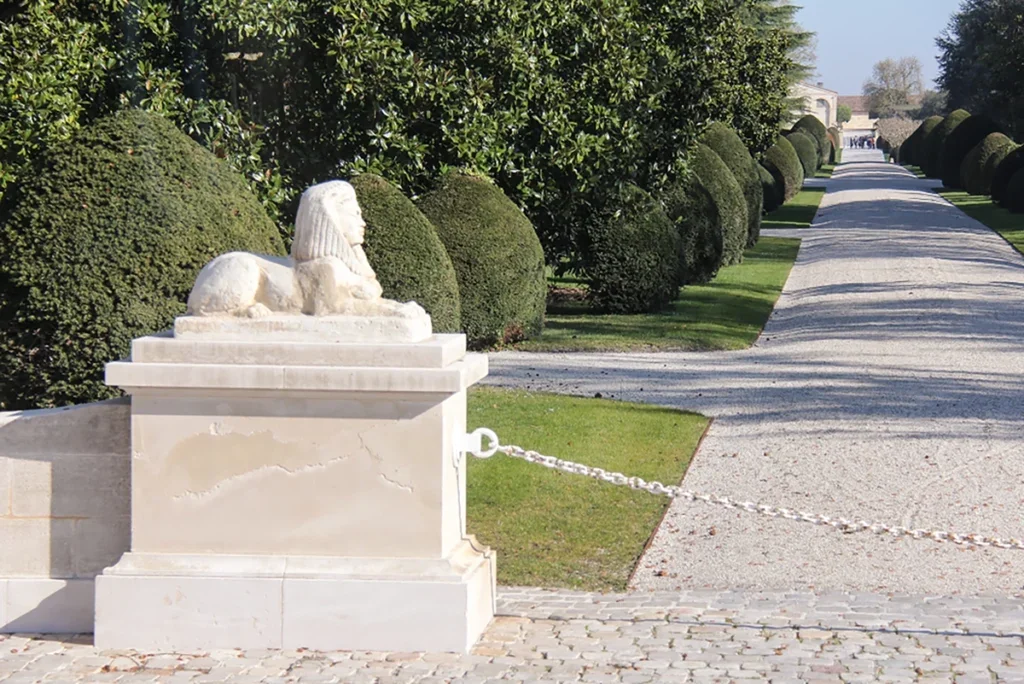 The other first growths are somewhat less welcoming. Latour is firmly "trade only," and while it's possible (in theory at least) to visit Haut-Brion, Lafite, and Margaux with enough notice, you might have to satisfy yourself with taking photos of their various turrets, gates, and driveways from the road.
There are, however, some seriously good high-ranking cru classé chateaux who are amenable to visits and others that have genuinely interesting visiting opportunities in their own right.
Châteaux Langoa Barton/Chateau Léoville Barton is one. The latter (a second growth) is one of the most reliable and best-priced estates in St-Julien. Léoville is purely a chateau and vineyard, with the wine being made and aged at (third growth) Langoa over the road. It's a lovely visit, though. Great wines, and beautiful gardens.
Château Kirwan has been in the hands of the same family for eight generations and, impressively for a Margaux third growth, has embraced the concept of tourism. There are half a dozen tour/tasting options from barrel-tasting to vine-pruning as well as picnics.
Pauillac is the jewel in the crown of the Médoc—home to three of the five first growths—so whatever happens you'll want to spend some time here. Pichon-Longueville—aka Pichon Baron—is a "strong" second growth with a classically beautiful château, and you may visit by prior arrangement. Don't confuse it with Pichon Longueville Comtesse de Lalande, which doesn't accept visitors.
Château Phélan-Segur is in St Estephe at the less fashionable northern end of the Médoc. Though "only" a cru bourgeois exceptionnel, it's well worth a visit. The classic pebbly vineyards look out over the Garonne and you can do a tour of the terroir with the vineyard manager and tastings with the cellar master.
Best vineyards to visit in Bordeaux: Right Bank
Bordeaux's Right Bank doesn't, for the most part, have the showy châteaux of the Médoc, but it does have the thoroughly lovely mediaeval village of St-Emilion itself—a World Heritage Site—which is a great place in or around which to base yourself. The monolithic church (it was built out of a single block of limestone) is well worth a visit, even for the ABC (Another Bloody Cathedral) brigade.
In the Right Bank, you aren't, sadly, going to get tours and tastings of the superstar estates like Petrus, Cheval Blanc, and Le Pin. But there are hundreds of less famous family-run estates that will give you a personalised visit. They're generally less glitzy and formal than their counterparts on the Left Bank, but there's a charm to them, nonetheless.
St-Emilion's tourist website, www.saint-emilion-tourisme.com, allows you to pick estates to visit according to criteria as diverse as architectural splendour, food offerings, and parks and gardens.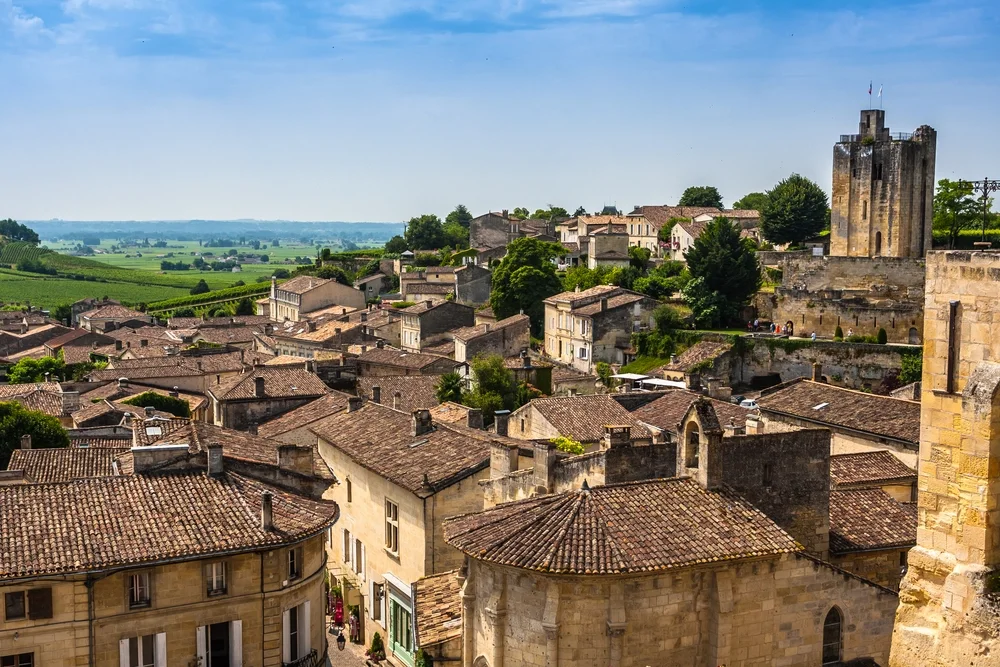 Chateau Fombrauge is a good example of the latter. A former monastery, there is still an airy beauty to the halls and grounds of this grand cru. As well as visiting the cellars and tasting, if you book ahead you can even have a go at creating your own wine blend.
Château Troplong Mondot has a couple of visit options (including a jeep drive out into the hallowed vineyards), an ambitious restaurant, and (if you have deep pockets) accommodation. Your chance to fully explore a 1er grand cru classé St-Emilion estate.
Château Cantenac has been in the same family for four generations, and accepts visits all year round, Monday to Friday. There are two levels of tours on offer, and they do them well and warmly. In 2019, they made it into Trip Advisor's Hall of Fame for their consistent excellence.
If you're visiting from May to August, Château Faugères (grand cru classé) should be on your itinerary. Its modernist "cathedral of wine" has become something of a Right Bank icon. Try and time your visit to finish at dusk when the lights come on.
Organic, biodynamic, and low-intervention viticulture is a growing movement in France, and at the small, homespun, Château Lapelletrie they'll tell you all about it. A small estate that has been committed to sustainability for ten years, they use herbal "tisanes" on the vines and prefer sheep and chickens to herbicides.
Best places to visit in Bordeaux City Centre
La Cité du Vin
Modern, bright, and high-tech, La Cité du Vin is the kind of statement-making wine museum that Bordeaux deserves. It's made up of 18 modules that trace the history and culture of wine from ancient times to the present day; everything from art, culture, gastronomy, and geography to winemaking, tasting, and, of course, the vineyards and wines of Bordeaux itself.
Lively and interactive, you'll need at least two to three hours for a visit but real wine lovers could easily put aside a full day to fully do it justice. Having a decent brasserie restaurant with great views across the Garonne makes that easy.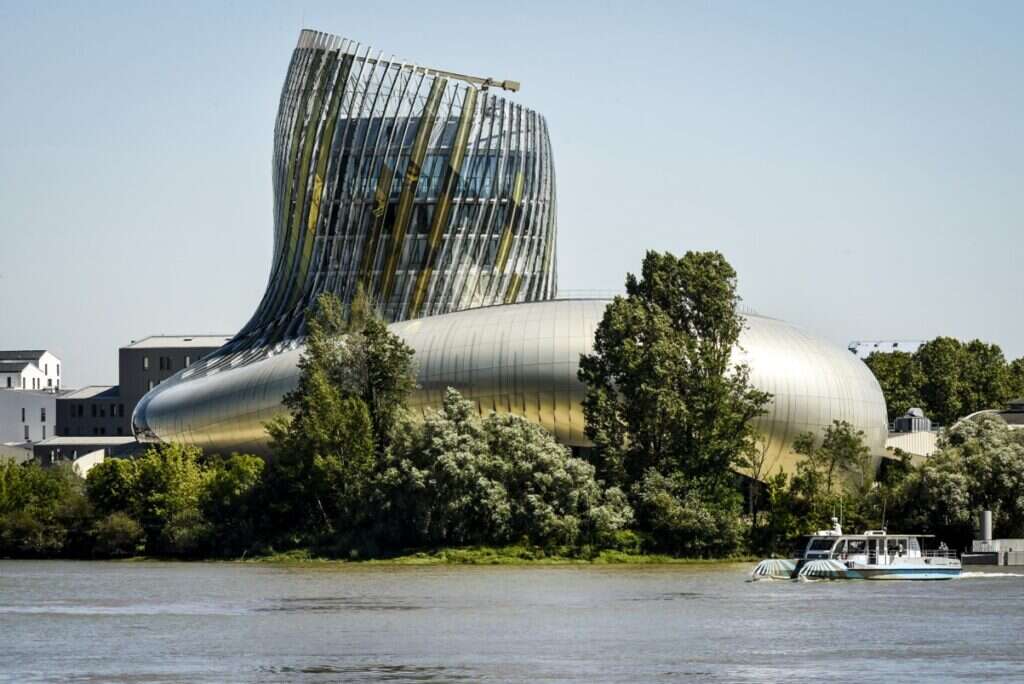 Musée d'Aquitaine
It might be less whizzy than the Cité du Vin, but the Musée d'Aquitaine brings another perspective to a city with a long and extraordinary history, from the Romans through a period as a mediaeval fiefdom of the English kings, to the city as an international gateway to the world. Plague, slave-trading, and Nazi occupation. It's not ground-breaking in format, but it's done well and is hugely informative.
MMM (Musée Mer Marine)
Bordeaux used to be one of the biggest ports in Europe, and over 5000m2 the MMM traces a universal history of navigation from prehistory to the present day: the battles, technology, art, and culture. It's a little away from the centre—just past the Pont Jacques Delmas, but near a tram stop. And it's not far from the Cité du Vin, so you could combine the two.
Les Bassins des Lumières
It's a long way from the Louvre, but this former WWII submarine pen is absolutely a must-visit. Home to the largest digital art exhibition in the world, mesmerising high-definition images of great works of art (Manet, Dali et al) shine out from the walls, reflecting into the rippling waters. It's immersive, different, and captivating.
Les Carmes Haut-Brion
If you ever wanted proof of how the city has expanded westwards to take over vineyards, this is it. Les Carmes Haut-Brion is a fully functional wine estate, located in Pessac-Léognan in the Graves. It's also just a few tram stops from the centre of Bordeaux, its walled vineyard completely surrounded by the city.
Best places to stay in Bordeaux
As you would expect from a big city, there's no shortage of accommodation available in Bordeaux from budget chains and plain but functional apartment hotels to AirBnB options and five-star jaw-droppers with pricing to match.
Le Grand Hôtel is perhaps the most obviously starry hotel in Bordeaux. It's a great location, near the theatres, galleries, and imposing Place de la Bourse, with a spa and Michelin-starred eatery (see below). Well positioned for tram stops, it's easy to get to everywhere else, too.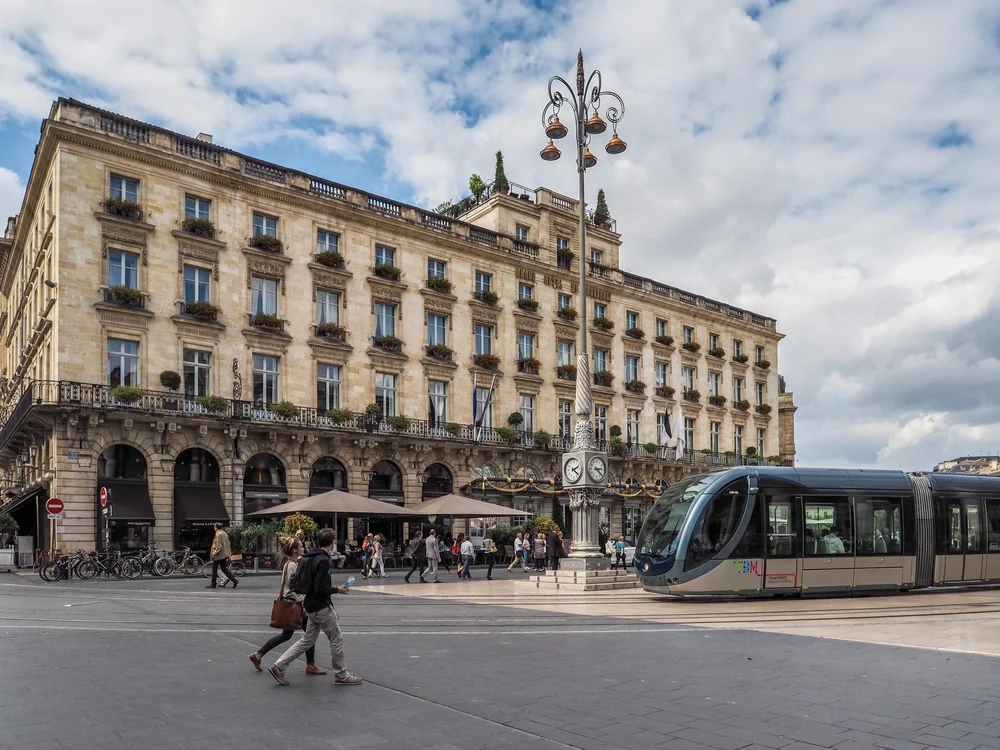 Should you prefer your luxury in a more rural setting, Les Sources de Caudalie is the hotel attached to Château Smith Haut Lafitte in Pessac-Léognan. It's a great place to stay, with wine (obviously), welfare, and terrific food on tap. Not cheap, but good for some five-star pampering.
For those in the market for something quirkier, Coup 2 Foudres (the name is a pun) six miles from St-Emilion lets you spend the night in converted old wooden vats (foudres) in the middle of the vineyards. A coup de foudre (thunderbolt) indeed.
In the Médoc, Château La Tour Carnet, on the road to St-Julien provides you with a four-poster luxury base for exploring the famous communes. And if you're planning to pack your clubs, then the Golf du Medoc might be worth a look. Just to the north-west edge of Bordeaux it's a classic heathland style layout, and one of the top 100 courses in Europe. The 4-star hotel is just 10km (6.2 miles) from Margaux (and the Médoc), and about 20km (12.4 miles) from Mérignac airport and Pessac-Léognan.
Best places to eat in Bordeaux
Le Pressoir d'Argent
Brit Gordon Ramsay has a pair of Michelin-starred restaurants in the UK and this venue in Le Grand Hôtel is a worthy two-star addition. It's named after the restaurant's solid silver lobster press (one of only five in the world) and uses local ingredients with finesse and sensitivity. The 1,000-bin wine list is, as you'd expect, mostly local wines.
La Tupina
If you're looking for something light, elegant, and modern, this is not the restaurant for you. But if you want to sample super-traditional, hearty regional food—the kind of thing that was probably being served when the 1855 classification was first drawn up, then look no further. Think blood pudding, big roasts, and chips fried in duck fat.
Ishikawa
There aren't too many bargains to be had in the centre of Bordeaux, but this superb Japanese restaurant (a Michelin bib gourmand) is one of them. With great cooking and minimalist décor it's a slice of Tokyo only a block or so from the Musée d'Aquitaine.
Ressources
A new restaurant from Tanguy Laviale with no starters or main courses. Instead, diners mix and match three or four small plates each from a short menu. The cooking is precise and refined, and the wine list is fantastic.
Maruya Dining
Not far from the National Opera, this is good sushi at a decent price and recommended by locals. They'll deliver to your accommodation too, if you fancy eating in. Handy if you want to give your digestive system and wallet a night off.
Best places to drink in Bordeaux
Tchin Tchin
A lot of Bordeaux is (understandably) about prestige and showing off. So Tchin Tchin wine bar (two minutes walk from La Bourse) is something of a relief. Its ethos is artisanal wines—often organic, biodynamic and low-intervention—matched with artisanal food. None of it is fancy, but there's genuine soul and authenticity to what they are doing.
Brique House
Going to Bordeaux in search of craft beer is probably like looking for a wine bar in Pilsen. But if you've spent the day tasting claret, a good beer hits the spot like nothing else. Brasserie/taproom hybrid Brique House is probably the best place for a pizza and IPA in the south west.
Symbiose
A city the size of Bordeaux deserves at least one great cocktail bar, and locals rate Symbiose the best—as do drinks magazines and websites which regularly score it highly in "worlds best" roundups. The menu is short, classy, and creative.