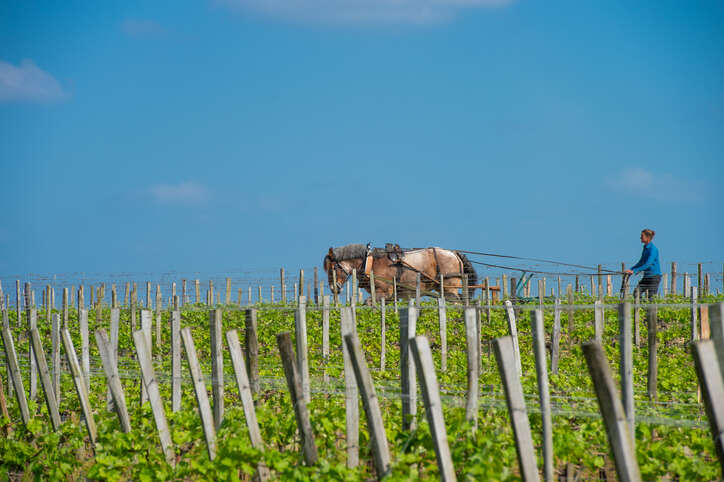 Bordeaux, a region not always associated with the cutting edge of viticulture, has spent much of the past 30 years upgrading its vineyards with a marked shift to organic, biodynamic, and sustainable methods. James Lawther MW reports
Bordeaux's mercantile image often obscures the viticultural aspect of the region, an imposing château or state-of-the-art cellar a much easier means of communication.
But progress since the early 1990s has been all about the vineyards, with more efficient pruning and trellising, lower yields, plot-by-plot management, and massal selection all part of the armoury that has provided riper fruit and purer wines.
Fruit maturity in the new millennium is still an ongoing concern, but other issues have arisen—in particular, climate change, the carbon footprint, higher alcohol, and the demand for a more respectful, sustainable form of viticulture.
The solutions are all linked to the land and vineyards; so, how are the Bordelais implementing change?
Bordeaux: A vast region
Let's keep in mind that this is still a vast region, with 271,700 acres (110,000ha) under vine and, at the last count (2019), 5,700 growers. It is also a region where fungal disease remains one of the principal concerns.
Consequently, environmental issues were not high on the agenda at the turn of the century, and even by 2014, only 35 percent of the vineyard area had a certified environmental approach.
Proof of the wakeup call was the jump to 65 percent in 2019, with the Conseil Interprofessionnel du Vin de Bordeaux (CIVB) setting a target of 100 percent by 2030.
There are a number of certifications available, some more rigorous than others, but the principal, and those of most interest here, are the organic (AB) and biodynamic (Demeter, Biodyvin) labels, as well as those of Terra Vitis and Haute Valeur Environnementale (HVE).
The latter two take an integrated farming approach, HVE placing the emphasis on biodiversity (protecting woodland borders and water sources, planting hedges, sowing seeds and flowers on fallow land, etc.) and employing certain limitations to crop protection, fertilization, and irrigation.
It's not a fully sustainable or organic approach but a step toward more responsible and accountable viticulture. By the end of 2020, 1,500 Bordeaux properties were HVE certified.
And despite virulent attacks of downy mildew in 2018 and 2020, organic certification is also on the increase, up 30 percent in 2019, with 34,333 acres (13,900ha) and 796 properties presently certified or in conversion.
To this can be added another 61 estates, around 3,450 acres (1,400ha), that are biodynamically certified.
All told, this represents about 14 percent of the total vineyard area. Beyond a social conscience, the ban on carcinogenic (CMR) substances since 2020, and soon the herbicide glyphosate, has made producers think twice, and with remuneration for bulk (en VRAC) organic red Bordeaux presently running at over double that of conventional, there's even more of an incentive to follow the organic line at least at generic level.
Appellation- and classification-wide
Individual appellations are also launching independent initiatives or showing a firmer stance on the way forward.
Twenty-seven percent of the producers in Castillon Côtes de Bordeaux, for instance, are already organically or biodynamically certified, while growers in St-Emilion (including those from Lussac and Puisseguin) recently voted to make an environmental certificate a mandatory requirement for the appellation from 2023, the first syndicat in France to do so.
In Margaux, biodiversity is at the forefront of the project "Margaux terroir de biodiversité."
This has prompted the completion of an inventory of Margaux's vineyards, countryside, and villages as well as wildlife.
As a result, a program of tree and hedge planting has been put in motion, as well as the seeding of flowers and grasses on fallow and border land to encourage biodiversity.
There's also a recommendation to delay the mowing of ditches and vineyard borders in order to preserve animal and insect life.
Remaining in the Médoc, it's instructive to cast a look at the 1855 Classed Growths to see how they are individually embracing less conventional viticultural ideas.
According to the Conseil des Grands Crus Classés en 1855 about half the 60 Médoc crus are HVE3 (the highest level) certified.
About another ten are organically or biodynamically certified or in conversion, with others running organic trials on set parcels of land.
Appellation Margaux offers some of the most interesting case studies, with Châteaux Palmer, Ferrière, and Durfort-Vivens all biodynamically certified and pursuing joint or individual agroecological projects.
The impetus for change at Palmer, explains managing director Thomas Duroux, started with the simple question: How can we progress and make the best wine possible from the Palmer terroir?
Despite some reticence as classically trained agronomists, he and technical director, Sabrina Pernet, started experimenting with biodynamics following the 2008 harvest.
Results from a biodynamic parcel in 2009 were no better or worse than those from conventional plots but had the advantage of being cultivated without the use of synthetic chemicals.
As the surface area of biodynamically run parcels increased, however, it soon became clear that some were producing better quality grapes.
So, with the ownership's consent, the 163-acre (66ha) vineyard was officially converted to organic and biodynamic cultivation in 2013, with certification obtained in 2018.
As part of the biodynamic approach, the soils are no longer systematically plowed and cover crops used more widely to help avoid erosion and maintain microbial life.
Sheep are allowed to graze the vineyards in winter (natural weeding) and "home-made" compost used to provide nutrients and beneficial soil bacteria.
Local herbs and plants (nettle, calendula, burdock) are used for treatments, and trees and hedges have been planted to encourage biodiversity and break the monoculture of the vine.
And despite a savage attack of mildew in 2018, which reduced the crop to 11hl/ha, the objectives haven't changed. "Everything clicked into place when we realized that biodynamics is a holistic approach that goes beyond the weird stuff of the moon's cycle and planting cow horns," recounts Duroux.
Château Durfort-Vivens also officially launched its conversion to biodynamics in 2013, receiving certification in 2016.
Apart from regular biodynamic practises like the spraying of preparations 500 (horn manure) and 501 (horn silica), much time and attention has been given to the importance of cover crops and their use in maintaining a living soil.
Of the estate's 153 acres (62ha) of vineyard, 40ha (99-acres) have been sown (between rows) with a mix of lupins, cereal crops, and pulses to feed the soil, improve rooting and aeration, and avoid erosion.
There's also the added advantage that in this manner carbon (essential for photosynthesis) can be more readily sequestered from the atmosphere and stored in the soil.
"Biodynamics is a question of observation and then a pragmatic approach to problem solving," explains technical director Léopold Valentin.
On an experimental basis, Durfort-Vivens has also been trialing the use of mulch (pruned cane cuttings or sarments, tree bark) between vine rows to help maintain humidity, lower soil temperature, and assist with the steady maturation of the grapes.
In one instance in 2020 (on a susceptible parcel), the mulch also appears to have alleviated the problem of mildew.
It's an ongoing experiment that even has the interest of Châteaux Latour and Palmer but still requires an answer to the problem of how the mulch can be dispersed on a wider scale.
La Belle Vigne: Helping to inform Bordeaux's producers go green
Such is the concern for a living soil and terroir that owner Gonzague Lurton and his wife, Claire Villars-Lurton, owner of Châteaux Ferrière and Haut-Bages Libéral, have gone one step further and helped sponsor an agroecology consultancy, La Belle Vigne, to help inform interested producers.
Villars-Lurton has been engaged in this field for some time. Ferrière in Margaux received biodynamic certification in 2018, but it was at 69-acre (28ha) Haut-Bages-Libéral in Pauillac in 2007 that she first planted hedges around the vineyard and applied biodynamic principles, even if certification arrived belatedly in 2021.
Cover crops are again of the essence, and having first experimented with natural grass then barley she now uses a mix of pulses, cereals, and cruciferae (mustard, watercress) to provide different remedies for different parcels.
Agroforestry or the practise of planting trees within or around a vineyard is another tendency she is pursuing enthusiastically.
In the distant past it was quite common to find peach (pêche de vigne) or pear trees planted within vine rows (some old examples still exist today), their presence again breaking the monoculture of the vine, providing windbreaks, and ensuring biodiversity as well as soil stability and fertility through microbial activity.
She has already planted 200 trees per hectare (2.47 acres) on two hectares in a vineyard in the Haut-Médoc and intends extending the practise to Haut-Bages-Libéral and Ferrière.
The concept of agroforestry is of growing interest in Bordeaux, but as Duroux warns, with the cost per hectare within the communal appellations being high (€1.3 million in Margaux, for instance) you can't plant trees everywhere.
There's also the question of management, as their presence can prevent the use of tractors. Balance is another factor.
Following an ecological audit of its 412 acres (167ha) of land, of which 291 acres (118ha) is vineyard, Château Lagrange in St-Julien plans to plant hedges to encourage biodiversity but only a limited number of trees (seven or eight per sector), since that is deemed sufficient.
Will power
Implementing some of the less conventional viticultural practises depends heavily on the will and conviction of the estate team and manager.
Claire Villars-Lurton replaced the incumbent technical manager at Haut-Bages Libéral with Thomas Bontemps in 2011, because the former was reluctant to make the changes she required.
Jean-Michel Comme drove the move to biodynamics at Château Pontet-Canet (certified since 2010) over a period of 15 years, and on his departure in 2020 was replaced by Mathieu Bessonnet, an experienced hand having previously held the post of technical director at biodynamically run M Chapoutier in the Rhône.
While at Château La Lagune (biodynamically certified in 2021), owner Caroline Frey made sure her team had the time and knowledge to adjust to the new practises.
There's also a question of timing. When Jean Merlaut acquired Château Gruaud Larose in 1997, the previous owners, Alcatel, had spent heavily on the cellars but the 203-acre (82ha) vineyard needed restructuring.
"Over the past 20 years we have replanted half the property, adopted sustainable practises, and achieved a high standard in the wine, so the question was what should we be doing next," explains CEO Nicolas Sinoquet.
Now with a youthful vineyard manager and cellar master installed, as well as a new technical director, Virginie Sallette (previously at Ducru-Beaucaillou), the vineyard has gradually been turned over to organic cultivation, official certification due in 2022.
Eco-pasturing with sheep, cover crops, and the planting of trees and hedges are all part of the new scheme, and the personnel are being trained and given motivation.
When the time is right, and this includes the ability to treat the whole vineyard for downy mildew in a day, biodynamic certification will be a future objective.
"We looked at everything in a reasoned and pragmatic way, and reckoned organic certification could be achieved as a team effort but in our own rhythm and time," says Sinoquet.
The largest environmental project, which by extension embraces the vineyard, is to be found at Château Montrose in St-Estèphe.
When the Bouygues brothers, Martin and Olivier, bought the property in 2006 they rapidly launched a program of renovation with an environmental flavor.
Over subsequent years, renovated buildings were given dual insulation, solar panels installed, and a geothermal station set up. Attention then turned to the 235-acre (95ha) vineyard and surrounding forest, meadows, and streams.
These have been dutifully audited and further hedges added, while all green matter is now respectfully turned into compost.
Organic cultivation in the vineyard is the guideline, although certification is not as yet on the agenda, something that might sow a seed of doubt if it were not for the clear ambition and scope of the project.
Eco-pasturing with sheep is another practise at Montrose, and there are other innovative ideas, too.
One is the use of lighter, electric tractors, now accounting for one third of the fleet but due to rise to 100 percent by 2030, to eliminate the use of diesel and lessen compaction in the soils.
Another is an agro-pedological and climatic study, the better to understand how the terroir reacts to climate change, something that will ultimately help future vineyard management.
Other projects include research into products that could replace the copper-based solutions used for treating downy mildew (and permissible in organic production) and equipment for precision spraying.
Montrose also intends being carbon-neutral by 2050, having already started CO2 recovery during the fermentations.
Conventional or progressive I'm not sure, but it's also worth mentioning the massal-selection program that is taking place at Montrose.
Old, pre-1960 vines of Cabernet Sauvignon have been identified and certain selected to act as the mother plants from which to propagate new vine material.
The same operation is now taking place with Merlot. The belief is that the old vine sources will help maintain the signature of the estate better than would commercial clones.
It's a procedure that a number of top growths are pursuing.
Firsts among equals
Information on first-growth activity in the field of progressive viticulture is usually sparse, communication on the subject being limited.
Château Latour appears to be the most advanced in the matter, having been officially certified organic in 2018 and with biodynamic practises applied across 146 acres (59ha) of the estate's 235 acres (95ha), including the Enclos.
"We're not completely sold on the philosophy but the preparations have proven beneficial and we are prepared to use them to reduce the use of chemicals," explains the technical director Hélène Genin.
Conventional work on drainage and planting still takes precedence, but there is a five-year plan to plant trees and shrubs around the vineyard and plenty of ongoing experiments on, for instance, cover crops and the use of mulch.
The advantage here is that similar trials are being carried out at the other Artemis-owned properties and the results shared among them.
Château Lafite is advancing in a steady scientific manner and a substantial massal-selection program is underway.
Having started organic and biodynamic trials in 2016, the decision was recently taken to begin the official conversion to organics with a view to being certified in 2024.
Biodynamics has yet to convince and, as at Latour, there are ongoing trials on cover crops, with 40 percent of the vineyard already covered with natural grass or sown material.
Biodiversity is also on the agenda, with a plan to plant 8 miles (13km) of hedges and 112 trees over the next ten years.
There may be little talk of organics or certification so far at Château Margaux, although certain principles have long been followed.
Herbicides have never been used in the vineyard, the preference always for plowing, and insecticides were abandoned 25 years ago, replaced by confusion sexuelle. Anti-botrytis sprays are no longer used either.
"The property has existed for 500 years, and every decision taken is calculated to ensure it endures, which means sustainability is an important consideration," states managing director Philippe Bascaules.
Fortune, and the future, favors the brave
For the majority of producers, the change in viticultural practises is also strongly tied to the quality of the wines.
Considerable improvement can be seen at Durfort-Vivens over the past five or six years, and more recently at Haut-Bages-Libéral and Ferrière, while Montrose, Palmer, and now Gruaud Larose have never been riding higher.
At Latour, Hélène Genin has discerned a more delicate, floral note in the aromatic complexity of the wines over the past six or seven years.
At Château Pédesclaux in Pauillac, officially in conversion for organic certification in 2022, director Vincent Bache-Gabrielsen finds the organically produced wines "brighter and more aromatic in youth," the biodynamic, "tighter and more austere."
He also related that in 2020 the biodynamic plots were five days in advance of the organic, the earlier phenolic ripeness permitting less sugar and greater freshness—clearly something that needs further investigation, given all the problems of climate change and higher alcohol in wines.
If these progressive or alternative viticultural practises have a distinctly green feel, it can only be due to today's burning issues of climate, sustainability, and health.
"Progressive" may not even be the correct word for them, because many hark back to bygone days, even if science is bringing them up-to-date.
"Everyone is conscious of the problems and challenges we face," affirms Duroux. "The difference between properties is down to means and the capacity to take risks."
Read more on Bordeaux in the 21st century:
Michael Schuster's 2020 Bordeaux en primeur report
Michael Schuster's 2019 Bordeaux en primeur report
Michael Schuster's 2018 Bordeaux en primeur report
Michael Schuster's 2017 Bordeaux vintage report
Read more on Bordeaux 2021 en primeur:
Bordeaux 2021 Field Notes: Château Figeac
Bordeaux 2021 Field Notes: Vieux Château Certan
Bordeaux 2021 Field Notes: Château Pavie
Bordeaux 2021 Field Notes: Le Dôme
Bordeaux 2021 Field Notes: Domaine de Chevalier
Bordeaux 2021 Field Notes: Sauternes and Barsac