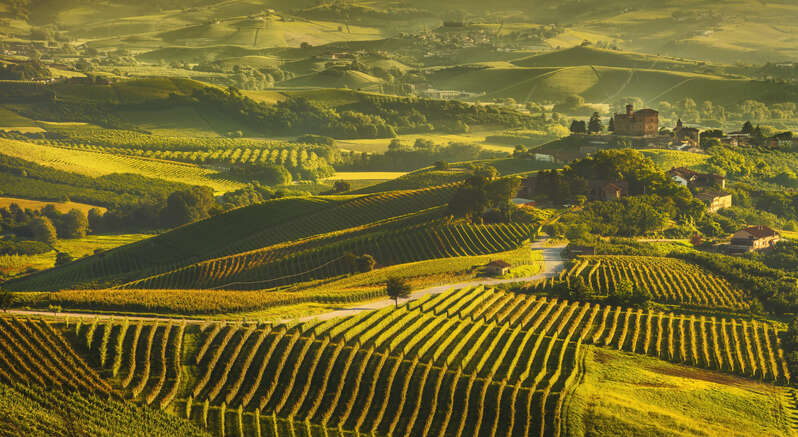 A set of 15 specially produced barriques will be up for auction at Barolo en primeur, raising funds for a variety of social projects.
The organizers of a new fundraising event, Barolo en primeur, have announced the first details of the standout lots at its late October, auction: 15 specially produced barriques of Barolo produced from the 4ha (9.88 acres) Gustava vineyard.
The event, which has been put together by the Cassa di Risparmio di Cuneo Foundation, in association with the CRC Donare Foundation and the Consortium for the Protection of Barolo Barbaresco Alba Langhe and Dogliani, and which is being run in conjunction with Christie's, will take place at the Grinzane Cavour Castle overlooking the Gustava vineyard on October 30, 2021.
A simultaneous link-up with Christie's in New York City will feature wine critic and Vinous CEO Antonio Galloni, who has created NFTs (non-fungible tokens) for each of the 15 barriques, a form of digital certificate guaranteed by blockchain.
The barriques are each linked to a specific non-profit project in the fields of health, research, arts and culture, social inclusion, and cultural heritage, with each project to be revealed in detail at a press conference on Thursday October 14, 2021, at Grinzane Cavour Castle. Each barrique will be auctioned for a minimum of €30,000, and will produce approximately 300 numbered bottles with a label designed by the celebrated sculptor, Giuseppe Penone.
Barolo en primeur: In the barrel
Production of the wine has been overseen by Donato Lanati's ENOSIS Meraviglia Laboratory, in conjuction with a Scientific Steering Committee chaired by Matteo Ascheri, President of the Consortium for the Protection of Barolo Barbaresco Alba Langhe Dogliani, with the participation of Vincenzo Gerbi, Professor Emeritus of the University of Turin, and Vladimiro Rambaldi, Sole Director of Agenzia di Pollenzo S.p.A, and the collaboration of researcher Anna Schneider of the National Research Council – Institute for the Sustainable Protection of Plants.
According to a statement from the Barolo en primeur organizers the project is designed "to highlight the complexity of the diverse elements making up the historical Gustava Vineyard. The consequence of this diversity is that the 15 barriques of Barolo en primeur each have unique characteristics distinguishing them from each other."
The vineyard was divided into four "macro plots" based on altitude and exposure, and the grapes were harvested, and vinified separately, according to the age of the vines—some exceed 50 years in age, others are significantly younger.
The October 30 auction will feature Cristiano De Lorenzo, Director of Christie's Italia, as the auctioneer, with Evelina Christillin, President of the Museum of Egyptian Antiquities Foundation of Turin and former President of ENIT, the National Tourism Agency, acting as patroness. It will be presented and moderated by Valeria Ciardiello, a Sky journalist with a special interest in corporate social responsibility.