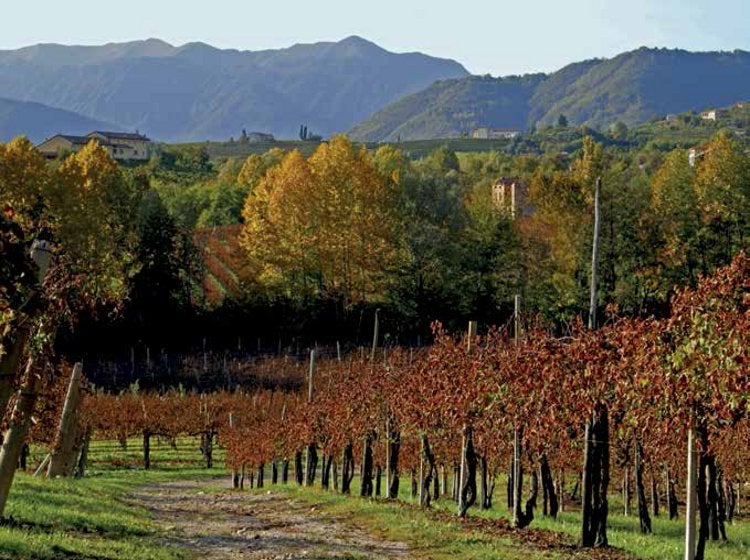 Despite the long post-2008 recession and the continuing malaise of the Italian economy, sales of Prosecco-the real thing from the Treviso province of the Veneto-have bucked the trend: Exports to the United States are up by 81 percent since 2009. It is not hard to understand why. Good Prosecco is a lifestyle choice, the ultimate wine of welcome. And when I have driven 200 miles (320km) along a dusty road, Champagne, for all its greatness and supremacy, doesn't quite do the business of simple refreshment. I want to slake my thirst and ease my frazzled mind with the floral herbal lift, the pure crisp fruitiness, and the flick of sweetness that are the calling cards of the best Prosecco.
In 2009, the Italian wine authorities took effective action to protect the reputation of Prosecco, which since that date can come only from Veneto and Friuli in Northeast Italy. In the rest of the country, the use of the name Prosecco on the label is now outlawed, and that name applies only to these defined territories; the Prosecco grape itself has been reborn as Glera, an old name that has been resuscitated.
Constructing a pyramid of quality, there have been big changes in the disciplinare (regulations) that govern the denominations. At the entry level, the DOC Prosecco runs for 155 miles (250km) across 556 communes from Vicenza, west of Venice, eastward to Trieste on the border with Slovenia. These Proseccos- simple, fresh, and straightforward-are generally planted on the flatlands. A very definite step up is the upgraded DOCG Superiore zone an hour north of Venice. This prime territory is on a hilly strip of land that lies beside the Piave River between the small towns of Conegliano and Valdobbiadene. The zone is equidistant between the Dolomites and the Adriatic, which have a positive effect on the climate. Valdobbiadene is the heart of production and has a greater concentration of hillside sites, some as high as 1,640ft (500m) above sea level.
At the top of the hierarchy, the great hill of Cartizze, close to Valdobbiadene, has its own denomination within the Superiore category. Here the clay/ sandstone soils and the sun-trap of its southerly aspect shape rich, definitely sweet, late-harvest Proseccos that drink well with fruit flans. Traditionally, Cartizze has been at heart a Cartizze made the ancestral way certainly has a niche market in satisfying the sweet tooth of Hong Kong and Shanghai epicures in the burgeoning Chinese market. Yet adopting the canny fine-wine collector's approach in terms of quality and value, look more closely around Valdobbiadene as a happy hunting ground for other great lesserknown terroirs-especially in satellite villages like San Pietro di Barboza, home to the Cartizze hill, but also in choice hillside vineyard sites (rive) that hug it.
One man in particular has been the trailblazer for this cream of Prosecco di Valdobbiadene across world markets these past 40 years. Primo Franco, scion of a respected Valdo house founded by his grandfather in 1919, at first hesitated to join the family business. "I wanted to become an architect; I also wanted to have fun," he recollects. "My father Nino, a keen watcher of people, was well aware of how a young man could learn by playing. So, he gave me the opportunity to travel the world and discover other people's realities… what there was beyond the Piave River. Then, through new knowledge, I would be able to face the world, which was suddenly starting to go very fast."
Since 1973, the year of his entry into Nino Franco, Primo has made radical changes in the winery, updating technology and work methods. But he has remained true to his original focus on a single product that he believed-and still believes-to be the best expression of the area: traditional Prosecco. On a late Indian summer day in October 2014, Primo hosted chez lui a remarkable 30-year anniversary tasting: a vertical of what is in effect the prestige cuvée that bears his name from the first vintage, 1983, up to the current 2013. The wines were served in reverse order, young to old.
For all their modern aids, these were traditional Proseccos with residual-sugar levels of 27-30g/l of wine. However, observers might evaluate individual vintages, virtually none showed oxidized flavors; the sugars were fully integrated and protective of the wine, with nothing cloying about them. It was all a matter of great terroir, technical know-how, and winemaking of feeling and flair- tradition meets modernity. Asked about his approach, Primo replied, " We always start from the premise that you can't make a great sparkling without a great base wine. In improving our vinifications, we are always mindful of the starting premise in the search for something exceptional. We use no sulfites now; nor do we rack after fermentation, preferring to leave the wine on its lees, which act as an antioxidant and add texture and complexity. As Franco Adami, Primo's great peer and friendly competitor, said on the day: "Primo has been the pioneer in presenting and distributing Valdobbiadene with style "on a tray," creating added value linked to a specific territory. All Valdo producers, houses, and growers, have owed him a great deal in bad times and good."
VALDOBBIADENE, OCTOBER 31, 2014 2013 Primo Franco
Limpid, pale, shimmering yellow, and a persistent subtle flow of little bubbles. Aromas of crisp apples and a sense of assimilated acidity; there's perfect poised ripeness and crisp yet svelte texture in the mouth, and a sprightly energy. Harmony and purity, above all, the residual sugar well integrated. Still a baby, from an exceptional year, with a long life ahead of it. Will go higher, but I've scored it as it stands now. | 17.5
2003 Primo Franco
Deep resonating gold, burnished but bright, no dark spots. A nose of fresh honeycombs; certainly charnu (fleshy) and intense, but without any heaviness. No sense of becoming elderly or the structure weakening. An impressive effort in a heatwave vintage. | 16.5
1992 Primo Franco
On to a higher plane. Deep, dramatic, but still bright golden hue; no hint of oxidized sensations to the eye or nose. Extraordinary intensity, yet with a firm, durable structure to lead it through a second life and into a third. Fantastic breadth, yet with a thrusting elegant length. Extremely complex, like a semi-dry Sauternes (30g/l residual sugar). A very great bottle. | 19
VALDOBBIADENE, OCTOBER 31, 2014
Above: Vines in Valdobbiadene, the heart of Prosecco, for which Franco has been a trailblazer for 40 years 1989 Primo Franco
Limited edition in magnums, with higher sugar levels but lower pressure (2.5 atmospheres), more frizzante than full spumante. Produced for the 70th anniversary of the house. The magnums slow down the evolution; still taut with much to give. | 16.5+
1988 Primo Franco
Bronze gold, again a frizzante style. Very attractive tastes-dried fruits, especially apricots-still fresh, but with a fine, gras mid-palate. For sautés in butter of fresh duck foie. Subtly gastronomic. | 17
1986 Primo Franco
Burnished, glittering gold. Has the smell and taste of a dessert wine: opulent but with elegant definition and sturdy core. Fine Sauternais in character but no hint of sickly sweetness. Perfect for a range of dishes: lobster, blue cheeses, and even sauced duck. | 17
1984 Primo Franco
The hint of amber to the hue suggests that this was once a great bottle that has seen better days. A touch maderisé but still not without interest. | 15.5
1983 Primo Franco
A fine end to an arresting tasting. This tasted like a very stylishly aged white Burgundy. As the French say, ça meursault. A real terroir wine-one tastes the earth, as the monks of Cîteaux used to say. The flick of residual actually enhances and lifts the wine, so this is to drink with many things. | 18
Postscript
To have a more collegiate view of the Prosecco Valdobbiadene Conegliano DOCG, I include here two great wines in the brut style (7-11g/l) tasted in March 2015.
2013 Adami Col Credas Rive di Soligo Brut Prosecco Superiore DOCG
From one of the highest sites in the Valdobbiadene zone, at 1,640ft (500m) altitude. Pale and pristine, a stream of tiny lace-like bubbles. One senses the altitude and the scents of mountain flowers and plants. The palate has an electric charge, a driving energy, propelling, yet with the subtlest completeness and douceur of the Valdobbiadene terroir. Dry but without asperity. As Franco Adami says, "We contemplate a rest of three to six months on the lees of the 'base spumante' but without leaving it in contact with the yeast after the second fermentation, which could decrease freshness." Brilliant. | 18+
2013 Masottina Contrada Granda Rive di Ogliano Brut Prosecco Superiore
From the far east of the DOCG above Conegliano, known for powerful, sturdy fruit, comes this remarkable single-vineyard brut (7g/l), from a special site affected by the Piave glacier. A captivating wine of really durable structure and enlivening mousse. It's a powerful wine but has a surprising linear finesse so is well suited to noble fish such as turbot and sea bass. | 18