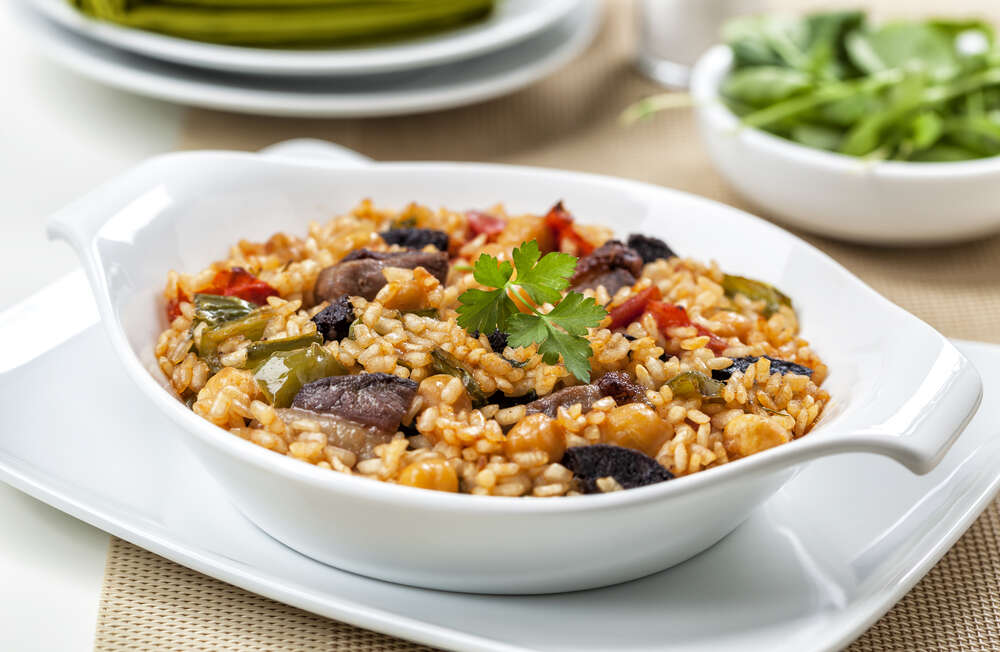 Joanna Simon's journey through classic wine country cuisines takes her to Portugal, and one of the country's signature rice dishes: arroz de pato.
The Moors introduced rice (arroz) growing to Portugal in the early eighth century and rice has been grown and eaten in the country more or less ever since, although for a long time it remained a food of the rich. It became much more widely eaten during the 20th century following a land and water management plan, boosted from 1921 by large imports from Brazil and Portuguese colonies in Africa. Today Portugal's per capita rice consumption is the highest in Europe, some distance ahead of second-placed Spain and third-placed Italy, and its 25,000 ha of rice fields (in the regions of Coimbra, the Tagus plain, and the Sado and Guadiana Valleys) put it equal third with Greece among European producers.
Portugal's abundant rice culture
Surprised? I was. And yet anyone who knows Portugal at least a little from visiting it will know that rice dishes abound, sweet as well as savory, and in restaurants and private homes. Among many popular dishes, aside from arroz de pato (duck), are arroz de marisco (shellfish), arroz de tamboril (monkfish), arroz de tomate, bolo de arroz (sweet rice cakes), and arroz dolce (rice pudding), and rice appears in any number of soups, meat stews, and side dishes with vegetables and legumes. But none of these dishes has become renowned outside Portugal in the same way that Italy's risotto or Spain's paella have—not to mention all the world-famous rice dishes of South East Asia and India.
Arroz de pato became popular around the middle of the 20thh century. Sometimes described in modern-day recipes as a traditional Alentejano dish, it's generally said to have originated in Braga in the Minho in the north west. Either way, it's now found throughout the country: I was first served it (and given the recipe) by Elizabeth Symington at Quinta do Bomfim in the Douro in the late 1990s.
As simple as three times three
It's a simple dish, relying on three principal ingredients and three main stages, but it takes care to get the balance right. The ingredients are duck, rice, and chouriço (a sausage not dissimilar to Spanish chorizo, but made using less paprika, more garlic and black pepper, red wine and sometimes other spices), and the first step is to poach the duck and, in most recipes, at least some of the chouriço, with onion, carrot, garlic and bay leaves. This produces a stock (broth) for cooking the rice. The second step starts with a refogado, using olive oil, chopped onion, and carrot (Portugal's equivalent of sofrito and soffritto), to which the rice is added and sautéd briefly, then the wine, followed by the stock (traditionally not degreased). It's a similar method to risotto except that the stock is added in one go, not little by little. The final stage, once the rice is cooked and the liquid almost all absorbed, is to stir the shredded duck and chopped chouriço into the rice and then to bake the mixture topped with slices of chouriço.
Some chefs use a few additional spices or herbs, and squeezing orange over the finished dish is fashionable in some quarters, but there are remarkably few variations, at least in Portugal. In South America, where arroz de pato is also popular, beer replaces wine in Brazil. In Peru, it's beer or local corn beer and peppers are also included.
The main variations, or rather discussions, in Portugal concern rice and wine. The traditional rice used is Portugal's carolino, a medium-to-long grain, starchy variety that absorbs flavors well (not unlike risotto varieties such as carnaroli, but starchier). But some people use the longer-grained agulha rice, which gives a less creamy result. As for the wine, some use red wine (as I do), some insist on white and I have also seen recipes specifying ruby port, sometimes in addition to wine.
Matching the richness
Arroz de pato is a fairly rich dish, but a versatile one; so can take various styles of accompanying wine. I always drink red with it, and usually Portuguese, but there are reds from elsewhere that go equally well. I like the wine to have some acidity or mineral freshness to cut the richness, which is something Portugal does well, but it's certainly not alone. To suggest just two regions beyond its borders: old-vine Beaujolais Crus, from producers such as Jules Desjourneys and Château du Moulin-à-Vent; and Priorat, above all Torres Mas de la Rosa 2017, an exquisite, ethereal Garnacha and Cariñena blend, rather than a more typical Priorat powerhouse.
From Portugal, the dark-fruited, fragrant intensity and mineral lift of Touriga Nacional, especially in blends, is usually a very good match. Standards of Douro reds are admirably high, but two I would like to single out are Quinta do Noval Reserva and Quinta Vale D.Maria, and could be a young vintage, such as 2017, or a mature vintage such as 2011. From Dão, I would mention Quinta dos Roques Reserva. Finally, a wine in a different mould that I enjoyed with arroz de pato last year: Aldeia de Cima Reserva 2017, a Vinho Regional Alentejano blend of Trincadeira, Alfrocheiro, and Aragonêz in which southern ripeness joins seamless vibrancy.