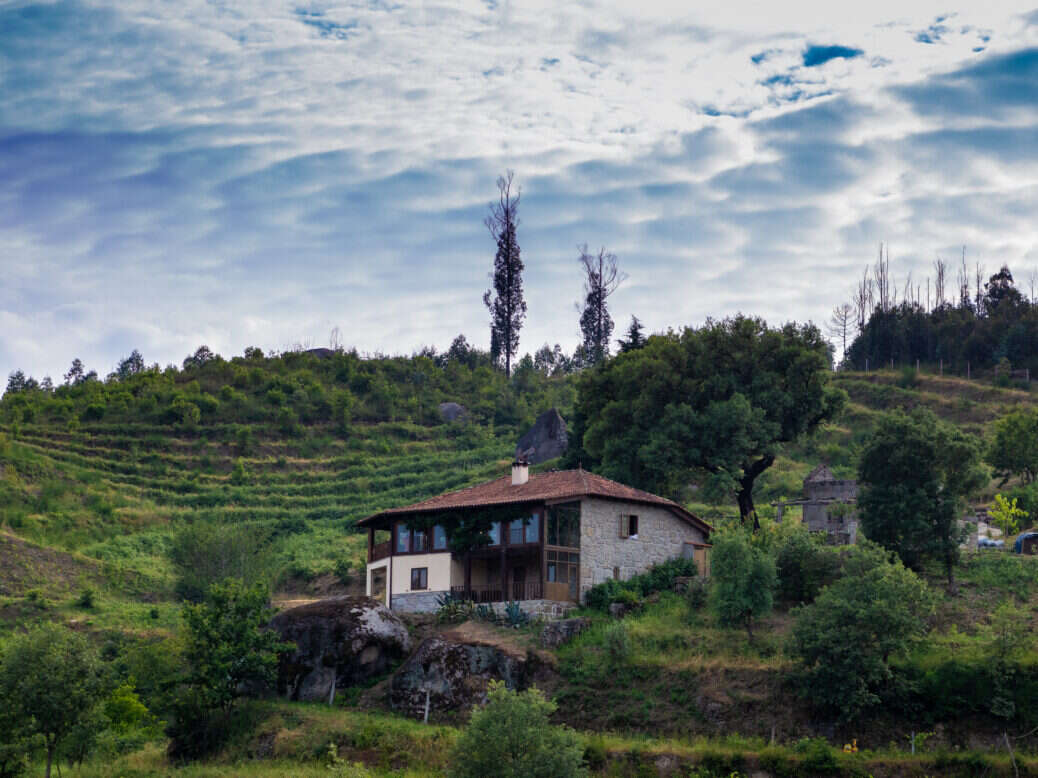 In the best conditions for grape growing in Portugal, the latest generation of Dão vignerons is making red and white wines that fully live up to the region's historic reputation as the "Burgundy of the South," says Paul White.
In a world where Burgundy prices have gone berserk, I have friends fretting over whether to drink an old bottle of grand cru something or other they'd picked up for less than 100 bucks once upon a time but that is now selling in second-hand markets for between $10,000 and $20,000. What does one do? Pay for your kid's university education, buy a new car, help save an endangered species, or simply feel guilty as each small sip slides down the gullet? Life's just not fair anymore.
Sadly, I don't have those problems, so I drink Dão wine instead. And for good reason. If it was good enough for Parisians and others back in the 19th century, when they used to call it the Bourgogne du sud, why not even more so now?
Burgundy of the south (or Dão du nord)
I first heard about 19th-century references to Dão being the "Burgundy of the south" at a wine conference in Viseu around 2010. It was a stunning revelation, because previously I'd been peppering my Dão wine notes with descriptions of Burgundian-like minerality, saline acidity, silky/velvety textures, funky red-fruit characters, and so on. More recently, Antonio Madeira mentioned it again, referencing a tag commonly used by Parisians during the phylloxera crisis.
All of this got me thinking: Surely it's quite a stretch to expect a blend of grapes rooted in granite/schist soils to replicate 100 percent Pinot Noir or Chardonnay grown in mixed limestone soils 500 miles (800km) farther north. Or is it? There must presumably have been some truth to the allusion, otherwise it wouldn't have come into being or gained currency. Certainly, similar allusions have been made elsewhere. Burgundy was a textural and stylistic concept throughout the 19th and 20th centuries (the much-vaunted iron fist in a velvet glove and so on), signifying something red-fruited, softer, richer, and more linear than black-fruited, chunkier, more structured Bordeaux.
Both California and Australia produced red and white "Burgundies" during this period. California blended "hearty burgundies" from Zinfandel, Petite Sirah, Bonarda, and so on well into the 1980s and beyond, with Australia stretching its pure Grenache or Grenache/Syrah versions into the 1990s (see d'Arenberg's Burgundy, now renamed Darry's Original). Topping off that wizardry, both countries made white Burgundies and Chablis from almost any grape varieties other than Chardonnay.
This all suggests that the concept of Burgundy may have been more fluid than we consider it today. Certainly, some Burgundians and négociants happily reshaped their reds with riper, fuller, black-fruited Syrah from Hermitage (or Algeria) well into the late 20th century. These 19th- and 20th-century "Hermitaged" Burgundies may have been more like modern Dão wines. Certainly, blending Syrah with Pinot Noir shifts the dynamics in ways not dissimilar to mixing Touriga with Alfrocheiro, Jaen, Roriz, and Tinta Pinhera.
Going in the opposite direction, it may have been that historic Dão wines, co-fermented field blends from as many as 50 different grape varieties, were more Pinot Noir-like then: more purely red-fruited, lighter colored, lighter-bodied, more linear and acidic.
So, from an outsider's perspective, if red fruits plus texture equaled Burgundy, who's to say the French weren't justified in reverse engineering that concept back onto Dão.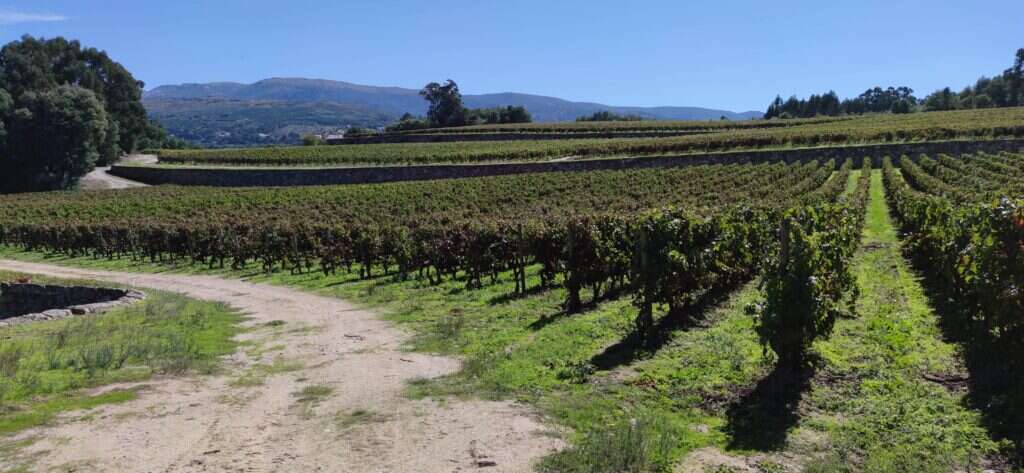 Love at first sight
I still remember barreling over Caramulo's last pass and down into its green hill country. It was love at first sight. Wherever you looked, there was a wall of mountains in the background: Serra Estrella, Caramulo, Nave, Buçaco, Açor. Deeply cut, ever-winding rivers have carved out slopes now graced with vines. It instantly reminded me of my former homes in Oregon and New Zealand—truly green places where you can smell and taste and feel natural freshness in the wine. Freshness is the key here, and "fresh" is the word that almost all Portuguese use to describe Dão wine.
Although I'd known a little about Dão wine before, I hadn't toured there until the noughties. Some of the wines I'd tasted previously, stretching back into the '60s and '70s, were remarkable survivors —kind of like old Burgundy or old Barolos or old Riojas, though not quite the same. They often smelled and tasted of matured red fruits, usually pleasingly linear, transparent, and structurally balanced. The best were pure, fresh, and silky.
What was striking was that the wines, both reds and whites, were obviously capable of evolving into something special over many decades. Although they were all blends, there was a universal typicity that always showed through. Dão transcends via the art of blending.
The where of it
On the map, Dão makes no sense climatically. Above is the Douro Valley, more often browned off and hot as hell. And below is Alentejo, pretty much the same, fighting off Sahara's Sirocco. To the east are Spain's baked-in wastelands. Only Bairrada, to the west, is as green—but it's also flatter, full of sand, and, more often, gets too much Atlantic rain.
Dão is the sweetest spot for growing grapes in all of Portugal, and in most years it captures just enough rainfall, sun, and heat consistently to grow its grapes to the edge of ripeness, without tipping into overripeness. As everywhere else, of course, climate change is an increasing worry. But still, between its warm center and cooler outer rim, vintage variation remains a large part of Dão's charm, ever tempered by a wide range of internal mesoclimates and differences in altitude. (The average is between 1,300 and 2,000ft [400–600m].) In the higher sites (up to 2,600ft [800m]), diurnal temperature shifts can plummet from 100° to 55°F (38° to 13°C) in summer, driving excellent natural acid retention.
All this plays out through the region's two classic blends. Although there is latitude for a wide range of varietal wines, Dão's primary red and white styles are capable of both blending across subregions and making site-specific statements without losing their recognizable Dão identity.
Dão's grape varieties
Making sense of Dão's grapes and blends presents the region's greatest challenge. Few of the world's consumers have ever heard of them or have a clue about what they smell, taste, and feel like individually. And yet the grapes are a remarkable lot. Several—including Touriga Nacional, Encruzado, and Baga—are thought to have originated in Dão before migrating on to other regions, with Alfrocheiro Preto, Tinta Pinheiro (Rufete), Barcelo, Alvarelhão, Uva Cão probable/possible pioneers, too.
Touriga Nacional and Encruzado make outstanding varietal wines and are generally recognized as Portugal's greatest red and white grapes respectively, though Alvarinho might argue Encruzado's claim to be the top white. Baga's birthplace in Dão doesn't make growers in nearby Bairrada very happy, since it's their main claim to fame; nor were those in the Douro thrilled when news broke that their star grape had moved up from Dão.
The core of every red blend is usually around half Touriga Nacional, with Alfrocheiro, Jaen (Mencía), Tinta Pinheiro, and/or Tinta Roriz (Tempranillo/Aragonez) completing the marriage. But blends can include bits of Trincadeira (Tinta Amarela), Bastardo, Baga, Tinta Cão, and several other less-known varieties, all components of the traditional field blends of the past. Similarly, Encruzado dominates white blends, with Bical, Cerceal Branco, and/or Malvasia Fina lending essential support. Again, Siria (Ruepeiro), Gouveio (Galicia's Godello), Uva Cão (Dog Choker), Rabo de Ovelha (Sheep's Tail), Barcelo (endangered), Arinto, and others are optional and were common in the old field blends.
All of this had generally narrowed down to three- or four-variety blends in late 20th-century formulas. Previously, field blends had dominated vineyards, with between 40 and 50 varieties in many case, echoing the earlier pre-phylloxera period, when it's anyone's guess how many varieties might have existed in Dão. Rioja is thought to have had more than 90 varieties pre-phylloxera, which dropped down to between six and ten afterward. Dão probably had even more.
Many mixed vineyards and autochthonous varieties have survived in Dão—testament to its ancient diversity. These grape varieties, as with most of those in Portugal, have a distinct DNA profile, as the only purely western Europeans to have survived the last glaciation. They differ from the grapes that flowed back into Europe from ancient Georgian/Armenian origins. (See my article, "In Search of Lost Vines," WFW 41.)
Dão grapes and blends
Touriga Nacional is usually low-yielding and intensely concentrated. It is definitely black-fruit in character, ranging between blackberries most often, blueberries sometimes, and black cherries and currants less so. Usually quite floral, often intensely violet-like, with balsamic and bergamot being other common descriptors.
It's quite tannic, too, those tannins having an impact primarily on the mid-palate, somewhat reminiscent of Malbec or Syrah. Touriga is often the butchest part of the blend, more about punch, muscle, and spine, with maybe a little frilly perfume dabbed behind the ears to throw expectations off balance.
A forever debate in Dão is whether Touriga Nacional is best kept pure or the better part of a blend, as Cabernet is to Merlot, or Syrah to Grenache. My own experience leans toward the latter. Having tasted the legendary Nelas Institute's historic reds going back yearly to 1958, it was striking how consistently good the blends were and how singular Tourigas rarely stood out as superior to the blend—generally only once in every four or five years.
José Lourenço of Quinta dos Roques has seven different vineyards of Touriga Nacional, where it provides the backbone of their traditional Dão blend, "both in terms of aromatics and mouthfeel, with sharp, dry tannin balanced by fresh acidity and structure. If not perfectly ripe, the end result will be unbalanced." Other winemakers often tip the warmer central regions surrounding Santar, especially Nelas and Mangualde, as Touriga's heartland where it ripens best.
Longtime Dão winemaker and Master of Wine candidate Tiago Macena offers a counterpoint based on his experience. He believes that Dão's wide range of mesoclimates—from its sunny, hot central vineyards, to the outer, more elevated, cooler sites—makes the cross-regional blending of a complete Touriga possible in almost any year.
This leads us on to Alfrocheiro, another Dão-centric grape variety that is absolutely essential to making the blend twist more toward Burgundy. As Quinta dos Carvalhais's head winemaker Beatriz Cabral says, "Alfrocheiro is the glue." It is a perfect foil to Touriga, providing cherry-like red-fruit and floral aromas and flavors, voluptuous textures, juicy acidity, and long, fine-grained, tail-end tannins. Where Touriga is all about up-front intensity, Alfrocheiro is more about seduction and finesse. Alfrocheiro extends the blend out the same way Graciano does for Tempranillo in Rioja, adding floral aspects, edge, and linearity.
Jaen deserves to break out in front of its more famous Spanish name, Mencía. (Alfrocheiro parented Mencía.) Legend has it that monks brought the grape up from that Andalusian town via the trunk of the Santiago Trail that weaves through Dão's interior. Somehow it stuck there, developing stylistic differences beyond its Galician cousins; Jaen is more often riper, fuller-bodied, and more complete unto itself. Leaning toward red-fruit and floral aromas and flavors, it also helps shift the blend away from Touriga's preponderant black-fruit characters, and fines out the texture.
Tinta Pinheira appears to be another fairly local grape, though no one has yet pinpointed exactly where it originates. Like Touriga, there is a Dão town named after it. Quite a bit grows just east of Dão and beyond into Spain, where it's called Rufete. A little less serious than some others above, Tinta Pinheira offers a fresher mix of red and black fruits, with softer, fleshier textures, lower acidity, and lowish tannins. Somewhat reminiscent of Gamay, its thin skin demands care during both fermentation and extraction. Taking a cue from Beaujolais, winemakers are increasingly producing Tinta Pinheira on its own as a not-too-serious, drink-young, easy quaffer. And it's catching on with consumers, too.
There is a general consensus among winemakers that the best varietal Alfrocheiros, Jaens, and Tinta Pinheiras favor the longer growing seasons of the cooler or more elevated parts of the Serra da Estrela corridor (Seia/Vila Nova de Tazem/Gouveia) and Penalva, to the northeast.
Somewhat more controversial is Tinta Roriz. Although it has probably been in both Douro and Dão as long as it's been in Rioja, it didn't become widespread in Dão until Sogrape actively encouraged plantings in the 1980s and '90s. Its advantages are reliable large yields, big bunches, high alcohol, a mix of red- and black-fruit characters, and tightly knit tannins.
Considering how all these grapes work together in a blend, Macena suggests that it depends on "where we want to carry our blend. A more concentrated blend will aim for Touriga Nacional, Tinta Roriz, and a riper Jaen. Something more delicate needs a lower proportion of Touriga Nacional […] more Alfrocheiro, Jaen, and Tinta Pinheira."
Dão whites and the classic blend
Dão's classic white blends and their component grapes, like many other Portuguese whites, are overwhelmingly mineral—sometimes similar to the mineral purity and elegance of Puligny, or the austere minerality of Chablis, or the denser, more visceral minerality of Meursault and Hermitage Blanc. But there is always a fundamental minerality. Although these wines aren't for everyone, Dão whites offer a universe well worth exploring for those who admire minerality.
Where the Portuguese manage to find some fruit characters in Dão grapes, the rest of us—having lived long in winescapes full of Kiwi Sauvignon, Gewurztraminer, and Chardonnay of all stripes—tend to find them a little more on the neutral side of things. While there can be some fruit or spice or herbal vegetative aromas, these often rest somewhere between subtle and subdued, hinting at best—a bit like smelling a glass of juice at arm's length.
Encruzado is easily one of Portugal's greatest secrets. It also has a fantastic name: En-crew-ZAAAHD-oh. A name that demands proper announcing. The kind made for tipping a feathered hat then spectacularly flourishing it through a deep bow that sweeps the feathers across the floor.
Quite Chardonnay-like, Encruzado can easily swallow up oak and incorporate it relatively quickly. Then again, Encruzado doesn't really need any oak because it offers compelling translucent crystalline characters on its own.
The grape's main assets are texture and the acidity that underpins it. Textures can range anywhere from finely viscous, to fat, oily, and unctuous, usually struck through with a sympathetic acid balance. Quinta dos Roques's Luís Lourenço notes that it's the only grape he knows that, as it ripens to higher sugar levels, sees acidity increase as well. That helps explain why it is one of Dão's most consistent grape varieties across all regions in all years and why it can age and evolve positively for decades. And also why it stands so well on its own, as well as being the foundation of Dão's classic blend.
Encruzado is very mineral, sometimes relentlessly so. But it can hint at marmalada's quince and carry citrus-lemon tartness in its acidity. Some winemakers manage to tease out discreet apple, pear, white peach, or apricot characters during fermentation, but these tend not to stick around after bottling. Several winemakers describe fresh artichoke characters. Quinta do Mondego winemaker Joana Cunha always finds grassy, herbal aromas: dry straw in hot years, green grass in wet ones.
She agrees that Encruzado's overwhelming character is mineral—providing a blank canvas of sorts. The thing is, the other grapes in Dão's classic blend are predominantly mineral as well, so the canvas is rarely filled with anything other than minerality on top of minerality.
Cerceal is a very acidic grape that adds structure and linearity to the blend. Even less aromatic and more mineral than Encruzado, it transforms Encruzado into something leaner, more extensive, and potentially more elegant. It rarely shows up as a varietal wine, and only in warm vintages (which isn't often), when it produces exceptional fruit characters. Its secondary role counterpoints the lack of acidity in Bical or Malvasia Fina in the classic blend. Nevertheless, it slots into Encruzado more frequently than those other grape varieties and pairs more sympathetically.
Bical was widely planted in the past to add volume, alcohol, and fruit aromas to the blend. At best, it adds subtle apple and white-grape notes that rarely shift the blend out of its mineral bias. It has a propensity to both lose acidity and gain alcohol suddenly, so it must be picked within a short window. Recent trends are to pick a couple of weeks early, to retain as much acidity as possible and gain tart apple and grassy aromas. Picked slightly unripe like this, it can shift the blend toward tighter Chablis-like characters.
Another widely planted grape variety in the past was Malvasia Fina. It can be intensely floral and spicy, with aromatics reminiscent of Riesling, Petit Manseng, or Alvarinho, though with considerably less acidity. Its fruit characters range from stone fruits through tropical fruit. Like Bical, Malvasia Fina has a tight picking window, to avoid a sudden drop in acidity, alcohol gain, and a tendency toward oxidation.
Winemakers are polarized over Malvasia Fina. Some hate it, others use it sparingly, others love it. Malvasia Fina can easily overtake a blend, dominating minerality in a way that transforms the traditional blend into something considerably fruitier and more New World-like. Not necessarily bad, but different. Where Bical and Cerceal often fail as varietal wines, Malvasia Fina has had success. Quinta das Maias has made it since 1996 but takes great care to capture it early, while it still has ample, naturally derived acidity. The Serra Estrella corridor produces its most delicate, sophisticated examples, and this is also the area where it shows up most as a component of the classic blend.
The return of the vigneron
Going way, way back in time, Dão was highly regarded for wines that Portugal's kings drank at the table. It was this long-standing historical reputation, reinforced by the Bourgogne du sud recognition, that led the dictator Salazar to centralize Portugal's wine production in Dão between the 1940s and the 1980s. Salazar decreed that Dão would produce wine for the whole country. Grape growers and private wineries were not allowed to make or sell wine, being required instead to turn their grapes over to Dão's cooperatives, which held those rights exclusively. This effectively stopped Dão's vigneron culture dead in its tracks.
It had also ruined Dão's reputation by the last quarter of the 20th century. Relegated to mass production of high-volume grapes and cheap wine, quality spiraled ever downward. This situation essentially froze Dão in time until the mid-1980s, when EU entry ended this monopolistic practice. More destructive was the disconnection between individual growers making their own wine from their own grapes, with all the knowledge amassed through that process. The situation was somewhat similar to South Africa's post-apartheid period, when it had to rebuild itself from the ground up.
Back in the late noughties, when I began intensively touring Dão's producers, wine culture there was in a somewhat disjointed state. It was as if two streams were running in opposite directions. One followed a handful of traditionalists trying to reconstruct vineyards and to master practices that were common to their fathers and grandfathers before the disruption of the Salazar years.
The other was a much more powerful mainstream force centered around larger, investor-driven wineries and university-trained winemakers. They were focused on modernizing Dão by adopting more New World-like "international" styles emanating from Australia and the Americas, further amplified by Robert Parker's love of ultra-ripe fruit, high alcohol, strong oak characters, and heavy extraction. Reinforcing all that, Douro was achieving considerable success following that same formula. Although these producers used Dão grapes, the resultant styles often seemed less about Dão than their processing, much of which was obscuring their essential Dão-ness.
The most significant change over the past decade has been Dão's rediscovery of itself. Growers and winemakers have a better understanding of their grapes, terroirs, and subregional differences. As they have learned to grow better fruit, that in turn has revealed terroir more readily. Winemaking has backed off in response, further aiding this revelation. Most important has been major reductions in the use of French oak, the time spent in this wood, and the increasing adoption of larger, 500–1,000-liter barrels.
Old concrete tanks have been brought back into use, spontaneous yeast ferments are on the rise, and foot-treading in lagares has become universal. Historical practices are on the rise. Although no one has yet begun replicating the 5,000–15,000-liter chestnut foudres that defined Dão's stylistic past, it seems bound to happen.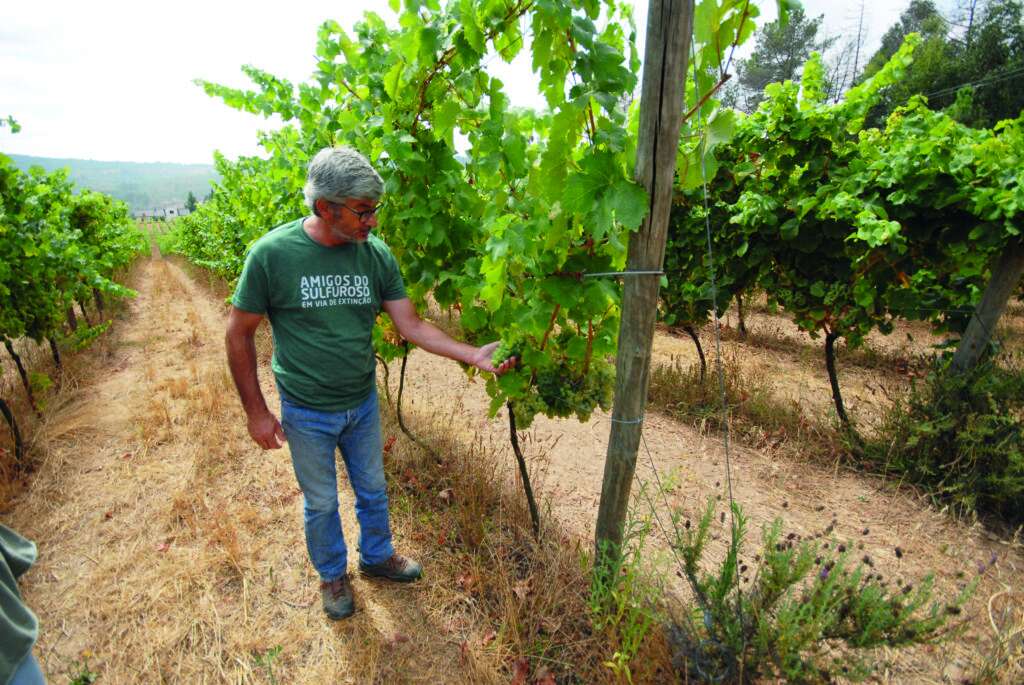 Of paramount importance has been a respectful return to Dão's historic blends. There has been an increasing uptake in bottlings of old field-blend vineyards that capture the original multi-variety mixes of the past. Locking in this ancient biodiversity, historically important old field-blend vineyards have been replanted vine for vine by producers like Casa da Passarella, Madre de Agua, and others.
Others replenish diversity by interplanting older varieties in their vineyards. João Tavares has 50 traditional Portuguese varieties in his new vineyard, several nearly extinct. Longtime champions of vinhas velhas (old vines)—like Casa de Mouraz, Passarella, Villa Nova de Tazim's cooperative, Quinta da Pellada, Antonio Madeira, Seacampo's Casa Américo—have demonstrated that these wines can command high prices, effectively becoming Dão's de facto answer to grand cru vineyards elsewhere.
Over the past 30 years, Dão has successfully restored its vigneron connections while mining its past for a way forward into a distinctive future: Dão has once again found its tao.
Dão highlights
Recent releases
Antonio Madeira Vinhas Velhas Branco 2019 (13% ABV)
From a century-old, white field-blend vineyard. Leads with a savory aromatic mix of minerals, with hints of green flower stems. Full-bodied with a finely oiled, seamless texture, infused with minerality and finely balanced acidity. | 92
J Cabral Almeida Liquen Alfrocheiro 2018 (12.5% ABV)
A classy nose laced with dried-herb high tones, cherry and pomegranate fruit notes, all dressed with a mineral gloss. Tightly knit, with a slick, silky, and highly polished mouthfeel. Ends with tart cherry-like flavors welling up on the finish. Balanced, elegant, and persistent—Dão's answer to Pinot Noir. | 96
J Cabral Almeida Musgo Field Blended Branco 2018 (13% ABV)
Opens with minerally, lemony, malty, cashew aromas and flavors, which carry on through a slick, finely viscous texture that ends with a really long (one minute plus), finely tapering, melt-away finish. | 18.5
Casa Americo Vinhas Centenarias 2013 (13.5% ABV)
From a 100-year-old mixed vineyard, from which they were unable to make wine in 2014 or 2015; 100% unoaked to preserve purity. Leads with a densely concentrated nose, packed with a broad mix of red- and black-fruit aromas, plus spice, flowers, and minerals. Velvety textures wrap around a complex core of deeply flavored red fruits. Long, tapered finish, with fruit welling up after swallowing. Elegant throughout. A Burgundian-like tour de force miraculously achieving barrel-like textures through stainless-steel production. Still fresh and looking forward to further evolution in coming decades. | 96
Casa da Passarella O Oenólogo Vinhas Velhas 2018 (14% ABV)
Lagar-made from a 90-year-old mixed field-blend vineyard with 24 red and white varieties, all replanted, vine for vine, in an adjacent vineyard. Complex black-fruit, mineral, and spice aromas, tightly married together into a harmonic whole, becoming broader and more floral with air. Plushly textured, densely concentrated, and explosive from the mid-palate on. Persistent, linear, and long-lived, so expect 30–40 years of great drinking. | 99
Casa da Passarella O'Fugitivo Vinhas Centrenarias 2016 (12.5% ABV)
From a 100-year-old vineyard, rented long-term from an old viticulturist who still farms it. Complex aromas of red fruits, delicate florals, and graphite minerality. Rounded and silky, with a lovely, slightly tart, juicy acidity. Very long and linear, with a tightly constructed, fine, firm structure. Real iron-fist-in-a-velvet-glove, Bourgogne-of-the-south kind of stuff. | 99
Casda de Mouraz Bot 2015 (14% ABV)
Lagar-made from vines more than 100 years old. Mineral graphite aromas over a baseline of savory cherry, raspberry, and pomegranate aromas. Sweet-fruited up front, followed by a long-lasting, melt-away finish. | 99
Ladeira da Santa Grande Reserva 2015 (13% ABV)
This lagar-made blend of 80% Touriga and Alfrocheiro displays a complex mix of spice and savory red-fruit characters. Dense, seamless, and smartly structured, with fine tannins and balancing acidity, which carries through a long, tapered finish. 96
Pedra da Paciencia Vinhas Velhas 2018 (13% ABV)
Smartly grown and made by adega (cooperative) Villa Nova de Tazem. Mix of mineral graphite and toasty aromas over a red-fruit base. Generously fruited, highly concentrated, and densely textured, with great length and balance. This is a very classy, complex wine that should evolve and drink for many years to come. | 95
Quinta da Bica Branco 2020
A freshly minted, minerally driven statement, with hints of vanilla and cashews behind. Medium-bodied and nicely weighted in the mouth, it displays fruit depth and expansion on the mid-palate, then carries on through a long, fine, slickly tapered, melt-away finish. An elegantly refined, impeccably balanced style. | 96
Quinta da Pellada Primus 2017
This old-vine field blend of 19 white varieties spent 36 months on lees, with little other intervention. Savory, minerally, refined, slick, seamless, and long, with a well-tempered, tapered finish. A Dão classic—but then so are all of Alvaro Castro's wines. | 98
Quinta da Pellada Tinto 2014 (13% ABV)
From the famous "Mata" block, the least homogenous of old Pellada's field blends. A fabulous wine, with great, spiky, edgy aromas reminiscent of Pinot Noir's wilder side. Tightly honed in the mouth, with tart, red-cherry fruits, kept taught from beginning to end by stiletto-like acidity. A stiletto-
in-a-silky-glove kind of a wine, which gets better and better the further down the bottle you find yourself. Another Dão classic. | 100
Quinta das Maias Jaen 2018 (13% ABV)
Mineral and graphite aromas over baseline black-cherry/berry characters. Concentrated, seamless, and linear; still tightly wound up, with firm, fine tannins and ample acidity. Needs a few years to show its best but is capable of slicing nicely through a thick steak now. 91
Quinta das Mestres Grande Reserva 2017 (13.5% ABV)
This 100% Encruzado backgrounds mineral aromas and flavors with subtle oak. Full-bodied, densely fruited and textured, it's cut though with pinpointed acidity that carries on through a long, melt-away finish. | 97
Quinta de Saes Branco Reserva 2020 (13% ABV)
A traditional blend of Encruzado, Cerceal, and Bical, offering lovely aromas of pears, white grapes, and apples, with hints of spicy star anise. It's well-rounded mouthfeel is slick, seamless, and persistent. A very refined, elegant style that should appeal to lovers of white Burgundy. | 94–95
Quinta do Escudial Garrafeira Vinhas Velhas 2013
A complex, interesting wine from 70-year-old field-blend vines, dashed with graphite-laced minerality from beginning to end. Leads with a nicely married, savory mix of black and red fruit and graphite minerality. Deeply concentrated, with firm tannins, for long-term drinking. | 93
Quinta dos Penassais Grande Reserva Touriga Nacional 2017 (14% ABV)
This traditional old style of Touriga opens with a savory mix of graphite minerality and blackberry/black-cherry characters. Great integration on both the nose and palate. Smooth and continuous in the mouth, with nicely tamed, smoothed out, powdery tannins, lengthened well beyond mid-mouth. A perfectly balanced Touriga with an unusual degree of finesse, impressively big but elegant. It should evolve for many years to come. | 98
Quinta dos Roques Encruzado 2019 (13% ABV)
Hints of vanilla over mineral with fresh sweetcorn notes, which, after airing, dissipate into more neutral, mineral aromas. Concentrated and finely focused in the mouth, with a condensed texture laced with subtle pickled-lemon flavors, balanced acidity, and a long, fine finish. An elegant, concise statement for Chablis lovers. I would love to taste this 5–10 years down the line. | 93
Taboadella Alfrocheiro Reserva 2019 (13.6% ABV)
An intriguingly exotic mix of red fruits and licorice, with backgrounded hints of tar on the nose. Slick, smooth, and seamless in the mouth, all tapering off into a long, melt-away finish. A beautifully balanced, elegantly styled Alfrocheiro. | 94
Tavares de Pins Rufia 2029 (11.5% ABV)
João Tavares's brilliant little natural wine is made from Tinta Pinheiro, Jaen, and Touriga Nacional—the normal proportions turned upside down. Because it's only 11.5% ABV, it doesn't qualify for DOC certification so is labeled as Portuguese wine, à la old Super-Tuscan rules. Nonetheless, it's a very pure expression of Dão, shouting spicy cherries, cherry skins, cherry pits… It also has a dagger-like edge to its acidity and is deceptively long, given the way its back-palate concentration sneaks up on you. Tavares believes that alcoholic fermentation ruins fruit expression and would go down to 10% ABV if he could get that low naturally. | 91 (96 for its nerviness)
Older wines
Centro de Estudo Vintivinicolas of Nelas Branco 1963 (13.3% ABV)
The winemaker was Alberto Vilhena. A co-fermented blend of 30–40% Encruzado plus Bical, Malvasia Fina, Cerceal, and Uva Cao. Malty, chalky, mineral aromas and a lemony, Chenin-like palate: clean, finely viscous, with firm citrus, lemon acidity. Surviving well, probably due to a cooler year and its balance of alcohol to acidity (pH 2.95, 10.28g/l TA).
Centro de Estudo Vintivinicolas of Nelas Branco 1964 (13.1% ABV)
Herbal high tones over baseline minerality. Thicker and richer palate than 1963, with supportive but less pronounced acidity. A beautiful wine, with an equilibrium between fruit, texture, and acidity (pH 3.22, 7g/l TA).
Centro de Estudo Vintivinicolas of Nelas Tinto 1963 (14.3% ABV)
A co-fermented blend of 25% Touriga with Alfrocheiro, Jaen, and Tinta Pinheiro. Raisined red-fruit, menthol, and pine-needle aromas. A great body and mouthfeel to this! Rounded in the mouth, with sweet, sappy, juicy fruits welling up on the finish. Drinking beautifully now, well balanced, with lovely fruit and texture. Tasted again 24 hours later, it held true, remarkably, but was starting to tire, with drying acidity (pH 3.46, 7.4g/l TA).
Centro de Estudo Vintivinicolas of Nelas Touriga Nacional 1963 (14.3% ABV)
This pure Touriga outclassed the blend from the same year. Bursting with dried black fruit, licorice, and violet-like florals. Sweet black fruits up front in the mouth, with licorice repeating throughout the wine's length. It finished with tart acidity. Retasted 24 hours later, the aromas had expanded, with additional date/fig notes, while adding mouth-filling textures and firm tannins.