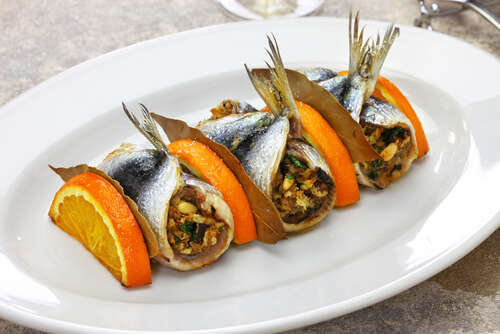 In the latest in her series exploring classic wine country dishes, Joanna Simon explores the history of a much-loved, pungently flavored Siclian dish, sarde a beccafico, and suggests some of the best wines to serve with it.
Almost every description and recipe for the classic Sicilian dish sarde a beccafico starts by explaining (and I'm following convention) that it is so named because the sardines (sarde)—boned, stuffed and rolled up to leave their tails standing up—look like a dish of figpeckers (beccafichi). These small, wild birds, which fed on ripe figs on the island in summer, were hunted and eaten, stuffed with their entrails, as a delicacy by the nobility. Sardines, in contrast, were abundant and cheap and therefore ideal for a making a poor-man's version, cucina povera as opposed to the cucina baronale, a distinction which was already taking hold in Sicily in the early sixteenth century.
Sarde a beccafico: An alternative explanation
I have never doubted this explanation, first given to me by the elderly nonna who cooked and served me sarde a beccafico in Monreale on my inaugural visit to Sicily decades ago, but I have come across one alternative explanation. It's entirely different and I haven't been able to verify it (if any Sicilian dialect speaker can, I would love to know), but it's a colourful one and bears repeating. In her book The Italian Cookery Course (2009), Katie Caldesi says: "Beccafico is the Sicilian word for two people who are having an argument and are face to face in conflict, just as the sardines lie in the roasting dish." The fact that recipes don't usually say the sardines should be laid facing each other is perhaps an argument against the theory.
When the dish first appeared is unclear, but it may have been early in the early 19th century, when beccafico was known to be a favourite dish of Maria Carolina, wife of Ferdinand, King of Naples and Sicily and later King of the Two Sicilies (Sicilian history is nothing if not complicated). Ordinary Sicilians were not only prohibited from eating beccafico, they could not have afforded to.
Just as it's not known exactly when sarde a beccafico was created, it's not certain where for the same reason: cucina povera was seldom documented until the twentieth century. Nevertheless, it seems likely that it originated in or around Palermo, where the royal court was based from 1805 on. Today, it's a dish made and eaten with many variations throughout Sicily, but sarde a beccafico alla Palermitana is the most characteristic and usually thought of as the classic, although not in Catania on the east of the island, where, the stuffing of the alla Catanese version includes cheese, either Caciocavollo or Pecorino, and the sardines are deep-fried.
Sweet-sour accent
Cheese is used in many variations. Others incorporate almonds or pistachios, some add parsley or wild fennel, some include orange zest or saffron or a pinch of sugar, but they all have the punchy, agrodolce (sweet-sour) accent that seems so quintessentially (but not exclusively) Sicilian. In sarde a beccafico alla Palermitana the essentials are sultanas, anchovies, pine nuts, black olives, capers, olive oil, lemon zest and juice, breadcrumbs, olive oil, and bay leaves to tuck in the dish between each fish.
It goes without saying that the emphatic flavours—oily fish, sweet, salty, sharp stuffing—can challenge accompanying wines, but they also give plenty of scope. There isn't one wine or style that is the clear winner. Red might not seem an obvious choice (except perhaps to devotees of red Vinho Verde with sardines) and I'm not advocating red wine over white or rosé, but Sicilians often drink red with fish. Both Vittoria in the south east and Etna provide opportunities.
From Sicilia to Galicia
A fragrant, light, sappy Frappato, such as Santa Tresa Rina Russa from Vittoria makes a more than companionable match, as does the tang of a more powerful Cerasuolo di Vittoria (Nero d'Avola leavened with Frappato), as long as it isn't an oaky example. Planeta is a favourite producer—although, here, too, you need to take care to avoid too much oak. Among white wines, Santa Tresa Rina Ianca Grillo Viognier pitches salted-grapefruit persistence, wild fennel, and roast almond against the apricot notes of Viognier, and almost seems to echo the stuffing.
As so often, the distinctive elegance and minerality of Etna wines scale the heights with food. And with sarde a beccafico you can pick your colour: the Pinot-meets-Nebbiolo litheness and perfume of the Nerello reds, the energy of the Carricante whites with their citrus, orange blossom, fennel and saline notes, or the spicy, briny, red fruit and orange zest charm of a rosato. Pietrodolce and Donnafugata produce very good wines in all three colours.
Just as I'm not advancing reds over whites or rosés, there's no need to stick to Sicily. Albariños that have been lees-aged, often stirred for a year or more, have an intensity, freshness and depth that cuts through and complements the sardines and their stuffing. Just one? It has to be Pazo de Señorans Selección de Añada.