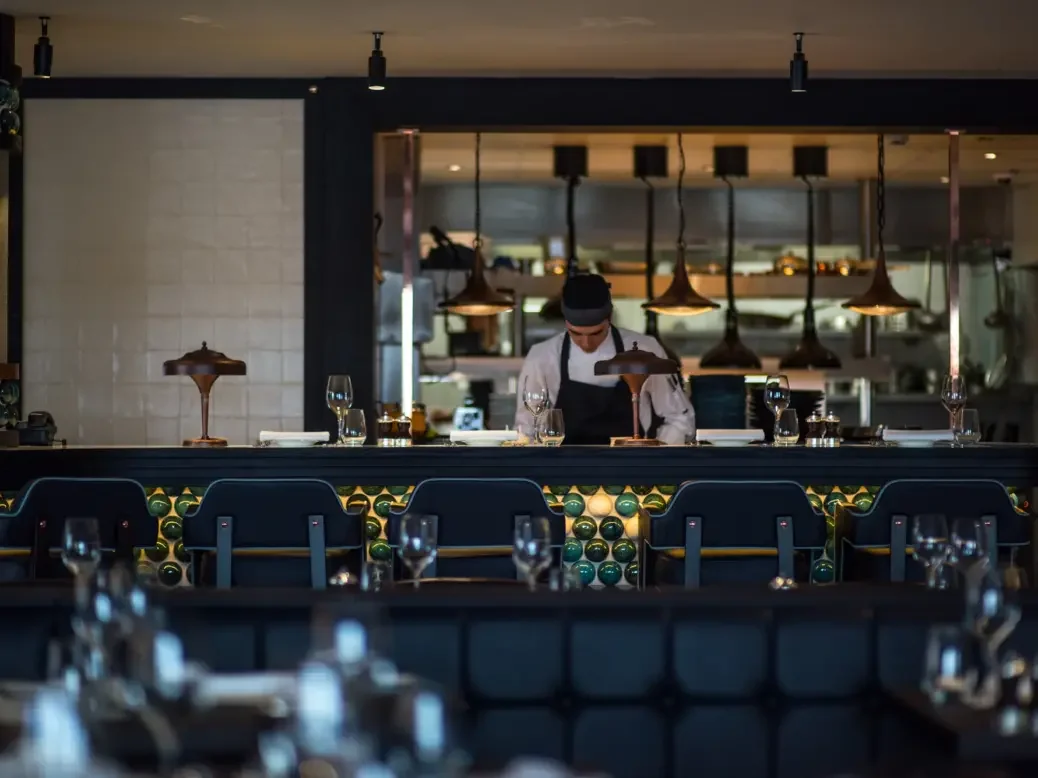 Margot, the Italian eatery perched on an unassuming corner in Covent Garden, is one of those restaurants whose impetus is on the whole dining experience, and the food, well of course the food is good, but the service and wine list really steal the show.
The dining area is set across two floors, one of which is adjacent to an open kitchen, leaving the pasta preparation process on display to the diners. Thanks to Fabled studio, the interior has clearly been designed with sophistication and elegance in mind; dark leather upholstery and a blue colour palette spanning the various furnishings do well to reproduce an authentic mid-20th century Italian atmosphere, inspired by the likes of Gio Ponti.
Most of all though, the restaurant has been lauded for its eccentric waiting team, energetic and tuxedo-clad every day of the week; not surprisingly, Margot was chosen by Tatler as the UK's restaurant with the Best Front of House in 2018. The wine list is also extensive, featuring over 350 wines. Here lies the only inconvenience of an evening at Margot: choosing from such a wide range of wines selected from an equally large range of wine producing countries. If you're in it for the wine, Margot should be high on your list of places to dine, featuring vintages as renowned as Giacomo Conterno's 2008 Barolo Riserva 'Monfortino'.
Wine and service aside, the ambience there makes for a convivial experience that will be well worth your time.
Wine List
Sparkling Wine
Lombardia
Ca' dei Frati, 'Cuvée dei Frati' NV
Monte Rossa, Franciacorta Brut Blanc de Blancs 'P.R' NV
Ca' del Bosco Cuvée Prestige Edizione 47, Franciacorta MV
Marchese Antinori 'Donna Cora' Franciacorta Satén 2016
Bellavista 'La Scala' Franciacorta 2015
Ca' del Bosco 'Annamaria Clementi' Franciacorta 2008
Ferrari Perlé Trento 2013
Ca' del Bosco Cuvée Prestige Edizione 43 Franciacorta MV
Veneto
Malibràn Sottoriva Col Fondo Per Tradizione Colli Trevigiani 2020
Adami Valdobbiadene Prosecco Superiore Rive di Farra di Soligo Col Credas, 2021
Cava 'Mas Sardana' Franck Massard NV
Digby NV
Bride Valley 2017
Rathfinny 2018
Champagne
Philipponnat Royal Reserve NV
Charles Heidsieck NV
Deutz NV
Larmandier- Latitude NV
Pascal Doquet Coeur de Terroir Grand Cru 2006
Jacquesson Dizy Corne Bautray 2009
Bollinger La Grande Année 2014
Dom Pérignon 2012
Pol Roger Cuvée Sir Winston Churchill 2012
Krug 2006
Philipponnat Clos des Goisses LV 1992
Louis Roederer Cuvée Cristal 1996
Delamotte 2014
Charles Heidsieck Blanc des Millénaires 2007
Salon 1997
Jacques Selosse 2005
Philipponnat Royal Reserve
Deutz 2013
Drappier Grande Sendrée 2010
White
Petit Arvine Les Cretes, 2021
Arneis Castello di Neive, 2021
Gavi FolIi e Benato, 2021
Nascetta Elvio Cogno, 2018
Riesling Langhe 'Petracine' G.D.Vajra, 2021
Timorasso Colli Tortonesi 'Fausto' Vigne Marina Coppi, 2019
Chardonnay-Nebbiolo 'Solea' Roagna, 2017
Chardonnay 'Rossj-Bass' Gaja, 2019
Timorasso Colli Tortonesi 'Grand Foste>' Magnum Vigne Marina Coppi, 2012
Lugana 'I Frati' Ca' Dei Frati, 2021
'Ca' Brione' Nino Negri, 2021
Curtefranca Bianco 'Convento Ss. Annunciata' Bellavista, 2017
Goldmuskatelle 'Amperg' Klaus Lentsch, 2017
Kerner Cantin a Valle lsarco, 2021
Gewrirztraminer Classico Cantina Di Terlano, 2021
Muller Thurgau 'Palai' Pojer e Sandri, 2018
TerlanerClassico Cantina Di Terlano, 2022
Chardonnay Vign'Asmara Bossi Fedigrotti, 2020
Terlaner 'Riserva della contessa' Manicor, 2021
Chardonnay 'Beyond The Clouds' Elena Walch, 2020
Terlaner I Grande Cuvee Cantina Di Terlano, 2015
TerlanRarita Cantina Di Terlano, 2006
TerlanerRarita Cantina Di Terlano, 1991
Ribolla Gialla Primosic, 2021
Friulano 'Clivi Brazan' I Clivi, 2019
'Illivio' Livio Felluga, 2020
Vitovska Azienda Agricola Zidarich, 2018
Pinot Grigio 'Dessimis' Vie Di Romans, 2021
Vintage Tunina Jermann, 2020
Friulano Miani, 2021
Rosazza 'Terre Alte' Livio Felluga, 2019
Pinot Grigio Savian, 2021
Soave Vecchie Vigne Superiore Tenuta Sant' Antonio, 2018
Soave Classico Vigneto Calvarino Pieropan, 2020
Soave Classico Vigneto La Rocca Magnum Pieropan, 2020
Pigato Maria Donata Bianchi, 2020
Poggio Argentato Fattoria Le Pupil le, 2020
Vermentino 'Balbino' Terenzi, 2020
Vernaccia di San Gimignano Tradizionale Montenidoli, 2021
Chardonnay Collezione Privata Isole e Olena, 2020
Batar Querciabella, 2019
Chardonnay Collezione Privata 'Magnum' Isole e Olena, 2019
Ornellaia Tenuta dell' Ornellaia, 2013
Verdicchio di Matelica 'Vigneti B' Belisario, 2019
Verdicchio <lei Castelli diJesi Classico Superiore Villa Bucci, 2021
Roncaglia Fattoria Mancini, 2021
Est! Est!! Est!!! Di Montefiascone 'Poggio <lei Gelsi' Falesco, 2021
Frascati Superiore Riserva 'Luna Mater' Fontana Candida, 2017
Trebbiano Spoletino 'Anteprima Tonda' Antonelli, 2018
'Cervaro della Sala' Antinori, 2019
Trebbiano d' Abruzzo 'Marina Cvetic' Masciarelli, 2020
Greco di Tufo Villa Matilde, 2021
Fiano di Avellino 'Exultet' Quintodecimo, 2020
Vigneti del Vulture Pipoli, 2020
Fiano Minutolo Polvanera, 2021
Pietrabianca 'Castel del Monte' Tenuta Bocca di Lupo, 2020
Grillo 'SurSur' Donnafugata, 2022
Etna Bianco 'Ciuri' Terrazze dell 'Etna, 2020
Carricante 'Eruzione 1614' Planeta, 2018
Zibibbo 'Integer' Marco De Bartoli, 2019
Chardonnay 'Passobianco' Tenuta Passopisciar, 2020
Vermentino di Gallura 'Limizzani' Surrau, 2021
'Entemari' Pala, 2020
Bourgogne Aligote Domaine de la Jobeline, 2019
Chablis Vieilles Vignes Domaine Testut, 2021
Chablis Grand Cru Les Preuses William Fevre, 2010
Nuits St Georges 1er Cru Terres Blanches Domaine des Pedrix 2019
Auxey-Duresses Les Ruchottes Domaine Gerard-Boyer 2019
Chassagne-Montrachet Les Blanchots Dessous Domaine Coffinet-Duvernay, 2018
Meursault Le Limozin Chateau de Meursault, 2020
Puligny Montrachet ter Cru Le Cailleret Domaine de Monti lie, 2012
Meursault 1er Cru Charmes Domaine Lafon, 1999
Corton-Charlemagne Bonneau du Martray, 2000
Le Montrachet Grand Cru Domaine Le Moine, 2013
Macon-Ige Chateau London Jean-Claude Boisset, 2020
Pouilly Fuisse Vieilles Vignes Domaine Jeandeau, 2020
Rully 1er Cru Montpalais Dorn a i ne Jean- Baptiste Pon sot, 2021
Sancerre Les Caillottes Jean-Max Roger, 2021
Sancerre Les Monts Damnes Francois Cotat, 2018
Clos des Treilles Nicolas Reau, 2019
Roche aux Moines Domaine Aux Moines, 1998
Muscadet Sevre et Maine Sur Lie La Cuvee Lucien Bernard Maillard, 2021
Montlouis Sur Loire Clos De Mosny Domaine de la Taille aux Lo ups, 2015
PinotBlanc Z. Humbrecht, 2020
Sylvaner 'Lutzeltal' Aghate Bursin, 2020
Gewurztraminer Grand Cru 'Furstentum' Alber Mann, 2018
Riesling Clos Saint Hune Trimbach, 2011
Chardonnay 'Les Chalasses' Vielles Vignes Ganevat, 2018
Marsanne Yves Cuilleron, 2021
Crazes-Hermitage Blanc Domaine Alain Graillot, 2021
Condrieu 'La Petite Cote' Yves Cuilleron, 2020
Cassis Clos Saint Magdeleine, 2021
Coteaux d'Aix-en-Provence Blanc Villa Baulieum, 2013
Mas de Daumas Gassac VdP de l'Herault Mas De Daum as Gassac, 2018
Chateau Pape Clement Blanc, 2012
Chateau Laville Haut Brion Blanc, 2007
Gruner Veltliner Federspiel Domane Wachau Austria, 2021
Gruner Veltliner Kollmutz Smaragd Rudi Pichler, 2020
Rotgipfler Weingut Johanneshof Reinisch, 2020
Schwalbenschwanz Goldmuskateller Weingut Andreas Tscheppe, 2020
Riesling Maximin Grunhaus Monopole Von Shubert, 2021
Riesling Graacher Himmelreich Spatlese Joh. Jos. Prum, 2016
Riesling Josephshofer G.G Reichsgraf von Kesselstatt, 2016
Diszn6k6 Tokaji Dry Furmin Disznoko, 2020
Malvasia Istarska 'Alba Antigua' Matosevic, 2016
Albariiio 'Lusco' Pazos de Lusco, 2021
Verdejo Martinsancho, 2021
Viura 'Conde Valdemar' Bodegas Valdemar, 2020
Pansa Blanca Raventos de Ale Ila, 2020
Pianalto Douro Branco Casa Ferreirinha, 2021
Encruzado Quinta dos Carvalhais, 2019
Loureiro Branco Aphros, 2021
Chardonnay 'Arthur' Domaine Drhouin, 2020
Sauvignon Blanc 'Aveta' Stag's Leap Cellar, 2019
Chardonnay Williams Selyem, 2017
Chardonnay 'Wild Boy' Au Bon Climat, 2019
Chardonnay Ca/era, 2020
Chardonnay By Farr, 2021
Fiano 'River Sand' Unico Zelo, 2020
Riesling 'Polish Hill' Grosset, 2022
Sauvignon Blanc Greywacke, 2020
Chardonnay Greywacke, 2017
Chardonnay Whitehall Neil Ellis, 2020
Chenin Blanc 'Karma' Dorrance, 2018
Rosé
Rondinella rosato Tenuta Sant' Antonio, 2021
Etna rosato Pietradolce, 2021
'Rosa del Rosa' Proprieta' Sperino, 2021
Negroamaro 'Calafuria' Magnum Torma resca, 2021
Minuty 'Cuvee Prestige' Chateau Minuty, 2021
Tavel Prieure de Montezargues, 2018
Red
Pinot Noir Les Cretes, 2021
Nizza 'Bansella' Prunotto, 2020
Ghemme 'Chioso <lei Pomi'Rovellotti, 2015
Lessona Proprietii Sperino, 2016
Barolo Oddero, 2018
Barolo 'Mosconi' Chiara Bosch is, 2017
Barolo Riserva 'Perno' Giovanni Sordo, 2009
Barolo Bussia 'Cicala' Aldo Conterno, 2017
Barolo 'Ciabot Mentin' Ginestra Domenico Clerico, 1996
Barolo Riseva 'Monfortino' Giacomo Conterno, 2008
Barbaresco Produttori del Barbaresco, 2019
Barbaresco 'Albesani' Cantina del Pino, 2017
Barbaresco Riserva Sottimano, 2013
Dolcetto D'Alba Vigna Scot Cava I lotto, 2021
Barbera d'Alba G.D.Vajra, 2021
Barbera d' Asti 'Ca' di Pian' La Spinetta, 2019
Langhe Nebbiolo 'Montegrilli' Elvio Cogno, 2018
Sito Moresco Langhe Gaja, 2020
Valtellina Superiore Inferno Aldo Rainoldi, 2019
Sfursat 5 Stelle Nino Negri, 2018
Maurizio Zanella Ca' del Bosco, 2018
Maurizio Zanella Ca' del Bosco, 1999
Lambrusco dell' Emilia Solco Paltrinieri (Sparkling), 2021
Macchiona La Stoppa, 2012
Teroldego Rotaliano Mezzacorona, 2019
Lagrein 'Rubeno' Andrian, 2022
Pinot Noir 'Mason' Manincor, 2020
Pinot Noir 'Red Angel' Jermann, 2020
Refosco 'Mont di Zuc' Miani, 2019
Bardolino 'Corte Giara' Allegrini, 2021
Cabernet Franc Savian, 2019
Scaia 'Paradiso' Tenuta Sant' Antonio, 2019
Valpolicella Ripasso 'I Progni' Le Sa Iette, 2019
Rosso dell'Abazia Serafini E Videtto, 2017
Amarone della Valpolicella Valpantena Bertani, 2019
Amarone della Valpolicella Dal Forno Romano, 2008
Tonos Prima Terra, 2017
Mongrana Querciabella, 2020
Chianti Classico Berardenga' Felsina, 2020
Chianti Rufina Riserva Vigneto Bucerchiale Selvapiana 2019
Cabernet Sauvignon 'Collezione De Marchi' Isole e Olena 2017
Flaccianello della Pieve Fontodi, 2018
Oreno Tenuta Sette Ponti, 2018
Percarlo San Giusto a Rentannano, 2008
Camartina Querciabella, 2003
Montevertine 'Le Pergole Torte' Montevertine, 2018
'Colore' Bibi Graetz, 2019
Tignanello Antinori, 2016
Morellino di Scansano Riserva Fattoria Le Pupille, 2016
Insoglio del Cinghiale Tenuta Campo di Sasso, 2020
Saffredi Fattoria Le Pupille, 2015
Lupicaia Castello del Terriccio, 2013
Ampio Le Mortelle, 2016
Guidalberto Tenuta San Guido, 2020
Orma Tenuta Sette Ponti, 2012
Messorio Le Macchiole, 2014
Sassicaia Tenuta San Guido, 1994
Solaia Antinori, 2018
Ornellaia Tenuta dell' Ornellaia, 2009
Sassicaia Tenuta San Guido, 1999
Masseto, 2018
Rosso di Montalcino Capanna, 2019
Brunello di Montalcino Mastrojanni, 2017
Brunello di Montalcino Riserva Vigneto Paganelli II Poggione, 2016
Brunello di Montalcino Vigneto furnace La Ragnaie, 2012
Brunello di Montalcino Riserva Fattoria dei Barbi, 2016
Brunello di Montalcino Riserva Soldera, 2001
Rosso Conero Belisario, 2019
Sagrantino di Montefalco Antonelli, 2016
Montepulciano d'Abruzzo Villa Gemma Masciarelli, 2017
Taurasi Pietracupa, 2015
Aglianico del Vulture Vigneto Serpara Re Manfredi, 2013
Negroamaro Pignataro, 2021
Susumaniello, A Mano, 2021
Primitivo di Manduria Felline, 2020
Nero d'Avola 'Sherazade' Donnafugata, 2021
Cerasuolo di Vittoria Gulfi, 2021
Perricone 'Furioso' Assuli, 2017
Etna Rosso 'Guardoilvento' Tenuta Passopisciaro, 2018
Mille e Una Notte Donnfugata, 2018
Duca Sanfelice Ciro Classico Superiore Riserva Librandi, 2019
Cannonau di Sardegna Surrau, 2020
Carignano del Sulcis Riserva Rocca Rubia Santadi, 2019
Barrua Agricola Punica, 2019
Bourgogne Rouge 'Cuvee Margot' Olivier Leflaive, 2018
Marsannay 'Boivins' Domaine Coillot, 2017
Gevrey-Chambertin 'Champerrier Vieilles Vignes Jean Tardy & Fils, 2018
Nuits St George 1er Cru Les Pruliers Henri Gouges, 2018
Morey-St-Denis 1er Cru Les Ruchots Frederic Magnien, 2017
Clos St-Denis Grand Cru Domaine Heresztyn, 2013
Clos de Vougeot Grand Cru Lucien Le Moine, 2016
Richebourg Grand Cru Domaine A-F Gros, 2012
Maranges 1er Cru La Fussiere Domaine Bertrand Bachelet, 2017
Santenay Vieilles Vignes Rene Lequin-Colin, 2018
Pommard 1er Cru Les Chanlins Thomas Morey, 2018
Volnay 1er Cru Les Fremites, Henri Boillot, 2016
Beaujolais Chiroubles Domaine Desvignes, 2020
Saumur-Champigny Les Poyeux Domaine Des Sables, 2020
Sancerre Rouge Vincent Prinard, 2017
Cabernet Franc Clau de Nell, 2019
Pinot Noir 'Les Grands Teppes' Ganevat, 2020
Syrah 'Ardeche' Christophe Curtat, 2016
Gigondas Grand Romane Domaine Pierre Amadieu
Crozes-Hermitage Vieilles Vignes Tardieu-Laurent, 2020
Cornas 'Equis' Maximime Graillot, 2017
Cote Rotie Sereine Noire Domaine Yves Gangloff, 2010
Chateauneuf du Pape Chateau de Beaucastel, 2009
Hermitage Rouge Jean Louis Chave, 2013
Chateau Lagrezette, 2016
Domaine Saparale, 2016
Chateau Cantermerle 5eme Cru Classe, 2013
Chateau Belgrave 5eme Cru Classe, 2009
Chateau La Lagune 3eme Cru Classe, 2005
Chateau Les Ormes De Pez Cru Bourgeois, 2008
Chateau Montrose 2eme Cru Classe, 2008
Cos d'Estournel 2eme Cru Classe, 2006
Chateau Grand Puy Lacoste 5eme Cru Classe, 2006
Chateau Lynch Bages 5eme Cru Classe, 2006
Chateau Pichon Longueville Comtesse de Lalande 2eme Cru Classe, 2014
Chateau Mouton Rothschild 1er Grand Cru Classe, 2001
Chateau Talbot 4eme Cru Classe, 2005
Chateau Leoville-Las-Cases 2eme Cru Classe, 1995
Segla Chateau Rauzan-Segla, 2014
Chateau Giscours 3eme Cru Classe, 2016
Chateau Lascombes 2eme Cru Classe, 2011
Chateau Palmer 3eme Cru Classe, 2005
Clavis Orea Grand Cru, 2019
Petit Figeac Grand Cru, 2016
Chateau Tertre Roteboeuf Grand Cru, 2000
Chateau Cheval Blanc 1er Grand Cru Classe A, 1981
L'Hospitalet de Gazin Chateau Gazin, 2016
Chateau Nenin, 1999
Chateau La Conseillante, 1997
Chateau Vieux Certain, 2008
Chateau Smith-Haut-Lafitte, 2008
Mas de Daumas Gassac VdP de l'Herault Mas De Daumas Gassac, 2018
Ultreia Saint Jacques Raul Perez, 2018
Tempranillo Crianza Monteabellon, 2018
Valbuena No.5 Bodegas Vega Sicilia, 2015
Prior Scala Dei, 2017Tempranillo 'Elaboracion Especial' Beronia, 2019
Vina Tondonia Reserva Bodegas R.Lopez de Heredia, 2010
Rioja Reserva Culmen Bodegas LAN, 2017
Grenache 'Mimetic' Gallina de Piel, 2020
Colheita Tinto Quinta dos Carvalhais, 2019
Quinta do Noval, 2014
Quinta da Leda Casa Ferreirinha, 2017
Acaibo Trinité Estate, 2012
Othello Dominus estate, 2013
Opus One 'Overture' Opus one, NV
Zinfandel 'Prototype' Precision wine, 2020
Cabernet Sauvignon Reserve Daou, 2018
Lindaflor Malbec Bodega Monteviejo, 2015
Syrah 'EG' Matetic, 2016
Cabernet Sauvignon Prelude Vineyards Leeuwin Estate, 2017
Shiraz Balhannah Shaw + Smith, 2013
Pinot Noir Tolpuddle Vineyard, 2020
Pinot Noir McCrone vineyard Ata Rangi, 2017
Grenache Noir Momento, 2018
Syrah Mullineux, 2011
Sweet Wines
L'Anclaie Coteaux du Layon Beaulieu Chateau Pierre-Bise, 2014
Maury Grenat Mas Mudigliza, 2018
Pinot Gris Vendage Tardive Trimbach, 2009
Chateay d'Yquem Chateau d'Yquem, 1996
Moscato d'Asti Contero, 2021
Aleatico Passito Tiko Mocavero, 2013
Passito Albana di Romagna Bissoni, 2016
Malvasia Passito Vigna del Volta La Stoppa, 2007
Moscato Rosa Schweizer Franz Haas, 2019
Moscato Passito di Strevi Marenco, 2009
Passito di Pantelleria 'Ben Rye' Donnfugata, 2021
Vin Santo del Chianti Classico Isole Olena, 2009
Recioto della Valpolicella Classico Giovanni Allegrini, Allegrini, 2016
Disznoko 1413 Tokaji Szamorodni, Disznoko, 2018
Klein Constantia, 2018
Fortified Wines
Marsala Superiore Dolce 5 Annie, Curatolo Arini, NV
Marsala Vecchio Samperi Ventennale, De Bartoli, NV
Fino Sherry En Rama, Tio Pepe, NV
Noe 30yo Pedro Cortado, Gonzalez Byass, NV
Apostoles 30yo Palo Cortado, Gonzalez, NV
Boal 10 Years Old, Justino's, NV
Colheita, Justino's, 1996
Single Vineyard Unflitered LBV, Quinta do Noval, 2016
Noval 20 Year Old Tawny, Quinta Do Noval, NV