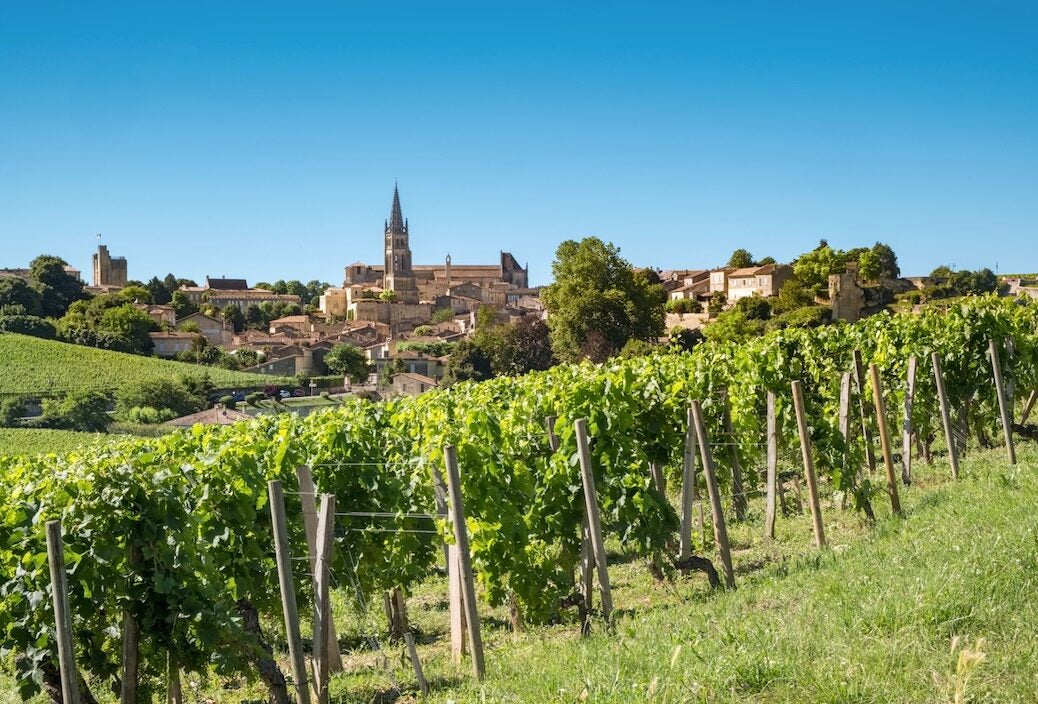 This week, as the 2020 Bordeaux en primeur campaign hots up, The World of Fine Wine is publishing the in-depth analysis and detailed tasting notes of our longstanding Bordeaux critic, Michael Schuster, based on his extensive tastings at the châteaux this Spring.
One of the world's most experienced and respected Bordeaux critics, Schuster has been covering en primeur for WFW for the better part of two decades, and has attended the Bordeaux en primeur tastings for 37 of the past 40 vintages. The 2020 Bordeaux en primeur campaign will be his last, as he concentrates on other projects both within the region and elsewhere.
Our coverage began with Schuster's introduction to this fine vintage followed by Part One and Part Two of his Left Bank 2020 Bordeaux tasting notes. Today we conclude with the Right Bank, featuring Schuster's detailed notes on the wines of St-Emilion, Pomerol, Lalande de Pomerol, and Castillon-Côtes de Bordeaux.
2020 Angelus 1er Grand Cru Classé A
(53% M, 47% CF; 40hl/ha; 14.5% ABV)
Scented and mineral to smell; full, vital in acidity, firm in tannin, the firmer side of 2020 structure; sweet, fragrant, discreet, and long to taste, typically graceful, black-cherry cored, refined and beautiful with great length across the palate, a touch alcohol-warm, and very long in delicate, floral fruit and fragrance to finish. Complete and polished, if a touch tannin-severe. Will need a decade in bottle at least. 2032–55+. 93–94+
2020 Château Ausone 1er Grand Cru Classé A
(50% M, 50% CF; 66% harvest; 26hl/ha; 14.5% ABV; 100% new)
Dense and with a beautifully defined pure, floral, and subtly black-cherry-sweet nose; rich, full, fresh, and very finely tannic within its restrained profile; there is nothing pronounced here, just a beautiful core of mineral-infused, black-cherry fruit, very limestone-marked, long, delicate, graceful, and transparent, always mouthcoatingly fragrant, and with great persistence. Absolutely benchmark, top-notch, limestone-plateau St-Emilion, with its characteristic combination of delicacy and power, more reminiscent of the best red Burgundies. A wine of exceptional subtlety and scope allied to a beautiful fruit presence. Probably accessible relatively early but, of course, with years of perfumed pleasure down the decades. 2035–60+. 97–98
2020 Chapelle d'Ausone
(60% CF, 35% M, 5% CF; 33% harvest)
Fresh black-cherry and limestone-mineral, with a touch of new-wood vanilla, fine and subtle; rich, fullish, fresh, finely tannic; freshly sweet to taste, deep, racy, and refined, a most toothsome combination of juiciness, finesse, transparency, and freshness, with a delicate limestone minerality and gently aromatic length; the slightly dry presence of wood tannins appears on the finish, covered by the flesh up to that point, though this will doubtless be absorbed in due course. A very similar quality level to the
La Clotte, with perhaps a touch more "raciness." 2030–50+. 92–94
2020 Barde-Haut St-Emilion
(80% M, 20% CF; 14.5–15% ABV; 60% new)
Oaky to smell; rich, full, fresh, a very nice balance at its highish alcohol; despite a touch of warmth on the palate, this is a very nice medium-full St-Emilion impression, with a delicious freshness, a lovely, rich, slightly oaky, house-style fruit, sapid, tasty, moderately complex, but with nice length, of flavor and of finish. Quite powerful, yes, but not too much in its plump and oaky style. Will need a bit of time, but be very satisfying. 2027–40+. 89–90
2020 Château Beau-Séjour Bécot 1er Grand Cru Classé
(85% M, 13% CF, 2% CS; 42hl/ha; 14.5% ABV; 65% new)
Rather closed to smell, but distinctly wild-rose floral and also distinctly mineral; rich, fresh, very finely tannic, a beautiful, delicate, yet in no way weak balance; gently deep and freshly sweet, pure, transparent, effortless, almost filmy, with no sense of textural tannin thickness, fragrant and mineral behind the freshly ripe fruit; a bewitching complexity as you linger over the wine, and finally a lovely perfume to finish. A most winning combination of intensity, effortlessness, and finesse. Gloriously complete. Along with the Juliette Bécot, a magnificently complete pair. 2028–2050+. 93–94
2020 Château Beauséjour (Duffau-Lagarrosse) 1er Grand Cru Classé
(81% M, 19% CF; 27hl/ha)
Lovely nose; dense, mineral-saturated, fine, discreet black fruit; very full, but not heavy, nicely defined by its acidity; a flavor with a marked mineral element behind the abundant fruit, complex across the palate, with an almost creamy character from the new oak and Merlot combination, then very long to finish. This will make a fine bottle given sufficient time. Like the Larcis Ducasse and the Pavie Macquin the "house" style of winemaking means all the wines have a noticeable tannic structure to them, more than many these days. So, you need to like that per se, or give them a fair amount of bottle-aging. 2032–55+. 93–94
2020 Château Belair-Monange 1er Grand Cru Classé
(98% M, 2% CF)
Dense and minerally to smell; concentrated, fairly full, very fresh in acidity, very fine in its firm tannin; deep, sweet, fresh; transparent, complex, and aromatic, a beautiful, complete limestone plateau GCC St-Emilion; pure, transparent, racy, and refined, with great, sweet, scented length. So fresh, pure, and transparent, without a trace of "thickness," the concentration notwithstanding. Top-notch St-Emilion. Will need, ideally, a couple of decades. 2038–60+. 95–98
2020 Château Berliquet 1er Grand Cru Classé
(69% M, 31% CF; 40hl/ha; 14.5% ABV; 50% new)
A persistent nose of blackberry-ripe fruit; concentrated, vital in acidity, quite firm in tannin; long and ripely tasty, both fine and chewy at once, and with excellent length. You can taste the more clayey terroir here of Berliquet's "Côte"; there is more matter than in Canon (made by the same team) and less finesse. That said, this is very good. 2028–40+. 90–92
2020 Château Canon 1er Grand Cru Classé
(68% M, 32% CF; 40hl/ha; 14.5% ABV; 50% new)
Soft black-cherry ripe to smell; rich and powerful, vital, and fine in tannin; deep and rich and long and close-grained, clearly from a hot year and, as regularly recently, always with a touch of alcohol warmth, but an elegant, graceful, sweet-cored, fleshy wine, with an absolutely effortless tannin texture and great length to finish. The Right Bank year's ample proportions, but with the plateau's limestone grace and restraint. 2028–48+. 93–94
2020 Château Canon La Gaffelière 1er Grand Cru Classé
(55% M, 30% CF, 15% CS; 32hl/ha; 13.5% ABV; 50% new)
That attractive Cabernet Franc wild-rose, herbal, floral character to smell; a fine balance, medium-full, fresh, finely tannic, typically harmonious; top St-Emilion, characteristically classy, refined, long, and subtle, and with Cabernet-Franc-fine, racy, scented length. A beautiful wine, dense yet light-seeming, too. 2028–50+. 92–93
2020 Château Cheval Blanc 1er Grand Cru Classé A
(65% M, 30% CF, 5% CS; 74% harvest; 37hl/ha; 14.2% ABV; 100% new)
A lovely, gently black-fruit-cored nose, deep, mineral, and oh so subtle; rich, ample, concentrated, tannic, and vital wine, a splendid long-term constitution; dense but not hard in any way, deep and sweet and packed with fruit, very long in the mouth, a wine of great complexity and scope, so complete and so persistent. Its tannins and acidity make for an upright, aristocratic, imposing presence, where you sense a wine with a structure of a different order from most on the Right Bank, one that is also effortlessly polished. I can think of no Cheval quite like this in the recent past. Magnificent wine. And only just over 14% ABV! Director Pierre-Olivier Clouet noted how difficult the wine had been to assemble, because the tannins were, unlike the 2019's at a similar quantative level, so tiring. Ideally wait 15 to 20 years before broaching? 2035–60+. 97–99
2020 Le Petit Cheval Grand Cru
(59% CF, 41% M; 12% harvest; 14.3% ABV; 50% new)
Subtly ripe black cherry fruit to smell; rich, compact, tight wine, fresh and firmly tannic; richly sweet, dense, ample, both firm and fleshy at once, but succulently juicy within the tannins, with a vital, refereshing acidity and magnificent length. A really "serious" Petit Cheval, with fruit from more parcels than usual making it a particularly complete example. Fairly long-term wine, though. 2032–45+. 92–93
2020 Clos Fourtet 1er Grand Cru Classé
(90% M, 7% CS, 3% CF; 40hl/ha; 14.5% ABV; 50% new)
Soft and plump to smell and subtly mineral; rich, fleshy, vital in acidity, finely firm in tannin; rich, juicy, succulent flavor, with a beautiful complexity and length of taste; prolonged, lively, leisurely, linear, mouthwateringly tasty and very long to finish; a rich, complete, classy limestone wine. Elegance, freshness, great finesse, great beauty. A most successful Clos Fourtet. 2028–50. 93–95
2020 Clos de L'Oratoire Grand Cru Classé
(90% M, 10% CF; 36hl/ha; 13.5% ABV; 40% new)
Lightly herbal, Cabernet Franc wild rose to smell; very nicely balanced, full, elegant, stylish wine, fresh and very finely tannic; ripe in dark, black-cherry fruit and with excellent length. Long, easy, graceful wine, drinkable from relatively early on.
2023–33+. 89–90

2020 Clos Saint-Martin Grand Cru Classé
(80% M, 15% CF, 5% CS)
Rich and very black-cherry ripe to smell; fairly full, nicely concentrated, fresh, lightly tannic wine, beautifully balanced; sweetly ripe, freshly defined, fleshy textured, long and gratifying and succulent, along with good St-Emilion's flowing character and with very nice, slightly warm length. A most attractive 2020 St-Emilion GCC.
2026–36+. 90–91
2020 La Clotte Grand Cru Classé
(85% M, 15% CF; 100% new)
Fresh, dense, ripe red-fruit and gentle mineral impressions; moderately concentrated, fresh, delicately tannic, very nicely balanced, if a touch alcohol-warm; sweetly, freshly ripe, long and juicy to taste, St-Emilion pure and transparent, graceful, subtly complex, gently racy, and with lovely aromatic length. A refined, restrained, limestone-Côte wine, which wears its 100% new wood completely imperceptibly.
Six years after the Vauthier purchase and, after a long period of underperformance, surprisingly gorgeous. 2028–50+. 92–93
2020 Château Côte de Baleau Grand Cru Classé
(50hl/ha; 14.2% ABV; 20% new)
Dense; black-fruit ripe, rich, fresh, finely if slightly drily tannic; richly ripe, a combination of matter, freshness, and vitality, with good length of flavor at the level, and a very nice persistence of fruit. Delicious. Best Côte de Baleau so far? 2025–35+. 90–91
2020 Le Dôme Grand Cru
(80% CF, 20% M; 13.9% ABV)]
Complex and minerally to smell, ripe red fruit, subtle and lingering, too; rich, vital to vigorous in acidity, finely but firmly tannic; lean and linear, a sort of "tautly contained flesh" profile, very red-fruit ripe in flavor, long and tasty and mouthcoating, and finely aromatic to finish. Within this slightly austere style, this is sweet and juicy, long, racy, and refined to taste. Complete, aristocratic, harmonious wine, which will be very attractive given time. 2032–50+. 93–95
2020 Château Figeac 1er Grand Cru Classé
(37% M, 32% CF, 31% CS; 77% harvest; 13.9% ABV; 100% new)
Dense, richly blackcurrant-ripe and mineral-saturated, rich, ripe, and fresh to smell; concentrated, vigorous, firmly but finely tannic, a superb balance; a dense, compact, vivid wine, sweet, vital, racy, and mineral, beautifully sustained and carried across a very long palate, and with an aroma and fruit finish that mirrors all that has gone before. Figeac's roughly one-third-each blend here is a clear Right Bank bonus in the current climate, so here there is Cabernet Franc floral subtlety, Cabernet Sauvignon tension and complexity, and, of course, that core Merlot flesh. This is the third great wine in a magnificent trio, brimming with class, scope, finesse. Great, glorious, beautiful Figeac. Should already be lovely within the decade, and then for three more and beyond. 2030–60+. 97–98
2020 Château Fonbel Grand Cru
(65% M, 20% CS, 8% CF, 7% CARM)
Floral-herbal Merlot; medium-full, fresh to lively, finely tannic; an attractive sweet core of fruit, nice length to taste, classy, subtle, with a long aftertaste, too. A delicious petit bon bon. 2026–36. 89–90
2020 Château Fonplegade Grand Cru Classé
(90% M, 10% CF; 50% new)
Dense yet closed, ripe fruit and subtle minerals; fullish, fresh, and finely tannic; sweet, vivid, very fine-textured wine, with a lovely purity of fruit; fragrant, subtle, succulent, long to taste, appetizing and persistent. A much more restrained, natural, appetizing wine than it used to be up until 2017. For me, at least, the winemaking, plus a reduction from around 90–95% new wood to 50%, make of this a much more flowing and transparent St-Emilion style, a much truer and much more agreeable expression of its locale. Chapeau! 2026–38+.
2020 Château La Gaffelière 1er Grand Cru Classé
(14.15% ABV; 60% new)
Discreet, scented, gently minerally on the nose; full, fresh, finely tannic, a very nice balance; sweetly ripe in flavor, gently juicy, with lovely freshness, quite fine and transparent and with excellent length. A bit marked by its new wood, which dries the texture slightly, but this is a very attractive overall quality. 2026–40+. 90–92
2020 Grand Barrail Lamarzelle Figeac Grand Cru
(72% M, 28% CF)
Cabernet Franc-scented, floral nose; full, fresh, moderately tannic; a finer St-Emilion than in the past, subtle, gently racy, freshly sweet in flavor, with good length to finish. Very nice indeed, a touch of warmth on the finish, but noticeably more refined in texture than hitherto. 2026–40+. 90–91
2020 Les Grandes Murailles Grand Cru Classé
(100% M; 38hl/ha; 14.5% ABV; 50% new)
Black ripe to smell; full, supple to fresh and with a firm tannin; a touch austere this, especially after the Côte de Baleau. A touch limestone-lean in style, but pure and linear, and with good length. You taste a touch of the occasional severity of the year in texture, but this is long and linear, slightly reserved, with very nice fruit persistence. Discreet and very calcaire! 2028–38+. 90–92
2020 Château Haut-Simard Grand Cru
(60% M, 40% CF)
Dense to smell, mineral, and spicy; fullish, firmish, light dry tannin, an easy balance if slightly dry in wood-tannin, but pure and delicate red-fruit ripe within this frame. More scope and complexity, less fruit-round and fleshy, less immediate than the Simard. 2028–45. 90–91
2020 Château Larcis Ducasse Grand Cru
(90% M, 10% CF; 38.8hl/ha; 14.5% ABV; 50% new)
Dense, but fine, black-fruit ripe and minerally; full and vigorous, and firm but fairly fine in tannin; deep and vital and ripe in flavor, quite strong, but not coarse, long and juicy and sapid within the overall gentle force, aromatic and minerally behind this, and with fine length. Tasty above all, and probably needing a good decade to soften its sinews. 2030–50+. 92–93
2020 Château Monbousquet Blanc Bordeaux Blanc
(62% SB, 38% SG; 47hl/ha; 12.7% ABV)
Pale lemon; a fine, fragrant, floral Sauvignon; medium-full, fresh and restrained; dry but ripe, a very attractive Sauvignon Blanc flavor, refreshing, long to taste, gentle, juicy, appealing, and effortless. Much less "overripe" and tropical than it used to be, and with less oak presence, too. Delicious. Now to 2025+. 90–91
2020 La Mondotte 1er Grand Cru Classé
(90% M, 10% CF; 36hl/ha; 14.5% ABV; 60% new)
Intensely black-fruit ripe on the nose; deep, concentrated wine, with a marked acidity, and fine but long-term, slightly chewy tannin; very ripe black cherry in flavor, the acidity giving it a great sense of vigor and vitality, long and close-grained, racy and exciting to taste, intense yet without excess, and with splendid length. A very harmonious Mondotte in its intense, showy, somewhat muscular style. It will need a decade at least to really begin to show its paces. 2032–50+. 93–94
2020 Moulin St-Georges Grand Cru
(85% M, 15% CF)
Very nice nose, dense, fragrant, raspberry-sweet, and lightly oak-vanillary; fullish, moderate in concentration (as usual), fresh to lively in acidity; a sweetly ripe fruit, gently fleshy in texture, subtly mineral, an almost lemony fresh definition, making this particularly attractive in the year where, even if fresh, so much is "supple"; a particularly good juicy core for Moulin St-Georges; long and even and classy, with lovely fruit-fragrant persistence. A typical refined, classic expression of good mid-rank St-Emilion. A great success. 2028–45+. 91–93
2020 Château Pavie 1er Grand Cru Classé A
(50% M, 34% CF, 16% CS; 31hl/ha; 14.8% ABV)
Inky, dense blackberry and vanilla; rich, full, vital in acidity, firm tannin; the typical core finesse, 1er cru complexity and length within the still slightly wood-dry tannins, but pure and linear and fine and, as always, you taste the vineyard's finesse at the heart of the firm frame; here is a fine rich fruit core, with considerable scope, plenty of long-term promise, and fine, scented length. Still clinging to the old "house style" texture a bit, meaning that, at a similar quality level, it doesn't have the sheer class of the Clos Fourtet, for example. 2032–50+. 93–94
2020 Arômes de Pavie Grand Cru
(50% M, 50% CF; 35hl/ha; 14.8% ABV)
That very slightly raisiny character on the nose and on the taste still; full, firmly tannic; a lovely sweet core fruit, with a very nice fresh acidity, pure and fine, and with excellent length. This is very good, if still a touch within the old tannin texture "house" style, but the texture now is perhaps more the quality of the wood than the (much reduced) quantity? And the wood tannin is also a bit hardened by the alcohol level. 2028–40. 90–92
2020 Château Pavie Macquin Grand Cru Classé
(31hl/ha)
Dense and oaky on the nose, black-fruit dominated; very full, firmly tannic, and very marked by its acidity; this gives all the concentrated ripe black fruit a long and linear character, a great support to the wine, and a very nice definition to the finish; long and elegant and refined for the cru, and with great aromatic length. A lovely Pavie Macquin in its slightly sturdy style, indeed maybe the best to date? But its structural combination of tannin and acidity mean it will be years in the mellowing. 2032–52+. 92–94
2020 Château Peymouton Grand Cru
(79% M, 12% CF, 9% CS)
Ripe red-cherry nose; medium-full, tastily fresh in acidity, defined by a barely perceptible tannin, a very nice balance; sweetly ripe red fruit to taste, nice depth of flavor, supple, fleshy, straightforward, silky textured, and with good length. Delicious lesser St-Emilion. Sapid, succulent, immediate. 2022–28+. 88–89
2020 Poesia Grand Cru
(60% M, 40% CF; 14.5–15% ABV; 60% new)
That floral, wild-rose / herbal character of the Cabernet Franc to the fore; rich and full and fleshy, with a vital acidity and fine, slightly wood-dry tannin; long and ripe and lively to taste, with a clear complexity, a real tenacity and intensity of flavor, and excellent fragrant length. A very complete St-Emilion in its slightly oaky style. Will need a bit of time. Lovely in its way. A great success. 2028–40+. 90–92
2020 Château Quinault L'Enclos Grand Cru
(78% M, 22% CF; 21hl/ha;13.9% ABV)
Black purple, tight, freshly ripe, subtly mineral; full, more than sufficient concentration, vital in acidity, and firmly, but not coarsely tannic; fresh and sweetly ripe fruit, pure and subtly mineral and transparent at its heart, and with lovely length. Very good Quinault, but its tannic frame gives this a certain muscularity. 2028–38+. 91–93
2020 Château Quintus Grand Cru
(63% M, 37% CF; 15.4% ABV)
Refined and subtle to smell, Cabernet Franc finesse plus ripe blackberry Merlot; both full-bodied and refined, fresh in acidity, finely dry in tannin; pure and sweet in fruit, quite complex and aromatic, but it is also a touch fiery in impression (so, not exactly an "easy" mouthful), long across the palate, gently racy, mouthcoating, and with fine, sweet, fragrant length. Fine wine, but the tannins rendered a little harder and drier on the (warm) finish by the alcohol level. Refined St-Emilion in a very well-managed, but clear current "hot-year" style. 2028–40+. 92–93
2020 Le Dragon de Quintus Grand Cru
(85% M, 15% CF; 15.2% ABV)
Intense, sweet, blackberry-fruit nose; full, fresh, finely tannic; well-balanced at its 15+% ABV, neither aggressive nor hot, though you do (if sensitive to it) notice the warmth on the back-palate and finish. Very sweet in flavor, moderate complexity, a nice transparency and purity of fruit, and good, light, fragrant length. Alcohol apart, stylish mid-rank St-Emilion. 2024–32+. 89–90
2020 Château Saintayme Grand Cru
(100% M; 14.5% ABV; 30% new)
Soft, sweet, and fragrant to smell; full, supple, very gently tannic; flowing, lesser
St-Emilion, with a lovely juicy core, just a touch of tannin, and with excellent fruit length. 2023–33+. 89–90
2020 Château La Serre Grand Cru
(85% M, 15% CF)
A bit "woody" to smell (as it was in the 2018 wine); rich, fairly full, fresh, lightly to moderately tannic; sweetly fresh in flavor, moderately complex, typical flowing, easy St-Emilion profile, a touch of new-oak dryness of texture, but a most attractive richness, a gentle fleshy texture and excellent length. It will surely absorb its slightly evident new wood. Very nice indeed. 2025–35+. 89–90
2020 Château Simard Grand Cru
(60% M, 20% CF, 15% CS, 5% PV)
That wild-rose herbal Merlot fragrance; fullish, fresh to lively, lightly tannic; modest flavor and length, but round and fleshy, with an easy, appealing strawberry-sweet fruit, and persistence. 2026–36. 89–91
2020 Château Teyssier
(80% M, 20% CF; 13.9% ABV)
Fresh, fragrant, and mineral to smell; fullish, very vital in acidity, drily firm in tannin; crisp and vibrant in flavor, transparent in character, of modest scope but nice length. Less immediately drinkable than usual—"It's got a wee bit of an edge to it," as the winemaker Neil White said. Usually accessible at once, this will probably need at least a couple of years in bottle first. 2024–30. 89–90
2020 Château La Tour Figeac Grand Cru Classé
(70% M, 30% CF; 32hl/ha; 14% ABV)
Freshly ripe, quite intense, a crisp black-fruit nose, and yet clearly a warm vintage character; full, vital in acidity, moderately firm in fine tannin, with an excellent fruit concentration; an attractive length across the palate, with a very sapid quality of tannin, and a very nice fragrant black-fruit persistence. An excellent LTF, which will need a few years to polish but which, as so often, one could drink with pleasure relatively early, too. 2026–40+. 90–92
2020 Château Troplong Mondot 1er Grand Cru Classé
(85% M, 13% CS, 2% CF; 14.5% ABV; 60% new)
Very ripe, plummy Merlot nose; rich, firm, very finely tannic, a fine constitution and a really beautiful balance; deep, sweet, long, and racy, with both density and freshness, an understated wine that is both relatively large in scale and yet discreet and absolutely effortless, too; very mineral behind the ripe, fleshy fruit, prolonged, graceful, constantly vibrant, and with lovely fruit persistence to finish. Very classy. Splendid wine, with a tannin texture so fine that this is likely to be deliciously enjoyable relative early, too. A world apart, and a much more attractive one, from
the run of heavyweights that preceded Aymeric de Gironde's first vintage in 2018. 2028–60+. 94–96
2020 Château Trottevielle 1er Grand Cru Classé
(50% M, 50% CF; 60% harvest; 14.5% ABV; 100% new)
Dense, dumb to smell, but you sense a farily massive presence; full-bodied, fresh to vital, firm in tannin; ripe and sweet and mouthcoating, long and fragrant, firm and yet elegant, complex, tenacious, slightly old-fashioned in its tannin feel, but complete and with excellent length. Sweet, fresh, stylish in its slightly rugged way. Very long and detailed, the texture just a touch coarse by today's very polished standards. Needs a decade minimum. 2030–50+. 93–94
2020 Dame de Trottevieille
(40% harvest, 14.5% ABV)
Faintly herbal, faintly mineral; well enough balanced in the firm "house" style, fresh to vigorous in acidity, slightly chewy in tannin; a nice purity of ripe fruit, with some length of flavor and very nice fruit persistence. In its slightly solid style, a good, savory second wine. 2026–36+. 89–90
2020 Vieux Château Mazerat Grand Cru
(90% M, 10% CF; 13.2% ABV)
Dense and closed, but a fresh, mineral-backed black fruit there; rich and vital, finely and firmly tannic; long and linear and with the "seam" of acidity very clear to taste throughout. The attractive "flesh" is tautened by the acidity, making the wine a touch forbidding at the moment, but this is restrained and graceful and with very nice aromatic presence and persistence. 2028–40+. 90–93
2020 Château Beauregard
(70% M, 30% CF; 36hl/ha; 14% ABV; 45% new)
Soft, rich, black-cherry and oak-vanilla nose, very appealing; rich, supple, fresh, and very finely tannic; sweet, gently caressing wine, very long to taste, complex, vibrant with an acidity so well-integrated for the year; black-fruit ripe, yet fresh and creamy, linear and fleshy at once, deep and satisfying, and with lovely length. The 30% Cabernet Franc class and finesse is very clear, and this is beautiful wine, the very image of fine Pomerol at a (relatively) affordable price. 2026–40+. 91–93
2020 Château Clinet
(88% harvest; 43hl/ha; 15+% ABV)
Inky; very ripe and quite oaky to smell; rich and powerful, very fresh in acidity, very finely tannic, well-balanced in this rather potent style; a surprising and individual wine, it is both powerful and fine at once, full of perfume within its ample proportions, long and subtle across the palate, transparent and intense, but without any sense of "thickness," tenacious to taste, and with a great fragrant persistence. It is, not surprisingly, a touch warm on the palate, if you are sensitive to the level of alcohol, which also hardens the very fine tannins slightly. But it is also racy and delicate, almost fine liqueur- or spirit-like, but without the alcohol. Quite how it will develop in bottle, I have no idea, but it is certainly a very individual, a sort of special expression of the year. Plenty to consider. 2028–50? 93–94+
2020 Château Clos l'Eglise
(14.5–15% ABV; 60% new)
Dense and closed, gently mineral and black-fruit ripe; very full, fresh to vital in acidity, finely firm in tannin; Pomerol's elegance of flavor within the firm tannic frame, long and graceful, gently racy, even if the frame dominates somewhat for the moment, but the finesse, complexity, and length are there—and with a fine, prolonged, spicily scented finish. Large-scale, slightly alcohol-warm, but refined within its style, too. Will need years to mellow fully. Very good, in its powerful way. 2030–50+. 92–94
2020 Château La Conseillante
(87% M, 13% CF; 39hl/ha; 14% ABV; 70% new)
Plump and black-fruit mulberry-rich to smell; a full-bodied, but very elegant balance, with noticabley fresh acidity and very fine-grained tannin; rich, dense, vivid wine, its generosity well-defined by its freshness, both plush and close-grained in texture, it's ripe black fruit mineral-marked, and very aromatic to finish. A beautifully poised wine, of great complexity, continuing the recent move to a slightly richer, denser style, and this has a lovely sense of completeness from start to finish. Another 2020 that is "classic" in the best sense(s). 2032–30+. 95–97
2020 Château du Domaine de L'Eglise
(96% M, 4% CF; 35hl/ha; 14.9% ABV; 50% new)
Rich, vigorous, quite powerful, quite tannic; chewy (as is the nature of the vintage in many cases), plenty of savor, nice and long to taste within its muscular frame, a vigorous defining acid, close-grained, moderately complex, and with good tasty length, if a touch warm, a touch bitter on the finish. Overall quite strong, needing a decade at least. 2030–45. 90–92
2020 Château L'Eglise-Clinet
(90% M, 10% CF; 14.4% ABV; 80% new)
Dense, fine, and scented to smell, freshly black-fruit ripe, subtle and persistent; rich, fairly full, fresh to lively, very finely tannic, a lovely restrained yet ample balance; deep, subtly oakily sweet, a dark ripe fruit, creamy and fresh at once, very long across the palate, very long to finish; aromatic and complex, effortlessly graceful, refined and complete. There is more structure here than in the Petite Eglise, less immediate charm, but there is a superb fruit core and wonderful scope. A beautiful expression of the terroir and of the year. 2032–50+. 94–95
2020 La Petite Eglise
(80% M, 20% CF; 14.5% ABV; 50% new)
Subtly black fruit-ripe to smell, discreet and with a touch of truffle and mineral; fullish, fresh, plump, and very fine in tannin; a touch oak-tinged to taste, but long and refined, complex, flowing, and yet with the close-grained quality of so many of this year's best Pomerols; effortlessly graceful and complete wine with a beautiful fruit fragrance on a very long finish. There is a subtlety and class here that mark this out as a very special expression of LPE. One of the best ever? 2026–40+. 92–93
2020 l'Enclos
(88% M, 10% CF, 2% MAL; 40% new)
Plummy nose; rich, fleshy midweight with the year's characteristic fresh acidity and firmish tannins; moderately complex, but a gently fleshy, flowing wine, with very nice light length, too. It will need a bit of time. 2027–37. 89–90
2020 Château L'Evangile
(88% M, 12% CF; 14.5% ABV)
Rich and dense to smell, full, fresh, richly tannic; freshly ripe, gently mineral, softly fragrant, elegant, even, creamy wine, long and mineral-backed in flavor, long and chocolatey to finish, and just a touch warm at the end. A very good rather than an exceptional Evangile, especially in this great Pomerol plateau vintage. 2026–46+.
92–93
2020 Château La Fleur-Pétrus
(93% M, 5% CF, 2% PV)
Complex, spicy, herbal-tinged, and mineral-backed Merlot; rich, vigorous, concentrated, firmly tannic La Fleur-Pétrus, a fine, firm, long-term constitution; an abundance of sweet yet freshly ripe fruit, long and close-grained across the palate, mouthcoatingly fragrant, elegant, sweet, sappy, very tenacious and aromatically satisfying and with striking length. A great expression of the vineyard, a most beautiful La Fleur-Pétrus! 2035–60+. 95–97
2020 Château Gazin
(92% M, 8% CS; 35hl/ha)
Soft, fragrant, persistent, lightly truffley Merlot, subtly mineral, too; rich, fresh, very finely tannic, a beautiful balance; sweetly ripe, juicy, creamy-textured wine, but with a lovely fresh definition, long, subtle, and refined, gently minerally in aroma, complete, and very fragrant to finish. A grand, complete, harmonious, and delicious Gazin, very much in the vein of the best Pomerols of the year. 2026–46+. 92–94
2020 Lafleur
(54% M, 46% Bouchet)
Merlot wild-rose herbal character, subtle, spicy, and fresh behind the dense ripe red fruit, a persistent, subtle, heady perfume; immediately on tasting, a great, rich, yet refined and contained balance, effortlessy concentrated, so finely tannic, so fresh, perfect; deep, sweet, silky, and fleshy, yet for all its richness, also a medium-weight impression, of infinite subtle fragrance, energy, and length across the palate, with a great sense of precision, raciness and definition, followed by fabulously ethereal, scented length. All the delicacy and refinement of Lafleur in an also incredibly juicily seductive parcel. An utterly great red wine. All the Guinaudeau wines are beautifully textured, with absolutely no impression of new wood at all. Oak, whether as an aroma or a texture, simply doesn't enter one's mind in the Lafleur family! 2035–60+.
98–100
2020 Pensées de Lafleur
(71% M, 29% Bouchet)
Dense black-fruit nose, lightly earthy, too; full, fresh, very fine in tannin; ample and beautifully but finely fleshy, a mouthcoating wine combining a gently clayey substance on the one hand, with a subtle energy and abundant, ethereal Cabernet Franc fragrance on the other, a sort of vinous chiaroscuro! Its pure clay origin notwithstanding, this is a very refined expression of Pomerol, with great perfumed persistence, a wine of greater density than the Perrières, but noticeable freshness and delicacy, too. Beautiful. 2030–55+. 92–94
2020 Château Lagrange
(100% M)
Spicy, fragrant, wild-rose floral, ripe blackberry Merlot; rich, fresh, finely tannic,
a really lovely balance; rich, generous, firmly fleshy wine, sweet in flavor, with a delicious density, long to taste, mineral-tinged, blackberry-ripe fruit, with fine, lightly aromatic black fruit-cored length. An exceptional Lagrange. Really beautiful mid-rank Pomerol. 2026–40+. 92–93

2020 Château La Grave
(85% M, 15% CF)
Sweet, truffly, mineral-tinged nose; fairly full, fresh, very finely tannic, a lovely "Pomerol gravel" balance; freshly sweet in flavor, gently but clearly gravel-infused, a quite lovely supple-rich fleshy texture, a light mineral impression behind the fruit, a gentle complexity, fine length of flavor, and excellent persistence. Sap, savor, length, finesse. A magnificent La Grave. 2028–45+. 92–94
2020 Hosanna
(75% M, 25% CF)
Distinctly Cabernet Franc floral and subtle to smell, more than most of the Moueix range; full, nicely concentrated, fresh and finely tannic; sweet, subtle, aromatically complex wine, not particularly big, for Pomerol, or for this vintage, but long and linear and fresh and graceful; a great purity of flavor, gently spiced, with a fine length of aftertaste. A more restrained, floral, feminine expression of Pomerol, of great scope and finesse, with notable Cabernet Franc aromatic interest. So fresh, so subtle, if not everybody's idea of the classic Pomerol. 2030–50+. 93–94
2020 Château Lafleur-Gazin
(100% M)
Dense, fresh, wild rose floral-tinged blackberry Merlot; rich, vividly fresh, finely tannic; a lovely generosity of fruit, vividly defined, taut, lightly mineral-tinged, quite firm in tannin for the moment, long and elegant and plush within the frame, gently complex, gently warm, long and sweet to finish. Another lovely expression of Pomerol. Sweeter than Lagrange à Pomerol if not quite as dense—perhaps a touch juicier—but this is splitting hairs to compare. 2027–37+. 91–93
2020 Château Latour-à-Pomerol
(100% M)
That spicy, blackberry-ripe, wild rose herbal-fresh Merlot; full, beautifully fresh, quite firmly but finely tannic, a first-rate balance; deep, sweet, generous flavor, subtle and complex within a generous, flatteringly fleshy texture, mineral-tinged, black-cherry ripe, long and classy and persistent. A really fine Latour-à-Pomerol. Sweeter and fleshier and more succulent than La Grave … at a very similar qualtiy level … if without La Grave's "gravel aromatic complexity." 2028–45+. 92–94
2020 Château Nenin
(68% M, 32% CF; 14% ABV; 40% new)
An immediately clear impression of the subtle floral character of the Cabernet Franc, alongside a touch of wood; full, very fresh in acidity, fine-textured in tannin; sweet yet fresh, long and detailed across the palate, a touch wood-dry, but in no way coarse; long, fresh, and very Cabernet Franc racy. A fine Nenin. 2028–48+. 92–93
2020 Petit Village
(60% M, 32% CF, 8% CS; 27hl/ha; 14.5% ABV; 50% new)
Fine nose; rich and fleshy and fresh, with particularly fine tannins, a beautifully balanced wine; deep and sweet, long and creamy, with a velvety, enveloping tannin texture and a clear mineral aromatic complexity behind the fleshy ripeness; a plateau Pomerol with considerable scope and reach, and marked, gently spicy aromatic length. After 30 years under the ownership of AXA (Pichon Baron etc), and struggling a bit as an expression of Pomerol, this is the first vintage under the same management as Château Beauregard (who purchased the property in April 2020) and it is, after a very long time, finally a great expression of this fine vineyard. It will be absolutely delicious. 2026–46+. 92–94+
2020 Petrus
(100% M; 14.5% ABV)
Densely ripe, and yet also fresh and crisp to smell; rich, fresh to vital, firmly but finely tannic, a first-rate long-term balance; deep, ripe, fresh black fruit to taste, deeply mineral-infused, dense and sonorous, within a generous, but super fine-grained velvety tannin; an effortlessly prolonged inner energy on the mid-palate, with a remarkable vitality given its richness; mouthcoating, great elegance, and wonderful length. A wine so complete, and yet seeming so light alongside its density. Grand and yet so easy, so flattering, the mark of a great aristocrat whose presence speaks for itself, which has no need to bellow to make its point. Utterly magnificent. 2035–65+. 98–100
2020 Château Rouget
(85% M, 15% CF; 32hl/ha; 14.5% ABV; 30% new)
Sweetly ripe to smell; rich, fairly powerful, fresh in acidity, firm but fine in tannin, a very nice Pomerol balance; deep and sweetly ripe, a touch alcohol-warm, but with absolutely no coarseness, moderate complexity, effortless, harmonious, and with good fruit length. Very nice, but just lacking a point in aromatic complexity for more than a very good mid-rank, rather than a top-rank, Pomerol. Accessible early, like so many. 2026–40+. 89–90
2020 Château Trotanoy
(100% M)
Dense, closed, markedly mineral; full, fresh, concentrated, tannic wine, a fine, full, firm, long-term constitution; very black-cherry ripe palate, broad, ample, mouthcoating, dense, and generous, yet remaining remarkably elegant given all that; freshly defined, long and complex, firm but very fine in tannin, a deliciously deep, sweet, sonorous fruit, then great aromatic length to finish. An exceptional combination of power and refinement, a remarkably complete, yet elegant, fresh, and restrained expression of the terroir. Which will need at least a couple of decades! 2038–60+. 95–97
2020 Château de Bel-Air
(73% M, 19% CF, 8% CS)
Dark red; fragrant, lightly truffley nose; medium-full, fresh, very lightly tannic wine, a lovely easy balance; sweet, supple, fleshy, flattering wine with just a touch of tannin to give it a bit of definition; modest in complexity but a most appetizing, easy, moreish Lalande Pomerol. 2026–36+. 90–91
2020 La Chenade
(80% M, 20% CF; 40hl/ha; 14% ABV; 30% new)
Densely but freshly ripe nose, with a touch of gravel there; rich, fresh, and fleshy wine, with a very nicely contained tannin; ripe, plush, satisfying, gently and flatteringly rich, with a beautiful defining freshness and with lovely length. Beautifully made, a great success, and likely to be exceptionally good value. 2024–34+. 89–90
2020 Château Les Cruzelles
(80% M, 20% CF; 14.5% ABV; 50% new)
A seductive nose of freshly truffle-tinged fruit; rich, lively, moderately tannic; long, warm, ripe, and juicy to taste, the tannin still slightly dry-edged, but with exceptional length. Also very good, this is a slightly more sinewy expression of Lalande de Pomerol, with more gravelly clay in the vineyard, as distinct from the sandy gravel of La Chenade 2026–38+. 89–91
2020 Château Pavillon Beauregard
Dense black fruit and light mineral, very appealing to smell; quite rich, fresh, finely tannic, really lovely balance; sweetly ripe, supple, plump, quite complex, graceful and satisfying, very nice length to taste and to finish. Beautifully managed tannins, a lighter style of Pomerol, and an absolutely lovely wine! 2024–36+. 90–91
BORDEAUX
2020 Grand Village Bordeaux
(79% M, 21% Bouchet)
Floral, herbal, fragrant Merlot nose; rich, fresh, very lightly tannic; sweetly ripe, subtly mineral, straightforward wine, with a lovely freshness and good light length; a delicious, gentle, fleshy prospect in just a few years. Very nice indeed. Not, of course, Lafleur, but a tasty glimpse of the Lafleur team's winemaking for well under £20 all told! 2023–30+. 89–90
2020 Les Perrières Bordeaux
(71% Bouchet, 29% M)
From 2009, its first vintage, to 2016 this was called G (for Guinaudeau)-Acte 1 (2009) to G-Acte 9 (2017), the first Les Perrières vintage being 2018, and named for its profound Fronsac limestone soil. The Bouchet (Cabernet Franc) vines planted here are massal cuttings from Lafleur itself. A floral nose of wild-rose herbal and a light mineral character; moderately rich, lemony fresh, very finely tannic; initially up-front sweet and juicy, it then becomes immediately suffused with a chalky minerality, not unlike the "chalky" aromatic characters in fine Cabernet Franc from Saumur-Champigny or Chinon in the Loire, and with similar "cool" peppery hints, too, subtle, particularly long and perfumed to taste. A delicious combination of rich and juicy, plus "Atlantic" cool and stony, a most distinctive expression of mainly Bouchet on limestone in Bordeaux. Remarkable. No real maturity-curve track record yet, but 2026–46 seems a reasonable initial guess. 92–93
2020 Château d'Aiguilhe Castillon-Côtes de Bordeaux
(90% M, 10% CF; 32hl/ha; 14.5% ABV; 30% new)
Medium-full, great vitality, light in tannin; this is a vivid, gently sappy, ripe red-fruited middleweight, immediately attractive and with good length, too. As always, such a good beverage wine. Deliciously drinkable from the moment of bottling, and over 5–8 years. 88–90
2020 Château d'Arce Castillon-Côtes de Bordeaux
(90% M, 10% CF; 30% new)
Richly primary fruit on the nose, floral, wild-rose herbal; rich and full, and vital in acidity, with a still slightly firm wood-dry tannin—that's a bit the house style! Juicy in flavor, succulent, tasty, mouthwatering, delicious. Lovely Castillon in its fruity, juicy, ample style, no great complexity, and the opposite in style from the Joanin Bécot, for example. Excellent of its type, complete and very attractive. To be bottled in June 2021. Drink young. 2022–28. 89–90
2020 Joanin Bécot Castillon-Côtes de Bordeaux
(90% M, 10% CF; 13.9% ABV)
Fresh ripe black fruit to smell, subtly mineral and persistent; rich but restrained, naturally fresh, very fine in a light dry tannin, a really lovely balance; long and sweet and fresh and graceful, subtle, so transparent, and with beautiful length and scent to finish. A real beauty, grace, finesse, transparency, completeness. Just gorgeous. I wouldn't have thought this possible, this is batting way above its league! The best JB ever made? Probably drinkable from the moment it is bottled. 2023–35+. 91–93