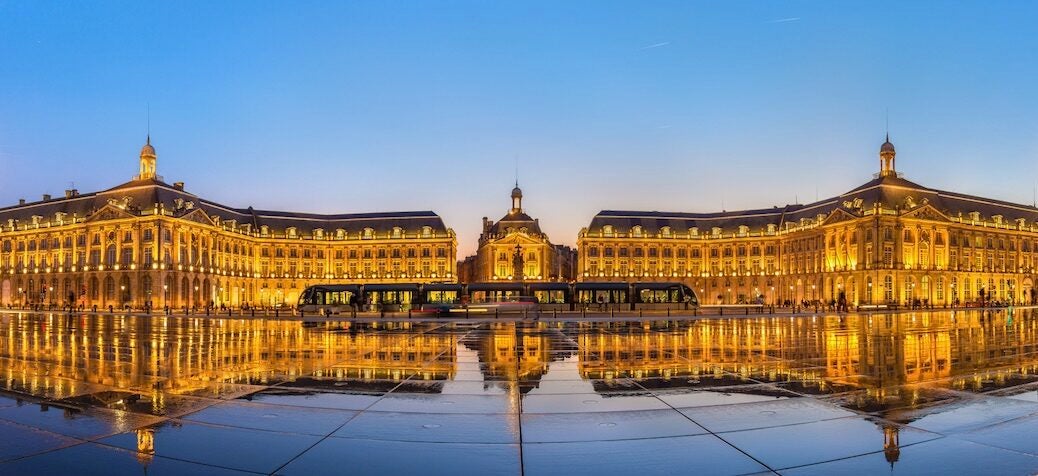 This week, as the 2020 Bordeaux en primeur campaign hots up, The World of Fine Wine is publishing the in-depth analysis and detailed tasting notes of our longstanding Bordeaux critic, Michael Schuster, based on his extensive tastings at the châteaux this Spring.
One of the world's most experienced and respected Bordeaux critics, Schuster has been covering en primeur for WFW for the better part of two decades, and has attended the Bordeaux en primeur tastings for 37 of the past 40 vintages. The 2020 Bordeaux en primeur campaign will be his last, as he concentrates on other projects both within the region and elsewhere.
We start our coverage with Schuster's overview of the third in a row of exceptional but stylistically very contrasting vintages in the region, a vintage that was particularly successful for the red wines, even if they are more variable than the 2019s, but with many good and great wines, in a style characterized by Schuster as a rich, climate-warmed classicism.
Our coverage continues with Schuster's detailed notes on the wines of the Left Bank (Part I and Part 2) and the Right Bank.
2020 Bordeaux: A personal note
I spent 16 days this April tasting the 2020s in Bordeaux. I was, I think, the sole Brit scribe or merchant who had made the journey from the UK, after jumping through numerous Covid-related hoops. I decided shortly after arriving that this would be my last en primeur exercise. There are other things I still want to do in life, and the Schuster genes are, historically anyway, not long-lived!
On Sunday, September 23, 1979, I arrived in Bordeaux to spend two years teaching English to the Total Oil scientists, in a little château a stone's throw from Haut-Brion. Two weeks later, one of my now oldest friends, Martin Sinkoff, brought me a half-bottle of claret to taste blind before dinner. We were at my small duplex flat on the little cobbled rue Dufau, behind Bordeaux's town hall, having met just a week before while visiting Château Carbonnieux in the Graves. In those days, you could go to a first growth and come away with a bottled barrel-sample. Martin's half-bottle turned out to be a cask-sample of 1978 Latour! In effect, my very first (very austere!) informal en primeur taste. I still have that Echantillon label.
Mid-morning on Friday, April 30 this year, before starting the long drive up to Calais, I spent a couple of hours in the company of Baptiste Guinaudeau and Omri Ram in their new tasting room at Château Lafleur. It was my last appointment on this occasion. It was also my last (totally beguiling) formal en primeur tasting. And they gave me a 2020 Lafleur Echantillon label. A nice pair of "bookends" then, to nearly four decades of tasting and reviewing infant Bordeaux.
For the past 18 years, from the 2003 vintage on, I have written up the latest year for The World of Fine Wine, and for a few days most years, I have had the pleasure of my editor, Neil Beckett, as a tasting companion. It has been a most engaging journey with Bordeaux's people, its places, and, of course its wines. So, as I sign off now, at 73, it is farewell en primeur but, because there are still other projects I look forward to pursuing there, au revoir Bordeaux.
Data and comments in this introduction are drawn, as always, from a combination of the 2020 Bordeaux University Report (Professors Laurence Geny and Axel Marchal), individual château vintage leaflets, and face-to-face discussions at the properties in April 2021.
The growing season
Eric Kohler at Lafite described the viticultural year as "Précoce, pluvieux, chaud, sec, et très, très compliqué" ("Early, rainy, hot, dry, and very, very complicated").
At budbreak, in mid- to late-March, 2020 started off as an early year, around two weeks early. This advance was gradually eaten into over the season, so that in the end harvest was just over a week ahead of the norm, but this was a significant blessing on this occasion, as heavy and persistent rain (Storm Alex) set in over the first week of October, by which time, unusually, the vast majority of properties had completed their red-wine harvest.
The year continued the recent climate-change pattern, with extreme weather events across the season, be it rainfall, drought, high temperatures, or sunshine. It was a very hot year. There were few extreme heat spikes, but only March and June had cumulatively "average" temperatures; all the other months, from April to September, were among the hottest on record, with average maximum temperatures 3.5–5.5°F (2–3°C) above the long-term norm, 12.5°F (7°C) in the case of August! July was one of the driest on record, August one of the hottest, mid-April to mid-May among the wettest. Extremes indeed. Only frost was not a widespread issue this year.
Winter
2020 began, as it has since 2016, with the absence of a real winter, and noticeably mild seasonal temperatures. There was little frost in January and February, and average minimum temperatures in January, February, April, and May were several degrees warmer than the 1981–2010 norm. March was particularly chaotic and topsy turvy, with heavy rain in the first week, a most unseasonally warm 64–75°F (18–24°C) in the second half of the month (encouraging the early budbreak and consequent possible exposure to frost), frost in the Médoc hinterland and in Castillon (Joanin Bécot lost half its crop) during the last week of the month, and temperatures 22°F (12°C) below the norm to finish the month (March 29–31)!
Spring
Grim! April was the third hottest for 50 years, leading to rapid development of the vine's shoots, and it was also notably wet during the last two weeks, along with storms and hail in the Entre-deux-Mers especially. The first half of May, too, was particularly sodden, with 60% more rain and 50% less sunshine than usual, as well as being much warmer than the norm. Lagrange in St-Julien, had 8 inches (200mm) of rain between April 15 and May 15. And the first three weeks of June were similarly wetter and cloudier, although also—a rarity in the year's statistics—cooler than usual. It all set the scene for a perfect May / June mildew storm.
At least, as in 2018 and 2016, there was a warm, dry, almost rain-free interval over the last two weeks of May and the first week of June, which allowed for a largely even, problem-free flowering for most properties, with little millerandage or coulure. A welcome relief then, in this mostly miserable spell. At this stage, the season was still about ten days in advance.
Where the mildew was concerned, one has to remember that in 2018 there hadn't been an attack on that scale for more than 30 years! And it was the hard-learned lessons from 2018 that meant the potential damage was so much better contained in 2020. The simplest watchword was that you had to keep on top of it daily, and you simply couldn't afford not to treat. It was all hands to the pumps, literally, in the rain-free intervals, though the soggy soils meant it was often difficult to get machinery into the vineyards. On occasion, at Troplong Mondot, the manager (Aymeric de Gironde), his chief of finance, and his chef de cuisine, among others, were up, masked, and spraying by hand with (45kg) sprayers on their backs by 5am: "Stressful, but good teamwork, and great for the following night's sleep!" It was, of course, particularly challenging for the biodynamic estates. Pontet-Canet found that, if necessary, they could treat the entire 200 acres (81ha) with their plant- and animal-based tisanes, and/or the copper sulfate-based Bordeaux Mixture, in a single day, absence of rain permitting, from 4am to 10pm! And Marielle Cazaux (La Conseillante) observed ruefully that "In the end, your most expensive treatment is the one you omit to do!" Dominique Arangoits at Cos described it as "Un Mai chaotique," while Nicolas Audebert (Rauzan-Ségla, Canon) was a bit more colorful: "Une année de merde, sacrément compliquée" ("A shitty year, and bloody complicated!") Although the mildew threat was better contained than in 2018, there were of course losses—part of the year's lower yield.
Summer
Hot and dry … and finally sopping wet just when required
Summer began on June 19, when it finally stopped raining. There then followed the lowest July rainfall and, for most of Bordeaux, the longest almost entirely rain-free period in memory. Lagrange (where the team record these matters in minute detail) noted 0.1 inch (3mm) of rain and 21 days above 86°F (30°C) from June 18 to August 11: nearly eight weeks of drought, the driest summer for a century (like 2016!), albeit one that was actually more dry than really hot. The first half of July was on the cooler side, with only a couple of days over 86°F, and only the last ten days mostly over 86°F. In addition, there were few heat spikes as such, with the only, brief heatwave in the second week of August. Nights, too, were relatively cool for this eight-week period, hovering around the high-50s F (mid-teens C). Finally, the abundant Spring rainfall had so generously replenished the water table (as it had in 2019 and 2016), that it now enabled the vineyards to weather the drought comfortably, with little real stress except on the very driest of soils and most shallow-rooted of young vines. Sufficient hydric stress, though, to slow the vines' greenery growth, direct its energy toward the fruit, and initiate véraison (color change) over the last week of July and the first ten days of August.
Clearly soils with a high or higher proportion of cool, water-retentive clay and/or limestone withstood the dry summer conditions more easily, but the water deficit and heat were also managed viticulturally by reduced trimming of the vine, little or no leaf removal in order to protect the fruit, and keeping the soils "open" by a regular, gentle surface-hoeing to enable them to profit from early-morning dew, any available moisture, humidity, any rain there might be, and so on. A host of small details …
But lack of excess hydric stress notwithstanding, the vines and vineyards were, of course getting thirsty for a bit of "top" watering, too. At which point, August obliged. The first five days of the month were relatively cool, with daytime temperatures in the mid-to-high-70s F (mid-20s C), overnight in the high-50s F. Over the next six days came 2020's single summer heatwave, with temperatures above 86°F (30°C) across the next week, spiking at 104°F (40°C) on the eighth, and shortly thereafter setting off a week of massive post-heatwave thunderstorms. Thomas Duroux at Palmer: "We were just beginning to worry about the drought when all of a sudden, on the 15th, BOOM—100mm [four inches] of rain all at once. A lot!" Storms of truly tropical proportions.
They were very localized, and haphazardly spread across the week of August 9–16. In St-Emilion, Pavie had 0.8 inch (20mm), Cheval Blanc 4.8 inches (120mm); in the Médoc, La Lagune, 1.5 inches (40mm), Sociando Mallet, 4.5 inches (110mm), and so on. On vineyards within sight of the Gironde, it took an hour or so to saturate the soil, and the rest of the water then ran off into the river. Not super-efficient, and not enough over a sufficiently long time to be damaging, but enough for the vineyards and fruit to slake their thirst and for the vines to revive their ripening energy, resume a more efficient photosynthesis, refine their tannic structure. Their dramatic nature made the storms look, and sound, worse than they (mostly) were. And, of course, almost all of the vineyards desperately needed the rain. The combination of fierce heat and heavy rain made conditions for the latter part of véraison uneven, and led to some uneven ripening within the bunches. But, as Frédéric Faye of Figeac put it, for many this actually became a welcome "part of the palette" for blending, and not really significant. Herbaceousness never came to mind when tasting.
Those August rains were a crucial, counterbalancing, vintage-defining, tipping point to the season. And a benefit of the rain and cloud cover was a return to cooler conditions, day and night, over the last ten days of the month, preventing any excess loss of aroma and acidity in the about-to-be-picked white grapes, and conducive to a more measured ripening of the reds, plus a more efficient synthesis of their color and aroma compounds. A ten-day, slow signal to the start of autumn … and harvest.
Harvest
It was an early harvest, with most fruit picked by the end of September. Unlike the prolonged and perfect harvest conditions of both 2018 and 2019, however, 2020 was much more variable. The warm dry first half of the month provided ideal weather for picking perfectly ripe Merlot, but the cooler, sometimes wetter second half of the month made it seem trickier to pick quite as consistently fully ripened Cabernets. The picking conditions for dry whites were excellent in late August and early September, whereas they were very far from ideal for the development of fine botrytis across the autumn for the sweet wines.
Considering its relative brevity (Sauternes excepted) the harvest turned out pretty well.
Dry white wines
For the dry white wines, picking began in the third week of August, just after the heavy rains, starting with Sauvignon Blanc, followed immediately by the Semillons. Conditions were perfect, and the dry-white harvest was mostly completed by the end of the month, with a few properties straggling into, and across, the first week of September.
The best dry whites are very good, with some exceptional Sauvignon Blancs. The wines are fresh and lively, but slightly softer styled than the vibrant 2019s and without their aromatic projection and complexity. If their acidities are often close, the 2020 pH levels are a bit higher. No longer the surprise it once was, some of the year's best dry whites come from the Médoc. Margaux's Pavillon Blanc is the dry white of the vintage in its centenary year, while Cos d'Estournel Blanc and Aile d'Argent are also notable successes. (And yes, the now-bottled 2019 Carbonnieux white, about which I got so excited last year, is just as good as its posted sample was last summer!)
Sauternes/Barsac
For Sauternes, it was another autumn of woe, when the weather pattern precluded the development of quality botrytis to any extent; a very small crop here, with a small handful of standout wines for those who could afford to wait, but more that are in a slender, if fine, aperitif style. Without the usual Union de Grands Crus tasting in Bordeaux, and only three face-to-face visits, I don't feel I can make any sort of comprehensively useful comment on these wines at the moment. I will taste more over the summer, and hope to get additional background in order to do a small supplementary piece for WFW 73 (2021 Q3).
Red wines
After August's redeeming rains, it was an unusual September that "made" the red-wine vintage.
Coupled with the seasonal advance of, by now, eight days or so, it was finally September 2020's very particular conditions that allowed the red harvest to be picked, attractively ripe, almost entirely—and most unusually—before the end of the month. It was unseasonally dry and hot for the first 16 days of the month. There hadn't been such a hot, dry early September for more than 60 years, with barely a drop of rain until September 21, and daytime temperatures in the low-to-mid-80s F (upper-20s C) for the first week, then above 86°F (30°C) until the 16/17 of the month. Night-time temperatures, by contrast, were seasonally cool, between 50° and 59°F (10–15°C) for the first week, then between 59° and 68°F (15–20°C) during the subsequent hot spell, a regular 27°F (15°C) diurnal / nocturnal difference. And the hot weather was accompanied by a hot, dry east wind during the day. It did then rain over the last ten days of the month, but the rains were not heavy, by no means every day, and this period was marked by a conspicuous decrease in temperatures to a more seasonal norm, in the 60s F (15 to the low 20s C) during the day, in the 40s to low 50s F (5 to 12°C) overnight for the final seven days of the month. There were a couple of record low days, on 26 and 27, when it was 57°F (14°C) by day, and 39°F (4°C) at night.
What did all this mean for ripening of the red grapes? The absence of rain, combined with daytime heat and drying east winds, allowed for a final flush of ripening, and a modest concentration in the juice of the relatively large Merlot berries just before harvest. It wasn't all positive, there was some shriveling, and some nervousness, too; as one producer put it, "We lost a little volume with each day, with an effect sometimes more marked on Cabernets than than Merlot, because they were already so small." For many, though, it stimulated the ripening of both Cabernet Franc and Cabernet Sauvignon after the cooler end to August, allowing the majority of the fruit to continue to mature, in respect of both pulp and skins, in order to be picked at satisfactory levels of ripeness before the end of the month.
The marked diurnal / nocturnal temperature variations—the cool nights in particular—refreshed the fruit, helped maintain acidity, and allowed the polyphenols to synthesize and gain in aromatic complexity. The rain over the last ten days of the month was mostly not heavy, and it was by no means continuous; indeed, there was, for most on the Left Bank, a six-day dry window from September 27 to October 2. It allowed the later picked Merlots to gain a little freshness, lose a little sugar, soften their skins. And the Cabernet Sauvignons, the smallest for years, mostly thick-skinned and in rude health, would have benefited from a bit more "juice" but were barely affected by the rains. They absorbed little moisture, and after a showery period you could always wait for another dry interval to continue picking.
The dry, sunny weather would naturally imply "ideal" harvest conditions. But the heat was an issue, and many felt it imposed a singular picking regime—not for the first time, but even more than hitherto: the need to pick early, in the cool of the day. This was especially the case on the Right Bank during the September 8–16 heatwave, when many picked only in the morning, often stopping by 11am. There was occasionally a "New-World-come-to-maritime-Europe" approach, as when Canon, for example, would start at 5am under artificial lights! But, as Marielle Cazaux (La Conseillante) observed: "It's no different from picking your fruit and vegetables at home—you do it in the cool of the morning to protect your produce." And even during the final ten days or so of September, most properties said that harvesting was straightforward, even if under gray skies. If picking was complicated, it was because it was self-imposed. An increasing number of properties carried out an ever more painstaking, meticulous, plot-and-vine-ripeness-precise regime, according to different combinations of soil, subsoil, rootstock, clonal or massal selection, and so on, and also based on detailed variations you could taste in the grapes, often within very small distances. Nicolas Glumineau (Pichon Lalande) explained, "We took time to pick each plot at perfect ripeness, in perfect order": A variation on Sauternes's tries, "bespoke pickings" that are then fermented separately prior to blending, as far as is practical, and a major reason behind the finer textured tannins we are getting more and more used to in Bordeaux today.
The Merlot harvest started in St-Emilion and Pomerol just before the first weekend of September, on Friday 4, though the bulk of the Right Bank began after the weekend, on the 7, 8, or 9. The earliest Left-Bank Merlots started to come in not much later, but most picking teams there began at the start of the third week, on September 14, with the Cabernet harvest largely beginning a week later, on September 21. For the vast majority of properties, it was all over by the end, or just after the end, of the month, a limit imposed, in effect, by the onset of the heavy rains of Storm Alex in the first week of October. Relatively compact then: broadly speaking, a red-wine harvest of three weeks. But the grapes were mostly ripe, there was no real sense of pressure and, though short by comparison with many recent "unconstrained" harvests, the end of September was a natural enough conclusion this year. And September 2020's particular weather conditions, in conjunction with the vines' early maturity, go a long way to explaining why the relative brevity of the harvest, curtailed at the start of October, was not in the end a problem.
Ripeness in the Left-Bank wines?
"Full ripeness" is, as always, a relative concept. One person's glass-half-empty "not absolutely fully ripe" Left-Bank Cabernet Sauvignons might equally be expressed as another's glass-half-full "fully, freshly ripe"! There was so much fruit that was very ripe on the Left Bank—Merlot above all, of course, but Cabernets, too—that a touch of extra freshness was a plus. And, indeed, contributed to the attractive chaud-froid (hot-cold) character of the year. (see under Red-Wine Style, below.)
When thinking of the ripeness of the 2020 fruit, it is also worth remembering the length of the ripening period this year. While the harvest was eventually a week later than expected initially (both budburst and flowering being ten days to two weeks "early"), one of those initial "extra" weeks remained in play as an advantage, with the added bonus, at the end of the season, of those most uncommonly hot, dry first 16 days of September.
And for the majority of red grapes, the ripening period in 2020 (the "hang-time," in American parlance) was considerably longer than the old "100 days from flowering to harvest" axiom—much closer, in fact, to 110–120 days, "and then some," with the hot, sunny, early-September bonus. So, there were 120 days of mostly unexcessive ripening conditions, slowed betimes, but rarely blocked, by the summer's drought, then quickened in the early September heat, with a final cool, polyphenol-friendly ten days to add finesse to textures, and complexity to aromas.
Considered thus, and based on tasting, my impression is more of the Left Bank wines being different—fresher, perhaps slightly leaner, slightly more austere (those are very relative "slightlys")—rather than in any useful sense of the term "less ripe." I found no impressions of "greenness," and if tannins were more marked, that seemed to me to be a question of levels of extraction and winemaking ideals rather than qualities of ripeness in the fruit.
Red-wine quality and style
Quality
Because of all the vagaries of the viticultural year, there is not the consistency of quality seen in 2019 or 2016, and the way in which the wines are successful in the different locations is more variable. But the best 2020s, in their greater variety of styles, and at every level, are within touching distance of their 2019 and 2016 counterparts. And it is these two vintages that will, I suspect, in the long term elbow out 2018 and 2020 if one must already articulate such a ranking. If I had to put money on it, I would say that most 2020s don't have the sheer class, scope, and beauty of the 2019s. But in any case there will be magnificent wines, as well as just delicious wines, in each year of this great quartet, and to drink any of them in maturity will be a privilege. At which point, to say this is "not as good as," or this is "better than," will just seem like carping. I will most likely enjoy them at their peak "virtually," from the other side of the great divide!
Style
Structurally, the 2020s are lower in alcohol than 2018 (especially) and 2019, while mostly not as moderate as 2016. Acidities vary considerably, from mouthwatering ripe red-fruit vitality, to relatively supple, and yet very fresh in feel from their aromas—akin to (though obviously very different from) the freshness conveyed in the mouth by mint or menthol for example. Many pHs are on the higher side, reflecting a more moderate acidity. The 3.5/3.6 norm of yore is (now) rare, and the 2020 bunching is around 3.7/3.8, with an occasional 3.9; adequate, warmer year acidities, that is. Yet one of the remarkable features of the year is just how fresh an impression most of the wines have to taste—even when they do have more modest levels of acidity—one of the principal reasons doubtless being those contrastingly cool summer and autumn nights. And while tannin figures are high, there is a marked winemaking tendency toward more restrained and refined textures, from much gentler winemaking and winemaking aims. So, one might then describe the style of many of the 2020s as a rich, climate-warmed classicism.
Some of the adjectives and analogies that often came to my mind when tasting the wines were of a compact, sappy, firm-fleshed core fruit, a sort of rich leanness, like a fine undercut, a fine fillet of beef, in carnal parlance—with apologies to vegetarians, and talking texture rather than flavor. They are mostly firmer framed, a touch stiffer and more neatly pressed and neatly seamed, in tailoring terms, than their respective 2019s, but less expansively aromatic, easy, and graceful than those. In comparison with a couple of older fine vintages, they remind me at this stage of the best 1996s, but with more matter and refinement, or of a less extreme, more measured version of 2010. I described the 2018s as, in many cases, Wagnerian; the 2020s are by comparison a decent-sized chamber orchestra, the 2019s more symphonic in scale… in which case that would make the 2018s that same symphony orchestra with every desk doubled! But enough of musical analogies.
Phillipe Dambrine (in his final year at Cantemerle) came up with a nice culinary related analogy to describe the paradox of a "hot" extreme viticultural year not producing an extreme style of wine. And, as we have seen, the weather did indeed run both hot and cold. He described the style as accurately reflecting the year in the vineyard: chaud-frais, a bit like a chaud-froid sauce, made hot, but served cold. And, in more wistfully poetic elaboration, he added: "Le profil du goût exprime le vignoble en 2020—du soleil, de la chaleur, du froid; de fortes pluies, et de la sécheresse extreme—c'est à dire, sa joie et sa douleur" ("The taste profle clearly expresses the vineyard in 2020—the sun, the heat, the cold, the heavy rain, and the extreme drought—which is to say, both its joy and its pain"). Only a vigneron could come up with that.
Communes
A Left-Bank or Right-Bank year? This commune, that commune? I'm not sure this is a helpful way to think of 2020. There are great successes in every commune; and, more to the point, I don't think you can identify a weak one as such. The Left-Bank wines are on the whole naturally more restrained because of their proportion of Cabernet Sauvignon, and this is where you will find more of the leaner, more red-fruit-brisk wines. But Cabernet Sauvignon made wonderful wines this year, too, and Merlot's richness worked to the benefit of the Left Bank as much as the Right. In value terms, you see this in very attractive, more modestly priced Médoc and Haut-Médoc, with their high proportions of Merlot. And (having just questioned the validity of singling out a particular commune) there were two sweet spots for me this year. One was Margaux (a bit as in 2015?), many of whose wines have a notably high proportion of Merlot for the Left Bank; and the other was the Pomerol plateau, where there are few inexpensive wines, but where there is still fair value (in the Bordeaux context) for excellent quality. In their respective styles, the best of these two communes express, for me, the essence of 2020: medium- to full-bodied wines, combining a ripe, compact, core flesh, with a wide variety of fresh aromas, a gently tautening acidity, all shaped and nourished by a rich, fine-grained tannin. That's pretty good Bordeaux in my book.
At Pontet-Canet, Justine Tesseron's pithy summary of the style of the vintage was: "Une belle plénitude, bien définie. La personne qui n'est pas contente a un problème!" Which you might render as: "A lovely abundance, nicely defined. Anyone who isn't happy, has a problem!" Nicely put!
Mood music: Changing winemaking ideals in Bordeaux
I have mentioned it in my previous reports: Over the past decade, and in particular over the past five years, there has been a clear change in red-winemaking ideals; a move away from an emphasis on extraction, structure, abundant new wood—epitomized perhaps by many wines in 2005, 2009, 2010—to a much gentler, more moderate approach to extract, tannin texture, oak-aging. What I might term the "brutalist" style has not disappeared completely (and there appears still to be a market for it, perceived or real), but it is now very much behind the curve, and a new paradigm has emerged.
To me, this is exemplified in a particularly striking way by three names over the past five years: Lafon-Rochet (Basile Tesseron), since 2016 especially; Beau-Séjour Bécot (Juliette Bécot and Julien Barthe), where there was a veritable stylistic volte-face in 2017; and Giscours (Alexander Van Beek) in 2020. Now, all of these names (and there are of course many others), without any loss of intensity of flavor, have a restrained fineness of texture, where the tannins are effortlessly integrated in the overall impression, which allows the heart of the wine to be perceived without the distraction of a strong winemaking style, and where the consequent transparency of taste allows the vineyards' distinctive character to be expressed more clearly. A resetting of the pendulum, a different vision, which looks for wines that are finer in feel, more graceful and easier to drink as well as more distinctive, but that will age as well as any hitherto. An ideal achieved first in the vineyard by attention to individual plants and plots, and then by increasingly bespoke winemaking, based on the ripeness of separate parcels at harvest—specific vines, even—sometimes Sauternes-like tries, and then a gentle hand on the winemaking tiller.
This is at the heart of the approach of, among others, Oenoteam's Thomas Duclos, who is increasingly influential in the region, and the advisor at both Beau-Séjour Bécot and Giscours. It makes for red Bordeaux wines that are a revelation.
2020 Winemaking: a gentle hand on the winemaking tiller
The winemaking in 2020 was a continuation of trends over the previous few years, a combination of the ideals I mention above, and means used to cope with any excesses in the fruit to hand—high sugar, low acid, abundant tannin, and so on. Some properties deliberately picked a selection of fruit a bit earlier than la mode, not only for freshness but in order to have a wider range of flavors with which to work when blending, even at the possible expense of some tannin richness—there was plenty of that. Cold rooms (chambres froides) are becoming more common to chill fruit immediately after picking. During this year's September heatwave, bunches were often coming in at more than 86°F (30°C). And, as has become common over recent vintages, the search for less extract led to fermentation temperatures that were "cool," too (typically 77–82°F [25–28°C]). There was also far less physical manipulation of the must than in the past, thus very gentle, if any, use of punching down of the cap (pigeage), rack and return (délestage), or pumping over (remontage).
Instead, the fermentation byword has become "infusion"; nothing of course to do with tea as such (the immediate association with the word), merely a steeping process. Its Latin etymology—from fundere, to pour or (as in "fusion") to merge, to fuse, to coalesce—implies all the gentleness that is the essence, and the winemaking appeal, of infusion; a physiochemical process where compounds flow, melt, passively from one medium to another without any physical intervention. As it happens, tea-making provides an immediately illuminating analogy for winemaking (one that I always used for my beginner students): If you press / squeeze tea bags or tea leaves, you immediately extract more color and more "flavour" but, just as with wine, it will almost certainly be coarser tannins and tastes that you "force" out of the leaves into the liquid.
A proportion of "whole-bunch" is not infrequently an additional part of the infusion process today, with the advantage of diminishing (by the release of a small amount of water), the level of alcohol by 0.2/0.3%—a diminution that can also be encouraged by the use of indigenous yeasts, which require more sugar (17.5g/l) to produce one degree of alcohol, than selected yeast, which need only 16.5–17g/l. Guillaume Pouthier (Les Carmes Haut Brion) wrote to me that "De ce fait au final, on a vendangé à 14.8% et fini à 13.6%—parfait pour l'equilibre des vins" ("As a result, we picked at a potential alcohol of 14.8% but finished up with 13.6%—a perfect balance for the wine"). And this emphasis on gentleness in the vat is of course followed by gentler, sometimes shorter, élevage, with less reliance on new oak, instead on the more neutral, but similarly micro-oxygenating, clay amphorae. And so on.
Recommendations
Buying early … Quelle choix!
The top, speculative, commodity-market names apart, 2020 presents a wonderful opportunity to buy red Bordeaux to cellar—for drinking. A first-rate vintage, from which to top up an existing cellar or, indeed, lay the foundations of a new one! So, either way, I wouldn't hesitate. As you will see from my notes, I am enthusiastic about a great deal; this is a very fine vintage, with numerous wines that will give enormous Bordeaux pleasure from around £15 a bottle all told, to … well, think of a number! Wines that will be broachable from a couple of years down the road, to sufficient decades to see you out.
My selection at up to around £600 a case / £60 a bottle (including taxes
)
Of the numerous notes here, this is to help with a bit of triage—from my palate's perspective. By which I mean that I don't care for any sort of excess—alcohol and/or tannin, in particular—and I want to feel able to drink rather than just admire. Though, as you will see, I can readily admire what I wouldn't necessarily want to drink! I have selected my favorite 30 or so wines, grouped into likely early prices of under £200, under £400, and under £600 per case of 12 bottles. When eventually choosing, if you divide the 12-bottle case-price by ten, you will get a good guide to the final, tax-inclusive bottle price (at least with UK rates of tax, though I imagine it will be broadly similar in much of the US and the EU). The wines will of course be well worth seeking out after the en primeur flurry. Those with an asterisk in red* (half of the selection), I consider likely to represent particularly good value for what they are—what the French call valeur qualité prix!
Under £200
Le Boscq, St-Estèphe
La Gurgue, Margaux
Goulée, Médoc*
Chapelle de Potensac, Médoc
Fonbel, St-Emilion
Santayme, St-Emilion*
Joanin Bécot, Castillon*
Under £400
Lafon-Rochet, St-Estèphe*
Pagodes de Cos, St-Estèphe
Pibran, Pauillac
Réserve de la Comtesse, Pauillac*
Langoa Barton, St-Julien
Haut-Bailly II, Pessac-Léognan
Carbonnieux Blanc, Pessac-Léognan
Lagrange, Pomerol*
La Grave, Pomerol*
La Petite Eglise, Pomerol
Cantemerle, Haut-Médoc*
La Lagune, Haut-Médoc*
Under £600
Petit Lion de Léoville-Las-Cases, St-Julien
Alter Ego, Margaux
Brane-Cantenac, Margaux*
Giscours, Margaux*
D'Issan, Margaux*
Kirwan, Margaux*
Beau-Séjour Bécot, St-Emilion
La Clotte, St-Emilion
Beauregard, Pomerol*
Petit Village, Pomerol*
Suduiraut, Sauternes
My preferred wines outside the first growths
Under £1,000 probably
Calon-Ségur, St-Estèphe
Haut-Bailly, Pessac-Léognan
Lynch-Bages, Pauillac
Les Carmes Haut-Brion, Pessac-Léognan
At £1,000+
My two absolute favorites outside the first growths:
Figeac, St-Emilion
Cos d'Estournel, St-Estèphe Closely followed by:
Palmer, Margaux
Pichon Lalande, Pauillac
Léoville-Las-Cases, St-Julien
The first growths
Each one made wonderful wines in 2020. Choosing one above / below the other is, for me, a hair-splitting, rather futile exercise at the moment, but you can see what I feel about them in my notes. If I were to put my money into a single 2020 first growth though, it would be Mouton Rothschild, Philippe Dhalluin's magnificent final wine, for reasons of both absolute quality and sentiment. And at a property where it is particularly reassuring to know that Philippe's winemaking legacy is being honored by his long-term assistant, Jean-Emmanuel Danjoy, previously director of Château Clerc-Milon.
Three personal "group" soft spots as 2020 vintage yardsticks
On the Right Bank:
Établissements Jean-Pierre Moueix, where I noted, as I tasted: "A wonderful range of wines, what a treat!" Edouard Moueix has fine-tuned his father Christian's reserved and "picked-on-the-earlier-side" style, retaining the "drinkability" of the wines, but also appealing to the taste for something a little richer. Theirs is a magnificent 2020 range. The top wines (Belair-Monange, Trotanoy, La Fleur-Pétrus) should be no-brainers for those with the wherewithal. The real joy for many, however, will be among the middle-rank, great-value wines, such as Lagrange, La Grave, or Latour-à-Pomerol (see my buying choices and individual notes, as for the other two groups below.)
On the Left Bank:
Léoville-Las-Cases (Petit Lion, Potensac, Clos du Marquis), a range of wonderfully complete and rewarding wines at all the quality levels represented. Beautifully textured, without a trace of excess, benchmark delicious maritime-temperate Médocs.
Cos d'Estournel (Goulée, Pagodes, Cos Blanc): First-rate dry whites, remarkable second wines, and a Cos d'Estournel grand vin that, for most of the past decade, has been at once traditional, in the best sense, and utterly outstanding in quality, articulating to perfection its great slope and its proximity to Lafite.
Closing reflections
SHBs
SHB: This is what I write in my notes for Stupidly Heavy Bottle. It has been a personal gripe that I have voiced or written about for years, which does at last seem to be shared more widely. Most "sensible" wine bottles weigh around 1–1.2lb (450–550g) empty. Many SHBs weigh in at twice that, often more than 2.2lb (1kg). Cases are then more of a burden on the back, while the weight adds significantly to shipping costs and the carbon footprint. For what? Marketing alone. Because of course they add nothing to quality.
Expressions of place
Talking of fads, fashions, trends… another recent one is that Bordeaux winemaking is "all about the terroir," the expression of a lieu, letting the voice of the vineyard speak. I don't have a problem with this as such, but it is difficult to square with the fact that the vast majority of Bordeax wines are blends—of lieux within an often large, soil-byzantine vineyard, of annually differing proportions of different grape varieties, of increasingly severe "selection" (i.e. deselection, too) at assemblage … Given all this, which particular lieu, or aspect of lieu, is being given its voice, I wonder? Of course it's a lovely idea, but I'm not sure how much sense it makes as a rationalization in the Bordeaux context. Which is, for most properties, the larger ones especially, more about a blend to the prevailing ideal of local vinous perfection, given the hand that nature has dealt in a particular year, and tempered, of course, by the constraints of commerce.
Opportunity from below and optimism from above
The advance of the "second" wines continues to provide a wonderful "drinking value" opportunity. Their quality is all the better for the ever-more choosy "selection" for the grands vins. Tragic, then, that they appear so frugally on restaurant wine lists today, where there seems to be a current-sommelier anti-Bordeaux vogue. More a blind spot, an unjustified prejudice, I would say. And also a challenge to—indeed, an opportunity for—the Bordelais to promote them more as a genus.
And finally, a very nicely expressed thought, in the climate-change context, from Eric Kohler of Lafite: "2020 donne un message formidable à Bordeaux: même dans une année aussi chaude que 2020, Bordeaux est capable de faire des vins ultra-classiques. Un vrai message, qui est aussi une belle surprise. On aurait jamais imaginé qu'un millésime aussi chaud pourrait faire un vin tellement frais!" ("2020 gives Bordeaux a great, if surprising, message: Even in a year as hot as 2020, we can make ultra-classic wines. Who would have thought that a vintage as torrid as this could produce such cool, fresh wine?")
A most positive note on which to sign off!