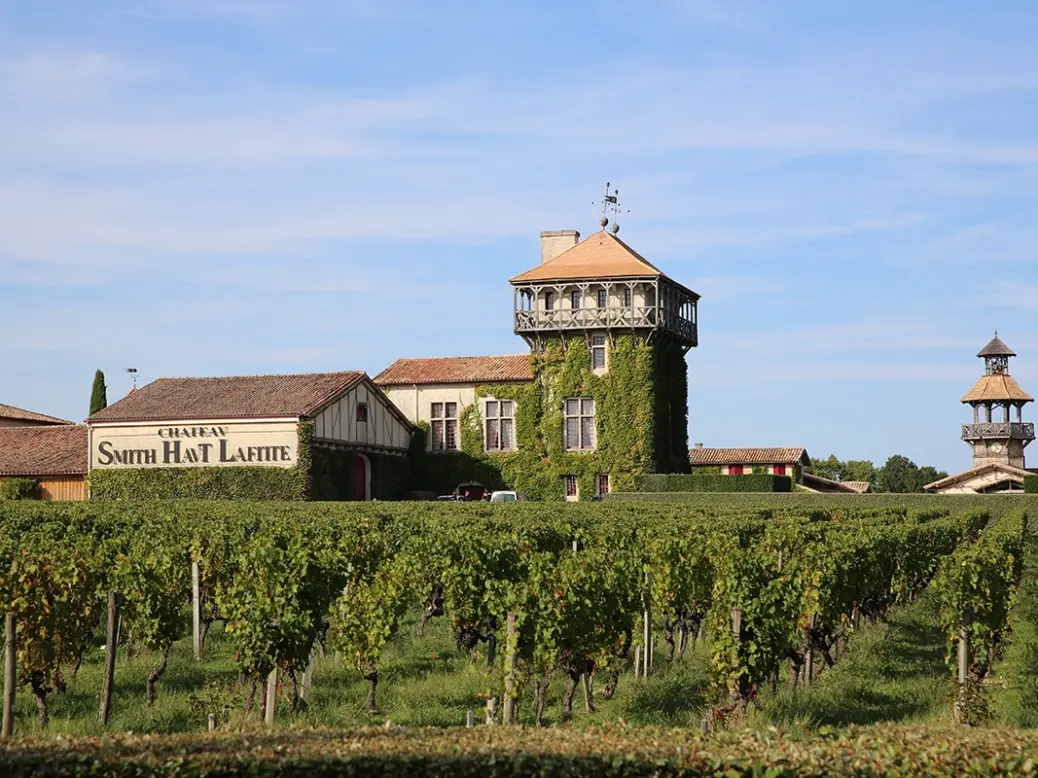 Simon Field MW's tasting notes from the Bordeaux 2022 en primeur tastings continue with wines from the Médoc, Haut-Médoc, Moulis, Graves, and Pessac-Léognan.
Bordeaux 2022: Something new under the sun—Catch 22
Bordeaux 2022 tasting notes: Left Bank part I
MÉDOC / HAUT-MÉDOC / MOULIS
Château Belgrave 5ème Cru
(57% CS, 39% M, 4% PV)
Located adjacent to Lagrange, and thus sharing an elegant disposition to St-Julien elegance, Belgrave fully justifies its position in the 1855 Classification—the 2022, in particular. There is an attractive aromatic of red fruit, tobacco leaf, and ink, then on the palate, a crescendo of flavor, neatly clipped tannins, and a mid-palate authority that is deeply satisfying. 92–93
Château Mauvesin-Barton
(55% M, 36% CS, 9% CF)
A deep purple color and attractive, Merlot-driven aromatic of blue fruit and cream, with a hint of soft pepper spice beneath. The most concentrated Mauvesin that I have encountered, with a real depth of flavor. It does not surprise me to learn that the average age of the vines is more than 40 years. Well done, Mélanie! 92–93
Château Sénéjac
(47% CS, 34% M, 13% CF, 6% PV)
A delightful Sénéjac, which, while far from forsaking the Northern Médoc's reputation for forthright and powerful wines, has built on said and added a layer of elegance, a sheen of gloss, which is both appealing and finely managed. The alcohol at 13.5% is far from overpowering, the tannins tight-grained and persuasive, for sure, do not overwhelm, and the fruit character is attractive; plums, damsons, and figs, but also crushed raspberry and loganberry. The wine has savory depth and a sapidity that keeps the taster involved on several levels. A good effort, all round, and, Dieu merci, Sénéjac did not fall in the path of June's pernicious hail corridor! 92–93
Bordeaux 2022 Field notes: St-Estèphe's northern belles
Château Sociando-Mallet
(63% M, 35% CS, 2% CF)
With 40% of the crop lost to hail and a resulting yield of 22hl/ha, Sociando had a taxing year, in terms of quantity at least. The quality is excellent, however, more linear and focused than 2018, and easily absorbing its 85% new wood. A linear, Médocain Merlot, which traverses the palate with a degree of nonchalance and ease. Not "fleshy" or plush, but with a dark-chocolate exuberance born of natural ripeness and a poised interplay between the powdery tannins and the acidity that provides a refreshing tonic to any intimation of excess. Blue fruit and soft spice take center stage; the shape is more informed by length than width, and the finish, sure enough, is crisp and reassuringly long. Carefully managed extraction and a hint of salinity complete the profile, which is nothing if not becoming. 93–94
La Demoiselle de Sociando Mallet
(70% M, 30% CS)
The salvation of rain in August added grist to the earlier downpours in June; between the two, it was dry and dry again. The clay-based soils were sufficiently replenished, however, to nurture a wine of poise, definition, and an accessibility rare this far up the Médocain peninsula. The mid-palate precision is amplified by tannins at the back of the mouth, which dance joyfully. Digeste and forward, this Demoiselle has poise and no lack of self-belief. 91–92
GRAVES / PESSAC-LÉOGNAN BLANC
Château Carbonnieux Cru Classé
(65% SB, 35% SM)
Careful vinification has helped to exploit and nurture the fruit here, with no fewer than four separate wooden vessels sharing élevage duties, all submitted to stirring, albeit "natural" for the egg-shaped vats. Marc Perrin advises that the Semillon was the more successful cépage this year, and that the Sauvignon Blanc on the croupe (where there is a little more gravel) had the toughest time. The assemblage will be finalized in July, but the prototype is promising indeed; a lovely cocktail of agrumes, nougat, almond, and stone fruit, nectarine to the fore. The low yields (30hl/ha), for a third year running, constitute the only cause for gentle complaint—but not, of course, from the consumer. Otherwise, a harmonious, generous wine, made with great care. 92–93
Domaine de Chevalier Cru Classé
(70% SB, 30% SM)
A slow burn, the influence of the 35% new wood holding it in check. Citric notes with a chalky undercoat and hints of stone-fruit complexity, buttressed by a fine, balanced acidity, yet not without the density and texture that make it stand apart from its forebear. This will broaden and gain in gravitas, its disciplined linear frame holding it back from overindulgence, however. Just a hint of that famous oily almond backdrop, which will open like a peacock's tail, to the wonder of all. 95–96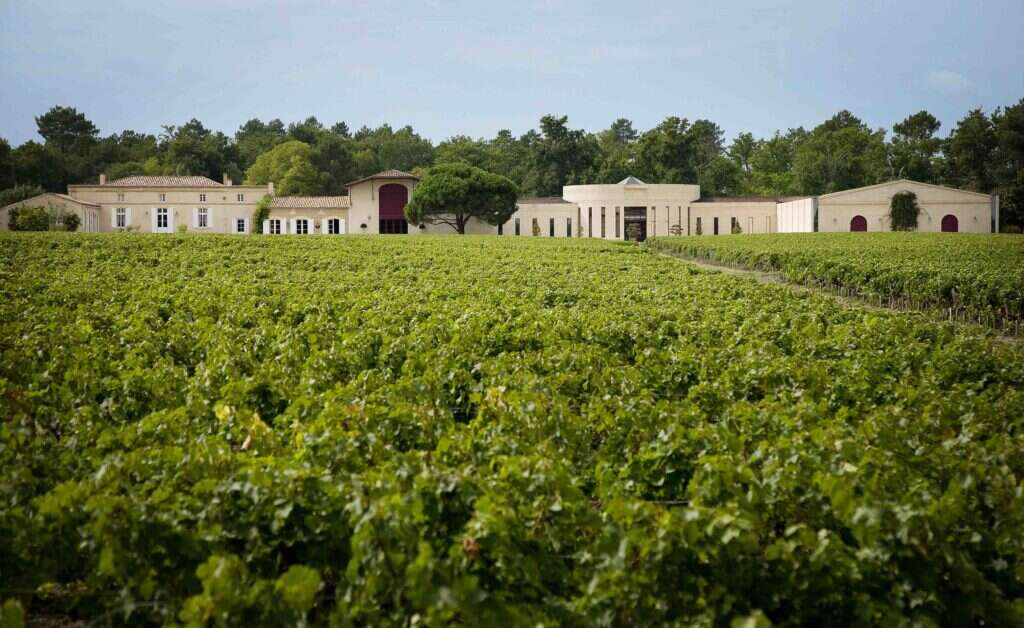 Château Couhins-Lurton Cru Classé (100% SB)
There are four interesting components here, most of them constituting Jacques Lurton's attempt to improve yet further on the pioneering work of Denis Dubourdieu; first, low yields (17hl/ha); second, the use of amphorae, positioned vertically (the aesthetic is key to Jacques!), to heighten the tension of the wine; third, the reduction of the élevage from 15 to ten months; and finally, a focus on the pH (3.4 here), to preserve the mouthfeel. All four have, I can report with confidence, succeeded; nutmeg and verbena hold the attention, agrume and quince bolster the foundations, and there is an impressive, flinty finish. 93–94
Château de Fieuzal Cru Classé
(55% SB, 45% SM)
An attractive nose of acacia and white plum, peach and verbena, the 40% new wood adding a textural imperative and creamy backdrop. Pleasing weight and a firm finish; maybe lacking just a little tension. 91–92
Château La Garde
(94% SB, 6% SM)
Limestone-fed Sauvignon Blanc is lively and dynamic, aromatically pure and refreshing en bouche. Agrumes, white flowers, a hint of elderberry, and a pure, stone-fruit finish. Accomplished and harmonious, the dash of Semillon adding a hint of beeswax and gravitas to the foundation. 91–92
Château Haut-Brion 1er Cru
(51.5% SM, 48.5% SB)
Richer and more concentrated than its sibling (La Mission), and showing beautifully, even if there is initially a touch of reduction on the nose. This wine, although not apparently somnolent, will probably go to sleep soon, and then fully blossom over the coming decades. One already discerns the citric, waxy, toasty potential of old-vine Semillon, an oaky cradle for a subject of great pedigree; hazelnut and white pepper linger, the acidity bright beyond the textural reverberations. A tight bitterness on the finish, bitter lemon; a reminder, just a reminder, rather than a volte face. 94–95
La Clarté de Haut-Brion
(54% SM, 46% SB)
This is, in effect, the white second wine of both Haut-Brion and La Mission Haut-Brion, interestingly pivoting back to Semillon this year, especially well-suited to this slow-burn vintage. No lack of aromatic complexity here, however, with hazelnut, guava, citric oil, and even a hint of pineapple, respectful of the warm year but not overwhelmed by it. The substrata of acidity can be mined without too much difficulty. A hint of salinity on the finish—very accomplished, all in all. 93–94
Château Larrivet Haut-Brion
(86% SB, 14% SM)
The Semillon vines are 63 years old and, despite only filling four barriques, add a gloss of lime and wax to the notes of guava and grapefruit. Subtle and softly spicy in the mid-palate, with hints of dried apricot and poached pear. The finish may be a little abrupt, certainly less obviously shard-like than its predecessor. Very pleasant now, however, although one may well be tempted to see how and if the ending finds resolution. 93–94
Bordeaux 2022 Field notes: Epoustouflant (adj)—staggering, mind-blowing
Château La Louvière
(100% SB)
Four distinct terroirs, admittedly focused principally on clay, have molded this distinctive Sauvignon Blanc, which has been fermented this year exclusively in foudre; Jacques Lurton feels that the warmth of the year, plus regular lees-stirring, sufficed in terms of concentration. It seems that he was right; this example is poised and deftly textured, the notes of agrume and tobacco thrown into fine relief by a long saline finish. 92–93
Château Malartic Lagravière Cru Classé
(76% SB, 24% SM)
There is more Semilllon than usual in this year's white, which, paradoxically, almost seems to be more elegant, all the more surprising, given the warmth of the vintage. Agrume and tilleul catch and hold the attention, the bâtonnage has lent just the right amount of texture, and there is a clean but complex finish, with both spearmint and lanolin evidenced; both, of course, in moderation. 92–93
Château La Mission Haut-Brion Cru Classé
(78% SM, 22% SB)
Leaner, with more energy than Haut-Brion Blanc, by turns gently chalky, infused with tense citric fruit and mouth-willingly complex—role reversal, therefore, in comparison with the reds. This partly reflects the distinct Semillon personality, which is given full rein this year, partly a subtle shift in the approach, which now favors discretion over flamboyance. 2022 is such an unusual vintage, however, that it seems to marry both characteristics in this embryonic sample. 94–95
Château Pape Clément Cru Classé
(63% SB, 35% SM, 2% MUS)
An impressive effort from Canadian Matt Turner, who once again has used a full gamut of vessels to coax character from these sun-kissed grapes. Ironically, the result is more restrained than expected, especially given the reputation of the house for rich and gregarious wines. There is a chord of verbena providing the tension, then finely pixelated definition, with almond and macadamia evidenced and the faintest hint of vanillin. A soft spicy finish allures but does not detract from the gravitas of the ensemble. 91–92
Château Smith Haut Lafitte
(90% SB, 5% SM, 5% SG)
A highly accomplished Smith Blanc; the old-vine Sauvignon almost takes on a Semillon waxiness in this warmer vintage, its naturally more acidic temperament ideally suited to the torrid conditions. The Sauvignon Gris adds an oily, almost smoky, subtext, with notes of flint and petrichor lingering, too. Yet beyond all this there is genuine freshness and a delicious, poised finish. Technical director Fabien Teitgen advises that the ur-biodynamic preparations really helped in 2023 for the whites, encouraging deep root penetration and the absorption of nutrients to envigor the vital signs. 93–94
GRAVES / PESSAC-LÉOGNAN ROUGE
Château Carbonnieux Cru Classé
(50% CS, 40% M, 5% CF, 5% PV)
A classic Graves nose—stony, gravelly, of course—with Morello cherry, crushed blueberry, Asian spice, and a hint of pepper. The alcohol is high at 15%, but not unbearably so, given the overall structure, which is solid and dense, without being rustic. No signs whatsoever of surmaturité (the harvest took place from the first to the third week in September). One senses the heat only on the finish, which is a touch foursquare. Time will sort that out, I suspect. 93–94
Château Les Carmes Haut-Brion Cru Classé
(40% CF, 34% CS, 26% M)
The Clos, walled within the walls of the city, as it were, has a particular microclimate and very distinct terroir, marginally less gravelly than Haut-Brion itself, the gravel rapidly ceding to a layer of clay and then a bedrock of hard limestone. The aging has been shared between new barrels (70% but hardy discernible), 18hl casks (20%), and the balance in amphorae. The impressive aromatic weds cassis, seaweed, and mandarin (an unusual combination, I concede); rising above the vocabulary is a joyous buvabilité, the seam of freshness carried all the way through to the mentholated finish. Finely powdered tannins and a harmonious, complex mouthfeel; paprika and violets, crushed chocolate and loganberry. It's all here. An updated Dialogue of the Carmelites, but this time with a happy ending. 97–98
Bordeaux 2022 Field notes: Fear no more the heat o' the sun
C des Carmes Haut-Brion
(60% CS, 39% M, 1% PV)
The terroir is close to Haut-Bailly and Smith Haut Lafite, cooler than the city clos (harvest took place ten days later), and with a little more sand interspersed with the clay and gravel. A rich purple, and a distinctive aromatic of blackcurrant paste and cranberry; a distinct spiciness, too (winemaker Guillaume Pouthier cites quinaquina, which, when I look it up, is described as a natural cure for headaches; oh, and with a distinct, barky-sappy aroma); be that as it may, there is benchmark purity here, an impressive freshness, and a lifted peroration, conjugated by mint and spice. 92–93
Domaine de Chevalier Rouge
(80% CS, 10% M, 5% PV, 5% CF)
The Cabernet Sauvignon reverts to its normal 65% holding, last year's scare with the Merlots not to be repeated. Cabernet Franc and Petit Verdot really are bit parts this time, but seem to add, respectively, a leafy blue-fruit complexity and a lick of spice. Adrien Bernard concedes that the 4 inches (100mm) of rain in June ensured that this was not to follow the 2003 (not a bad route to follow, come to think of it); it is already impressively complex, nonetheless. Something between 2010 and 2018, maybe; the tannins perhaps veering toward the latter, but the overall structural integrity favoring the former. Very promising indeed. Next year will be the first fully accredited organic vintage, but one already senses the detail and care in the fabric of the 2022. 96–97
Château Couhins-Lurton
(85% M, 15% CS)
Jacque Lurton's "little Pomerol," most definitely in terms of aroma, even if the palate lacks the plush opulence of its icon. Aromatics of damson and plum, then violets, raspberry, and spice. A low-temperature fermentation (again in several different vessels), and then gentle extraction, have bequeathed a core of fruit, powdery tannins, and quite firm acidity; a noble effort, guided by the highly active Eric Boissenot.
Château de Fieuzal Cru Classé
(50% CS, 45% M, 5% PV)
Thomas Duclos has consulted here, and one detects his taste for ripe and fulsome fruit, especially evident on the nose, which sings of damson and black cherry. The palate is a more complex beast altogether, almost surprisingly so, after the declamation of fruit. There are herbs and menthol here, a fine structure, with acidity and tannin in harmonious coincidence, and then a finely poised finish, touched by both eucalypt and cacao. 35% of the barrels are new. 92–93
Château La Garde
(63% M, 37% CS)
From both the plateau and valleys surrounding Martillac, a large property (114 acres [46ha]) covering a mosaic of soils, with vinification by parcel and aging in 33% new oak. A particularly successful outing in 2022, with a classic gravel and cigar-box nose, Morello cherry and plum skin behind that, and yet further back, hints of clove and eucalypt. Bright, elegant, and poised. Careful tannin management courtesy of the precision afforded by a new vinification center. 92–93
Château Haut-Bailly Cru Classé
(56% CS, 37% M, 5% PV, 2% CF)
Gabriel (well-named, it would seem) advises that if 2021 looked back, stylistically (the word "classic" was popular) then 2022 looks forward, hence the soubriquet "prophetic," which is used to describe the 2022. If this is how claret is to taste henceforth, please count me in. A grand, even grandiose, statement, far richer and more persuasive than its immediate forebear; crushed blue fruit, loganberry, cloves, and a hint of gunpowder. The tannins are ripe yet disciplined, the mouthfeel generous yet not overindulgent; an archetype of the glorious weave of contradiction that makes up 2022, and wonderfully assertive without jeopardizing the discreet charm for which Haut-Bailly is famous. 95–96
Haut-Bailly II
(65% M, 30% CS, 3% CF, 2% PV)
A little more Merlot than usual in HB2; most of the Cabernet was so good that it had to go into the grand vin, says president Véronique Sanders. The result is seductive and silky; soft red and black fruit glide across the palate, the powerful tannins of the year tamed by the gentlest of extractions, held at low temperatures (75–77oF [24–25oC]). Delicate, yet with come-hither charm at the same time; quite an achievement, and one that is hard to resist. 91–93
Château Haut-Brion 1er Cru
(54% M, 35% CS, 11% CF)
Haut-Brion is often a little closed during the main en primeur tasting week. Commerce is not allowed to get in the way of nature. Therefore, a stern nose, embers and tapenade, the dark fruit lurking beneath. Therefore, a palate that is almost austere. More Graves character than in La Mission, but does that mean more authenticity? Enigmatic, as seems appropriate in this most enigmatic of vintages. Structurally set fair, this Haut-Brion will need time. But time is on its side. 96–97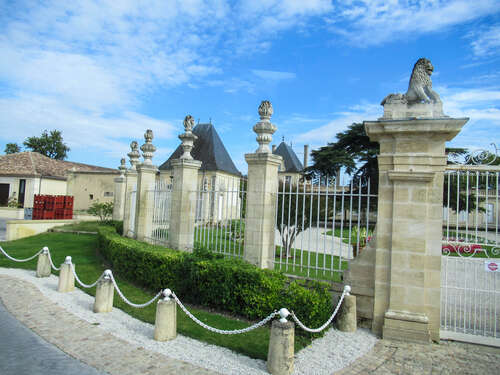 Le Clarence de Haut-Brion
(62% M, 22% CS, 14% CF, 2% PV)
More reserved than La Chapelle, with distinct aromatics of white pepper, crushed raspberry, and pavements after rain… but only after the sun has come out. Hints of peppermint and violet underline the personality here. The structural make-up is impressive, tannins softly beguiling the ensemble, which is tightly knit and quietly confident. 91–92
Château Larrivet Haut-Brion
(61% CS, 21% CF, 18% M)
After the exile of the Merlot in 2021, normal service is resumed, the more obviously forward and fleshy notes in the front and middle providing counterpoint to the elegant and leafy minerality in play… all very Pessac. The tannins are silky, the acidity composed and reassuring, and the sapidity on the finish, another house signature, has to share the final lap of honor with notes of licorice and eucalypt. Most of the Merlot has been aged in amphorae and thus does not ponder. 93–94
Château La Louvière
(70% M, 30% CS)
Juicy and approachable, a happy reminder of the potential of Merlot from this commune; red-fruit dominated, soft and forward, with the chalky tannins, moderate alcohol, and broad structure to underline quality and a potential to age over the medium term. 92–93
Château Malartic Lagravière Cru Classé
(53% CS, 43% M, 2.5% PV, 1.5% CF)Petit Verdot makes its first appearance in the grand vin here, and may well contribute to the spicy grip at the back of the palate. The fruit character is generous and forward, damsons, cherries, and sloes to the fore, then crushed raspberry and cigar, the faintest whiff of camphor adding a further dimension. The core is a little on the muscular side, but no cause for shame or anxiety, and the wine wears its 14% alcohol well. The finish, just a little abrupt, or at least ungainly, will also benefit from a little bottle age. All in all, a very accomplished Malartic, which shows that the attention to detail in the vineyards (horse plowing and chicken-powder fertilizers, etc) is starting to pay off for Monsieur et Madame Bonnie. 93–94
Château La Mission Haut-Brion Cru Classé
(52% CS, 43% M, 5% CF)
La Mission is heady yet open, full-bodied yet not without a floral lift. Less traditional Graves gravel, more on the dark fruit, yet neither overworked nor indulgent. The dark notes take a while to unwind, but when they do, they carry all before them in a symphony of generosity, the crescendo all the more beguiling given the firmness of the attack. La Mission is less "stern" than of old; it is, seemingly, entirely possible to lose the gravel but not the gravitas, in Graves. 95–96
La Chapelle de La Mission Haut-Brion
(56% M, 36% CS, 8% CF)
A forward, ripe, and attractive Chapelle; winning, silky tannins, a roundness that belies the mere 20% in new wood and an impressive definition on the finish. Pure-fruit composed and alluring. 91–92
Bordeaux 2022 Field Notes: Carmes before the storm
Château Pape Clément Cru Classé
(60% M, 40% CS)
The red conforms more to the framework of my expectation, for better or for worse, if one may presume to have expectations before tasting something! There appears to be a high level of toast and the blue and black fruit, despite its undoubted ripeness and intensity, is somewhat submissive, hitherto lacking energy and drive, although this is certainly built for the longer term, so may well "come round." The tannins are fine and rigorously defined but do not fully compensate for the rather brutish attack. 93–94
Château Smith Haut Lafitte Cru Classé
(60% CS, 40% M)
My tasting is a couple of days after the King of England has had to cancel his first state visit, which was to include a tour of Smith Haut Lafitte. Co-owner Daniel Cathiard is stoical, and sure that the honor will eventually be bestowed. A positive approach, then. This is captured in the winemaking, which is as pragmatic as it needs to be, therefore appreciably so in 2023. Cold soaks, cool temperatures, minute parcels for vinification, and a siphoning off into other lesser labels (mainly Les Hauts de Smith and Le Petit Smith Haut Lafitte)—all of which leaves the senior wine happy to bask in its own undoubted excellence. I was taken by the loamy, gravelly aromatic, the deft and poised balance on the palate, and the extremely elegant and finely powdered tannins. Once again, the long-standing viticultural practices, organic and verging on biodynamic, have come into their own. Aromatically refined and structurally imposing; all in all, a very impressive achievement. 94–95