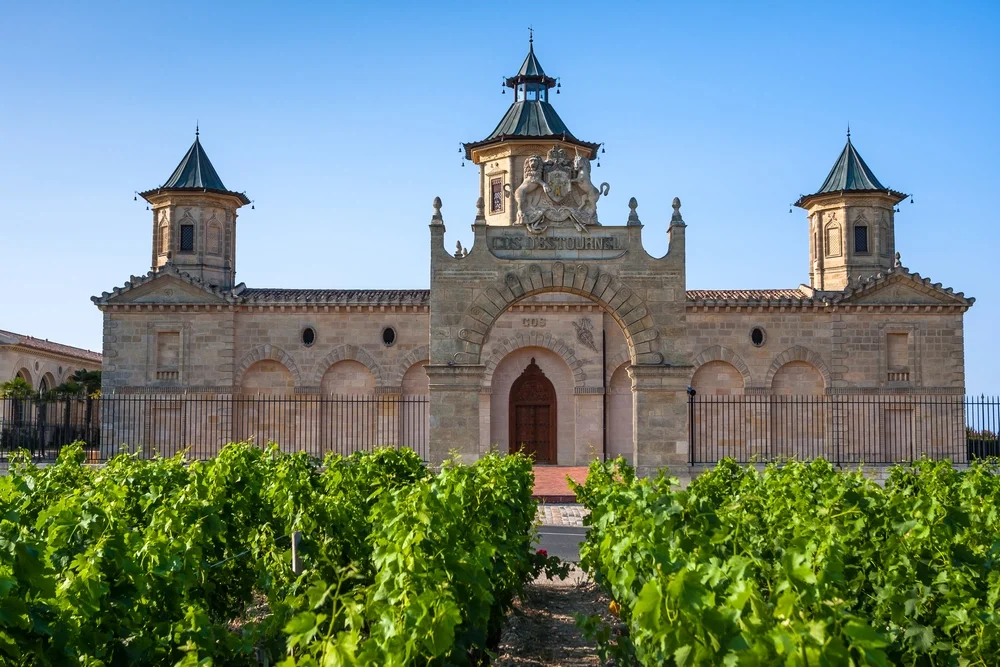 In his latest dispatch from the Bordeaux 2022 en primeur tastings, Simon Field MW reports from St-Estèphe, where he finds an appellation that is very much on the move.
St-Estèphe is sometimes seen as the poor relation, admittedly from within the ranks of a highly aristocratic family. It does not have a first growth, only five crus classés, and its northerly location has often meant that Cabernet Sauvignon has not been able fully to ripen, prompting an ongoing campaign to increase the plantings of Merlot, all the more persuasive, it would seem, in the clay-dominated parcels to be found as one moves inland from the Gironde Estuary.
In an uncompromisingly hot vintage like 2022, however, one might have thought that St-Estèphe's hour might be at hand. To a greater or lesser extent such a thought would be justified, although the now infamous hailstorm of June 20th in the commune's northerly sector did result in a stylistic diaspora, often, as at Phélan Ségur, within the same property! Half of the Phélan vines escaped the outrage; the other half were virtually wiped out. A somewhat challenging vintage at Phélan then? Yes, agrees cellar master, Fabrice Bacquey, but also very rewarding. The big guns (metaphorical) did not need to point their anti-hail canons (literal) at the skies, but many lesser properties, less well equipped, were badly wounded on June 20th, as were many well-known Haut-Médoc wineries just to the north of the appellation, including Charmail and Sociando-Mallet.
No problems with ripening, then, but what about tannin management? This is traditionally seen as something of an Achilles heel in St-Estèphe, at least for those who prefer to avoid the often raspingly dry tannins often associated with the commune (sometimes unfairly) and also traditionally encountered in a hot and dry vintage such as this. In this respect St-Estèphe appears to have turned the corner and the very best '22s encountered (the magisterial Montrose is many people's candidate for the overall wine of the vintage) managed to retain the commune signature ("enlightened austerity" is perhaps an exaggeration) without succumbing to identikit anonymity. Perish the thought.
Bordeaux 2022 Field notes: Carmes before the storm
Bordeaux 2022 Field notes: St-Emilion—the view from Clos Fourtet
The work, as ever, focused on the vineyard. It is always a pleasure to taste with owner Michel Reybier and technical director Dominique Arangoits at Cos d'Estournel. Between them they have half a century's experience and more than half a glass full of wisdom. Managing the heat was key, according to Dominique: In 1947 there were 43 days when the temperature was over 30°C (86°F), he tells us, whereas in 1945 it was 42 and in 2022 it was … 44 days. Even Michel was not working in 1947 but the parallel is clear: An extended season of hot days, especially when they did not all occur at once, is not a recipe for disaster, all the more so since 2022's summer nights cooled down appreciably.
St-Estèphe's 2022 secret
Does anybody remember 2003, I ask waspishly. No comparison. And the secret of 2022? The answer to this question will bring the scribes and the buyers running across the fields. There are many theories at large. According to Dominque it is down to the Vent du Nord and the fact that the littoral of the Atlantic Ocean did not get too warm. "I have a good friend who is a surfer, and he can vouch for how cold the water was, even in the height of summer," he says. The Médoc, especially in its upper reaches, is a narrow peninsula and the influence of the ocean (and the Gironde Estuary) is significant. Cos thus weighs in at 14% alcohol, no more. There was very little photosynthesis in August, he adds, as the vines were too stressed to do much at all. Sometimes stress can be a positive.
Thus the wines with (relatively) modest levels of alcohol and all-important tannin management (as a result of care with the canopy in the vineyards and with the extraction process during the vinfication itself) tended to be the most harmonious, certainly the most typical. I suspect that opinion will therefore be divided over Calon Ségur, for example, which weighs in at 15%. Lafon Rochet, at 14.5%, is not far behind, but wears its finely woven tannic cloak stylishly. Christophe Congé takes me to the window of the tasting room and points to near-neighbor Lafite, where, coincidentally, he worked for two decades. Nostalgia seems to have been harnessed positively, such is the floral elegance of his Lafon in 2022.
So, St-Estèphe is an appellation on the move, generally highly successful in 2022, and with its Left Bank Merlot (a far cry from Pomerol) well suited to adorn but not overwhelm the fully ripe Cabernet. The corporate ownership (Belgian Philippe van de Vyvere at Phélan, Suravenir at Calon, the Cazes family at Ormes de Pez, Lorenzetti at Lafon Rochet, Roederer at de Pez, and Cuvelier at Le Crock—I could go on) continues to inspire because it continues to invest. These are clearly exciting times for the putative under-dog.
And let us not forget the fifth cru classé, the only one which we have not mentioned thus far, Clos Laboury, which is so often overlooked. This has now been bought by its neighbor Cos d'Estournel and will be sure to benefit from a little avuncular care and attention to bring it into line. At the moment its style serves as a fitting reminder of old school St-Estèphe, lest we forget.
Interesting times, then, and some terrific wines. The best, for my palate at least, have preserved the tremor of modest austerity which seems well suited to the Anglo-Saxon market, and which has a proclivity to age magnificently. If, according to Véronique Dausse at Phélan Ségur, 2021 gave a polite nod to the past, then 2022 has been constructed with the future very firmly in mind. Excellent news.