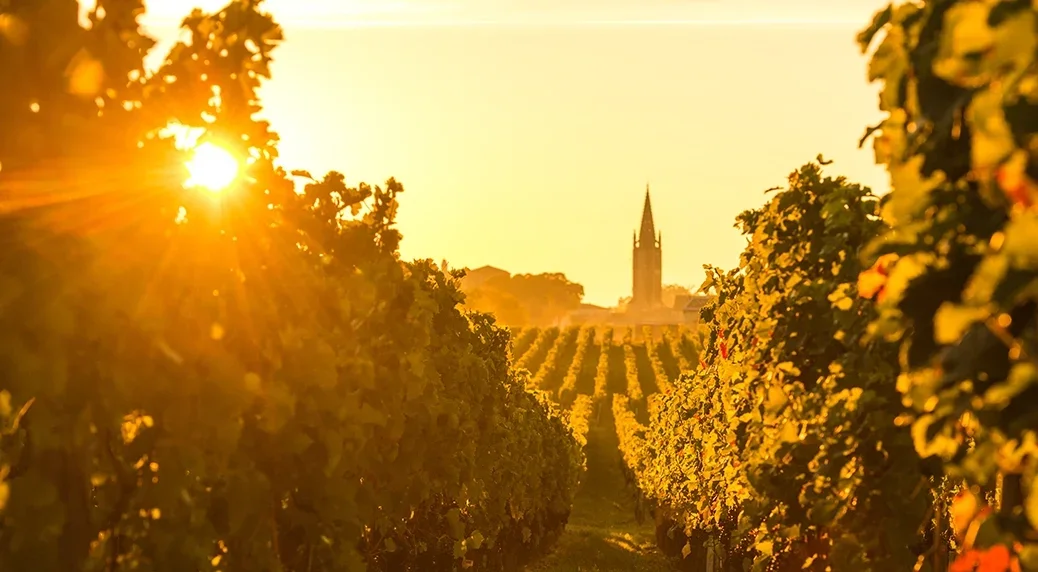 Bordeaux 2022 was a vintage marked by intense heat. So why do the wines feel so balanced and elegant? In his latest blog from the en primeur tastings, Simon Field MW examines the possible explanations.
"Un millésime chaud qui ne fait pas comme un millésime chaud" (a hot vintage which does not behave like one), so says Henri Lurton at Château Brane Cantenac, describing 2022, adding that it is the best that he has tasted since 1961 and, for good measure, dedicating it to his late father, Lucien Lurton, one of the most eminent of Bordeaux's eminences grises.
An exceptional vintage then, its wines apparently careless of the fierce conditions, and luxuriating in almost ethereal levels of luminosity and harmony. How so? How indeed. Theories there are aplenty, and all the talk is of enigma and paradox, with an inclination to resort to anthropomorphology to explain the "resilience" and even "intelligence" of the vines. Heady stuff, appropriately enough, although many would not immediately baulk at the prospect of the vines rather than the critics as the most significant of the dramatis personae.
Let's be clear. This was a very hot year; average temperatures in not one but all four of the key summer months (May, June, July, and August) were the highest for 15 years, with average rainfall in the period between January and September significantly below the ten-year norm. Drought and heat stress prevailed and the vines, anxious, failed to expand. Thick skins, small berries, and low yields ensued, presaging an extremely early harvest. If it all sounds a little like 2003, that is because, in a sense, it was all a little like 2003. But not quite the same…
So why are the resulting wines so much more succulent, so balanced and so elegant? Relatively but not excessively high alcohol levels and generous and ripe tannins, the natural legacy of such meteorological conditions, have been accompanied by balanced acidity (and impressively low pH levels) and an expressive lift in the fruit which seldom strays into the territory of the cooked or the jammy. Power and restraint, generosity and self-discipline; it is easy, QED, to stray into the language of paradox, but a lot more difficult to provide a rational explanation.
Heat stress v distress
Many theories have been offered, some of them contradictory, many of them plausible. Stress does not need to equate to distress when the evenings and nights are relatively cooler (than 2018 or 2003 for example); when one has benevolent rain falling just at the right time (in June in this instance); when one is pragmatic in the vineyard (canopy management meant the adjustment of the height of the leaves to provide optimal shelter and also the application, in some instances, of a clay-based "sun-block" to the grapes); when one pays attention in the winery (with, inter alia, shorter macerations, a less vigorous extraction methodology, and careful temperature control); and when one picks at exactly the right time to respect the matrix of interplay between acidity and sugar. Finally, the ongoing issue of vigilance during the period of maturation itself, to ensure that the wonderful sapidity currently evidenced is not overwhelmed or dried out by the oak barrels, where the wines currently repose.
All of these factors play their part, jointly and severally. All point to the fact that the Bordelais have raised their game over the last couple of decades; no longer the vestigial farmer instinct which pivoted, Pavlovian, towards maximizing sugar extraction. The physical environment has changed and so have those who farm it. A vintage such as this 20 years ago would have yielded far less impressive results.
For all that, the heat o' the sun in 2022 should not be forgotten. Some maintain that because the vines experienced dryness and relative warmth early in the season (unlike, say, in 2018 and in 2020) they were able to adapt, to prepare, to calibrate their response to the onslaught to come. Others think this is counter-intuitive, and maintain that the cooler, wetter 2021 season was the most influential precursor, replenishing the water table. Some, such as Charlotte Mignon at Château Larrivet Haut-Brion, wish to underline the significant differences between a drought (an extended "process") and a "canicule" (a prolonged and intense heat spike).
Despite the extended drought and seemingly uninterrupted sunshine, in fact neither of the two key pre-requisites to canicule conditions were met, namely an extended period of extreme heat (i.e. consecutive days over 35°C [95°F]) accompanied by very warm nights (i.e. over 30°C [86°F]). Instead, in 2022, there were several heat spikes spread over the entire summer, none lasting that long, and nights which, if only by a degree or so, were a little cooler than those in 2003 and 2018. This, above all, may explain how the musts are able to express the ripeness of a hot vintage without any rasping austerity or intimations of surmaturité. Amazing, really, but that's how it is. And everyone agrees.