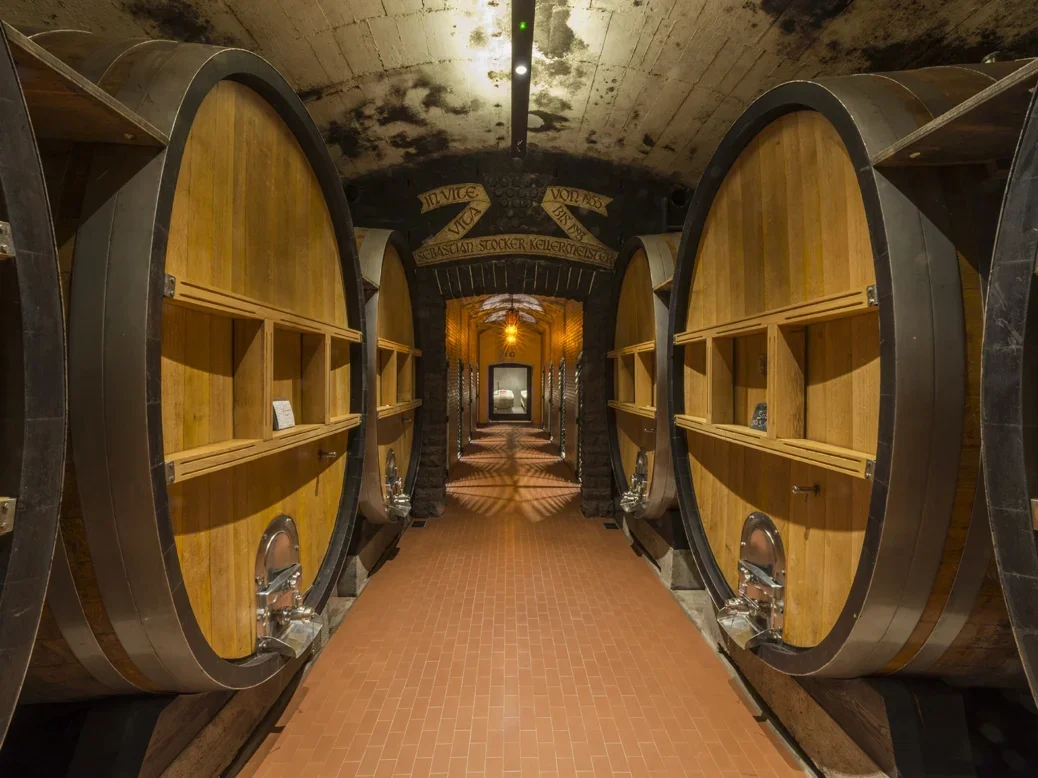 Unlike many co-operatives, Cantina Terlano takes wine quality as seriously as its social role. Robin Lee reports from a vertical tasting that confirmed the Alto Adige-Sudtirol cellar as one of Italy's finest white-wine producers.
Cantina Terlano, founded in 1893, is one of the oldest winery co-operatives in the world. It is remarkable not only for its longevity but for the exceptional quality of its wines. A cooperative is a wine business that is owned by a group of growers who join forces and share the expense of the winemaking facilities, the winemaker, the marketing and sales team, and the other employees. The reason that cooperatives (with some notable exceptions) are notorious for poor-quality wines, however, is the same reason that gives them their appeal: Their policies are made more for the benefit of the growers than of consumers.
Most cooperatives accept whatever grapes their members deliver, regardless of quality, growing practises, or whether the resulting wine can be sold at a profit. Co-op wines are often sold at rock-bottom prices, which gives little incentive for improvement to the growers, who in any case are often pensioners or people with smallholdings who grow grapes as a hobby, as part of a local or family tradition, but not as a full-time occupation. Many cooperatives receive government subsidies to support rural communities that are at risk from depopulation—which may be a noble cause but is quite different from running a successful wine business.
The extraordinary success of Cantina Terlano must be considered in the context of the ancient commune of Terlano (population 4,470) and Alto Adige/Südtirol, a borderland region that bridges a cultural chasm. Alto Adige is Italy's most northern region, and the language spoken here is German, not Italian. This Mediterranean/Alpine, wine-drinking, strudel-eating fusion culture dates back more than 1,000 years. Archeological finds suggest viticulture has been established since the 3rd century bc, the Iron Age, long before the Romans arrived in what they called Taurilanum.
High, steep, sunny, and warm
The Adige River valley extends northwest from Bolzano, the regional capital, to Merano, a neoclassical spa town with elegant promenades once frequented by Princess Sissi of Austria. Shielded from cold temperatures by the Monte Monzoccolo plateau at some 6,600ft (2,000m), and the Alps and Dolomites extending farther to the north and east respectively, thriving palm trees along the roadside and prickly pear cacti in the vineyards disconcertingly bear witness to a benevolent and warm climate. The commercial cultivation of apples is the mainstay of the alluvial valley. Grapes are grown on the higher terraces and lighter soils of weathered quartz porphyry and free-draining silica.
The highest vineyards between 2,100 and 3,000ft (650–900m) are precipitously steep. The work in the vineyards is entirely by hand where it is too steep for machines. It is a labor of love and extremely fatiguing. The tradition of producing tiny quantities of wine from these vertiginous rows passes through the generations and would not make any sense without the intangible legacy that is handed down from father to son, and from wife to daughter-in-law.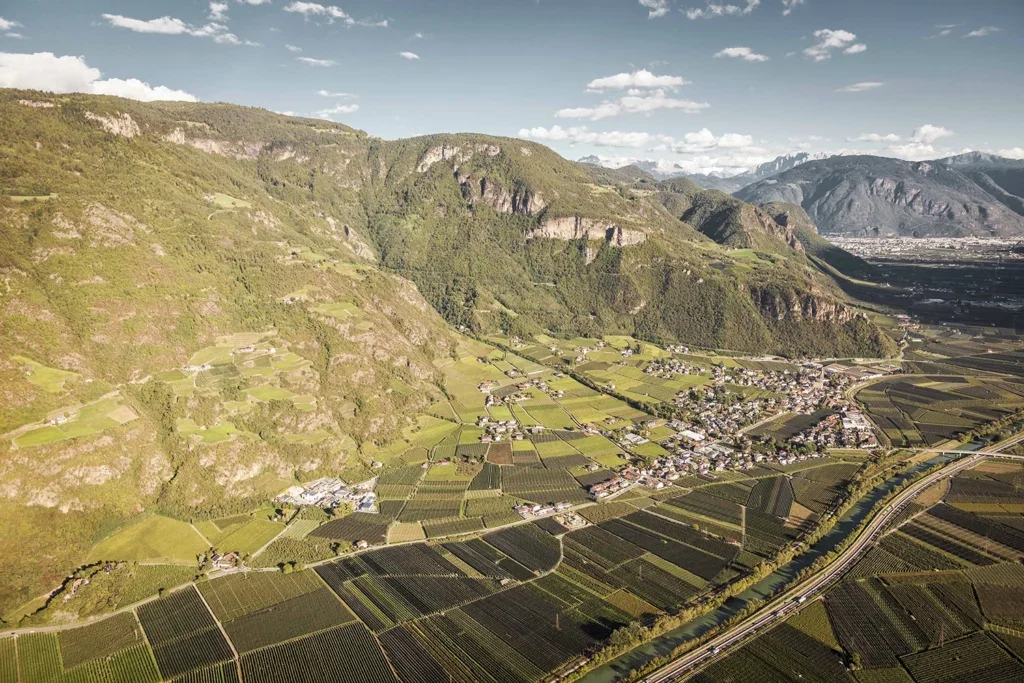 The Terlano Co-op has 150 members and manages 190ha (470 acres) in total. The average holding is 0.7ha (1.7 acres). Karin Nocker, a charismatic and opinionated member who allowed me to taste her zesty homemade Weissburgunder (Pinot Blanc) and try her homegrown tomatoes, manages an unusually large farm, with 4ha (10 acres) of vineyards plus 11ha (27 acres) of apples.
Karin is especially proud (and rightly so) of her personal orchard and garden, where she raises rare uncommercial apple varieties, Mediterranean herbs, and other seasonal produce (all of which she calls by their German names, of course), as well as her pergola-trained Weissburgunder. She opted for this, rather than the modern Guyot training system that the co-op strongly recommends when the traditional pergola vineyards are replanted, partly because she finds it more aesthetically pleasing and she wants to see her vine "culture" through her windows.
Growers at Terlano and Andriano (a neighboring co-op that has recently merged with Terlano) are given strict protocols to follow in the vineyards by Terlano's winemaker, including a recently introduced total ban on herbicides, which is much easier to impose than to follow in vineyards with an incline of up to 70 degrees, more than 2,000 hours of sunshine a year, and where summer heatwave temperatures can hit 104°F (40°C). The weather in the growing season is hot but not arid, and the downside of this is that there is plenty of weeding to do, especially since irrigation has been introduced. "It was a big war with the growers to get them to agree," says Klaus Gasser, Terlano's director of marketing and sales. "They will need to work much more and much harder, but we think herbicides are not conducive to high quality." Irrigating vineyards that once were unirrigated, as in Terlano, is commonplace, but while there is plenty of water in Alto Adige as a result of melting glaciers, the exploitation of water resources to make wine might not always be seen as sustainable or justifiable.
There are also other double-edged measures that the co-op requests of growers, such as leaf-removal and bunch-thinning, where the growers are instructed to cut off the tips and "ears" of the bunches to promote even ripening, and replacing traditional pergolas with the Guyot training system. By minimizing humidity and increasing sun exposure, Guyot training can reduce disease pressure and the need for spraying, which is certainly an important benefit. It also, however, promotes faster ripening, lower pH, and, consequently, acidity adjustments in the winery, which would never have been contemplated in the past. Terlano's vineyards are at the same latitude as Burgundy, but the high altitude and high sun exposure afforded by the steep slopes of Mount Tschöggl make this region one of the hottest in Italy during the growing season.
In addition to imposing its vineyard protocols, the co-op incentivizes its members to grow the "right" grape varieties, determined by the vineyard elevation, exposure, soil type, and location, as well as by market demand. Pinot Bianco earns a premium; Gewurztraminer does not. The price paid to growers ranges from zero to €15 per kilo, and the average is between €4 and €5 per kilo. In 1893, when the Terlano co-op was founded, 95 percent of the vineyards were planted with Schiava, a light-bodied, thin-skinned local red variety that is not known at all on the international market. Schiava wine was once popular in Switzerland, Germany, and Austria, but it has since fallen out of fashion. Cantina Terlano still produces some Schiava—a spicy-fruited, light-bodied wine—but it is sold only at the cellar door. Cantina Terlano also produces an excellent Lagrein and a fine Merlot, but it is famous for its white wines. Today, the Terlano DOC is planted 75 percent to white varieties.
"Terlaner wine soup" is a local dish made with broth and white wine, emulsified with egg yolks and cream, and topped with fried breadcrumbs and a sprinkling of nutmeg. In the past, the white wine would have been a field blend, but now the varieties are grown separately. Pinot Blanc has been designated the "hero" variety at the head of the league of international varieties selected by the Habsburg Austrians in the 19th century—notably Sauvignon Blanc, Chardonnay, Pinot Grigio, Pinot Noir, and Merlot. Cantina Terlano focuses on Pinot Bianco, but there is always some Chardonnay and Sauvignon Blanc in Cuvée Terlaner. These three varieties are also rendered as varietal bottlings. Cantina Terlano does not make single-vineyard wines, however, which would establish a premium for certain vineyards and not be to the benefit of the collective. Varietal Pinot Bianco has been produced by Cantina Terlano since 1927, and the Terlano Classico label has existed since 1931. Since 1972, Terlano has also been its own DOC. Alto Adige Terlano DOC, or Südtirol/Südtiroler Terlaner DOC, is a subregion within the Alto Adige/Südtiroler DOC. The rules of the DOC, however, are loose and all-inclusive. The impetus for quality and regional identity comes from the co-op, not the regulatory bodies.
Continuing a unique legacy
The Cantina Terlano itself, which was reconstructed from 2009 to 2012, is magnificent. The walls inside and out are paneled with the local porphyry stone to reflect the terroir and the essence of the wines. The winery building is sleek, and the winemaking is streamlined. Whole-cluster fermentation is at a moderately high temperature for a rounded and subtle, rather than an "explosive" flavor profile. To increase depth and texture, wines are kept on the lees for a minimum of 18 months. Whites are aged in 12hl tonneaux and steel tanks; reds in 500-liter casks. The overriding principle is precision and slow maturation, to create wines with astonishing longevity, which, as much as anything else, gives Terlano its remarkable reputation.
Sebastian Stocker, Terlano's winemaker from 1955 to 1993, is credited with the "invention" of the long-aged wines of Terlano. At a time when most wineries were focusing on everyday drinking wines, Stocker selected exceptional wines from old vines and set them aside for extended aging on the lees. Entirely of his own accord, in secret, and without even any authority to do so, he also hid large numbers of bottles to create a fabulous archive of older vintages extending all the way back to 1893, with large quantities back to 1955. This extraordinary resource of old wines demonstrates how long-lived Terlano wines can be if well stored, and it has bestowed on Terlano its enviable reputation. Today, Terlano's specially selected Rarity wines, dating back to 1979, are made with the "Stocker method," which consists of extended aging on the fine lees in a specially constructed, pressurized, 2,500-liter steel tank for between ten and 30 years before bottling. Whereas an occasional old bottle that happens to turn up can be a fascinating experience, nothing compares with a library of vintages, in sufficient quantities—100,000 bottles, all told—to be regularly tasted, together with a continuous production of wines dating back to 1979 intended for late release. No one would have thought Terlano wines were capable of such long aging if Stocker had not had his extraordinary foresight and temerity.
The current team at Terlano, headed by sales and marketing director Klaus Gasser and, since 2002, winemaker Rudi Kofler has built on the Terlano legacy with the launch in 2011 of the Terlano Primo Grande Cuvée. The task of getting the word out about these wines has not been easy. Terlano wines are subtle, understated, and classical, and when the fashion was for big oaky Chardonnays and attention-grabbing Sauvignon Blancs, wines like these were too easily overlooked. As Gasser explains, these are wines that are intended to go with food, not to overshadow it, and because these wines go so well with food, Terlano has focused its marketing efforts on getting onto good restaurant wine lists. "We invest a lot in commercial positioning," says Gasser. "I did the sommelier courses, to know how they think, how they see wine, which is different from if you grew up with it. When the other sommeliers see your wine on other high-end lists, they start to listen. You need a clear style, a very clear idea about wine—wines that speak for themselves and express the terroir."
Being an Italian white wine gives Terlano an edge. It was indeed lucky for Terlano that the borders were redrawn so as to place Alto Adige on the Italian side of the frontier after World War I. As an Italian white wine, Terlano is at the top of a pyramid. If it were an Austrian white wine—which, arguably, it is, not just historically, but also because of its production method and flavor profile—it might stand out a little less from the crowd. Other regions in Italy and other top Italian producers, however, are responding to the market demand for Italian fine white wine, and Cantina Terlano will find more competition in the future, both from within Italy and without. By not selling their best wines to private customers and selling them only to restaurants, Cantina Terlano may run a risk. Private collectors create value for a brand over the long term. Furthermore, there is little point in convincing people that a wine has terrific aging ability and then not allowing people to buy it to age in their cellars. Most restaurants do not age wines; they sell them on release. The older vintages of Terlano are remarkable for their glacial pace of evolution.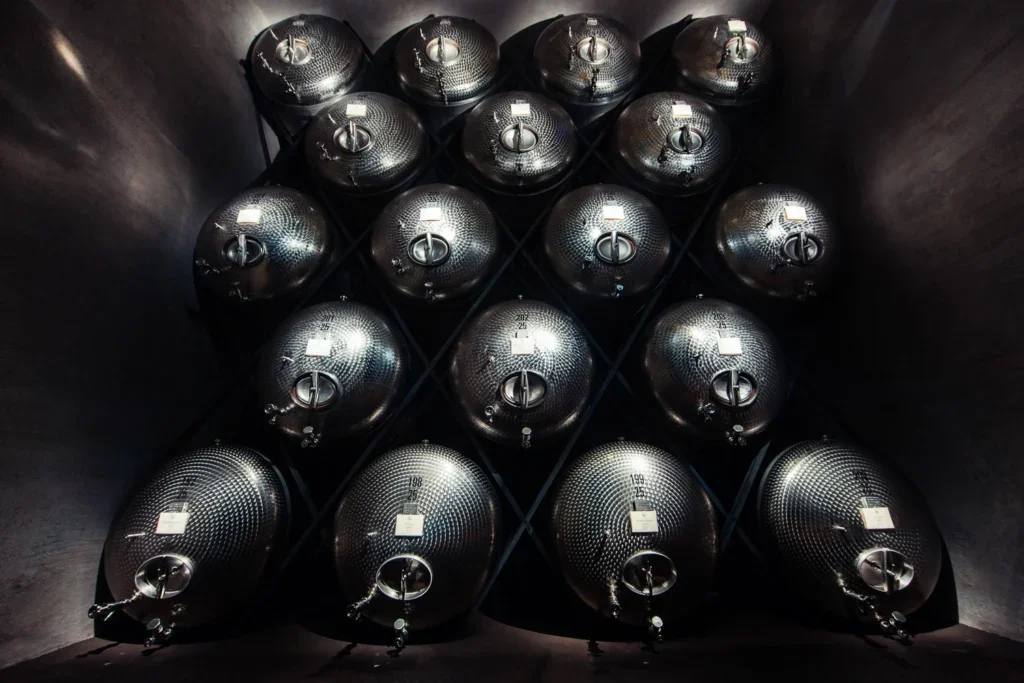 The story of Terlano shows that community cohesion, a shared tradition, and a joint sense of purpose, if managed with foresight, can preserve traditions that would otherwise be vulnerable in a world governed by short-term market forces and fickle fashion. Cantina Terlano is well placed to build on its success, but it must heed the advice of Giuseppe di Lampedusa's Prince Tancredi, who said, "If we want things to stay as they are, things will have to change." The challenge for Cantina Terlano is whether it is Italian enough to do this.
Tasting Cantina Terlano
Cuvée Terlaner 2021
The Terlaner blend is predominantly Pinot Blanc (60%), with Chardonnay (30%) and Sauvignon Blanc (10%) in supporting roles. Once a co-vinified field blend, it is now grown in separate parcels, and each variety is separately vinified. Aging is in stainless steel, with a small proportion in large tonneaux. Fresh and vibrant, with flavors of pear. A hint of ginger spice adds complexity to this clean and versatile fresh white wine. | 91
Terlaner Primo Grande Cuvée 2019
Winemaker Rudi Kofler says Terlaner Primo Grande Cuvée expresses the "authentic, innermost character" of Cantina Terlano. 70% Pinot Bianco, 28% Chardonnay, and 2% Sauvignon Blanc. This is a selection from Terlano's best vineyards at altitudes of between 1,150 and 2,000ft (350–600m). Only 3,000 bottles are produced. Late flowering and a summer heatwave led to heterognous ripeness. There are fresh pear and tropical kiwi notes, with a hint of green fava and a spicy note of salad radish and mustard oil. A firm acidic backbone gives structure. This latest edition of the Grande Cuvée is slightly lower in alcohol than some other vintages (14% ABV). This is still in its ugly duckling phase, but its awkward features may be expected to unfurl into the trademark complexity once this wine sheds the last flecks of eggshell from its feathers. | 93
Terlaner Nova Domus Reserva 2019
A ripe, warm vintage. The nose boasts sweet and overt aromas of red apple and nectarine, with a deeper complexity reminiscent of fennel seeds and an indulgent textural suggestion of homemade vanilla ice cream. Tensile and rich on the palate, a fine balance is achieved with the acidity and minerality, which gives the wine a pent-up energy. Despite the ripeness, there is balance here, and surely ageability. It will be interesting to track the development of the 2019 Nova Domus alongside its higher-ranking stablemate, the 2019 Primo Grande, as both show potential, but my current preference is with this cuvée. | 94
Terlaner Primo Grande Cuvée 2018
An idiosyncratic and difficult vintage across Northern Italy. Rainy weather at flowering reduced yields, and there was severe hail in June, followed by a summer heatwave and heavy rains in September. Harvest at Terlano started in late August. This blend is slightly lower in Pinot Bianco (65%), which was badly affected by the hail, and has a larger proportion of Chardonnay (32%) to compensate. Sauvignon Blanc at 3% gives the wine a sense of forward lift. There are tropical notes of mango and pineapple, with white pear, white peaches, and lemon zest. Crisp acidity, with a refreshing green tinge of celery leaves and a hint of white pepper, nicely contrasts with the ripe white fruit on the palate. A yin/yang contrast of ripe fruit and leafy greenness seems to be characteristic of the cuvée. This is a flamboyant rendition of the Primo Grande, and it is already engaging and eloquent—though, given the track record of Terlano's best sites, which are represented here, there is no reason to drink it up any time soon. | 92
Terlaner Primo Grande Cuvée 2017
Early budding followed by a severe frost in mid-April, then a parched, dry August severely reduced yields, making for concentrated, vibrant wines. The blend here is 70% Pinot Bianco, 27% Chardonnay, and 3% Sauvignon Blanc. Notes of chervil and wild aniseed give a savory contrast to the succulent pear and pomelo core. More complex notes of toasted blond tobacco leaves and star anise add a refined umami character as the wine opens up in the glass. The long, satisfying finish has a distinctive saline note reminiscent of sea urchins or seaweed butter. The combination of refined and powerful aromas in this wine suggest it has a high potential with age, as with of all the wines tasted in this vertical, and I look forward to seeing how this wine develops in bottle over what will inevitably be a long and illustrious lifespan. | 94
Terlaner Primo Grande Cuvée 2016
75% Pinot Bianco, 22% Chardonnay, 3% Sauvignon Blanc. A delicious and fine flavor profile of ripe cantaloupe, yellow heirloom tomato, and juicy yellow peach, perhaps teetering just over the verge of perfect ripeness. Generous, textural, and concentrated, the almost blowsy aromas are corseted by higher than usual acidity at 6.2g/l TA, and a long, focused finish. This wine may require even more time to show its full potential but is already a superb expression of this unique place and this excellent vintage, giving a delicious whirlwind of sensations, thanks to its textural richness, which complements the fullness and roundness of the flavors on display. | 95
Terlaner Nova Domus Riserva 2016
This is the ticket to a great experience, brimming with rare and complex fruits balanced with verve and remarkable power. The nose opens with ripe comice pear, greengage, mirabelle, and delicately fragrant but intense white peach—tantalizing—followed by intensely spicy daikon radish. A lavish and generous wine, it has an open-knit style that is pleasurable and immediate, with a long, concentrated finish that ushers in a warm umami sensation of miso and oud. The length is remarkable, indicative of a wine of pedigree with the aging potential of a classic region. | 95
Terlaner Primo Grande Cuvée 2015
A hot vintage, with a higher proportion of Pinot Blanc (90%) than in subsequent years, leading to waxy and floral scents that set this wine apart from the crowd, lending it considerable originality and interest. Aromatic and succulent, with Asian pear, mintiness, and an exotic note of curry leaves and fenugreek. What the 2015 Primo Grande lacks in precision and verve, it wins back with its unique character and expressiveness. It remains an elegant and refined alternative, offering myriad possibilities to the adventurous sommelier and retaining its snowy purity at seven years of age in trademark Terlano style. | 92
Terlaner Nova Domus Riserva 2014
From a notoriously difficult vintage, the 2014s have emerged with dignity and admirable grace at Terlano thanks to a scrupulous selection process. Focused flavors of green apple, green zesty cucumber, a pleasantly bitter edge of rucola, and a hint of dry-aged tobacco make this a serious and refreshing wine. The roundness of the texture balances the overall impression. | 91
Terlaner Primo Grande Cuvée 2013
In the last few weeks before harvest, the temperature dropped in the evenings, and this diurnal range contributed further complexity to the flavors while preserving a vivacious acidity. 90% Pinot Bianco, 7% Chardonnay, and 3% Sauvignon Blanc. This wine has a razor-edge note of spicy, fresh-grated wasabi on the nose, along with pickled green peppercorns and finger limes. The palate, too, is peppery and zesty in equal measure, with a prevailing flavor of ripe but crunchy pears, cumin, and flint. Well balanced and concentrated, this wine has enticing precision on the long finish and dances on the tongue with virtuosity and sparkling effortlessness, confirming the Terlano trademark purity and shine. | 93
Terlaner Primo Grande Cuvée 2012
Slightly lower than usual yields after a difficult growing season, and with a high proportion of Pinot Bianco in the blend (90%), this is a wine with a complex, understatedly exotic aroma profile of green mango and early-season tangerine, with further green notes of spring parsley and tarragon. A brisk acidity elevates this wine, soldering the structure into a savory and complex framework of interconnected aromas and flavors. As the wine unwinds it reveals further half-secret whiffs of passion fruit and cinnamon, all the time restrained and balanced with its characteristic sedate composure. Tasting this wine is a remarkable experience that I strongly recommend to readers who are able to get hold of a bottle. | 96
Terlaner Primo Grande Cuvée 2011
A sunny and warm vintage. This wine has a high proportion of Pinot Blanc (85%), and it has matured beautifully. A textural wine, the 2011 is restrained at first, although a mouthwatering, saline, and substantive textural backbone is appreciable from the outset. Nectarine, green almond, and sweet-smelling hay from alpine pastures envelop the palate as the wine begins to open, giving a sensation of joy and bliss from all this gorgeous purity that goes straight to the heart with its delicious goodness. Very fine and enjoyable right now, but it will surely stand the test of time. | 94
Terlaner Nova Domus Riserva 2010
Rich, ripe, but still lean and focused. Captivating but evolved flavors of shiitake and porcini mushroom, mountain cheese, and a hint of sweet and bitter artichoke. Excellent concentration but lacks some of the focus of its peers. | 91
Terlaner Rarity 2008
The Rarity wines are made to the Stocker method and aged for between ten and 30 years on the fine lees in specially constructed stainless-steel tanks. A classic blend of 85% Pinot Bianco, 10% Chardonnay, and 5% Sauvignon Blanc. Nectarine and pear predominate, with back notes of lovage and chervil. Creamy texture, moderate complexity, length, and concentration earn this wine a candidacy for serious consideration. | 92
Terlaner Nova Domus Riserva 2003
This saline, nutty, and textural heavyweight is full of muscular energy, despite some lost fruitiness revealing its mortality and evolution. Nutmeg and caramel dominate the palate without being unpleasant or overwhelming, leading into a complex umami world of red soybean paste and gochujang. While I have a strong affection for this wine, I'm not sure it is in line with classical tastes, hence the lower score, despite the evident complexity and—dare I say it?—nobility of this bottle, which was made at a time when there was still no acid adjustment in hot vintages and the wine had to fend for itself. | 90
Terlaner Nova Domus 1998
This was aged partly in barrique, and the oak influence is still evident, though well integrated. Vanilla, white chocolate, and tonka bean dominate the complex and layered, though slightly heady nose, with a rosemary-flower and iodine influence that lends freshness to the bouquet. The palate is long and enticing, the flavors resolving into coffee and burned caramel on the finish. | 88
Terlaner Rarity 1991
This exemplary wine has a vibrant energy after 25 years on the lees. Fresh as springtime, it leaps out from the glass like a genie and captures the imagination and the senses with equivalent magic. Otherworldly aromas of violets and camomile precede the trademark white-pear aroma, with further notes of fresh mint and freshly tilled soil. A hint of tangerine transports the mid-palate into the bittersweet world of the Negroni. This is more expressive than the younger wines and displays outstanding length, concentration, and, above all, mind-boggling freshness. | 95
Terlaner 1971
The nose opens with wonderfully melodious and complex aromas of barbecued peach, pine resin, and summer truffle. A hint of green cedar shapes the contours of the structure and the meaty, luxurious palate, which is augmented with fulsome notes of blood orange and green mango. Despite this flamboyance, the palate is refreshed by a saline whiff, and the texture is stony on the long, fine finish, which is reminiscent of the truffles and charred peach skin of the first nose. Heavenly wafts of tar and sugarcane continue to burn in the empty glass, bearing witness to the intensity and concentration of the vintage. | 95
Terlaner 1966
An intriguing wine that makes you want to linger, the 1966 is still fresh and vibrant, with firm acidity. Hints of white peach and green tomato are perceptible on the nose, along with pine nuts and horseradish on the palate, which is braced with the mouthwatering umami of noble Parmesan cheese. With time in the glass, the nose recedes into volcanic ash, focusing the aromas, which become simultaneously darker and more distinct, serving as the gentlest of reminders of the wine's age. | 93
Terlaner 1955
The very complex, structured, and concentrated nose bears witness to the concentration achieved in this vintage. A powerful, dramatic wine, the 1955 opens with dark chestnut honey and propolis on the nose, which give a contour to the wine's inner fruit: arbutus and persimmon accompanied by the sweetness of polenta and just a hint of the edgy spice of Gorgonzola rind. The concentrated, long, and thought-provoking finish clears the palate with a refreshing acidity and a rounded texture. This wine's overall charm and complexity is poised to give many hours of cerebral satisfaction and pleasure, like perusing a rare book. | 94