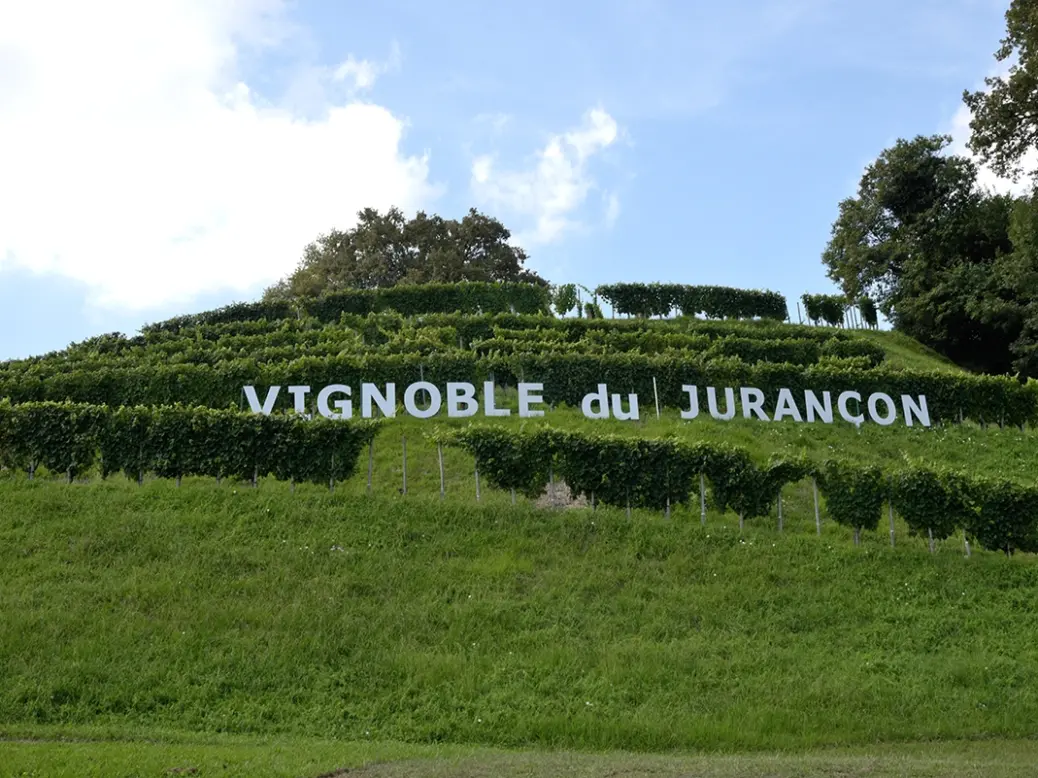 Using extraordinary indigenous grape varieties, the two great white wine regions of the Atlantic side of the French Pyrenees produce dry and sweet styles with a pronounced sense of place, says Andrew Jefford as he introduces a tasting shared with Stephen Brook and Stephan Reinhardt.
For scores and detailed notes on all 29 wines included in the tasting, subscribe to The World of Fine Wine.
The fine wines of the South of France are a gift, in large part, of its slopes, altitude, and elevation. Southern France has little lowland. Of the three zones that could be so described, the Camargue's agricultural scene is dominated by rice and livestock raising; market gardening busies the Perpignan plain; while Languedoc's own coastal plain is home to its less ambitious wines.
Provence's airy petal-pink delicacy, by contrast, is a sub-Alpine legacy; Languedoc's best wines lodge in the foothills of the Cévennes, the Montagne Noire, and the Corbières; even Châteauneuf-du-Pape sits on a raised plateau, while the Southern Rhône's villages and crus creep up the slopes to each side of a steadily broadening valley. And the vineyards of the Pyrenees? One, Roussillon, is a southerly Mediterranean vineyard of sea terraces and climbing valleys. The other lies to the north of the mountains, simultaneously open to—yet sheltered from—the Atlantic, in Béarn and Gascogny, with a footnote in Basque Country (Irouléguy). These vineyards are, for the time being at least, most comfortable and successful between 300ft and 1,300ft (100m and 400m), though climate change may lift the possibilities for viable viticulture above 1,600ft (500m).
Great and growing
Jurançon (from Béarn) and Pacherenc (from Gascony) are the two great white wines of the Atlantic side of the Pyrenees. Jurançon occupies a cooler, more evidently mountainous site than Pacherenc; you can taste as much in its acid profile, which cuts and slices. There are red wines from Béarn but they struggle to make a mark; few of these reds yet challenge white Jurançon for personality, intensity, or longevity.
Warmer Pacherenc, by contrast, occupies exactly the same appellation boundaries as Madiran, Gascony's greatest red wine and one of Southern France's finest, though most secretive. White grape varieties defer to red in the hotter spots here, and the acid balance of the whites makes for a gentler, mellower balance than in Jurançon. Passerillage (raisining) is far more common than botrytis in driving the acquisition of sweetness for Jurançon and Pacherenc alike.
Both appellations have expanded over recent years. Jurançon plantings reached 3,266 acres (1,355ha) in 2019, while the combined plantings of Madiran and Pacherenc have now attained 4,200 acres (1,700ha)—though only 741 acres (300ha) of those are planted with white varieties, making Jurançon clearly the more significant white wine. Gros Manseng and Petit Manseng are the principal grape varieties common to both these AOPs. They dominate Jurançon (especially Petit Manseng) and Jurançon Sec (especially Gros Manseng), seasoned by Courbu, Camaralet de Lasseube, and Lauzet. For Pacherenc, Arrufiac, and Petit Courbu (a different variety to Courbu) are used alongside the two Mansengs—and used more widely than are the complementary varieties in Jurançon. (The Château Montus Sec is 80 percent Petit Courbu, accounting for its "distinctively different" style.)
Jurançon, in particular, is an opportunistic vineyard: a patchwork of protected, niched sites which often face south toward the mountains, and are sited on top of the rumpled pillow of clay-rich depositional materials (conglomerates and flysch) found between the Gave de Pau and the Gave d'Oléron (a gave is a small though high-velocity Pyrenean river).
The Pacherenc/Madiran appellation occupies a series of south-to-north valleys, whose small water-courses eventually flow into the Adour River—which kinks west just after Cahuzac-sur-Adour, forming an elbow. Pacherenc/Madiran is the hilly land (clay-rich, as in Jurançon) nestled in the elbow. At present, it is mainly the gentler east-facing dip slopes of these valleys that are planted, but there are high hopes for the steeper west-facing scarp slopes for white grape varieties—and the region has, too, a historical "Côte des Blancs" zone between Lembeye and Portet, little replanted after phylloxera. There is room for expansion here.
Although low in latitude (both regions lie farther south than the entirety of Provence), this is one of France's wettest viticultural regions: Pacherenc/Madiran gets 43 inches (1,100mm) of rain a year, and Jurançon up to 55 inches (1,400mm). It's no accident that the two Mansengs and Madiran's Tannat are all thick-skinned varieties (and that each 2.5 acres [1ha] of vines needs about 200 hours of work a year). Autumns, though, are often dry, luminous, and warm, as the foehn wind blows up over the Pyrenees from Spain. This is why you will find both dry wines (after a curtailed after-season) and sweet wines (when the languid weather ambles towards Christmas) in both Jurançon and Pacherenc. There is an appellation distinction for the former (Sec signals dry wines), but you need to read the label hints to discover how sweet your Pacherenc might be; the appellation itself covers both sweet and dry wines.
Powerfully aromatic and allusive
How successful was our tasting? Opinions were divided, with Stephen Brook least enthusiastic, expressing particular disappointment with the selection of sweet Jurançon wines (a "paltry showing"—though he did in fact score five sweet wines at 90 or above), and with the sweet Pacherencs failing to impress ("agreeable but far from exciting"). Stephen scored a total of 12 wines at 90 or higher.
Stephan Reinhardt and I were much more enthusiastic: Stephan had 16 wines scored at 90 or over, and I had 18, with my scores often higher still than Stephan's. Stephan found "impressive stature, complexity, and nobility," relating to the extractive, even tannic, style of the wines, and this particularly forceful tenor of expression ("robust in the best sense of the word," as he puts it) may, perhaps, disconcert—though Stephen Brook seemed to be underwhelmed rather than disconcerted. I thoroughly enjoyed both the Pacherencs and the Jurançon wines, finding the best of both powerfully aromatic and allusive, though different in style. Our aged examples performed superbly: Jurançon both truffley and floral, over a base of honeyed apple, lemon, pineapple, and grape; while Pacherenc is maltier and spicier, with apricot and mango fruits. The textures, admired by Stephan, were also a plus for me. Indeed, that robustness, I'd argue, lies close to the essence of their Gascon and Béarnaise style: exuberant, packed with countryside force, dripping with plant sap and fungal intrigue, clear siblings to the region's best reds. That is the taste of the place itself—and of its extraordinary grape varieties, which the wine world will surely come to cherish in future.
What of the comparison between the dry and sweet wines? Our group verdict was that each category has its merits, though sweet wines "won": the top 15 wines numbered nine sweet wines and six dry, despite the number of dry wines in the tasting exceeding the number of sweet. In terms of competition between the two regions, Jurançon and Jurançon Sec managed nine of the top 15 wines, compared to six from Pacherenc, though the number of entries from the two zones was roughly equal. Given the relative antiquity of the Jurançon appellation, this is perhaps no surprise; it was created in 1936—and every French school pupil learns that Henri IV was baptized in 1554 with a few drops of Jurançon and a clove of garlic rubbed on his lips. Pacherenc's modest notoriety is more recent.
The Top 5: The best of Jurançon and Pacherenc
Lionel Osmin & Cie Clos Cancaillaü Le Dernier Carré Jurançon 2015 (13% ABV) | 94.7
Stephen Brook | The nose is surprisingly tart for a sweet wine, but that gives a welcome and intriguing nuance of quince. The palate is succulence without any trace of blowsiness, and there's an impressive depth of flavor. The flavor profile is complex, with some tropical fruits as well as apricot and quince, and the structure is robust, with an underlying mineral dryness to counter the sweetness. The length is admirable, and the wine, while approachable, is certainly not flagging. | 95
Andrew Jefford | Full, bright gold with buttercup glints. Complex, laden, and full here: powerful, slow-churning, lava-like scents, with a lovely, earthy, deep, truffle-laden richness. Moving and almost disturbing, as all great wines should be. Vanilla, truffle, musk: Beat that! I can't wait to dive in. Rich, mouthfilling, intense, and essencey, oozing with truffle oil and kinky nougatine sweetness, yet at the same time split by a lightning bolt of acidity that illuminates in sudden nighttime drama all of the sweet treasures inside. A grand, powerful Jurançon that, despite its age, is only just getting into its stride. Truffle perfumes after you've swallowed (which I couldn't resist doing). Super wine. | 95
Stephan Reinhardt | This 2015 Jurançon opens clear and intense on the elegant and rather spicy nose. Round, dense, and sweet on the palate, this is a rich and complex, dense and lovely, now mature Jurançon, with generous fruit and fine bitter notes. | 94
Charles Hours Uroulat Jurançon 2018 (13% ABV) | 93.3
SB | The nose of this wine is quite exotic, with hints of tropical fruit, such as pineapple, as well as stone fruits. Very sweet and succulent, this is saved from being cloying by its underlying acidity, which gives persistence and precision. There is no rawness here and it's already approachable but should age well. Dramatic and long. | 94
AJ | Mid- to deep gold. Sweet and attractive on the nose, with drier as well as more crystalized elements to the aroma: lots of dried, crystalized apple slices (though not the tarte tatin of some of the other wines); fresh acacia honey; broom flowers and almond blossom. Gracious and beguiling aromas. Dense, full, concentrated, and exciting. As always with the best Jurançons, you look at the acidity first, to see what kind of detonating power it has, and how much sugar action it will send raining down in its wake after the detonation has happened. And there is plenty here: honey, malt, mushroom, herbs, dried flowers. An exciting wine, with plenty of aromatic force secreted away in its pores. | 93
SR | Intense in its golden-yellow color, this 2018 Jurançon displays a very clear bouquet, with white nougat, white chocolate, apricot, and ripe-fruit aromas on the nose, but is very elegant, refined, and rich on the palate, leading to a clear, sweet, but also savory and saline finish. | 93
Château Bouscassé Brumaire Pacherenc du Vic Bilh Moelleux 2012 (13.5% ABV) | 92.7
SB | Deep straw-gold in color, reflecting the age of the wine rather than any noble rot. The nose is sturdy, with robust peach and apricot aromas, and there is no oxidation. Soft and plump, this is fully mature, but has sufficient acidity to keep it alive. Certainly ready to drink, yet not flagging. It's not a complex wine but it has gone the distance and still gives considerable pleasure. It's enhanced by a light mineral character on the finish. | 90
AJ | A deep gold but not dangerously so; as you'd expect for a 2012. Attractive, open, serene aromas, very harmonious now: soft fruits, with a light honey dressing and trickle of truffle oil. Some moist tobacco leaf and (for UK readers) a freshly opened jar of mincemeat (dried fruit). Very attractive, articulate, scrutable older sweet wine from these rare, ultra-remote clay-soiled hills and fascinating indigenous varieties. Lovely in the mouth … and a remarkable wine, too. Very Pacherenc, with that soft, burnished, honeycomb-and-malt-biscuit richness. Mouthfilling and exotic, truffle-perfumed, mango-rich, caramel-napped, sun-roasted. Frankincense, too. Turmeric! especially in the aftertaste. Actually, the acidity is relatively soft here, but it doesn't matter at all, because the sugars are so flavor-saturated, packed with a lava-flow of glycerol (which surely would never attain these levels in Jurançon) and dry extract. A genuinely remarkable wine, which I feel privileged to have tasted. I don't think it has a long life ahead (and other wines in this tasting may overtake it) but I also don't think you could taste many finer dessert wines from France than this in 2023. | 96
SR | Golden-yellow in color and with a greenish hue, this almost 11-year-old wine displays an intense and savory, slightly oaky nose. Sweet but also rich and intense on the elegant palate, this is not just a dense and very sweet, but also a savory, vital Pacherenc, with a long and stimulating bitter finish. This is a gastronomic sweet wine that should be kept for at least 5 to 7 years in the cellar. Lots of stewed-apricot aromas on the finish. | 92″
Charles Hours Happy Hours Jurançon Doux 2021 (12.5% ABV) | 92.7
SB | Quince tones on the nose, which is appealing if not very expressive yet. Zesty and bright on the palate, this shows vigor and charm, with no lack of tangy acidity, which gives hints of white pepper. Yet it does lack some concentration and cut and persistence. The fruit components are all here, but not the structure. | 90
AJ | Bright mid-gold. Warm, sweet, mushroom and truffle aromas over soft, crystalized fruits; moist Virginia tobacco. Gentle, harmonious, and balanced: very comely and attractive. Lots of aromatic intricacy though not (as yet, it's young) built along show-stopping lines. That's fine. Deep, tangy, rich, full, zesty, with lots of dry extract and truffle-oil perfume. Highly allusive—almost show-stopping in terms of allusions, though in sweetness terms it is far from being a steamroller. Virginia tobacco-leaf scents to finish. Lovely complexity in quite a mobile, light-footed style, though that is a function of its age; the concentration is extraordinary here, as becomes evident every time you go back to take a new look. It's just on roller-skates for the time being. This is sensational stuff, and still young. | 95
SR | Generous and intense on the nose, this 2021 Jurançon is very aromatic and rich, but also fresh, elegant, precise, and spicy on the nose, with flinty and saline notes of ripe stone fruits and candied citrus fruits. Saline and savory on the palate, this is a rich and intense yet elegant and vibrantly fresh, saline and savory Jurançon, with a fine, mineral and tannic grip on the finish, which is long, intense, and savory. | 93
Lionel Osmin & Cie Clos Cancaillaü Au Lavoir Jurançon Sec 2021 (15% ABV) | 91.3
SB | The nose is subdued, but there seems to be ample apricot fruit lurking alongside a light minerality. The palate shows richness and weight, and a light but welcome phenolic character that gives texture. The acidity contributes spice as well as vigor, and there may be some oak influence here, but that may instead be the mineral grip of the wine. Either way, it has presence and some power, and good balance. Harmonious and long. | 93
AJ | Bright, pale gold. Fresh and juicy, with lively aromatic fruits in summer stone-fruit style. Some exposure to wood here? Mouthfilling and characterful, with lots of pungency and grain; some lees complexity. Intriguing fruits, which defy ready categorization and are all the better for it. Lovely, tapered vinosity, and a vegetal speckling to the aftertaste. Excellent dry Jurançon, and it would be hard to think of another wine quite like this. | 91
SR | This white-gold Jurançon opens with an intense and elegant, precise and perfectly ripe fruit, with notes of stewed lemons and seed-fruits, and some flinty notes of finely crushed stones. The wine is elegant as well as compact and dense on the palate, revealing a rich and sweet, but precise and refined fruit, with a ripe but lively acidity, a lingering salinity, and lemon bitterness. The tannins are fine-grained and well-integrated. The clean, nicely dry palate makes it an excellent wine to have with food—fish or white meat, but also pork. | 90