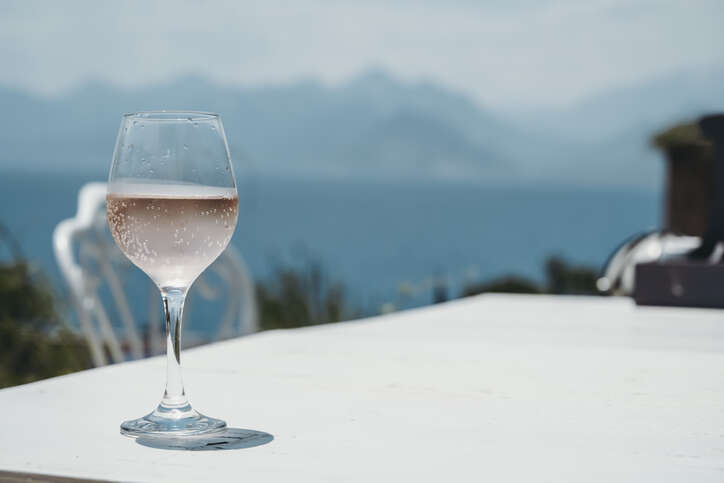 Provence rosé is the commercial success story of 21st-century wine. But is the style capable of greatness? Andrew Jefford is joined by Simon Field MW and Anthony Rose for the WFW's first-ever rosé tasting, which revealed a set of nuanced, drinkable wines marked by consistent quality and deft winemaking.
Well, here we are—and not before time—tasting rosé wine for The World of Fine Wine. In terms of wine genres, there has been only one success story over the past two decades, and it's pink. Between 2002 and 2018, global rosé production shot up by 40 percent, whereas still wine consumption in general grew by only 3 percent.
Over the past quarter-century, global pink-wine consumption has tripled. Pink wines now account for 11.2 percent of global wine consumption; the figure is still growing. In the land of Montrachet, Haut-Brion blanc, and Clos Ste Hune, more pink wine is drunk than white wine and has been since 2009.
There is a surprising correlative. Never mind Burgundy, Jura, and Pomerol, Provence has become France's most commercially successful wine region, at least in terms of recent overseas progress: a 500 percent increase in exports, almost all of it pink, over the past 15 years. Provence provides the world with its rosé-wine benchmarks, and it is also Provence that manages to generate and sustain fine-wine prices for its most lustrous pink wines.
If we can begin to talk about rosé as a fine wine, it is because of Provence.
Provence rosé: Nature and nurture
Why? Aptitude is certainly one reason. Provence is a Mediterranean zone mainly planted with red grape varieties—but at altitude. The Provence-Alpes-Côte d'Azur region has an average altitude of 1,686ft (514m), though most vineyards will be sited lower than this.
Sea breezes, meanwhile, ventilate the thin coastal strip. These growing conditions offer a sharp contrast to the warmer, more richly soiled Languedoc plain. The result is red-grape fruit that does not necessarily demand to be vinified into sturdy red wines, save in one or two zones like Bandol; there is an inherent delicacy to it from the off, which lends itself to the very short macerations required for making pink wine.
Provence's white wines, meanwhile, can be excellent (and in my opinion better than its reds, Bandol aside)—a secret asset for pink-wine making, as we'll see in a moment.
Next: equipment and know-how. Making great rosé is certainly highly interventionist, presenting a daunting series of technical challenges. Getting the ratio of leaf area to fruit load is strategically significant, and ideally maturation should come slowly, without vine stress (a little irrigation helps). Since the grapes will generally be picked in hot, high summer, often in August, dawn picking is essential—when the fruit is just on the approach to full maturity but prior to the cusp.
Sorting and gentle (non-oxidative) handling is obligatory, then cool, ultra-light direct pressing, timed to the second, under inert gases, with fining and chilling of the must and sometimes selective skin maceration. Fermentation, more or less cool, might be in neutral steel vessels or in cask. Lees can play a vital role: Some want the wines to go through malo; others don't. But producers won't breathe easily until the wines are in bottle—and maybe not even then, since clear glass (always vulnerable to light strike) is first choice in order to flaunt the wine's color.
Many of these techniques were pioneered in Provence, and it was in Provence, too, that the ultra-pale petal hue obtainable via direct pressing was perfected. All of this, impressively, can be achieved at volume: a colossal asset to the region. This is not a noticeably vineyard-sensitive wine, provided growers stay on top of all the technical details.
The cultural fit between rosé and Provence is a happy one, too. The world dreams of holidaying here, sipping waterside rosé twice a day, and the physical glamour of this, the prettiest of wines in the glass, helps marketing initiatives of all sorts—from film-star or grand-industrialist estate ownership, through celebrity endorsement, to straightforward brand-building.
The work of Sacha Lichine and his collaborators since 2006 has driven much of Provence rosé's success, with Garrus, Les Clans, and Château d'Esclans itself (and the ambition and "fine-white" aesthetic behind them) making much of the running, and with Whispering Angel becoming one of the most successful global 21st-century wine brands to date. (It alone accounts for as much as 6.5 percent of the production of Côtes de Provence—and this gigantic appellation has 20,200ha [50,000 acres] under vine.)
The Lichine team pioneered the use of white Rolle/Vermentino grapes in Provence rosé blends—which helps bring the white-almond creaminess many relish in Provence rosé, as well as reining back color and contributing freshness.
Up to 20 percent white grapes can be used if they include Rolle (only 15 percent if not), and the grapes must be co-fermented; separate vinification followed by blending is outlawed.
Provence: The global rosé benchmark
In addition to assaying some of Provence's top rosés by fine-wine standards, we also wanted to see "if they can age," so we asked producers to submit two wines, one young and one older.
The fact that most producers considered 2020 "an older vintage" spoke volumes, but we did taste a trio of 2017s and one heroic 2008 with interest. Anthony Rose and Simon Field were both enthusiasts for the aging experiment. My view was that more was lost than gained with time as far as these four wines were concerned.
It was a different matter when it came to comparing wines from 2021 with their partner wines from 2020; of the six wines where we had a 2021 and 2020 pair, only one 2021 was preferred. One wine scored identically in both vintages, and the other four were all preferred in 2020.
Up to 18 months' age, in other words, may bring dividends to fine rosé, so you don't need to stress if you aren't drinking last year's bottling.
Oak—another matter of some controversy in rosé—was generally liked when subtly done, perhaps because barrel-fermentation helps the integration of those creamy lees flavors that seem to work so well with Provence rosé.
In terms of overall aesthetics, indeed, the wines generally won approval from our tasters and were considered good food partners, as well as delicious on their own. They were also singularly consistent: We noted only eight individual scores of 88 points or fewer.
Provence rosé: Far ahead of the pack
Since I was the most enthusiastic of the three scorers, I'll conclude by underlining the achievement of these lovely wines. I mentioned that Provence was the global rosé benchmark—and it is—but it's remarkable how far short the other French and global competition falls.
This is surprising for a "technical" wine style of this sort. What rivals fail to grasp is that success with rosé wine requires daring. Great rosé is a wine of radical understatement and nuance, from first glimpse, to final swallow.
It's as much about what you leave out as what you put in. What is there—those faint but telling brushstrokes—must be pristine and impeccable. Drinkability, moreover, is rosé's supreme virtue, from day one of its life as a bottled wine, whereas fine-wine makers tend to entrust drinkability to time.
Most rival rosés don't look as pretty and are more obvious in character: often too acid or too sweet (or both). Provençale winemakers understand restraint and the palate judgments that this quality requires. Their raw materials, no less importantly, put it within their grasp.
The top five: The best of Provence rosé
Château La Mascaronne Côtes de Provence 2020 (13.5% ABV) | 92
Simon Field MW | Even by the standard of this tasting, the pallor here is noticeable: oatmeal; almost anemic; little by way of red fruit, unsurprisingly, stains the palate, which is not without its own mealy, gently honeyed charm. But the structure is spare, lackluster almost, and one is left a little bewildered, albeit without any demonstrable complaint. | 89
Andrew Jefford | In color terms, this is ultra-pale and evanescent: the bride stripped bare. Tantalizing, a sort of coppery-silver. Wonderful nose: subtle, pounded crushed almonds; honeysuckle; a dream of peach but definitely not the damn peaches themselves. And that's the rosé game: suggest, suggest, suggest. Just a little bit dry, perhaps—that's the only qualification, and it's carping. Intense, concentrated, mouth-filling, super-marrowy, long. Poised restrained fruits. (Almond fruit is almost the main fruit, though you might also imagine a cherry or two.) Smooth glowing southern acidity; length and vinosity. Lovely wine. Is it Provence rosé or Provence white? Well, if it was in a white tasting, we might talk more about the prominent rounded fruits […]. The coming together of red and white grapes (as I assume this is) produces something lovely. A wonderful thing to put in your mouth. | 94
Anthony Rose | Pale onion skin in color, classic Provence, bright, subtly floral in aroma, this shows an almost surprising weight and texture in the mouth. Full-bodied with a light spritz and a textural quality of energetically youthful, pure berry fruit verging on the intense; judging by the color, it seems to punch above its weight because the flavors linger. A stylish rosé that would happily be paired with seafood of all stripes. | 93
Muse de Miraval Grande Cuvée Côtes de Provence (magnum) 2020 (13.5% ABV) | 92
SF | Van Gogh hay; a pale meniscus and aromatic of poached pear, quince, and whisper of white pepper. Red fruits are not entirely absent, but a feature of this tasting, which majors in the art of taking the category more seriously, has been the subtlety and discretion on display beyond the well-documented pallor. A similar reception greets the palate, which almost reminds me of a Roussanne; a pigmented grape for sure, but I imagine that there is no Roussanne here. Lively, refreshing, but with weight and a finely etched finish. Apero or as an accompaniment to food—take your choice. | 92
AJ | A very pale "Saharan" rosé—but bright, silvered, and pretty. Fresh, clean, enticing, and marrowy. More almond and almond blossom than strawberry. Touch of free sulfur, but it will no doubt be on its way soon—it just takes the shine off the aroma at present. Lively, fresh, smooth, long, mellow, and quenchingly drinkable. In contrast to the aroma, you will find fruit here: soft tangerine and a little strawberry. Beautifully thickened by cream and almond—and given the shape and sense of vinosity, too. Lively and delicious. | 91
AR | Pale salmon, fresh if quite quiet on the nose. With traces of spring blossom but with a light spritz on the tongue, it's juicy-textured in the mouth with a crowd-pleasing raspberryish flavor and good body, all the while retaining a freshness, even a crispness, on a refreshingly crisp, dry finish. I can see that this could be quite gulpable given the right company and food. | 92
Léoube Secret de Léoube Côtes de Provence 2020 (13% ABV) | 91
SF | Modest color, almost white-peach elegance. The nose is equally unforthcoming: tangerine in the bowl, pear skin, quince, and a hint of lemongrass. Quite assertive phenolic backdrop that, allied to a white-pepper spiciness, adds an interesting perspective to the ensemble. The wine is refreshing yet relatively full-bodied at the same time—still confidently advancing on this thinly threaded tightrope of appreciation. | 90
AJ | Very pale harmonious salmon pink. This has held its freshness and gathered harmony: a lovely seamless aroma of warm cherry, strawberry, and currant fruit. Attractive, and no decline at this point, though maybe it has lost just a little bloom. It's acquired even more complexity, by contrast. Tender, singing, very complete: an absolutely magnificent rosé that can surely not have been better still a year ago, at least on the palate. This just surges out across the tongue like a figure skater, packed with splendid subtle tangerine and lemon and cherry fruit, smooth and energetic and assured. It all subsides in a swirl of cream. Grand. | 93
AR | A super-pale coppery pink in color, this is quite shy in aroma, a touch floral. There is a light refreshing spritz on the tongue, and it shows a lot more in berry-fruit flavor, with nicely weighted cranberry fruit whose mid-palate juiciness morphs to savory, saline, and dry on the finish, even with a light food-friendly grip at the end. | 91
Château d'Esclans Garrus Côtes de Provence 2020 (14% ABV) | 91
SF | Modest color, almost buckwheat, muted like the Millet Angelus. The aromatics are attractive, suitably dignified: cobnut, almond essence, and lemongrass, hints of honey and papaya mango; exoticism should not be altogether repressed in the South of France, one would have thought—and if they add a dimension to a category that is almost too keen to be taken seriously, so much the better. There are some eminently serious wines here, and this is one of them; generosity of spirit and rigor of construction should never be incompatible in this environment. | 91
AJ | Another very pale wine, a kind of yellow frost. Fascinating. Surely some oak here and a big hatful of lees; you might almost imagine you were in Pessac-Léognan. But why not? Smells great. For all that, I can't quite find any kind of red fruit, and maybe rosé drinkers would be looking for that. This is a kind of Provence tribute act to Haut-Brion and Montrachet. Yes, that's it. Quite a full-on white, in truth; structured and firm and deeply pollinated and bee-busy. Intriguing but probably the wrong tasting; I also feel that in this category, [Château La Mascaronne Côtes de Provence 2020] is the better wine. Any fruit is definitively swamped here. But I'm glad someone is trying. And all-round classy flavors top to bottom. | 91
AR | A very pale coppery partridge eye in color, this shows a fair whack of sweet, spicy oak in its aromatic profile. There's a faint spritz, and that oak spiciness follows through in the flavors, even if the fruit quality is not overwhelmed by it. Perhaps not for purists because of that level of oak, but there's no doubting the oak is stylish and adds a dimension of impressive appeal to a wine that's out to impress and, in the end, just about walks that tightrope. | 92
Hecht & Bannier H&B Bandol 2020 (13% ABV) | 91
SF | Ballet-pump color, well-worn, sandstone. Then the nose, which is softly herbal: fennel, anise in the distance, maybe a touch of cinnamon. Firm phenolic structure with vestigial orange and lemon pith, figs, and echoes from the kitchen garden. Food-friendly and robust, without losing the charm that must lift all rosé wines from a backstory of compromise and inherent levity. | 90
AJ | Bandol dares to be a little bit pinker than Provence in general. This, in fact, is orange-pink. Round, warm, full; lots of tangerine dream. Gorgeous fruits and very tempting; subtle, creamy, refined, but a bit more drive and push from these soils. I hate, it's true, the fact that so much rosé is made in Bandol (certainly the best site in France for Mourvèdre, so a sort of tragedy that its great red wines aren't more widely appreciated), but when I sniff this wine, I can see the problem. Damn it, this just smells great! Breadth and dimensions on the nose. And a bit of oak here, too, no? Which, here, works terrifically well. (I might be wrong: subtle.) Structure, wealth, depth, a powerful train of fruit flavor: no concessions here. Supple and textured, ruffled and mouth-filling. Density and breadth; broad shoulders. Autumn apple and mango and quince, as well as tangerine and blood orange, and it's all terrific. Not Côtes de Provence, but great rosé. All sort of mineral salts and stony things afterward, plus that overarching structure. | 93
AR | A coppery bronze in color, this is subtly floral and spicy in aroma, quite intriguing and inviting. There's plenty of appealing, juicy ripe berry fruit tinged with spice, and it's even a tad peppery, the fullness of body, juiciness of texture, and savory qualities making it an appetizing candidate for the likes of prawns and lobster. | 91
This is an extract from a tasting published in issue 76 of The World of Fine Wine. For scores and detailed notes on all 29 wines included in the tasting, subscribe to The World of Fine Wine.