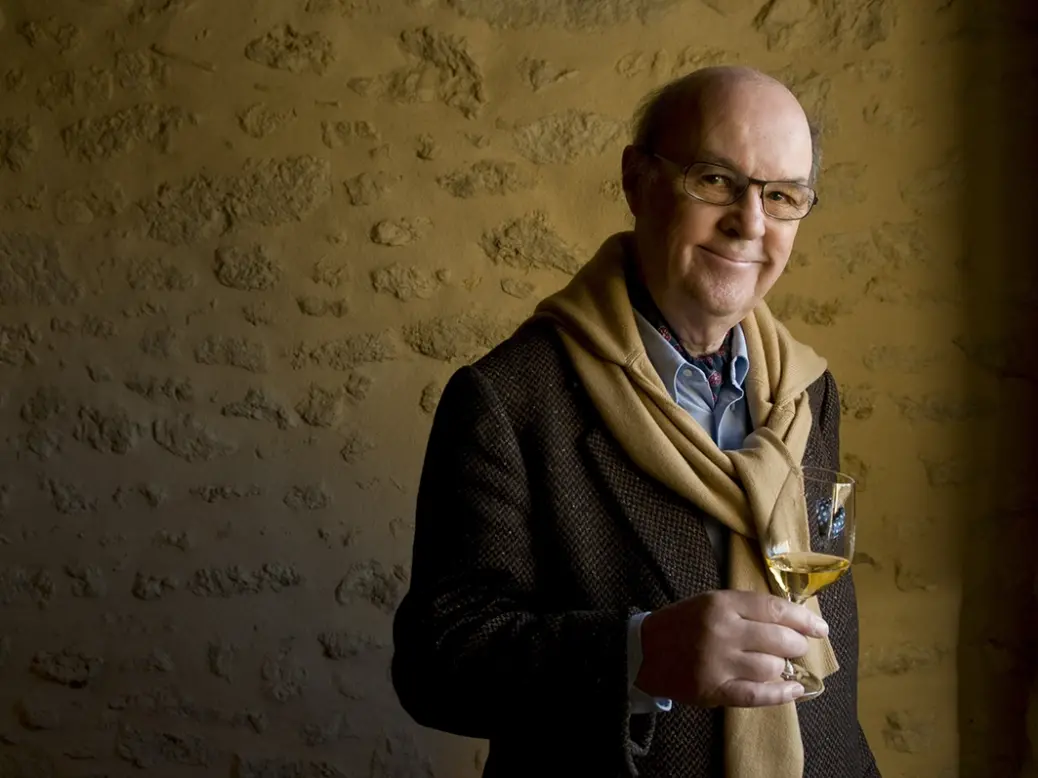 Alexandre de Lur Saluces was born on May 20, 1934, the eighth of nine children produced by Amédée de Lur Saluces (1889–1966) and his wife. That multitude of siblings was to prove a burden in later years. After military service and studies in law and commerce, he was groomed by his uncle Marquis Bertrand de Lur Saluces to take over the management of the family's prize possession: Château d'Yquem in Sauternes. The family had been embedded in the region for centuries and at one time owned other prestigious properties such as Coutet, Filhot, and de Malle. Thomas Jefferson famously ordered the wine in 1787, and the Russian imperial family paid a fortune for the 1847 vintage.
Bertrand was a bachelor, which is why he looked to his squadron of nephews for a successor. The choice of Alexandre was an astute one, and after Bertrand's death in 1968 he began his reign as manager of Yquem, a post he held until the property was taken over by LVMH in 1999. His association with the property continued until 2004, acting as a kind of global ambassador for the wine. But once he had turned 80, he was obliged by company rules to retire.
He was to prove a capable manager, renovating the buildings and vineyards, and gradually increasing production. He developed the estate's stylistically unusual dry white wine, Ygrec, but there was never a second wine. Yet selection was ruthless, and Lur Saluces was also uncompromising when it came to selective harvesting, which is an essential process if great sweet wine is to be made. In some vintages, such as 1985, there could be up to ten tries, or passages through the vineyards, and in that year the harvest was concluded only on December 19. Up to 200 pickers would be on standby for up to two months. It was an immensely costly process, but Alexandre adhered to it rigidly, and it justified the very high prices demanded for the wine.
The aging process was equally strict. The wine spent at least three years in new oak barrels. During this élevage, unsatisfactory lots would be eliminated and sold off. Alexandre was aware that his uncle had produced mediocre wines in 1963 and 1968, and was determined not to repeat that mistake. Under his regime, there were three vintages in which no wine was released: 1972, 1974, and 1992. Yquem never participated in the primeur system, and the wine was not available for tasting until after bottling. "Once the wine is in bottle," he said, "we are all speaking the same language." He was right, but there were drawbacks to this unrelenting focus on quality.
"The problem," he once told me, "is that Yquem has become a national monument. Anyone presented with a bottle is more likely to display it proudly in a cabinet than to drink it." It would fall to a younger generation to initiate marketing Sauternes as a wine to be consumed with food, rather than solely as a dessert wine.
An outstanding and loyal team
Lur Saluces ensured that he had an outstanding and loyal team under his command. Guy Latrille was the cellarmaster for 40 years, and the production manager, Pierre Meslier, was appointed in 1962. In the 1980s, however, Meslier and the proprietor had a falling out, and Meslier left in 1989. Their replacements proved immensely capable: Francis Mayeur as production manager until he retired in 2021, and Dr Sandrine Garbay as cellarmaster, although her role was even more important than the job description implies. She remained in place until 2022.
Alexandre was justifiably proud of his wine, and proud of its international renown. He was a gracious host at Yquem, and often entertained those, such as myself, with a serious interest in Sauternes. Yquem was indisputably the greatest wine of the region and thus should have functioned as what the French call a locomotive, pulling in its wake other conscientious estates and lifting their profile. Yet Lur Saluces did not adopt this role, even though he was mayor of Sauternes from 1971 to 1989. On one occasion, when talking to him before lunch at the château, he asked me to identify some of his other guests, including proprietors of neighboring properties whom he scarcely knew. The hierarchy of crus classés in Sauternes seemed more entrenched than elsewhere in Bordeaux, and there were few attempts to promote the region as a whole.
In the 1990s, the luxury goods group LVMH made it clear that they were launching a bid to acquire Yquem. It was at this point that the curse of the French inheritance laws (at least from a wine perspective) kicked in. With numerous siblings, and even more numerous nephews and nieces, Alexandre did not have a controlling share of the property. For years he fought tenaciously to retain control, but it would prove to be a losing battle. In 1996, his brother Eugène and other family members, many of whom knew nothing of the estate or its wine, accepted LVMH's offer. With 55 percent of the shares in their possession, they could outflank Alexandre. The game was over. Such battles within families were nothing new at top Bordeaux estates; Latour had been through a similar battle three decades earlier, with a similar outcome.
Although many regretted that this great estate was now a gleaming feather in a corporate cap, few would dispute that the new owners maintained, even improved, standards. The top team stayed on, and Pierre Lurton arrived as manager. He made changes. The aging period was reduced, the dry wine was revamped, and the wine was released en primeur. Alexandre was not ousted but stayed on in an ambassadorial role.
He had other business interests in the region, including an asparagus farm. He also retained ownership of the family property at Château de Fargues. The mansion itself was in ruins, and sweet wine production had begun relatively recently, in 1943, but the wine had long been of exemplary quality. The Yquem team had supervised its production, but in the 1990s, Alexandre brought in Francois Amirault, formerly of Château Nairac in Barsac, as winemaker. Quality always matched the best first growths in Sauternes. And as Alexandre aged, his son Philippe played a greater role at Fargues.
A private man
Alexandre de Lur Saluces was a private man, so it was hard for an outsider to gauge the effect of Yquem's sale on its proud former owner. But once he ceased to be involved with LVMH he seemed to become more relaxed and genial. At Yquem I never saw him other than clad in a suit and tie. Thereafter he could be seen tieless, even at tasting events. Luminaries from the world of wine were invited to the 900th birthday celebrations at Schloss Johannisberg in 2001. The following day, a chilly November morning, the guests were invited to pick some late-harvest Riesling grapes. Alexandre rolled up his sleeves and got to work with the secateurs.
His autobiography, From Yquem to Fargues: The Pursuit of Excellence, The Story of a Family, published in 2017 (see WFW 56, pp.56–59), offered fascinating glimpses into the rhythms of agricultural life, and displayed his almost feudal care for the army of estate workers. Above all, his unquenchable love for Sauternes shone through, as well as some contempt for family members motivated by greed rather than a respect for the estate they were planning to abandon.
It will always be to his credit than he never let standards slip at Yquem. He arrived when few great wines were being produced in Sauternes. At many properties, selective harvesting was perfunctory and chaptalization routine; oak barrels had been abandoned in favor of concrete tanks. But Yquem and a handful of other estates maintained tradition. Lur Saluces's undeviating adherence to quality at all costs must surely have been an inspiration to other properties determined, if with more slender resources, to do the same.