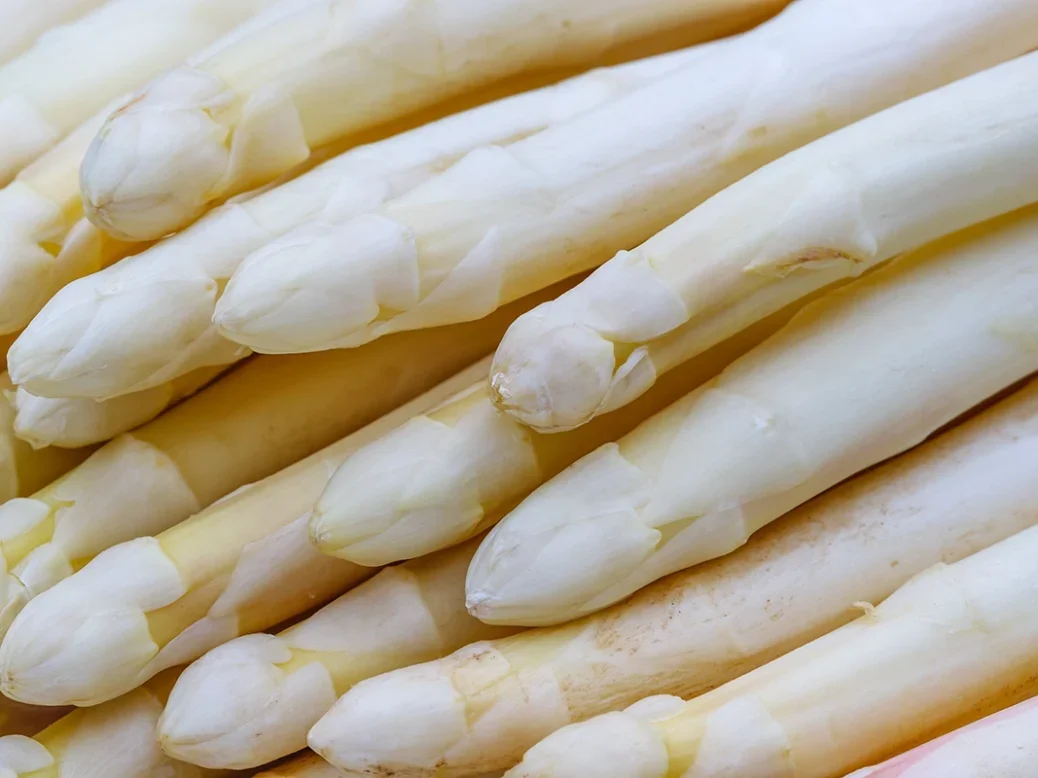 With Spargelzeit, the German white asparagus season, in full swing, Joanna Simon seeks out the softly aromatic, gently dry wines that are the best match with the vegetable's mild flavor.
You don't need to be in Germany to know that the country is currently in the grip of Spargelzeit, the annual white asparagus season in which vast quantities of Weisser Spargel are eaten. The 2023 season started a little late, after a cold February last year, but still comes within the average time frame, giving a full nine weeks of feasting, festivals, asparagus routes (Spargelstrasse), roadside stalls, peeling contests, cookery courses, seminars, you name it, before Spargelzeit comes to a close, as always (and probably with a few sighs of relief), on June 24, the nativity of St John the Baptist.
Figures vary, but the general consensus is that around 124,000 tonnes of white asparagus are consumed annually. But why the mania for it is another matter. I don't think anyone knows, except that a vegetable so pale, fresh, delicate, and delicious arriving for a limited period after all the rib-sticking food of the long, chill winter months must be extraordinarily welcome. It has certainly been celebrated for a long time.
Prince Karl Ludwig, Elector Palatine, is known to have planted it in the castle grounds in 1668 to serve at banquets. Cultivation was also documented in the region around Stuttgart in the late 17th century. And it wasn't only in Germany: it grew in popularity at the royal courts under Louis XIV.
Nowadays it's embraced by more or less the whole German population irrespective of status and income—and despite the fact that it's an expensive vegetable because its season is short and, even more, because it has to be cultivated entirely by hand (2021's production was reduced by the absence of migrant workers who were unable to travel during the pandemic).
Although it's a nationwide phenomenon, Baden Wurttemberg is credited with being the vegetable's birthplace and the city of Schwetzingen, lying at one end of the Badischer Spargelstrasse, to the west of Heidelberg, is the self-proclaimed "asparagus capital of the world."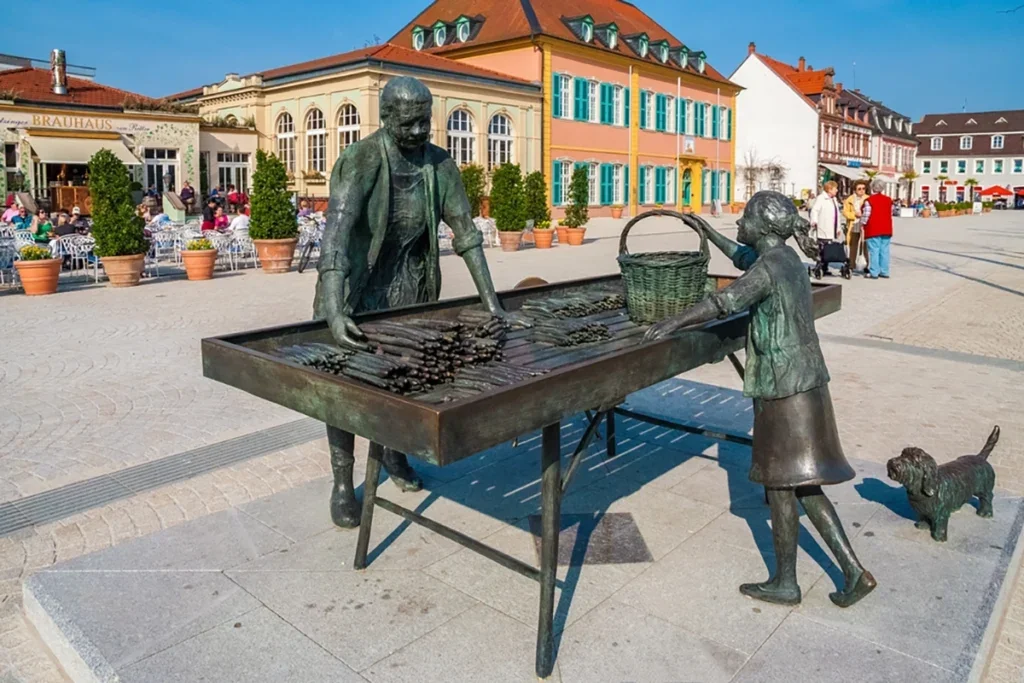 There are some decidedly untraditional dishes and recipes (anyone for white asparagus ice-cream gateau, asparagus panna cotta, or caramelized asparagus and strawberries?), but most is presented much more conventionally, alongside meat and fish, in salads and so on. Above all, white asparagus is served in time-honored way (origin unknown) with hollandaise sauce, ham, and parsley-garnished boiled potatoes—Spargel mit Sauce Hollandaise, Schinken und Kartoffeln. This simple dish has a balance of flavors and textures—freshness with the merest hint of sweetness, buttery, lemon-accented richness, salty-sweet ham—that's rarely improved by adding anything else.
At the table: Oeufs en meurette
Gently aromatic, softly dry
Grown underground (or at least under rows of mounded up earth covered in dark plastic where it sees no sunlight), white asparagus doesn't develop the chlorophyll color and tenacious, grassy-green taste of green asparagus. Instead, it has a milder flavor—slightly sweeter, often with a very delicate nutty, earthy and/or bitter accent (the latter nearer the base rather than the tip).
As a result, white asparagus is more versatile with wine, although care has to be taken not to overpower it. The grassy notes and laser-cut acidity that make Sauvignon Blanc many people's go-to wine for green asparagus usually make it too forceful for white, although mature oaked Bordeaux blends can go quite well.
Similarly, I find that most dry or just off-dry Riesling, which is often recommended in Germany (understandably), is too incisive and/or too insistently fruity or mineral. In general, what I'm looking for is gently aromatic wines that are not too high in acidity and which are softly dry rather than austerely dry or mineral.
Creamy Weissburgunder, and Pinot Blancs from elsewhere, are often very successful (to name just two Baden producers: Weingut Salwey and Weingut Bercher, both in Kaiserstuhl). Silvaner can be good, too. Franken Silvaners tend to be a bit firm and mineral, but those of Baden and other German regions often hit the right note, as do Sylvaners from Alsace growers who take the variety seriously, such as Domaine Ostertag, Josmeyer, and Rolly Gassmann.
Austrian Grüner Veltliner and Albariño can also work well. I was introduced to the idea of Albariño with white asparagus at a vertical tasting of Pazo de Señorans, including the late-release Collección wines. It was held during a lunch at the three-Michelin-starred El Celler Can Roca in Girona and the dish was white asparagus with mullet bottarga, elderflower, vegetable demi glace, and cauliflower purée.
With Spargel mit Sauce Hollandaise, Schinken und Kartoffeln, in which the buttery hollandaise is such a key element, Chardonnay comes into its own. It can come from anywhere—Pfalz, Chablis, Santa Maria Valley, Adelaide Hills, Essex (UK)—as long as it's an elegant style and its inherent creaminess is picked out subtly by oak fermentation or lees aging, making it a match for, not a master of, the asparagus. Kumeu River Rays Road Chardonnay 2021 comes to mind.
The waxy lanolin aroma and texture and lemony richness of old-vine Semillon, either aged, unoaked Hunter Valley or from Franschhoek, is another of the less aromatic varieties that can work with this dish. Tyrrell's Hunter Valley Vat 1 2009 is compelling in its complexity and intensity, but a bit overwhelming for the dish. The creamy, refined Boekenhoutskloof Semillon 2019 from Franschhoek would be well suited.