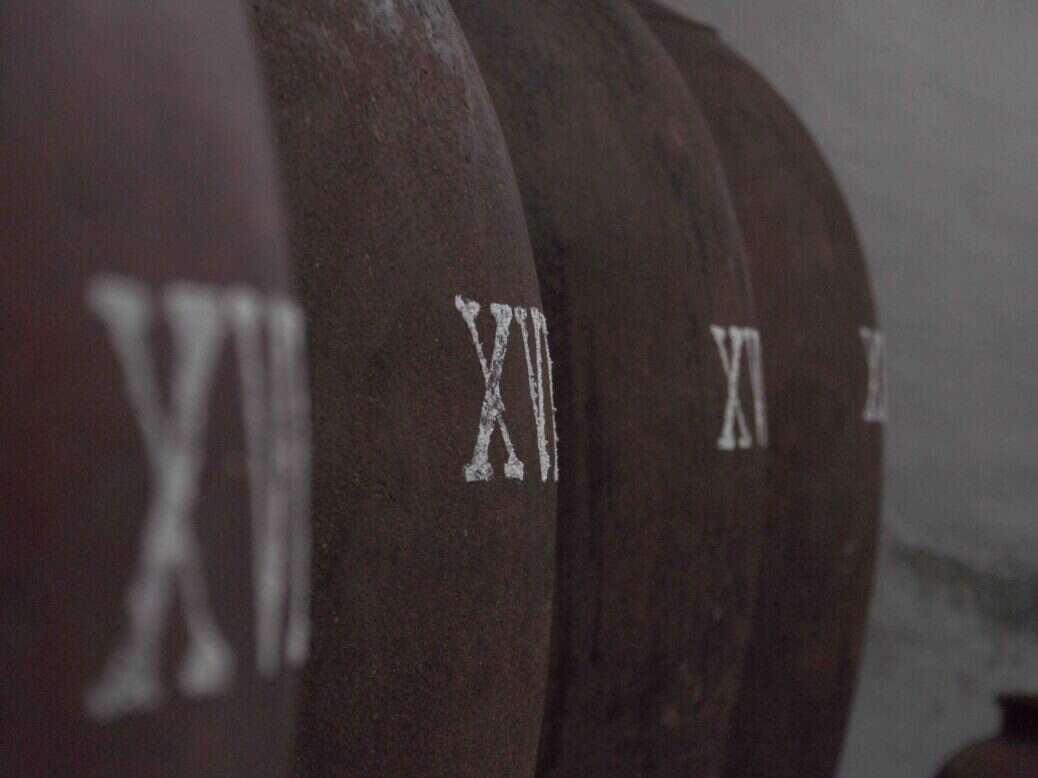 Paul White reports from the Alentejo on Amphora Day—a joyful festival of clay-pot winemaking focusing on the local talha but also featuring winemakers specializing in clay-made wine from the rest of Portugal and around the world.
St Martins Day (November 11) marks the official first tasting of current vintage wines from Alentejo's talha clay pots. Traditionally, villagers moved from house to house and between small tabernas or adegas (wineries) sharing food, tasting each other's wines, and celebrating the fresh vintage, predating Beaujolais Nouveau Day by centuries.
A decade ago this ancient tradition faced extinction, with less than 1,000 bottles produced. Happily, in 2021, close to 200,000 bottles will be produced by at least 15 professional winemakers and many more amateurs.
The story behind Amphora Day
A little background is in order. The modern amphora movement was centered within northern Italy in the 2000s, and looked to Georgia for lessons and answers, not knowing of Alentejo's unbroken Roman clay pot tradition. Eventually, Tuscany's Terracotta Wine 2014 produced the first exclusively focused clay-made wine fair. I introduced the Portuguese to the Northern Europeans, Armenians, and Georgians at Terracotta Wine 2016 and since then they've been as thick as thieves.
Inspired by this, in 2018 Herdade do Rocim developed Amphora Day in Alentejo, as an annual event centered within local St. Martin's Day talha celebrations, counterpointing the biennial Terracotta Wine (next Terracotta Wine is June 4 and 5, 2022). Both have grown into forums for sharing and showcasing evolving clay pot wine styles, complementing, rather than competing with one another.
The initial 2018 event drew 20 exhibitors, entrants doubled in 2019, then skipped a beat in 2020 due to Covid. This year's Amphora Day had more than 60 entrants showing their potted wines from all quarters of the world: France, Georgia, Italy, Portugal, Spain, USA, and, of course, Alentejo. Unfortunately, dastardly Covid forced several Armenian, Australian, Georgian, and South African entrants to postpone until next year.
Clay in every which way
More than 1,000 punters paid €10 for a Riedel glass and all the clay made wine they fancied. Local food and wandering musicians performing Alentejan folk tunes enhanced the merry atmosphere. The apex of the day was the tapping of Rocim's talha for a first taste of their 2021 white and red, with the new vintage piped in by a traditionally clad all male choir, arms locked and swaying as they sang.
Wine styles ranged from the very ancient to the modern-most extremes of where the world has been pushing clay pot technology.
Several Georgians offered their buried pot Qvevri wines, kept on skins for eight months, providing a distinctive contrast to above-ground Talha wines with their shorter two-month skin contact. Alentejo wines were divided between the experimentalists and the traditionalists produced under stricter Vinho de Talha DOC rules. The latter, kept on skins in talha until at least St Martin's Day, are only certified at time of skin separation. A dozen adegas showed "classical" DOC styles with a surprising range of characteristics.
Pushing the boundaries from within the DOC tradition, Rocim and Quinta da Pigarca have aged their wine in barrel-sized clay pots, and both Rocim and Jose de Sousa have successfully explored multi-year aging in talha. No mean feat given talha's wide neck and permeable clay walls and how tricky it can be staving off oxidation.
Outsider innovations included Susana Esteban's flor and talha hybrid, a kind of fleshy, low-alcohol Fino. Cortes de Cima offered talha-made Viognier and Syrah. Jose de Sousa produced a mono-varietal talha wine from Sarigo, an ancient, nearly extinct Alentejo grape. Ironically, because a non-sanctioned grape, it must be bottled as table wine.
Experimental flair
Another experimenter, Adega Marel, have adapted both Georgian and Australian practices using foot trodden grape paste placed into mesh bags inserted into talha, facilitating a lighter, more controlled gentle extraction. Their cross-border collaboration had talha fermented wine, matured in a large 100 year old Amontillado cask, imparting a nutty, rancio note to traditional, local talha grapes.
Other Portuguese regions, such as the Douro, Tejo, Lisboa, Bairrada, and Vinho Verde, have reshaped their local grapes in talha (Alvarinho, Baga, Touriga Nacional, Touriga Franca …) totally transposing stylistic expectations. Ironically, these regions beyond Alentejo cannot use the term talha, so must designate their wine as "amphora" instead.
One particularly crowded table was that of Oregon's Beckham Estate, who not only produce Novum clay pots, but make clay renditions of Pinot Gris and Pinot Noir. Beckham's clay-made Gewürztraminer, with two weeks of skin contact, was one of the standouts of the show. Tinted somewhere between electric pink and cloudy amber, it led and finished with intense rosewater characters. Texturally reminiscent of Alsatian Vendange Tardive, but bone dry at 12%, it was wild stuff. Gewurztraminer like we've never known before.
And, happily, both before and after Amphora Day, the surrounding villages continued their ancient tradition of adega crawling. In the hidden tascas of the narrow back streets, those of us lucky enough to experience this more intimate experience found an open-hearted community keen to share its prized possession: the 2021 vintage of talha wine.