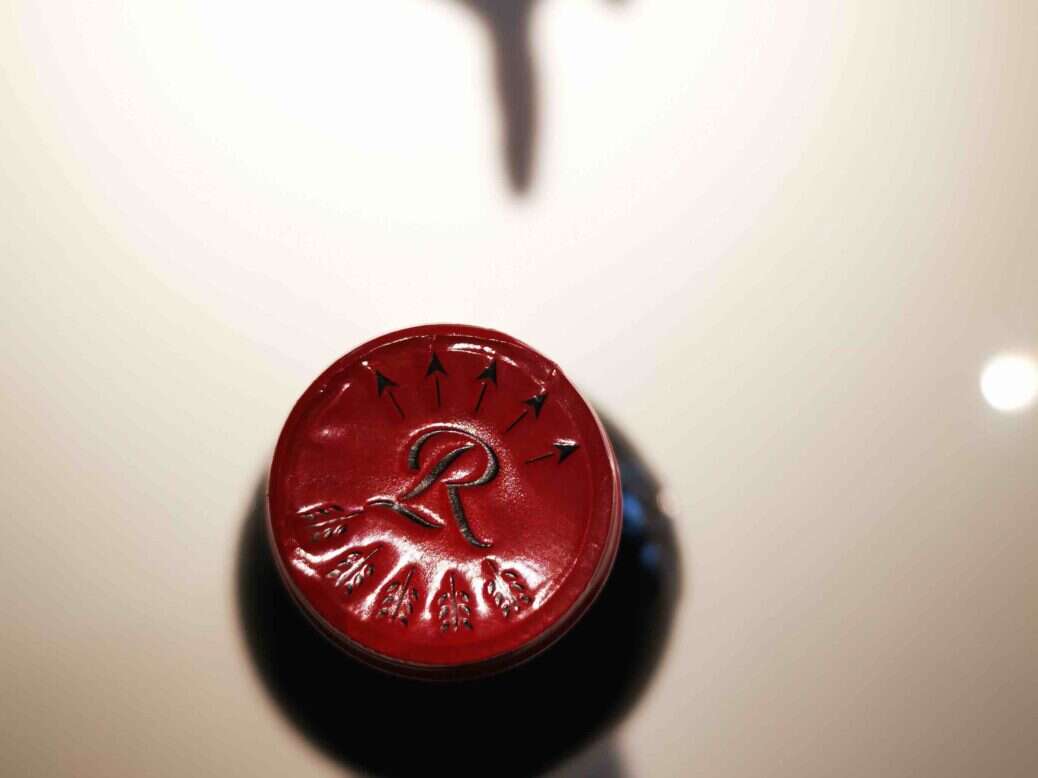 Ch'ng Poh Tiong profiles Domaine de Long Dai, Domaines de Barons de Rothschild's game-raising Chinese red blend, and its home in the patchwork of labor-intensive terraced vineyards in the Qiu Shan Valley in Shandong province.
The most famous wine in China is Château Lafite. Bar none. Embracing the somewhat paradoxical French meaning of the word "notoriety," Lafite is so notorious that its fame extends to the majority of China's 1.4 billion population who have never tasted the wine, never heard of the 1855 Classification of the Médoc, and have no idea what or where Pauillac is. For them, Lafite represents a dream.
That fantasy—wine in the sky—is now within reach of more Chinese. Depending on where they live, they need only look north, south, or east to Penglai and lock in the coordinates for Qiu Shan Valley. When Domaine de Long Dai pops up, they will let out the nickname Chinese people have given the Shandong wine: "The Chinese Lafite."
Domaine de Long Dai: 450 terraces
There are more than 450 terraces in the 86-acre (35ha) vineyard of Long Dai. So far, 78 acres (31.5ha) have been planted as follows: 45% Cabernet Sauvignon (mostly clone 169), 17% Marselan (clone 980), 16% Merlot (mostly clone 188, increased substantially in 2020), 13% Cabernet Franc (mostly clone 214), 3% Syrah (very sensitive to rain), 3% Alicante, and 2% Petit Verdot (top-grafted onto Syrah in 2019).
The temptation will no doubt have arisen to reduce the number of terraces by flattening out some of the inconvenient geography. But if the devil played advocate, the good souls at Domaine de Long Dai banished him along with his unworthy thought. Instead, they took the circuitous route—in mind and vineyard—to protect the original landscape and preserve the sandy, granitic soil structure. In the process, they assumed the additional manual and mental burden required to keep a mind-boggling tab on each and every one of the 450-plus undulating terraces organized into 60 blocks. It seems that the people at Domaines Barons de Rothschild worship nature as much as they adore wine.
An haute couture vineyard
"This is really an haute couture vineyard," muses Olivier Trégoat, DBR Director of Estates outside Bordeaux, but based in Pauillac. "We manage the harvest as we handle the picking at Château Rieussec in Sauternes. We pick by block, and within the block by different terraces. We try to pick the grapes by different classes of vigor. So, we make a first selection with low vigor, with moderate vigor, and, at the end, with high vigor."
Trégoat is a trained agronomist and enologist. The Frenchman finished his studies in Bordeaux where, between 1999 and 2004, he completed a doctorate on the soil and subsoil of a terroir. His research subjects included Ausone, Cheval Blanc, Petrus, and Haut-Brion, as well as Lafite, which is how he became acquainted with the technical team there. After his studies, he followed his wife to the south of France where he worked as a consultant. One of his principal clients was DBR, which owns Domaine d'Aussières in Corbières, but Trégoat was also sent out to Chile (for Viña Los Vascos), Argentina (for Bodegas Caro), and China. In 2015, Baron Eric de Rothschild and Christophe Salin (DBR's former President & CEO) asked the consultant to join the company full-time.
Why Shandong?
"Baron Eric and Christophe Salin knew Gérard Colin, one of the first foreigners interested in Chinese vineyards. Thanks to his experience, we decided to invest in Shandong. We did not want to go to other regions, particularly to the north like Ningxia or Hebei, because we were quite afraid of the cool temperatures, which require the vines to be buried during the winter," Trégoat explains.
I met Gérard Colin (1942–2017) some 20 years ago, when he was the first winemaker at Grace Vineyard in Shanxi, which he joined in 2001. Later, I went out to interview him just before he started sinking vines at Domaine de Long Dai (the vineyard was not yet named at the time). Granite poles—a quintessential sight in Chinese vineyards—marked out the spacing between rows. A thoughtful, reflective man, Colin was respected and, even more important, well-liked by the Chinese people he met and worked with. Born in Madagascar, Colin had a master's degree in enology from the University of Bordeaux and, before going out to the Middle Kingdom, had worked at Château Teyssier in St-Emilion and Château Clarke in Listrac.
The choice to cultivate vines in Shandong went beyond not having to bury them in winter. "When I arrived with Eric Kohler [Technical Director of Lafite-Rothschild and Duhart-Milon in Pauillac]," says Trégoat, "we looked at the climatic data for the Shandong region—especially the temperatures—over a decade. We discovered a warm, moderate climate, with temperatures that can ripen varieties like Syrah, Merlot for sure, Marselan, Cabernet Franc, and especially Cabernet Sauvignon, which is our DNA. So, Baron Eric was quite convinced of Shandong.
"If you look also at the data on rainfall over the past ten years, the touchy period is only two or three weeks, at the end of July and the beginning of August. If you have good canopy management and sanitary protection, you can cross that period without any disease. And, Shandong in September and October is very, very dry, with moderate temperatures. So, the conditions for ripening in Shandong are very, very good. Winter is dry and quite cool—we can reach 9º, 8ºF (–12º, –13ºC)—but not as cold as in the north of China, so it is not necessary to bury the vines. Since we planted in 2011, we had, in 2017, some damage over the winter, to ten or 15 plants, but that's all," Trégoat concludes. Although you can irrigate in China (you are also allowed to chaptalize and to acidify), Long Dai does not do so.
Investing in soils
Another reason DBR invested in Shandong is the soils. As it turned out, the same bedrock is also found in another of its properties on a different continent, in the opposite hemisphere, 12,000 miles (19,000km) away. "We have some experience at our property Los Vascos in Colchagua, where we have planted also in granitic soil, a very ancient bedrock, as in China. Shandong is an historical viticultural region. There are many vineyards in the region that are quite old. As to why Shandong has not always enjoyed the same reputation as, say, Ningxia, my personal view is that it is because the location of the existing vineyards in Shandong is not as high as it should be. They are quite often situated in the valley, where the vigor is high. On top of that, using Cordon de Royat, you can find very long trellising of two, three, four, five metres [6–16ft]. That was why in 2009—together with Gérard Colin, Eric Kohler, Baron Eric, and Christophe Salin—we decided to look for a vineyard on the slopes or at the highest elevation. And to get a soil that gives moderate vigor," Trégoat remembers.
Amid international curiosity about their rumoured Chinese project, in April 2009, Baron Eric de Rothschild released the following statement: "Already present in some great wine-making regions in the world, DBR (Lafite) has decided to develop a vineyard in China. Our technicians finally chose the peninsula of Penglai out of the many regions they visited in China. It proved to be the most promising area for producing a great wine, in terms of its climatic and geological conditions. This region also possesses an ancient tradition in viticulture."
Before vines came to Qiu Shan Valley, farmers had already planted peaches and apples. The lower vigor of the soil was apparent as the trees bore smaller and fewer fruits. When I last visited in late October 2019, the apple harvest was in full swing. (I had planned to visit again in 2020 to taste the 2018 vintage, but something called Covid intervened, and the sample was couriered to Singapore).
Qiu Shan Valley is 10 miles (16km) south of Yantai Airport and about 136 miles (220km) northeast of Qingdao, the largest city of Shandong Province (Jinan, where movie star Gong Li comes from, is the capital). The Yellow Sea is just 12 miles (20km) away. The most popular apple variety is Fuji. First introduced in the late 1980s, Japanese blush is enamoured by farmers because it fetches a higher price than traditional varieties. Growers also prefer Fuji because it is hardy, less susceptible to variations in the weather, and, therefore, requires lower maintenance.
Things are somewhat different for Domaine de Long Dai. In the best French tradition of trying to understand the terroir—where best to plant the different grape varieties—more than 400 pits were dug into the ground to try to unlock the secrets of the different soils. Literally, no stones were left unturned.
Terroir, like the people we meet in life, can however be elusive. What the eye sees may not be what it seems. Remember those 450-plus terraces? Just because one is near another does not mean that its soil profile is identical or even similar. The terraces are therefore zoned according to grape potential rather than location. To ensure optimal ripeness, each terrace is harvested in several passes. No rest for the "wicked." After all, if you had come all the way from Pauillac to Qiu Shan Valley—a distance of more than 5,600 miles (9,000km)—why would you then take short cuts? Or cut corners?
Learning from villagers
"When we first arrived, we observed how the farmers planted their fruit orchards. They did so in small terraces, mainly to prevent the problem of erosion (if there is a heavy monsoonal downpour end July/early August). Planting on terraces also helps retain water, which is scarce. Winter is dry and there is not a lot of rain. There can also be a lack of water in Spring which is also dry," Trégoat points out. (Probably the earliest terrace-farming in China is devoted to rice. The most dramatic are the eye-wateringly beautiful rice fields of Yuanyang County in Yunnan province.)
One of the chief viticulturists at Domaine de Long Dai is also one of the chiefs of the nearby village of Mulangou, where the winery has recruited permanent and seasonal employees. Almost all have their own peach and apple orchards and, already being farmers, it was easy to train them to prune vines. Trégoat feels that they are of the same standard as those who work for DBR in France.
Same as in Bordeaux
The winemaking at Long Dai is quite similar to that in Pauillac. "All the equipment—sorting table, crusher, destemmer, etc—is the same as they were imported from France. Generally, picking begins mid-September, a week or ten days later than in Pauillac. Fermentation and maceration are between 20 and 25 days. Malolactic fermentation is in stainless steel. We age the wine in tank or in barrel. The barrels are from our own cooperage in Pauillac. This is very good, as we know the origin of the oak, the barrels [225-liter barriques) and the toast," Trégoat shares.
In a way, the "Chinese Lafite" is given even more attention than the Pauillac first growth. As there are 60 different blocks in the vineyard, DBR has had to invest in various tank capacities to ferment them separately. The tanks range in size from 15hl to 90hl (400–2,400 US gallons) and are produced in Shanghai by French construction giant Actemium.
Planted in 2011, the vines produced some grapes in 2014. Domaine de Long Dai micro-vinified them in a neighbor's facility to try to understand the potential of the vineyard (and did the same the following year). The domaine's own winery was only ready in time for the 2016 harvest. Because the wine did not meet their exacting standards, however, it was not released commercially. The inaugural vintage is therefore 2017.
The cuttings for the 2011 planting had come from a Chinese nursery, and were discovered not to be a suitable clone. Even the stated variety was not always what it turned out to be. Starting in 2013, DBR imported cuttings from two French nurseries—Guillaume north of Burgundy and Pépinières du Comtat in the Rhône (there is a 40-day quarantine period for vines imported into China). Although Qiu Shan Valley is most likely resistant to phylloxera because of the sandy, granitic soil, the original 2011 vines and those from the French nurseries planted in 2017, 2018, and 2020 are all resistant to the louse.
In December 2017, news of a different nature caused a ripple throughout the industry. DBR's partner—China's largest state-owned conglomerate—pulled out from the joint-venture. CITIC—China International Trust Investment Corporation—sold its 30 percent stake (valued at US$4.93) in order—in its own words—to "focus on its core business."
That was the same year Chinese leader XI Jinping very publicly clamped down on golf and banquets. It was a well-known fact that golfing greens and the dining table were places where guangxi or connections were cultivated beyond sporting and culinary interest. A golfer could easily miss a putt and conveniently "lose" a large wager to a government official.
More than 100 golf courses were shuttered throughout the country in 2018. The official line was that they represented a misuse of much needed arable land. Maintaining driving and putting greens were against water conservation. Chinese officials also started avoiding banquets like the plague. Especially after being snapped behind tables piled with expensive delicacies and bottles of rare Cognac and first growth Bordeaux. Social media can destroy a career if you are standing on the wrong side of the mobile phone camera. A propaganda war against extravagance raged in China.
Domaine de Long Dai is now owned by BBR. Four years on—a lifetime in political cycles—the Qiu Shan Valley winery is a vinous mecca for Chinese wine lovers, including officials.
A Christmas blend
The blending of Long Dai takes place in Pauillac during Christmas week. The reason is that's the time General Manager Charles Treutenaere and Technical Director Juliette Couderc return to France to celebrate the holidays with their respective families. Couderc, who joined Long Dai as viticulturist in September 2017, has since moved to L'Evangile as Technical Director of the Pomerol estate. Denise Cosentino, a young Italian, is her replacement in China. The other members of the tasting panel are Proprietor Saskia de Rothschild, DBR President & CEO Jean-Guillaume Prats, and Olivier Trégoat. The final blend goes back to China the following mid-January or early February just after the malolactic fermentation of the wine.
The future of Domaine de Long Dai
Domaine de Long Dai has no plan to make a white. The annual seasonal threat of rain—and subsequent humidity—during the monsoon period at the end of July and beginning of August is a bugbear for earlier ripening white varieties. Anyway, red remains the go-to color for wine in China. By going to Shandong, DBR may have turned the tables on Ningxia, often referred to as the "Bordeaux of China." Although considerably drier, Ningxia has to bury its vines (just as in Shanxi and Xinjiang) because the mercury can plummet to –13ºF (–25ºC)!
There are no vines older than 25 years in those regions, because as the vines age, the trunks grow thicker and eventually snap when forcibly dragged into the ground for their annual live burial. Imagine a society, culture, or civilization where the inhabitants do not live beyond that age? What would be their collective wisdom? How profound would that accumulated knowledge be anyway? If we accept that great wines are mostly from old vines, have those regions that bury their vines already reached the quality ceiling?
While Domaine de Long Dai does not need to bury its vines, it is not without challenges in the ground. The sandy granitic soil has low pH. The acidic soil lacks potassium. Adjustments can be made but wines produced on such soils tend to lack the density of those grown on, say, limestone soils. It is difficult to produce an opulent style of wine from such a bedrock. Finesse and elegance, though, are attainable.
Just two vintages into their odyssey, Domaine de Long Dai has upped the quality stakes in Chinese wine. That is surely something of a record in grape history. The future looks promising in another regard. "Over the last one, two years, everyone is looking into regulations, trying to copy the French AOC system, trying to identify where are the best places to plant. This is all coming from the authorities, the local communist party, the local government in Yantai. They want regulations to recognize a sense of place, of terroir, of origin. This is not coming from the investors but from the authorities," DBR President & CEO Jean-Guillaume Prats reveals.
"This is totally the opposite of what happened in Europe between the two World Wars where the call for regulations came from producers. So, that's a new sign here. As an example, the authorities in Yantai want to join the Great Wine Capitals of the World, which is run by the Bordeaux Chamber of Commerce. They are also saying you should no longer purchase grapes in Ningxia or other places and blend it with wine produced in Shandong. There is clearly a sense of authenticity, and finding the right place. And it's coming from the authorities, which is very, very new in the world of fine wine."