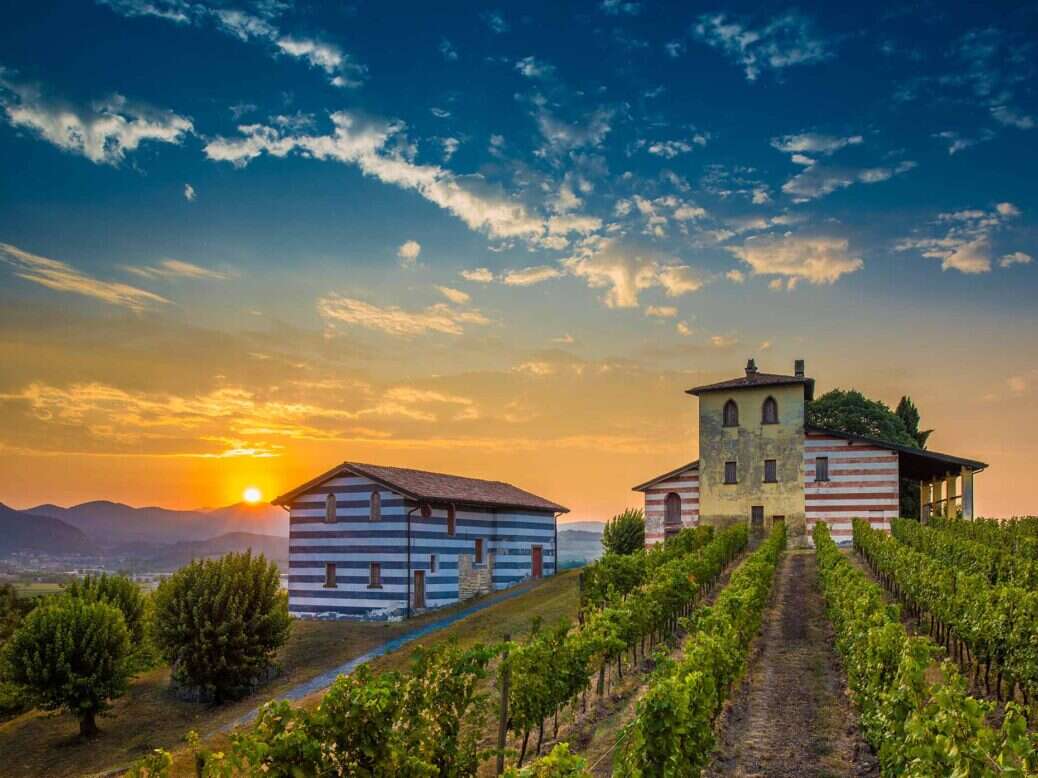 Nestled in the foothills of the Alps is the wine area of Franciacorta. It is here that in 1961 the history of Franciacorta started, in the Guido Berlucchi cellar.
Rounding out a year that celebrates the 60th anniversary of the first bottle of Franciacorta, created by Franco Ziliani in 1961, Guido Berlucchi now sings to the tune of Winery of the Year 2022 awarded by Gambero Rosso—a leading Italian editorial group recognized the world over for wine, gastronomy, and food culture.
This excellent achievement adds to this spring's seal of approval by Wine Spectator, which attributed an unprecedented 93 points—the highest score ever received by a Franciacorta—to Palazzo Lana Extreme 2009, representing an important milestone and turning point for Guido Berlucchi as it faces a phase of profound innovation, new challenges, and revolutionary market scenarios.
"This award celebrates the care and attention that everyone, in every field and department of our company, puts into their work: all together, 'We are the Winery of the Year!'" declares the Ziliani family. "We are recognized at the pinnacle of excellence not only for our wines—whose undisputed quality is confirmed again this year by Gambero Rosso's 3 Bicchieri awarded to our '61 Franciacorta Nature 2014—but for all of our hard work."
"We would like to dedicate this important milestone to our father, Franco Ziliani, who turned 90 this year and who, as a tenacious Bresciano, has always taught us to never give up, and to persevere with a vision and clear path in front of our eyes," declare siblings Cristina, Arturo, and Paolo Ziliani. "We believe that there is no better way to thank him than through this important recognition, which is a collective attribute for our winery, for the world of Italian wine, and for Franciacorta as a whole."
The story that lead to this asounding success begins with Guido Berlucchi and Franco Ziliani. The former was a descendant of the noble Lana de' Terza family and the latter a young enologist from Alba Wine School who had developed a reputation for consulting important wineries.
Guido sought Franco's advice for what he thought was a singular issue—how to stabilize his white "Pinot del Castello" wine—and instead, he found a partner together with whom he changed the course of history. Franco recognized something that Guido, regardless of his passion for winemaking, missed: the incredible potential of his family's estate to make sparkling wine that could compete with the likes of Champagne.
Franco's vision and Guido's passion were just the right pairing needed to embark on this pioneering path. The two founded Berlucchi winery in 1955 and launched their first limited-production of 3,000 bottles of Pinot di Franciacorta in 1961 to great success. This pivotal year continues to be commemorated by the winery's '61 label. The first 1961 bottle is displayed in the cavernous underground cellar, where thousands of visitors are greeted each year for tours and tastings.
The 17th-century underground cellar, located near the historic Palazzo Lana, guarantees the perfect temperature and humidity level for bottle aging, and the morainic soil rich in minerals is ideal for the cultivation of Pinot. Palazzo Lana was the residence of Guido Berlucchi until his death and seat of the noble Lana de 'Terzi family, his predecessors. The elegant lounges and halls have welcomed royal and prominent guests, making it a symbolic meeting place for the business community of Franciacorta.
Today, Berlucchi is managed by Franco Ziliani's three children, Arturo, Paolo, and Cristina, who continue to push forward on the path set out by their father and Guido. They have taken the lead on promoting Franciacorta as a global wine destination, enhancing the environmental stewardship of the winery's production and sharing Italy's finest sparkling wine with the world.
The family-run nature of the company has fostered a forward-looking and resource-friendly approach for generations, a concept that drives estate-wide practices while also defining Berlucchi's lead in territorial projects concentrated on the sustainable management of resources in Franciacorta.