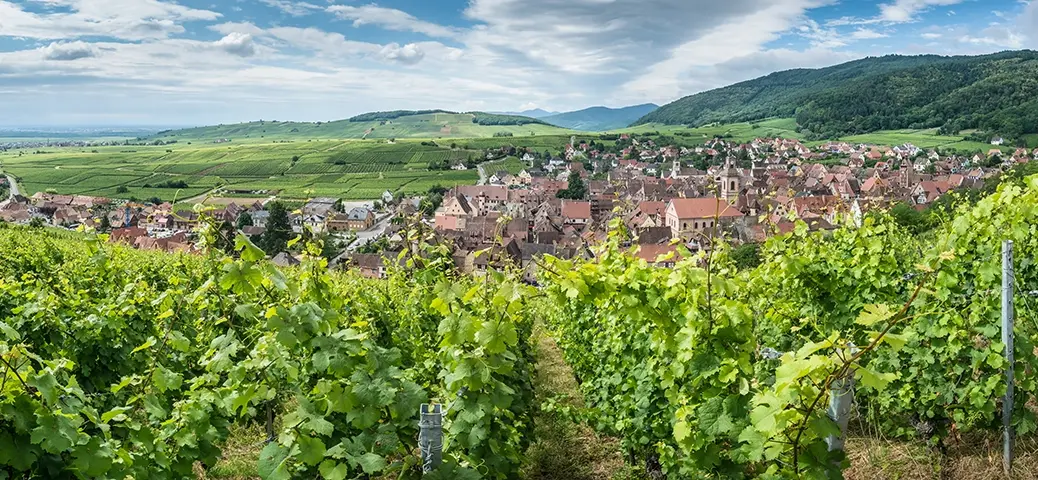 Stephan Reinhardt is joined by Andrew Jefford and Anthony Rose for an exceptional tasting of wines from four Alsace grands crus representing four different terroirs—Schlossberg, Rangen, Schoenenbourg, and Rosacker.
For scores and detailed notes on all 39 wines included in the tasting, subscribe to The World of Fine Wine.
To get an idea of the different profiles and qualities of Alsace grands crus, you have to taste systematically. Alsace has 51 classified grands crus—an impressive number even for a region that is admittedly extremely complex in terms of its terroirs, cultivating seven main grape varieties on some 37,000 acres (15,000ha) of vines. Only Riesling, Pinot Gris, Gewurztraminer, and Muscat, however, are permitted for grand cru production. Only one, Grand Cru Zotzenberg, allows Sylvaner, and from the 2022 vintage there will also be grands crus from Pinot Noir, from Hengst and Kirchberg de Barr. 
This is all well and good, but it would be far too much wine for a comparative tasting that wants to arrive at conclusions; or at least some insights. For this tasting, therefore, we narrowed the focus. As far as possible, we wanted to cover four different geological formations and soil types, which adequately represent the whole of Alsace to the extent that they are not exclusively linked to any particular site, but are found, to a greater or lesser extent, throughout the region. The exception is volcanic soil, which is so rare that it is found only in one grand cru—Rangen de Thann. But of course we felt we had to include it, even if not many producers are represented there. (Pure slate soil is also rare in Alsace, and no grand cru is on it.)
A more common soil type is granite, best exemplified by Schlossberg, the oldest Alsace grand cru (since 1975).Because several highly rated producers are successful here, its inclusion in our tasting was obvious. It is, however, heterogeneous as a site, and while it gives Rieslings of great noblesse, I have rarely found it as outstanding for Gewurztraminer. The Faller family at Domaine Weinbach has started cultivating Syrah in the extremely dry and warm Schlossberg, even aspiring to grand cru status one (farer) day.
Alsace is also streaked through with limestone in different combinations, but one of the most distinguished sites based on it is Grand Cru Rosacker. What is probably its most famous wine conceals, however, its noble origin and has always been content with the generic designation, Alsace. It can afford to do so because it is Trimbach's Riesling Clos Sainte Hune. The house did eventually embrace the grand cru concept elsewhere, but not for its most famous and most expensive wine. Nevertheless, we tasted it (blind, like all the other wines) in the Rosacker group.
Hugel in Riquewihr also refused to adopt grand cru status for a long time, but has since taken it on… at least partially. Two of Hugel's best-known Rieslings come from steep Grand Cru Schoenenbourg. But only one of them is designated as grand cru—the Grossi Laüe, the Alsace expression for Grosse Lage (or grand cru)—while the other—the Schoelhammer—is not. Schoenenbourg is one of my very favorite sites in Alsace, its Keuper marl—a calcareous soil, occasionally intermixed with gypsiferous clay marl—giving full-bodied, long-lived, rich, and substantial wines that are nevertheless capable of exquisite finesse.
Red sandstone, which is closely linked to the Vosges and the buildings of so many villages around Colmar and Stasbourg, would also have merited an appearance, but we had to draw the line somewhere, so settled on these four grands crus: Rangen, Rosacker, Schlossberg, and Schoenenbourg. This was also because we wanted to crystalize the character of the sites through two different, but still comparable, grape varieties. Riesling was a given. Pinot Gris would also have been instructive (and would have been preferred by at least a few producers), but to me, Gewurztraminer seemed more appealing and closer to Riesling, not least because I think it tastes less sweet than Pinot Gris, which often has an oak veneer that masks its origin, at least when young. I think Gewurtztraminer is one of the greatest grape varieties of all—provided it is in the right site. All four of our grands crus certainly qualify. But as bad luck had it, the 2021 vintage, represented by many of our wines, was very small at least in terms of quantity, and Gewurztraminer was so decimated in Rangen that very little was produced there. Hence the inclusion of one Pinot Gris, as a substitute there.
Sensual and intellectual
I could not have expressed my own conclusion from this tasting better than Andrew does in his verdict. I am very gratified that the selection of the grands crus, as well as the wines representing them, resulted in a "ground-breaking tasting"—indeed, "the most informative [Andrew has] ever taken part in for The World of Fine Wine." The tasting as a whole reflects my very high regard for Alsace wines, especially, but not exclusively, its grands crus.
As a German critic, I am often suspected of being more passionate about German Rieslings—due to greater familiarity and lived culture—than those from neighboring Alsace or even Austria, to say nothing of those from elsewhere. But I actually have a great affection for the wines of Alsace—especially its great Rieslings and Gewurztraminers—not only for their sensual appeal, but also for their intellectual stimulus. Why?
Alsace winemakers generally seem to me to be more relaxed (not lazy!) about their terroirs and their grapes than are many of their colleagues in Germany, where ripe, healthy grapes have become a top priority for the dry category over the past 20+ years, since the introduction of the VDP's Grosses Gewächs. As a rule, German winemakers no longer tolerate a single overripe or raisined berry in their dry wines, including Rieslings. These have become increasingly dry, especially over the past ten to 15 years, even by European standards (a maxmum of 4g/l RS). Even ten or 20 years ago, German Rieslings often had as many grams of sugar as of acidity—about twice as much as today. Tasting completely dry is part of the Grosses Gewächs brand promise—unlike Alsace grands crus. These can be anything: dry, off-dry, or sweet. You never know. 
In Alsace, the grapes for the grands crus are also rarely harvested over a period of two, three, or four weeks, while in Germany there are various Vorlesen (pre-selections) for different styles or weight classes, especially of Riesling. A German "GG" is usually a carefully assembled blend of meticulously sorted grapes and fractionated fermentations, while an Alsace grand cru is more an expression of the interplay of vintage and vineyard. If, for example, overripeness is a character of the vintage, then in Alsace it is usually reflected to some extent in the wine. Just as, in general, the complexity of the wines goes back to the complexity of the vineyard, which is expressed in the round, whole, and not presented as the sum of its best individual parts. And yet, even in our tasting, the Alsace grands crus, more grown than groomed, speak a common language, for all their stylistic differences. Here, it is not a site that is profiled by the wine, but the other way around, the site profiling the wine, which in turn inspires eloquent and generally very positive tasting notes. The wines had all manner of wonders to impart, and met with eager, open responses from all three tasters. We didn't have to understand the sites per se, but their expressions through the wines. If we managed that, the four grands crus profiled themselves.
Multifaceted personalities
Since some grands crus in Alsace are very large in area, and may be very heterogeneous in nature—including Schlossberg and Schoenenbourg—a few producers have begun to harvest, press, ferment, and bottle their grand cru parcels fractionally, marketing them under different names. Pierre Trapet, for example, has divided his Schoenenbourg holdings into three—depending on their exposure, soil, and historical significance—two of which we had in our tasting. They are both labeled as Grand Cru Schoenenbourg, and the difference may not be obvious at first glance. On the back labels, however, are the distinguishing (albeit rather enigmatic) designations, "Sel" and "Soufre." The latter comes from the long and (heading from Riquewihr to Zellenberg) increasingly flat and warm section of the Schoenenbourg which, in Pierre's opinion, should be not grand, but premier, cru. The historical resonance might then be missing, but on the other hand, that would entirely fitting, since the originally defined Schoenenbourg lies behind Riquewihr, is steep, and benefits from the cool downdrafts from the forest. The flatter, east-sloping part, called "Soufre" by Trapet, is on deep marl soil. In Pierre's view, Schoenenbourg proper is represented by "Sel," from the heart of the grand cru, where the vines are in the colorful Keuper marl of the Triassic period. It is here that the great, rich, and complex grand cru wines are produced, characterized by their fine acidity, which gives the tight texture an exhilarating finesse. Another dimension is brought by the gypsum component in this Keuper marl. From the 2021 vintage, this will be represented by the third Trapet wine
 from this site—"Mercure"—which, according to Pierre, is the quintessential Grand Cru Schoenenbourg, the wine with the greatest nobility. Trapet has been cultivating this plot since 2019, so its fruit should be found in the 2020 Schoenenbourg Sel that we tasted.
In Grand Cru Schlossberg, Domaine Kirrenbourg (formerly Martin Schaetzel) has made a name for itself in recent years. The name refers to a parcel in the Schlossberg, which is characterized by granite soils and steeply rising terraces, but which here faces east rather than south. The K, which the domaine puts right after the Cru, is not meant to say anything else, that the Kirrenbourg is a very distinctive expression of the Schlossberg.
Clos Ste Hune is probably more famous than Grand Cru Rosacker, in which the Clos is located. But we discovered through our tasting that there are grand cru wines from neighboring plots that can at least compete with the legendary name.
Rangen, in certain years, gives some of the greatest of all Rieslings worldwide: very challenging, very expressive, very tight, especially when dry. As it happened, however, we had more fascinating Rangen wines from Pinot Gris and Gewurztraminer, from the lower parts of the site, where the soils are richer, perfectly suited to Gewurztraminer in particular.
Finally, a brief mention of the 2021 Rangen de Thann Riesling from Zind Humbrecht. As can be seen from all three notes on this wine, both bottles not only failed to convince, but were unrecognizable. All three tasters were astonished when the identity of the wine was revealed, and all three were at a loss to identify the problem, which only a laboratory analysis might have shown. But in fairness, and having tasted other samples of the same wine subsequently, I am hopeful that we were merely unlucky with the two bottles we had in our tasting, which, do not seem to have been representative.
The Top 5: The best Alsace grands crus
Famille Hugel Alsace Grand Cru Schoenenbourg Grossi Laüe Riesling 2015 (15% ABV) |95
Andrew Jefford | Pale, bright gold. Exciting aromas here in typical Schoenenbourg jungle style—all plant sap, tendril, and fat, sappy leaves. A fine architecture of scent, though the fruits are subdued: pear, quince, even green banana. Overall, though: What a nose! Big, powerful, a Hummer of a Riesling, coming sliding down off the hill laden with jungle plants and fruits. Big, thick, tangled, extractive, long, fiery though sappy: just super stuff. Alsace GC totally at its best. This is very, very good Riesling, though also very untypical Riesling—above all, it's Schoenenbourg. Multidimensional and totally satisfying. And eight years old already. This completely authoritative wine deserves the widest audience, and if you harbor any doubts about Alsace, try this! 2024–30. | 95 
Stephan Reinhardt | Clear, precise, and almost tropical in its fruit aromas opens this 2015 Riesling, which is indeed Riesling intermingled with the iodine flintiness of the Schoenenbourg terroir. On the palate, this is a generous, lush, very intense, saline, finely tannic Riesling, which is still extremely young, with oak tannins that still need to be better integrated. There is a certain sweetness, but it is rounding the fruit rather than masking the terroir. Highly promising. 2030–60. | 95
Anthony Rose | A surprisingly youthful, pale, lemon-green in color, this also doesn't seem to have moved a huge amount in aromatic evolution in the seven and a half years since the harvest; still fresh and bright in aromas, there's a fine tingle on the tongue, and no shortage of intense, lime-like citrusy fruit quality when you taste, thanks to serious concentration and richness, but not at the expense of delicacy; on the contrary, the evident mineral structure of fruit-flavor concentration and acidity here has maintained an excellent balance, and it's not as if it's even out of the straps yet. Impressive or what? 2023–28. | 95
Famille Hugel Alsace Riesling Schoelhammer 2012 (12% ABV) |94
AJ | Mid-depth of green-gold, with silvery glints: pale for its years. This is one of our richer Schoenenbourgs: a slather of hot summer fruits and a slide of crème anglaise. Less plant sap and jungle leaf than some. Terrific scents, though: compelling and delicious; you can't not sip … and just getting into its stride, with lots left to give. Pure, fresh, planty, and sappy, vital, articulate, scrutable, unique. Did you know Riesling could be so open, so mellow, so brightly feathered, so soft, so allusive, so forceful, so demonstrative, so breathy, so exuberant, so carnivalesque? All the aromatic allusions are here on the palate in one broad, serene, harmonious, and cavalier array. Lovely stuff. 2024–27. | 95
SR | This 2012 Schoenenbourg is just beautiful on the intense but refined and balanced nose, which shows a ripe and concentrated fruit (pineapple), with delicate but obvious oak aromas. Round and quite sweet on the palate, this is a charmingly round and lush Riesling, with creamy, sur-lie, textured, fine tannins and again some oaky flavors. Still young and sweet, I wonder whether the wine will ever gain more purity and Schoenenbourg personality with further bottle age? 2023–50. | 92
AR | A youthful, bright, greeny lemon in color, this shows the attributes of high-quality Riesling in its freshness of aroma (for its age) and the characters of evolved Riesling, the fragrance of light smokiness and a hint of pepper and lime marmalade, and even a (likely lees-derived) tingle on the tongue; the fruit, when you taste it, is pure and surprisingly almost shockingly youthful, thanks to an evident underlying nerve of fresh, minerally acidity to keep it real; the real deal, in fact, and a Dorian Gray of an Alsace Grand Cru. 2023–27. | 95
Cave de Ribeauville Alsace Grand Cru Rosacker Riesling 2021 (12% ABV) |94
AJ | The palest wine in the whole tasting, looking like some trendy Provence Rolle, but with extra green. It's pure greensilver. This is majoring on all that refined Rosacker fruit: a kind of essence of northern orchard, with apple, crabapple, peach, quince, and medlar. There are some planty notes, but much less, and much less thick-leaved and overt than for Shoenenbourg. Very puriste, this, but very good. Stripped back on the palate, taut, tightly sprung, shaven headed, but still with much to communicate. A strip-the-willow Rosacker, nervy as you like; the ultimate puriste Alsace wine, and a total contrast to the lazy cliché of Alsace as slack-bellied, sweet, and rich. Its inner force is taut and fine, and I think it will age well, but it is still just a bit austere for me. 2024–30. | 92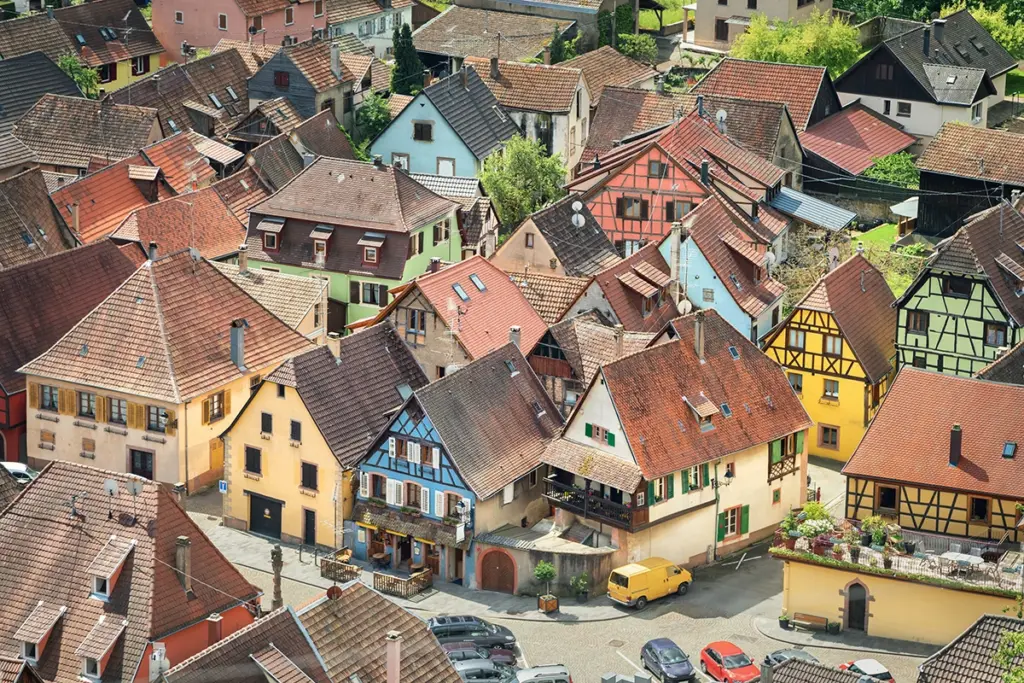 SR | This Rosacker opens pure, clear, bright, and fresh, just as if the limestone had just been crushed and the powder had found its way into my glass. The fruit is fully ripe and concentrated and perfectly interwoven with the finely milled limestone notes of the Rosacker. Lush and elegant on the palate, this is a full-bodied, rich, and intense, yet also refined and saline Rosacker, with really fine tannins and a ripe, elegant acidity. The finish is fresh and savory, dense and aromatic, but always tight, linear, and elegant. Impressive wine. 2025–48. | 94
AR | Probably the palest wine in the entire tasting: bright, almost water-white (with green glints).This is still quite elemental in aroma, giving little away, but when you taste it, it's surprisingly distinctive, an initial citrusy sweetness but always a sourness in combination; mouthwatering, yes, very, minerally, yes, I think so, because while it's dry to the point of austerity, it's not actually austere and has much to say for itself, thanks to an evident concentration and a delicacy that combine in an umami-rich wine that has to be drunk with food (preferably Japanese). Albeit in a minor key, this is a wow wine. 2023–30. | 95
Julien Schaal Alsace Grand Cru Schoenenbourg Gypse Riesling 2021 (13% ABV) |94
AJ | Bright, pale, silver-gold, with silver glints. Another Schoenenbourg Riesling that seems to have more vegetal notes than it does fruit notes, though I emphasize that these are fine, light, allusive, and positive rather than heavy and phenolic, and they mesh here with a delicate floral mist, too. This is a very subtle and attractive aromatic profile: compelling and charming both. On the palate, the wine is full, bracing, and true, with that distinctive Schoenenbourg combination of the fruity and the planty or the vegetal—there's a complete conservatory in here somewhere. This is concentrated, long, and stylish, with real breadth and dimension to it. The acidity is almost explosive, dripping with flavor as the bomblets drop to earth. Fine wine and unique in the Riesling world context. It's actually rather "unRiesling"—sappy and long, almost Loire-like (Savennières; though the rocks are different, the exposure is similar). Truly grand. 2024–32. | 94
SR | This 2021 Schoenenbourg is a beautiful expression of the terroir, delivering flinty and saline notes of finely crushed clayey stones intertwined with bright and energetic fruit aromas. On the palate, this is a very elegant, finely intense, immediately saline, and finely tannic vin de terroir that is clearly dominated by the soil rather than the fruit. If you are looking for picture-book Riesling, pass on by; but if you'd prefer a great terroir wine from a cooler, classic vintage reminiscent of the past, this is the wine you need to cellar. It will pay off. 2023–55. | 96
AR | A pale, bright, lemon-green in color, this has a lightly smoky, citrusy aroma that's pleasantly bright and inviting; there's a substantial, refreshing tingle on the tongue as you taste, some initial, zesty, fresh, and delicate floral fruit sweetness before the worm turns from initial sweet fruit, to sour and nicely textured umami dryness on the finish; overall, this is delicately wrought and well-balanced, and while still youthful, shows great promise. 2023–28. | 91
Trimbach Alsace Riesling Clos Ste Hune 2017 (13.5% ABV) |94
AJ | Greensilver still, despite its age. Sappy, fresh, taut, and tight—you would never guess this was a 2017. An aroma that still seems to be in its earliest youth and some way off full articulacy, quite obviously. Apple and pear purity, with a very fine and fragrant line to it, and a little leafiness, but drawn back very tightly, almost provocatively. This is exactly what you find on the palate, a kind of moonshot of searching, green-apple-and-grapefruit acidity, arcing off into time and the stratosphere in search of articulacy. Will it find it? Probably. But at the moment there are more gratifying Rosackers than this challengingly reductive style, good though it is. Almost for masochists just now; best wait ten years. 2026–35. | 92
SR | This 2017 Riesling from the Rosacker opens with chalky, intense, yet also refined, lemon and seed-fruit aromas, while also revealing some matured (petrol) notes. Intense and dense on the palate, this is a lush and round, quite tannic Riesling, with a rich and intense fruit yet still slightly drying tannins. The wine is intense, very long and complex, and will shine only in four or five years from now. 2028–50. | 95
AR | Very pale in color, especially for a dry white of six years of age, this is showing all the required evolution in the complexity of its fragrance, with top-notes of citrus with a floral underlay, a light gentle spritz spray on the tongue to add texture to an incredibly youthful dry white, whose layers of lime-citrus flavors are held aloft on a firm spine of crisp, minerally acidity that maintains and enhances the flavors of an elegantly wrought dry white of considerable class. 2023–29. | 95